Regardless of how good it tastes, meatloaf does not lend itself for good pictures! 
This is about the best I could do.
It does, however, tastes out of this world!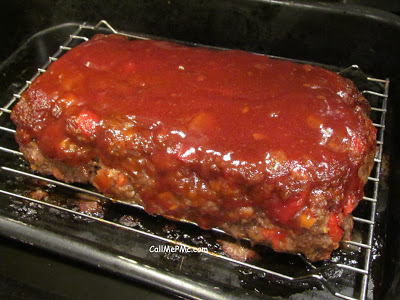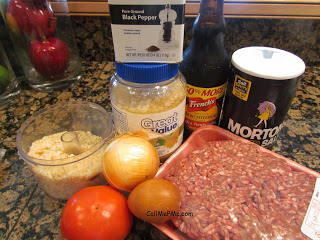 The Team- ground chuck, tomato, bread crumbs, onion, garlic, egg, salt, pepper, Worcestershire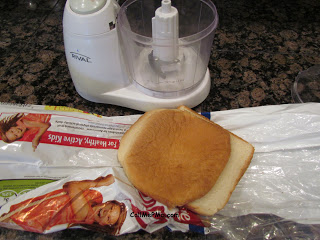 Save your bread ends and make fresh bread crumbs; 
they will make the meatloaf more moist than store bought bread crumbs.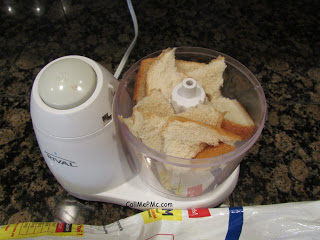 Tear the bread up and process until fine.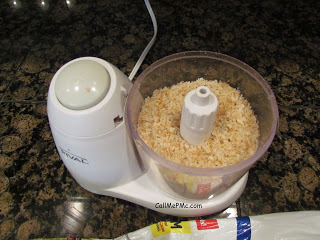 Look at my tired little processor!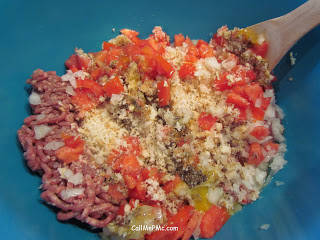 Dump all the ingredients in a large bowl and mix.
I prefer NOT to mix with my hands.
I prefer not to touch any raw meat actually…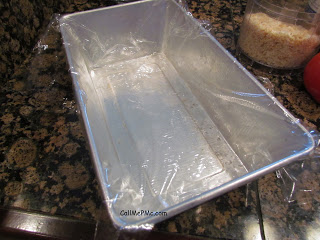 Tip – Line a loaf pan with plastic wrap.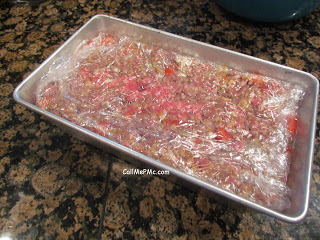 Fold the wrap over and refrigerate the meatloaf until ready to cook.
I like to cook meatloaf on a roasting pan so the fat will drain off.
Just open the plastic wrap, plop out on the roasting pan and you never have to touch it.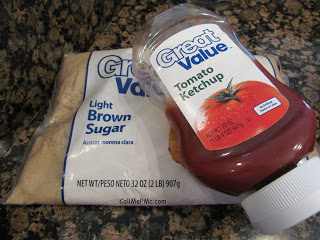 This is what you need for the topping.
This topping makes the meatloaf; it's to die for!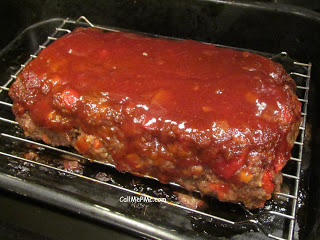 Slice and serve!
Meat Loaf
2 lbs ground chuck
1/2 c chopped tomato
1 1/2 c fresh bread crumbs
1/3 c chopped onions
1 T chopped garlic
1 egg
1 tsp pepper
1/2 tsp salt
2 T Worcestershire
Topping: 
2/3 c brown sugar
1/3 c ketchup
Mix meatloaf ingredients in a large bowl. Place in a loaf pan and refrigerate at least an hour to set. When ready to cook, pre-heat oven to 375 degrees. Mix topping ingredients and set aside. Bake meatloaf without the topping 35 to 45 minutes. Add topping and cook another 10 to 15 minutes until cooked through.
Encore Meal: Meatloaf sandwich
hoagie roll, toasted
meatloaf, sliced thick
lettuce
tomato slice
onion, sliced thin
mustard, mayo, ketchup
Toast roll. Heat skillet and brown slice of meatloaf on both sides until browned and heated through. Prepare roll with condiments as if making a hamburger. Enjoy!