I had this Pomegranate Margarita at Longhorn Steakhouse. I don't know if it was the stress of the week, the stress of the holidays, or just Friday night unwinding, but it was one good Margarita! The problem with margaritas is they're so high in calories. I remember a time that I was the only one in the group that was concerned with calories. (I've always been concerned with calories!) Now, it seems everybody is conscience of calories or glutens or fat or sugar!
It's exhausting!
Any-who…. 
I set out to create an awesome, low calorie concoction that was just as delish.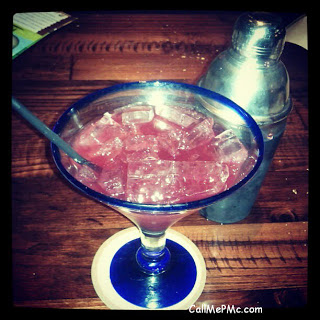 Longhorn Steakhouse Pomegranate Margarita
This is the libation I came up with.
Pretty, right?!
It's Yum too!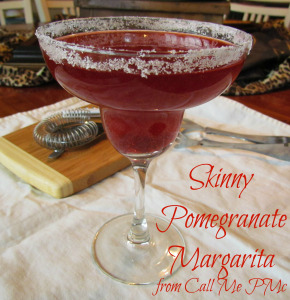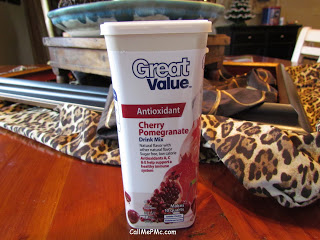 Here's the secret!
Skinny Pomegranate Margarita    

Ingredients:
4 oz cherry pomegranate low calorie drink mix
1 1/2 oz Orange Tequila (I used Patron Citronge picture here.)
1/2 oz freshly squeezed lime
1 oz club soda (for a little zing!)
lime and/or pomegranate arils (for garnish, optional)
salt or sugar for rim (for garnish, optional)
Directions:
Make the Cherry Pomegranate: one pack usually makes 2 quarts or 64 oz of drink mix, for this cocktail make the drink mix using only 56 oz of water.
Next, fill a cocktail shaker with ice. Pour all ingredients: drink mix, tequila, lime juice, and club soda over ice and shake vigorously. Rub the lime around edge of glass then dip in salt or sugar. (I used sugar. It was a nice addition to the tang of the pomegranate.) You can fill the glass with ice and pour margarita over ice. I did not pour over ice because I didn't want it diluted!
This makes a very pretty, deep red cocktail that's perfect for the holidays!
Linking up!