What do you think of when you think about 'Smoking meat'?
Ribs or Boston Butt, right?
Maybe brisket…
I love smoked chicken or turkey, it's actually more flavorful than grilling.
And I love chicken.
I actually, probably, serve it too often to my family.
I particularly love this beer can chicken because I can have the men man the grill 
while I watch tv with my feet propped up make sides dishes and clean the kitchen!
This Applewood Smoked Beer Can Chicken is a must have to your chicken recipes.
Be sure and check out my Encore Dishes on how to use any leftover chicken at the bottom of the recipe!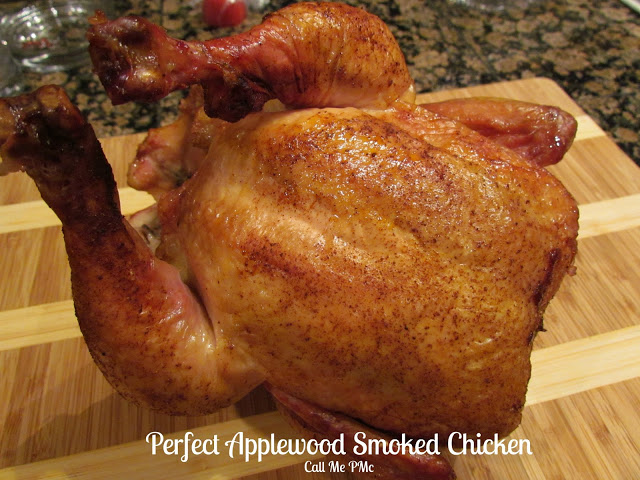 Perfect Applewood Smoked Beer Can Chicken
Ingredients
2 (2 to 3 lbs) whole chickens
1/2 c salt
1/2 c sugar
1 gallon water
2 (12 oz) cans beer
1/ 2 butter, softened
2 tsp salt
2 tsp pepper
2 tsp garlic powder
2 tsp paprika
2 tsp onion powder
Directions
Place chickens in large bowl and cover with water. Add 1/2 c salt and 1/2 c sugar to water. Brine from 30 minutes to 4 hours depending on how much time to you have to prepare. Store in refrigerator while brining.
Prepare smoker by piling charcoal on one side of grill and leaving the other side empty. Soak applewood chips or chunks in water. Remove from water and place in grill. Place a food grate on grill. Allow to heat to about 250 degrees.

Prepare chicken – Remove chicken from brine and rinse. (Discard brine.) Pat chicken dry. Rub butter under the skin and on top of the skin. Sprinkle 1 tsp each of salt, pepper, garlic powder, paprika, and onion powder on each chicken. Place each chicken upright onto a beer can, fitting the can into cavity. Pull legs forward to form a tri-pod, allowing chickens to stand upright. 

Place chicken upright (sitting on beer) on side of grill that does not have charcoal. Smoke, covered with grill lid, 1 hour and 20 to 40 minutes, depending on grill temperature, until golden and meat thermometer inserted in thigh registers 180 degrees. Remove from grill and allow chickens to rest 10 minutes. Carefully remove beer cans and cut chickens. 
Yield: 12 servings. 
Encore Dish
There is so many Encore Dishes you can have with leftover chicken.
1. Chicken Salad
2. Sandwich – Layer a slice of cheddar cheese on one side of a bun (whatever kind of buns you have) and chicken on the other side.  Toast until hot. To serve, spread Easy Ramoulade or Honey Mustard along with lettuce and tomato.
3. Salad – Top this Southwestern Salad with Green Chile Lime Salad Dressing or Oriental Salad with Sweet & Sour Dressing with chunks of chicken
4. Chicken Taco Bites
5. Chicken Quesadillas- Heat griddle and place one flour tortilla on it. Layer pepper jack cheese, 2 spoonfuls of tomatoes with green chilies (Rotel) or salsa, chopped chicken, and more cheese. Place another flour tortilla on top. Heat until tortilla is golden and crisp. Flip and toast second side. Serve immediately with salsa and sour cream.
I love being able to cook once and eat twice off these chickens! Now, go smoke some chickens!
Did you enjoy this post?
For more scrumptious recipes, fun projects, and exciting news, subscribe to Call Me PMc now.
Enter your email address:
Delivered by FeedBurner