For more scrumptious recipes, fun projects, and exciting news, subscribe to Call Me PMc via email.
I have been Kentucky Hot Brown nuts lately. I made Kentucky Hot Brown Mac 'n Cheese and now this Kentucky Hot Brown Burger!
Before we get to that, how was your weekend? Did your team win? Mine did. A win makes for a happy Big Daddy! With all the ongoing saga of life with a fifth grader, having a happy Bid Daddy has not been common recently.
I don't remember having a particularly tough fifth grade year when I was in school. I loved school so I really didn't have a bad year. Well, there was tenth grade chemistry. I ended up with a C but that was only because I had good lab grades. Basically, I didn't blow up the school so I got an A on all our lab assignments which brought my less than stellar test grades up. It was the only C I received in high school, not that I"m still holding a grudge or anything….
I'm thinking that if I made it through that chemistry class surely, I can get my child through fifth grade! I'll report back in May!! Did you like school? Do your children like and do well in school? I need tips to get me through this school year!
Meanwhile, I'll continue cooking amazing comfort food for him and you! Like this Kentucky Hot Brown Burger! I mean, have you ever heard of such? The flavors are just too good; bacon, cheese, chicken…did I mention bacon?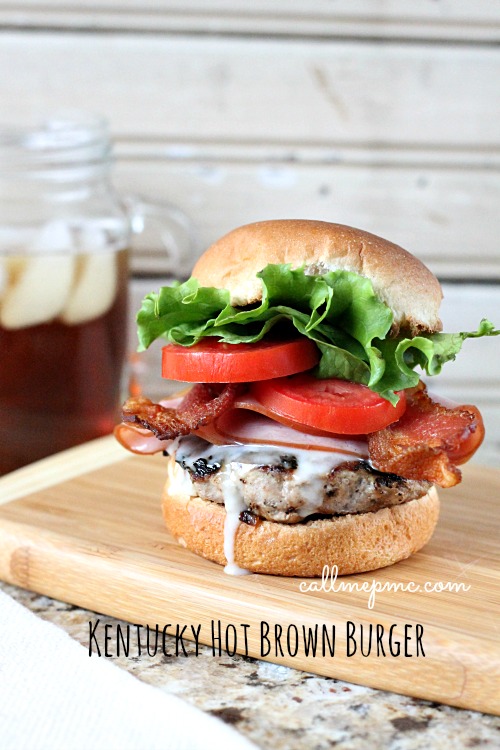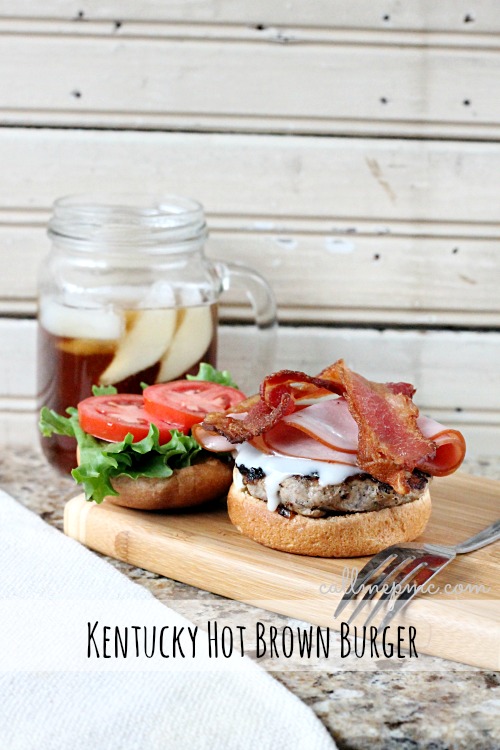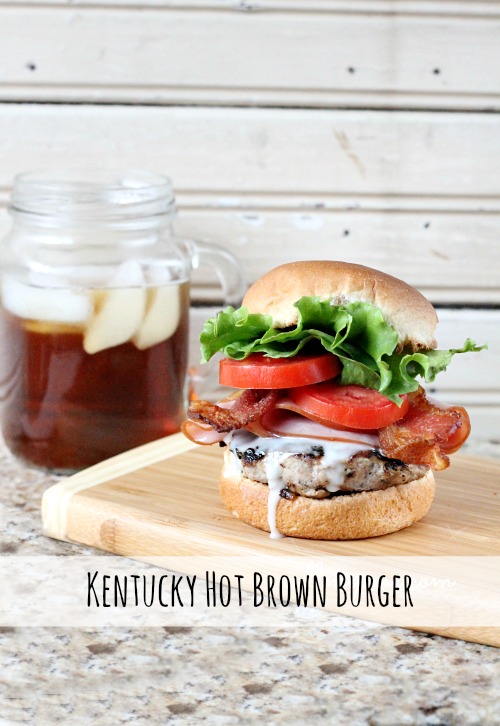 Kentucky Hot Brown Burger
Original recipe from Paula Jones for Call Me PMc. © 2012 – 2013 CallMePMc.com – All Rights Reserved
Ingredients
1 lb ground turkey (I used 83% lean)
1/2 cup onion, died and caramelized
1/4 tsp paprika
1/4 tsp salt
1/4 tsp ground black pepper
1/4 tsp parsley
1/4 tsp ground red pepper
6 slices deli ham
6 slices bacon, cooked crisp
6 slider buns
2 Roma tomatoes, sliced
Romaine lettuce, 6 pieces
Instructions
Prepare Cheese sauce and set aside.
Mix caramelized onions, paprika, salt, pepper, parsley, red pepper and turkey together. Divide into 6 equal sized burgers.
Heat a skillet to medium heat. Add burgers cooking 5 minutes, turn to second side and cook an additional 4 minutes. Do not squish burgers with the spatula, you will press all the flavorful juice out! Layer ham and bacon on burgers during the last 1 to 2 minutes of cook time to heat them.
While burgers are cooking toast buns.
Layer burgers, ham, bacon, cheese sauce, tomatoes and lettuce on bottom bun. Place top bun on and enjoy!
http://www.callmepmc.com/2013/10/kentucky-hot-brown-burger/
All recipes and images are original and the sole property of Paula Jones at CallMePMc.com with all rights reserved. All content herein is meant for your personal enjoyment only. Content on CallMePMc.com is in no way to be used for commercial purposes. Other than linking to a page or pinning an image only on Pinterest (complete recipe is not allowed to be copied to Pinterest or any other site), Call Me PMc asks that you do not copy or otherwise use images or original recipes for any other purpose. If you would like to use any of my pictures you must first contact Call Me PMc and get express written permission. Use of this site automatically constitutes your agreement to these terms.
These burgers would be so good with my Skillet Potatoes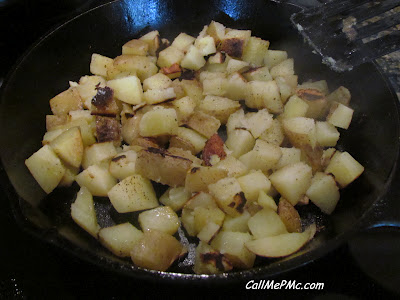 or this
Twice Baked Potato Casserole!