Have I ever given you a recipe that you couldn't eat? I guess there's a first time for everything!
As I mention in the Cookies and Cream Fudge recipe, a neighbor of mine when I was young brought Christmas treats to us every year. She also had this wonderful Simmering Holiday Potpourri on the stove almost every time I visited her between Thanksgiving and Christmas.
She had a farm with many different animals. She had chickens from which we purchased fresh eggs every week. On Saturday we went over and picked up our eggs and visited a while. I remember her house smiled so festive. As an adult, I related that smell to the holidays and wanted my house to smell like that.
Isn't it funny how smells remind trigger memories? Like Ralph Lauren Polo cologne for men always reminds me of my high school boyfriend! Bourbon or whiskey smells make me want to watch a good football game. Coconut anything makes me want to sun on the beach. What are some smells that conjure up memories for you?
For, this 'recipe' is not just the cinnamon or cloves or even the citrus. I love to smell them all independently, but it's the combination of smell they creat together that gives it the holiday twist. This is a very simple recipe for Simmering Holiday Potpourri  and, yes, its one you don't eat, but it's worth sharing and so worth making! If you have a small slowcooker that you can dedicate to potpourri for the season, that will be fantastic!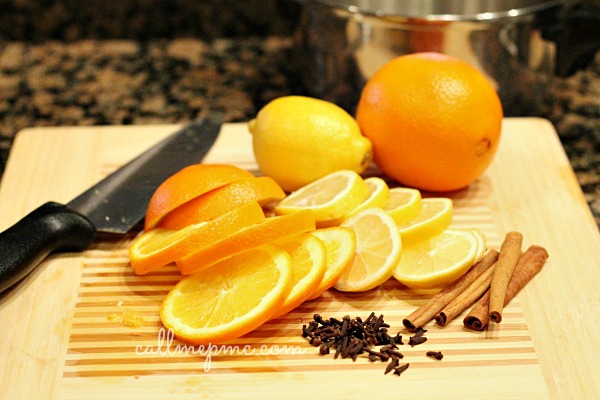 This potpourri is easy peasy. Collect your ingredients and slice fruit.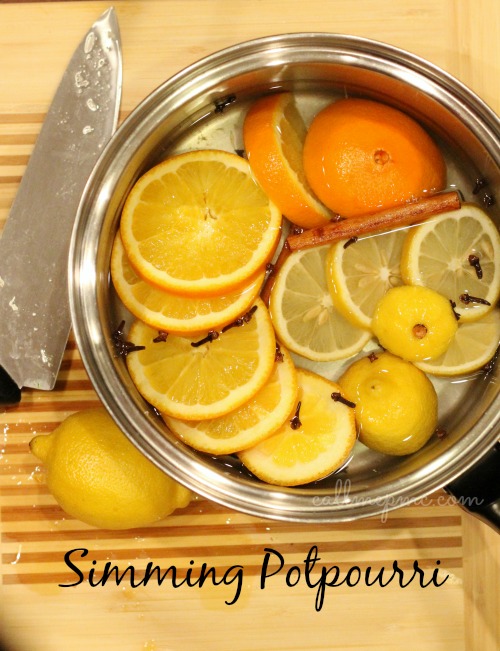 Place in a pot or slow cooker. Fill with water until it just covers the fruit. Simmer and enjoy the aroma!
Need a gift?
This would make a great gift, merely package all the ingredients with directions.
Simmering Holiday Potpourri
Ingredients
1 orange
1 lemon
2 T whole cloves
2 cinnamon sticks
water
Instructions
Slice fruit and place in pot or slow cooker.
Add cloves and cinnamon.
Cover with water.
Turn to simmer. Do not cover.
Add more water when it gets low.
Enjoy!
http://www.callmepmc.com/2013/12/simmering-holiday-potpourri/
All recipes and images are original and the sole property of Paula Jones at CallMePMc.com with all rights reserved. All content herein is meant for your personal enjoyment only. Content on CallMePMc.com is in no way to be used for commercial purposes. Other than linking to a page or pinning an image only on Pinterest (complete recipe is not allowed to be copied to Pinterest or any other site), Call Me PMc asks that you do not copy or otherwise use images or original recipes for any other purpose. If you would like to use any of my pictures you must first contact Call Me PMc and get express written permission. Use of this site automatically constitutes your agreement to these terms.
One month ago: Simple Hummus
One year ago: Six Easy Desserts
You may also like: Sand Art Brownies