Before we get to this Easy Breakfast Ham and Cheese Pizza just let me tell you something…
Wesley has informed me that our dog, the one I didn't want, is anxious and therefore she's digging.
She's anxious, he claims, because she isn't getting enough exercise.
And who, do you guess, that he suggests take the dog on more walks?!
I mean, seriously(?), I get my miles in every day!
I am not anxious.
Nor, do I dig.
Don't you think someone else should walk the dog?
Someone who, let's say, doesn't run 5+ miles a day?!
I'm just thinking that since no one else in my house gets exercise, ahem, besides me(!) that maybe a better solution would be for those someones to walk the dog! Just sayin'
Now……… what was I doing?
oh, yeah, bringing you this extraordinary Breakfast Ham and Cheese Pizza.
It's perfect for after a long run….
or walking the dog.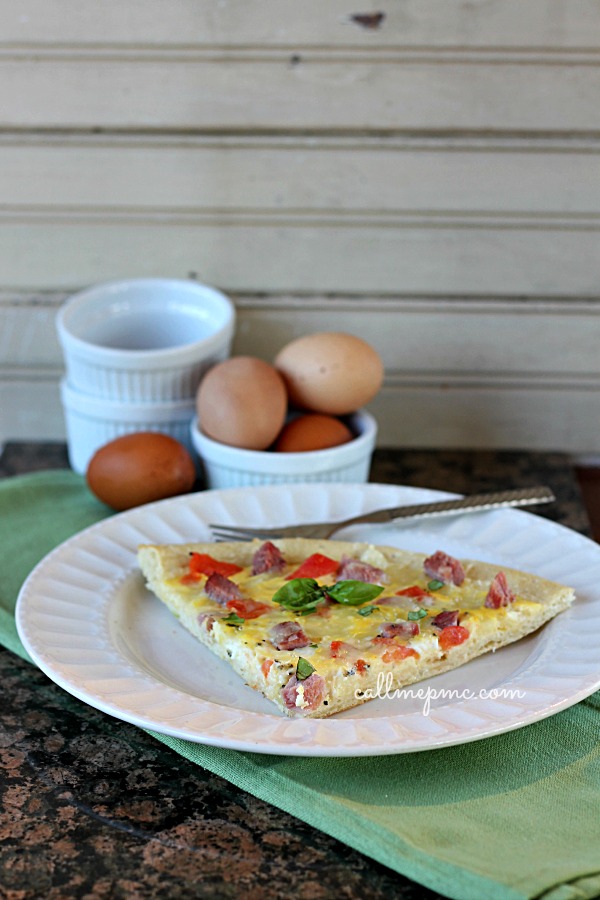 Using a premade pizza crust cuts down on the prep time of this breakfast pizza, which is often a very good thing in the morning. If you want to use a homemade dough, it would be delicious as well.
This is the pizza crust I used for this particular breakfast pizza.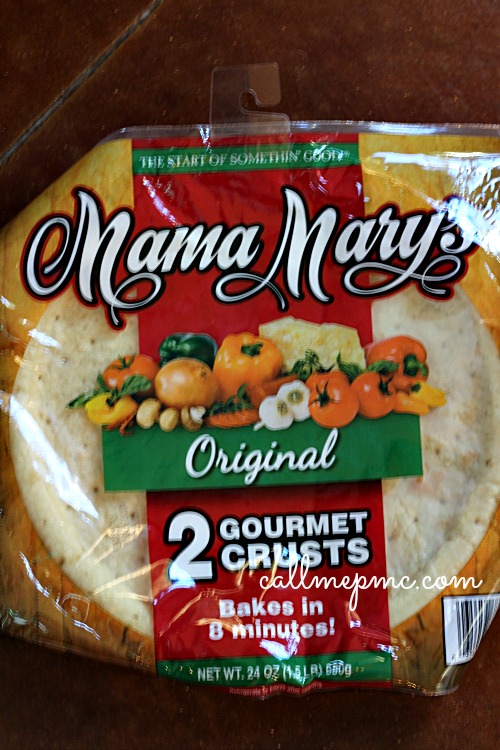 You can customize this pizza to your liking and layer on your favorite breakfast foods.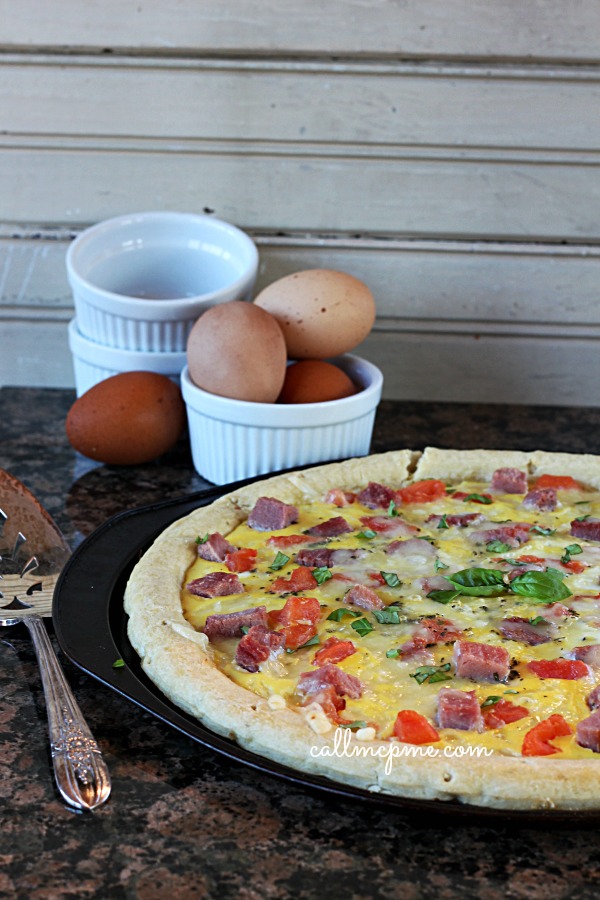 I had breakfast ham and eggs from my Mom's chickens that I used for my breakfast pizza. What's your favorite breakfast? Are you a biscuit, waffle or do you like pizza or not-so-traditional breakfast foods?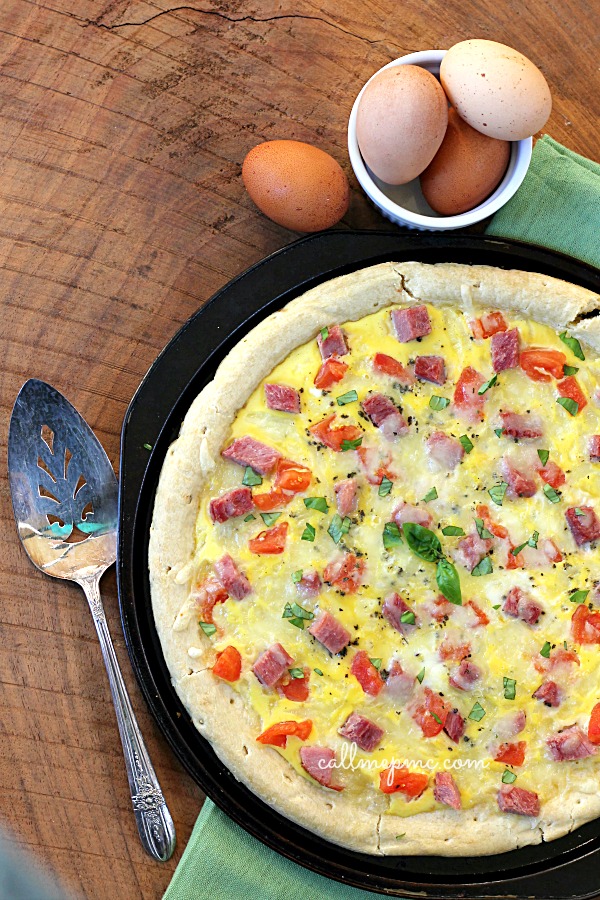 Easy Breakfast Ham and Cheese Pizza
Prep time:
Cook time:
Total time:
Ingredients
1 (14 oz) prebaked pizza crust*
2 c shreded muenster cheese (or any cheese of your choice)
1 c diced, cooked ham
3 Roma tomatoes, diced (I remove seeds and pat dry with a paper towel)
2 eggs,
½ c half and half
1 tsp dried basil
½ tsp salt
½ tsp freshly ground black pepper
Instructions
Place pizza crust ona greased pizza pan. Sprinkle 1 cup of the grated cheese over crust.
Top with ham and tomato.
In a bowl, combine eggs, half and half and seasonings. Whisk
Slowly pour egg mixture into center of crust. It will spread out naturally.
Top with remaining cheese.
Bake at 425 for 20 minutes or until egg mixture is set.
Notes
*If you are not using a pre-baked crust, roll out your dough and make sure the edge is taller than the center. You'll want to do this because the egg and milk mixture will run off the dough if you don't. Adjust cooking 8 to 10 minutes to allow dough to cook through.
More breakfast recipes, I think you'll enjoy!
The Best Breakfast Casserole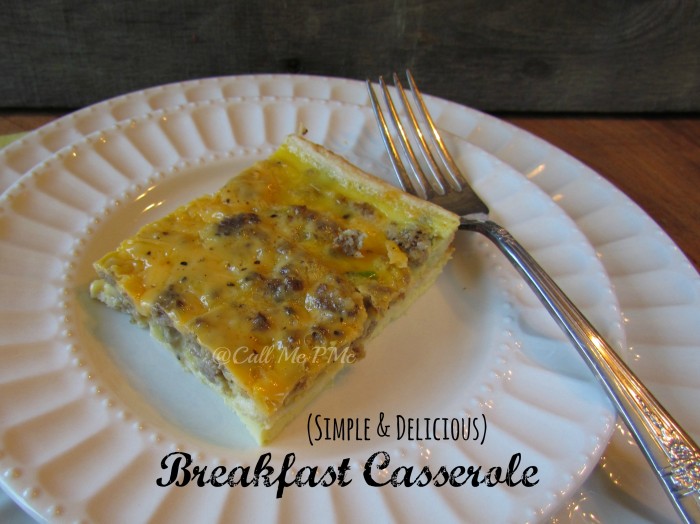 Chocolate Chip Pancakes
For more scrumptious recipes, fun projects, and exciting news, subscribe to Call Me PMc
Facebook, Twitter, Pinterest, Google+, Bloglovin'