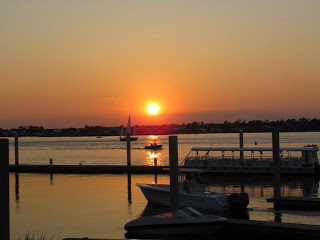 As a writer, where do you get inspiration?
When I'm running, shopping, driving, or working I find my mind wonders in 100 different places. I can think of tons of things to write, facebook, or tweet. But, sometimes, when I sit down at the computer to actually write a post, I have nothing to say. I'm blank, uninteresting, speechless.
On a recent trip, I brainstormed about posts I wanted to write so I'd have something to write about when I have nothing to write about.
I came up with some strategies to get me inspired. I keep this list by the computer for quick reference.
Keep a Journal – for me this is essential. I keep a notebook with me and write down random thoughts, food see that I want to duplicate, crafts I want to make, etc. If I don't have a notebook, I make notes in my phone.

"Inspired by" posts – this seems to be my fall back post, because I'm inspired by a lot of things. It's an easy post to write. Are you inspired by something your reading, a series on TV, that pre-made dessert that you can make healthier?

A Giveaway – when all else fails, give something away. Readers love freebies.

"How to" – There is a 'how to' in everything. How to Wash a Dog. How to Clean the Fridge. How to Write a Blog Post (do you get the irony?)

A Day in the Life – Chronicle a day in your life for your readers. Most readers follow you because they find you interesting and usually they seek to get to know you better.

Write a List – Things I Love, Things I Hate, My Pet Peeves, My Favorite Toys as a Child….

Phone a Friend – I have a friend that, regardless if I'm having a bad day, always, always makes me laugh. She inspires me through our shared experiences and escapades. I always leave lunch with her with new material.

Read other blogs, read your archives, read your old journals

Write Q&A – answer questions from your readers

Collaborate with other bloggers – guest post, conduct interviews, write joint posts, have discussion forums

Best of – Best of 2011, Best of Chocolate Recipes, 10 Best Dinner recipes, Best 15 minute meals… you get it.

If all else fails, get up and take a break!
I hope I've inspired you and helped you get past the Bloggers Block. Be sure and follow me for inspiration daily! 😉
Laugh, Love, Exercise!