These Chocolate Chip Pancakes are trouble!
I actually made these pancakes for Ryder's birthday a while back. They got him in serious trouble!
*sigh*
You see, evidently he was hyper that day at school! Now, Ryder tends to be, shall we say, energetic, anyway.
I suppose the chocolate and sugar for breakfast didn't help the situation. I had to promise his teacher not to
make them on a school day again!
I guess you can interpret that as being good or as being bad: bad that my child got in trouble,
but good that these pancakes are that yummy!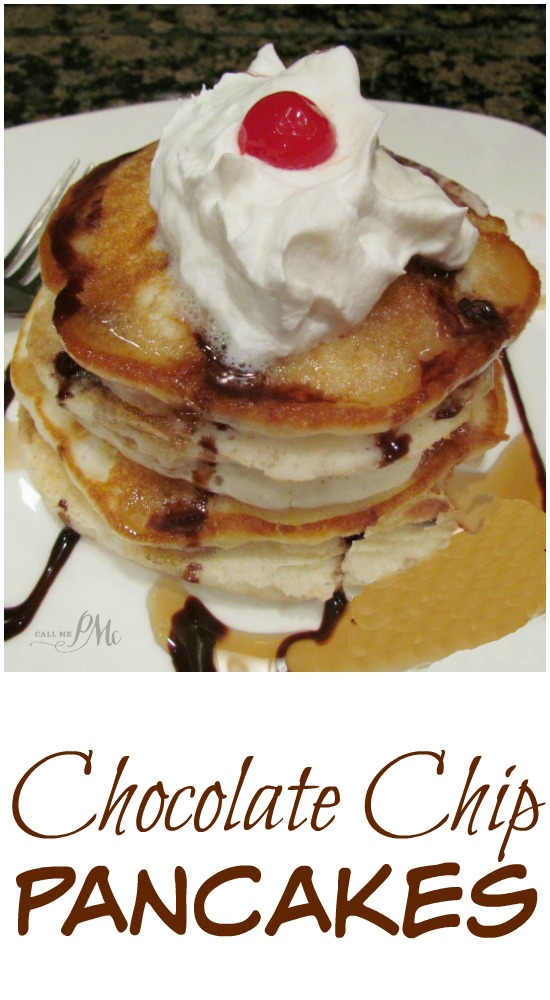 Print Recipe
Chocolate Chip Pancakes
Servings:
10
to 12 pancakes
Ingredients
1

cup

milk

2

eggs

3

Tablespoon

butter

melted

1 1/2

cup

all-purpose flour

2

Tablespoon

sugar

2

teaspoon

baking powder

1

teaspoon

salt

1/2

cup

mini chocolate chips

1 to 3

Tablespoon

vegetable oil
Instructions
Heat griddle to med-high. Beat eggs; add milk and melted

butter

and stir to combine.

Sift flour until there are not lumps.

In another

bowl

, combine flour, sugar baking powder and salt.

Add egg mixture to flour mixture and stir until just combined.

Fold in chocolate chips.

Set aside 4 to 5 minutes to thicken.

Had 1 T vegetable oil to griddle, when oil is hot you're ready to cook pancakes. (You may have to add more oil after you cook a few pancakes.)

Using an ice cream scoop, add one scoop full to gridle and spread into a circle.

Watch carefully. Pancakes will be ready to turn when the edges begin to look dry and bubbles form in the center of the pancake. Turn pancakes only once.

Remove pancake after 2 to 3 minutes or when golden brown on the second side.

Servie immediately
Here are some of my other popular breakfast recipes: