**ATTENTION!!** **ATTENTION**
The following is a Public Service Announcement brought to you by the staff at CallMePMc.com… ok, that would just be me but stand straight, pay attention, cross you heart and hope to die, stick a needle….ok, ok
Cook with your kids!!
It doesn't have to be a Blue ribbon recipe. It can come from a box. Heck, it can be a roll of slice and bake cookies. What's important is spending time with your kids. I'm with my kids a lot. We talk a lot. But, when we're in the kitchen cooking, I get more information out of them than any other time.
I've had both my boys in the kitchen with me since they could stand. Granted, for a long time I'd have to pre-measure everything and put it bowls and let them 'act' like they were measuring. That was my OCD acting up. Sometimes, it took a xanax to get through… just kidding…. not really. Sometimes I use a cake mix or cookie mix but they love it as much as making something from scratch.
If you're not a cook or baker, by all means, get a pre-packaged mix, get slice and bake and pre-made icing. I'm here to tell you that your kids will have the best time. And, you'll be their hero. And, you might learn a secret or two about who's giving the 'love eye' or the 'stink eye' at school. (Apparently, Ryder gets the 'love eye' from a certain girl in class!)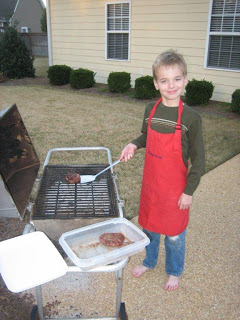 Let's hear it for Mr. Grill II !!
We started out baking and until about a year ago that was the extent of the boys culinary kitchen adventures. Then, as a cub scout requirement, Lincoln had to plan and prepare a meal. Being the picky eater that he is, we were all afraid of having peanut
butter
sandwiches for dinner. That's right, peanut
butter
, only, no jelly! But Big Daddy talked him into grilling and, now, if he helps grill it, he'll eat it. Amazing!
The boys enjoy Sliders much more than a big fat hamburger and we all know how to make those, right? But here are some exciting sauce recipes to kick up your burgers whatever size they may be!!