My favorite meal of the day is breakfast. I've always said that I could do without lunch and dinner if I could just have a good Southern
breakfast
. Now, I have never actually
tested
that theory. I like mile-high, buttery
biscuits
, hot
pancakes
, sweet
cinnamon rolls
with lots of cream cheese icing, and savory casseroles.
I had the idea for this quiche one day as I looked through my recipes. I needed to use eggs that my parents gave me. (It's good to have parents who garden and farm and share their bounty!) I wanted a good breakfast casserole, but knew that my boys would not eat it. I came up with this individual quiche recipe using phyllo for the crust and made it in two 5 inch ramekins. I was happy with the result; it's small yet satisfying, simple to pull together yet elegant enough to serve quests.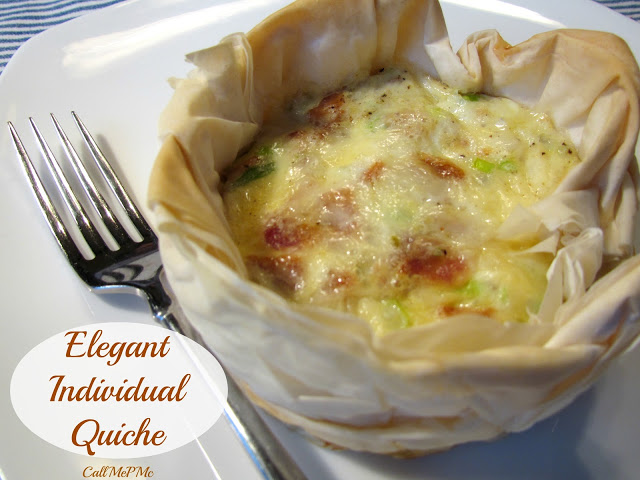 Speaking of eggs, when I was 11 or 12 years old I would help Mother in the kitchen. I went through this stage that every time I tried to crack an egg, I would hit it too hard on the bowl. It would slide down the edge of the bowl onto the counter and flop on the floor. No, it didn't happen once or twice, but many times. I just couldn't get the hang of it. If you've ever tried to clean a spilled egg, it's almost impossible. I cringe every time I start to break an egg to this day! Luckily both my boys love to break the eggs for recipes! You know what? I let them! (and that, my friend, is one of the benefits of having children – getting them to do what you don't want to do!)
Do you know that the dates on egg cartons are not expiration dates? Actually, it's the date used for stores to know how long they can sell the eggs. It's a 'pack date'. Egg cartons with the USDA grade on them are required to have this 'pack date'. This date is a three digit code that corresponds with the consecutive day of the year. For example, January 1 would be 001 December 31 would be 365. Get it?
After purchasing eggs, refrigerate them in their original carton in the coldest part of your refrigerator (not the door). Assuming continuous refrigeration and they are not cracked or otherwise damaged, raw eggs will be safe to use 3 to 5 weeks after the Julian or 'pack date'.
When a recipe calls for an egg, it refers to a Large egg. Adjust the number of eggs if you're using x-large or small eggs in a recipe. Here's a chart I like to refer to:
| | | | | |
| --- | --- | --- | --- | --- |
| LARGE | JUMBO | X-LARGE | MEDIUM | SMALL |
| | | | | |
| | | | | |
| | | | | |
| | | | | |
| | | | | |
| | | | | |
Now, on the recipe!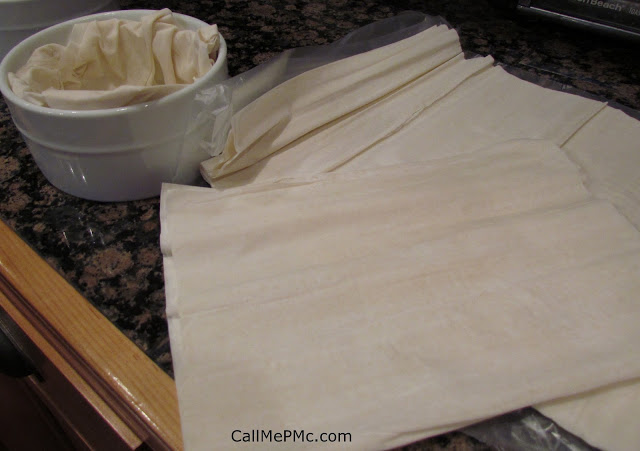 Unroll phyllo dough and press into ramekin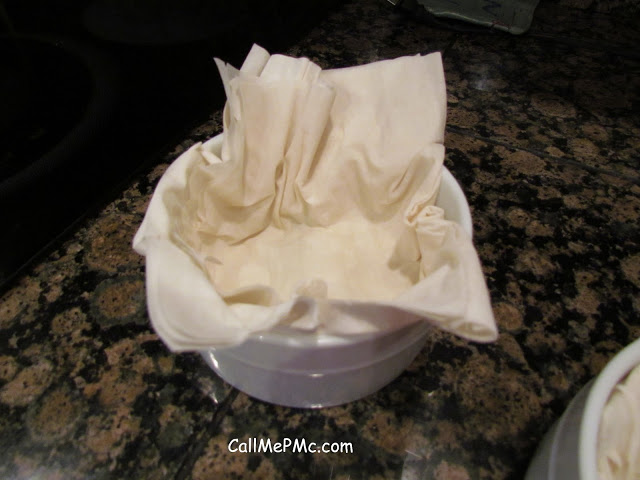 You could leave the edges hanging over or tuck them in as I did.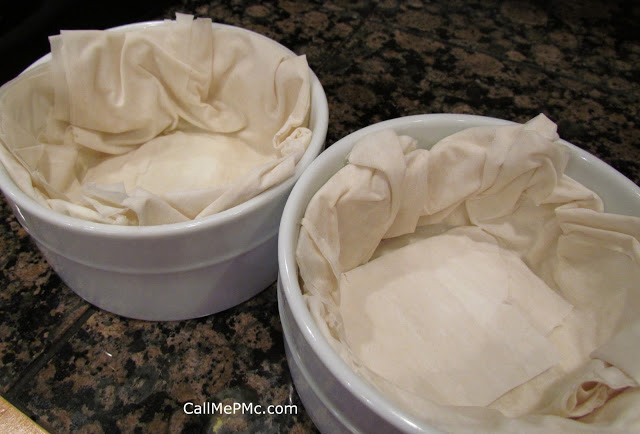 I thought they might become too crisp if leave out, this way I made a neat little crust.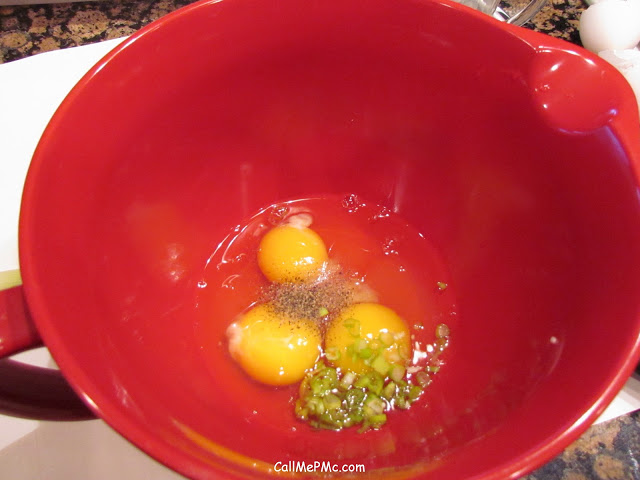 In a bowl, beat eggs, green onions, salt, and pepper.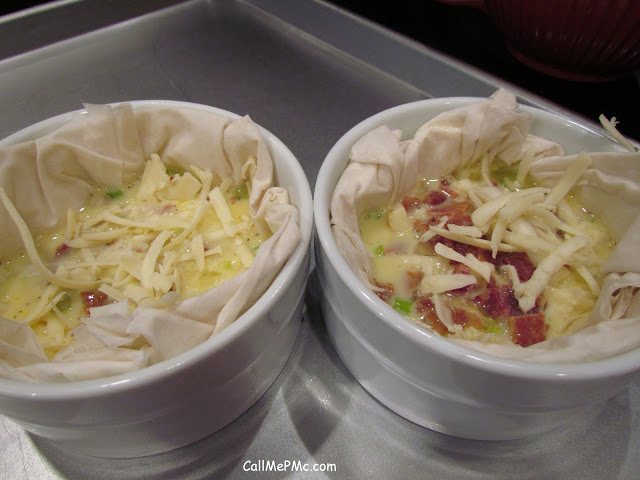 Add meat and cheese to ramekins and bake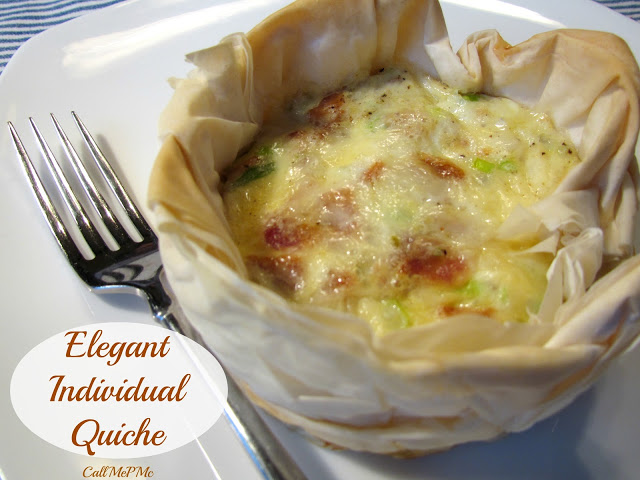 Elegant Individual Quiche (ingredients are for 2 quiche)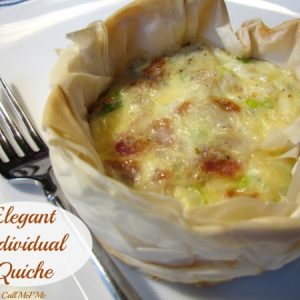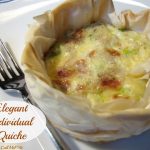 Print Recipe
Elegant Individual Quiche
Elegant Individual Quiche uses a unique crust and is filled with your favorite quiche items.
Ingredients
Ingredients:
3

eggs

1

T

green onion

green part only, thinly sliced

1/4

tsp

salt

1/8

tsp

pepper

2

strips bacon*

cooked and crumbled

1/4

c

ham*

cooked and diced

1

c

cheese

pepper jack

6

sheets phyllo dough
Instructions
Preheat oven to 350 degrees. Spray the bottom and sides of a small oven safe dish. I used a 5 inch ramekin with 3 inch sides. Fold 3 sheets of phyllo dough in half and press into ramekin, tuck any dough that over hangs into the ramekin. Place ramekins on a

sheet pan

.

In a medium size bowl, beat the eggs. Add green onion, salt and pepper to eggs and combine. Add half of ham, bacon, and 1/4 c of cheese to each ramekin. Carefully pour in eggs. Top each ramekin with remaining 1/2 c cheese(adding 1/4 c to each ramekin). Bake at 350 degrees for 20 to 25 minutes until lightly set in center. Remove and allow to cool 5 minutes before serving.

*You may omit or add your favorite breakfast protein.
Tried this recipe? I'd love to hear from you. Comment below or mention & tag me on Instagram
Mention @Paula_callmepmc or tag #callmepmc!
Keep in touch, sign up for my newletter
[wysija_form id="1″]