Wesley recently went on a fun fishing trip and caught the prized "red fish" out of the Gulf of Mexico. Red fish is a mild fish and apparently difficult to catch since all the guides where excited for him. Now, that's not the real name, but that's what he kept calling it. He knew immediately he wanted to grill some for Fish Tacos with Mango Avocado Relish.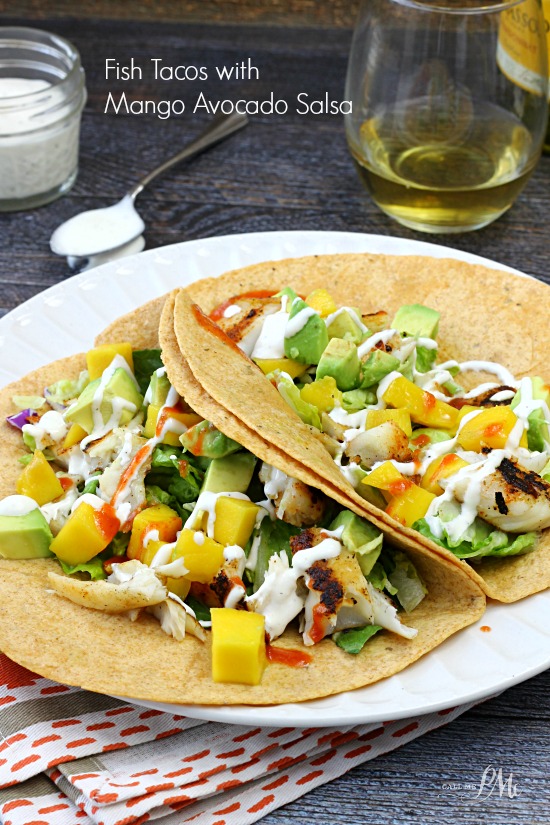 Why were we so excited about Fish Tacos?
We'll it's one of the few foods all four of us eat. I know, random for kids, especially my super parsnickety foodie, Lincoln. We learned about a year ago if we can get him to help cook, he'll more likely try a new food.  And, he loves to grill, so the odds were in our favor on this one.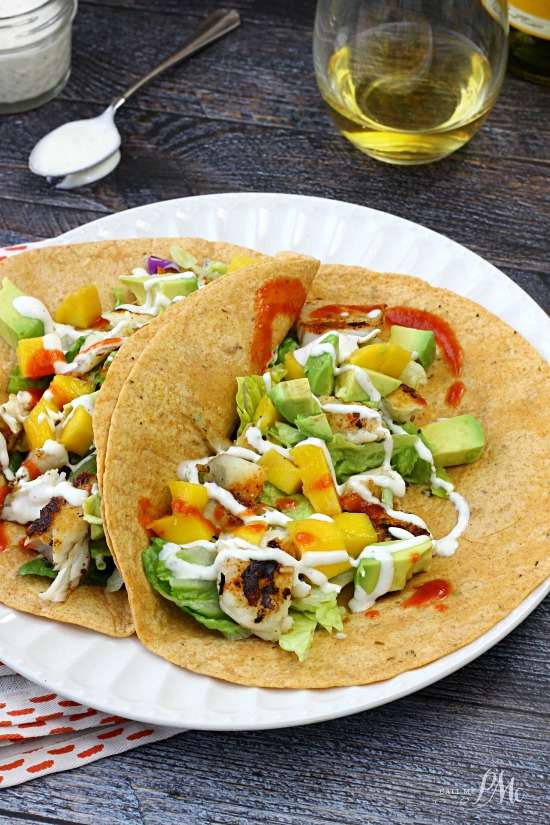 I asked him to help. He lit the grill and seasoned the fish. Now, I don't even like to season raw meat! But, he's super particular about everything and he likes to get the seasoning perfectly even. I'd rather him be a perfectionist than at the other end of the spectrum!.
By the time the grill was hot and the fish were ready to go on, Wesley got home and helped with that part. I'm not exactly crazy about Lincoln actually putting items on and taking them off the grill at least not until he's older!
And, it worked! He tried it and he liked it! Score!!
Fish Tacos with Mango Avocado Relish Tips
I like to make the salsa first so it's ready when the fish is.
Fish cooks really quickly, whether you grill are pan sauté I recommend watching the fish closely as it cooks.
I have used both flour and corn tortillas in this recipe and like them both. I also mix up the flour tortillas with plain, whole wheat and sun-dried tomato. I like them all, but the sun-dried tomato flour tortillas will give a totally different flavor to your Fish Tacos with Mango Avocado Relish. I prefer plain flour tortillas in this recipe.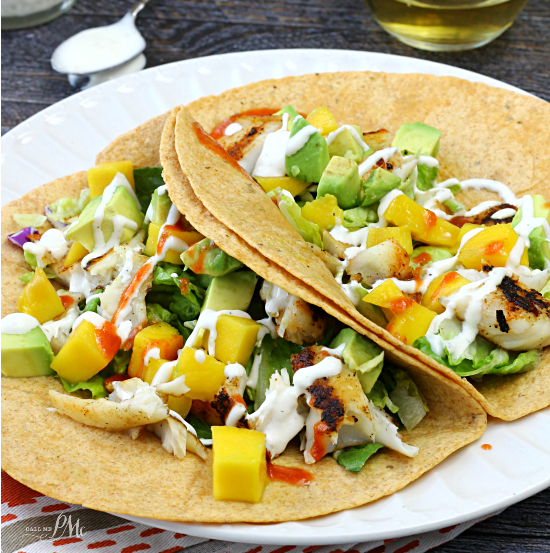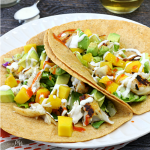 Print Recipe
Fish Tacos with Mango Avocado Relish / Call Me PMc
Ingredients
4

filets any mild white fish - tilapia

red fish, mahi mahi, grouper

1/4

tsp

salt

or to taste

1/4

tsp

pepper

or to taste

1

T

olive oil

8

flour tortillas

plain, whole wheat or flavored

3

cups

Spring mix lettuce

less if you prefer

1

avocado

diced

1

mango

diced

2

Roma tomatoes

seeded and diced

3

T

red onion

2

T

fresh cilantro

more if you prefer

2

tsp

white wine vinegarSauce:

1

lime

zested and juiced

2

tsp

Sriracha sauce

more is you like it hot

1/3

c

mayonnaise
Instructions
For taco sauce: Mix juice and zest of one lime, Sriracha sauce and mayonnaise together until smooth. Refrigerate.

Combine avocado, mango, tomato, red onion, cilantro and white wine vinegar. Refrigerate until fish are cooked.

Grill fish: Heat grill to 400 degrees. Cover fish with olive oil, salt and pepper on both sides. Cooking time will vary depending on thickness of fish. My fish took about 15 mintues to cook. I put the grill lid down and turned to second side about 9 to 10 minutes in. I recommend a useing a grilling basket for fish.

Assemble: Layer 2 oz fish in center of flour tortilla, 1/2 c Spring mix, 1/4 c avocado/mango mixture, and top with 1 to 2 T sauce.
You could also make this easy Red Onion Mango Salsa for these fish tacos!
Use this Fish Taco Sauce if you don't like hot!
Or you can try this version of Fish Tacos!
And wash it all down with this wonderfully tasty Skinny Margarita!