German Chocolate Cheesecake, the crowd-pleasing cake is turned into a luscious cheesecake. Creamy chocolate cheesecake is topped with a rich pecan coconut frosting, making this one very indulgent dessert!
Looking for an elegant ending to a special meal? My German Chocolate Cheesecake recipe is what you've been looking for!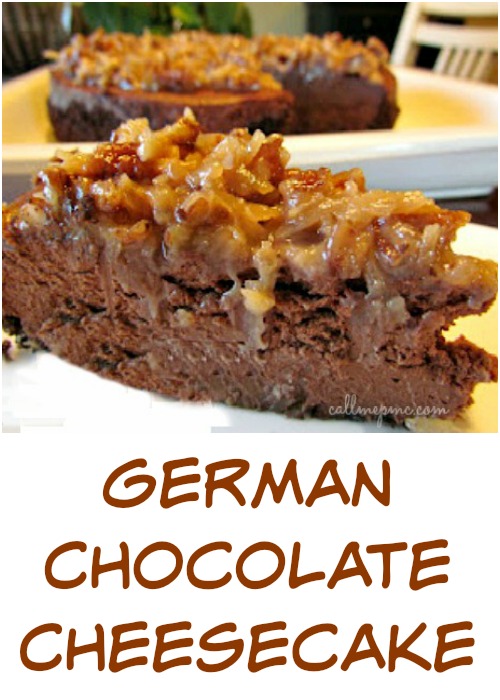 Before the German Chocolate Cheesecake, the boys wanted to share with you  a couple of  jokes.
*Why did the cow do jumping jacks?
~Because he wanted a milk shake!
*Why do bananas wear sunscreen
~because they peel!  ha!
*What dogs are opposites?
~Hot dogs and chili dogs
*What has four "i's" but still can't see?
~Mississippi
 Ok German Chocolate Cheesecake time!
I love cheesecake.
After I learned a few
techniques
, I have not been intimidated by them.
I love to use familiar flavors in unconventional ways.
I thought it would be fun to do a variation of the classic
German Chocolate Cake with Coconut Pecan Frosting.
This is what I came up with and it ROCKED!!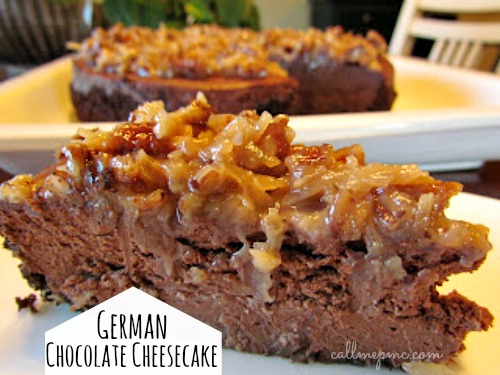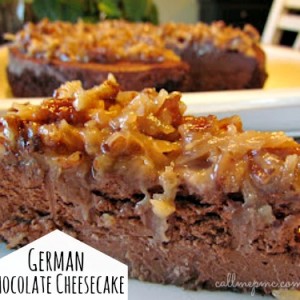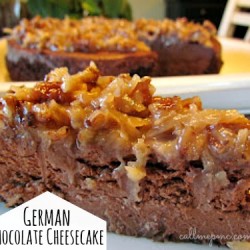 German Chocolate Cheesecake
Ingredients
Crust:
1 1/2

c

chocolate graham cracker crumbs

crushed

2

T

brown sugar

1/4

c

butter

melted
Filling:
2

8 oz pkg cream cheese, softened

4

oz

semisweet chocolate

melted and cooled

4

oz

bittersweet chocolate

melted and cooled

2/3

c

packed brown sugar

2

T

cocoa

5

eggs

lightly beaten

1

tsp

almond extract

1

tsp

vanilla extract
Topping:
3/4

c

flaked coconut

3/4

c

chopped pecans

1/3

c

packed brown sugar

1/3

c

half-and-half cream

5

T

butter
Instructions
In a small bowl, combine graham cracker crumbs and brown sugar. Stir in butter. Wrap heavy duty aluminum foil tightly around bottom of 9 inch springform pan. Spray inside of pan with non-stick vegetable spray, press crumb mixture in bottom of pan and 1 inch up sides. Bake crust at 350 degrees F 10 minutes. Cool.

In a large bowl, beat cream cheese until smooth. Beat in cooled chocolate, brown sugar, and cocoa. Add eggs, one at a time. Beat on low speed until just combined. Stir in almond and vanilla extract. Pour into crust.

Place 1 inch water in a large pan, I use a 9x13 cake pan. Place it on the bottom rack. Place springform pan on rack directly above water. Bake at 350 degrees F 50 to 55 minutes or until center is just set and top appears dull. Remove cheesecake and cool on a wire rack 10 minutes. Carefully run a knife around edge of pan to loosen; cool 1 hour longer. Refrigerate a minimum of 4 hours or overnight before cutting.

Remove sides of springform pan. In a large saucepan, combine all the topping ingredients. Bring to a boil over medium heat; cook and stir 3 minutes. Cool. Spread topping over cheese cake. Refrigerate until ready to serve.

Yield: 12 servings.