Have you ever tried to paint a textured surface wall? Over estimated the power of that blue painter's tape to give you that perfect straight edge on a not-so-perfectly flat wall? Every crafter knows the frustration of working on textured surfaces. Stucco might be great for drama but it's NOT great for creating an easy accent wall with stripes! I don't know a single homeowner that wants blotchy edges while painting on all the bumps and ridges!
That's where FrogTape® excels! FrogTape® has a thin layer of "paint block technology" (some sort of gelling agent) on each edge, which basically turns the paint into a solid before it can creep under your tape. FrogTape® is perfect for those textured bathrooms or playrooms or any place you have a textured surface to paint. Check out my project below.
I've been wanting to paint a dark-colored backdrop for my food photography. I just didn't know how I was going to achieve it until I found FrogTape®.
Pictured above are the components of the FrogTape® package. These items are sitting on the textured surface that I plan to paint. This is a 2 foot by 2 foot piece of thin plywood. It is painted an off-white currently.
Using the FrogTape® to divide the board in half, I want to paint one side a dark gray and leave the other half the current color. This will allow me to have two different backdrops for my food photographs.
Following the directions we put the tape down and wet it.
Next, put the paint block on the side that you'll be painting.
Set the timer as indicated on the instructions and wait. It just so happened to be freezing temperatures the day we did this project so it took slightly longer for it to dry.
Paint as desired and allow paint to dry.
Carefully remove the tape to reveal your beautiful straight paint line on a textured surface! Wowzers! Beautiful!!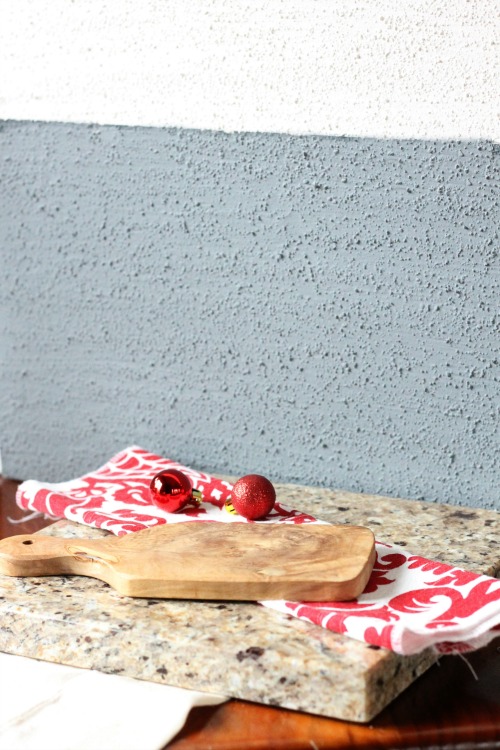 One example of how I can use the backdrop for my food styling.
Then, I can change-up the scene simply by flipping the board over. The textured surface gives the backdrop an extra dimension of interest.
For tons of creative inspirations for FrogTape® uses, you should totally follow them @FrogTape on Twitter!