Welcome to Marvelous Mondays Link Party. You'll find all the newest ideas and creative inspirations from the blogasphere here. We party every week beginning at 5 pm on Sunday, come over, link your posts and visit others! We hope you find new inspiration and make new friends at Marvelous Mondays.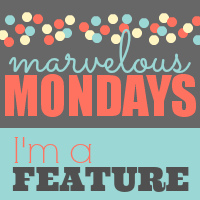 Marvelous Mondays
is hosted by Paula from
Call Me PMc
, Julie from This Gal Cooks and Carrie from Frugal Foodie Mama! Each of the hosts have different features so be sure to check out the others girls to see if you've been featured!
Just a note, I have a new Resource guide under my Resource tab with some very helpful links regarding G+, sharing on social media, etc. I'll be adding to it as I come across new information so be sure to check it out.
**Julie, Carrie, and I please ask that you ONLY link up posts that you have not linked up before to Marvelous Mondays. We have been noticing some repeat posts being linked up recently. To be fair to all party-goers, please only link up NEW posts or posts that you have never linked up to our party before. We will not be "policing" post link-ups, but please note that repeat offenders' posts will not be featured on Marvelous Mondays. Thank you.
Most viewed link from last week is:
Rigatoni Pie from 365ish Days of Pinterest
My favorites from last week are:
Bottle Cap Hair Clips from Mellywood's Mansion
Double Peanut Butter Bars from A Weiner Dog in the Kitchen
Homemade Peppermint Patties from Baking in a Tornado
Are you ready to party? Ready. Set. and GO!!

');
// ]]>