Mississippi Mud Cookies with Marshmallow Fluff and Chocolate Frosting is a delectable fudge cookie recipe topped with creamy marshmallow fluff frosting, rich chocolate ganache, and salted toasted pecans.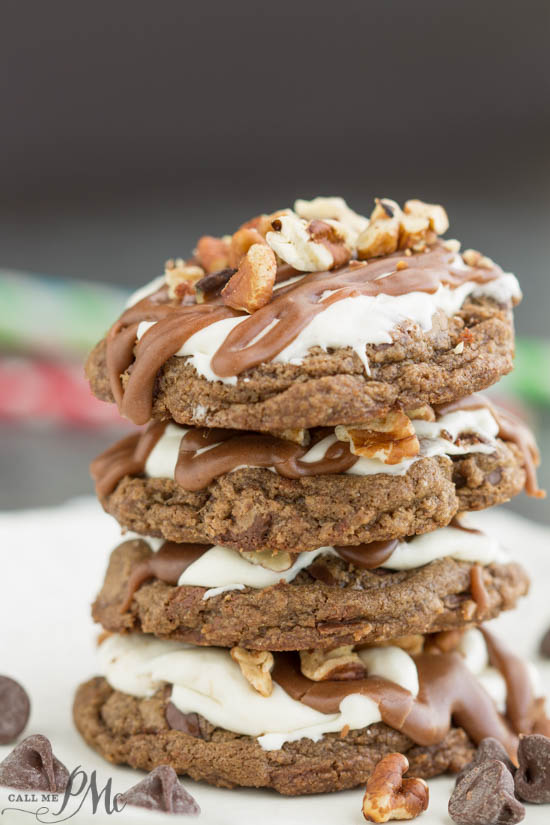 If you think of cookies as a kids-only snack, I want you to rethink that concept. I designed this recipe to be a show-stopper. However, Mississippi Mud Cookies with Marshmallow Fluff and Chocolate Frosting are not only big, beautiful cookies, they are rich, fudgy, decadent, and sweet-tooth satisfying. Yes, they're perfect for kids and for snacking, but they are perfect for parties and potlucks, as well. These scrumptious cookies would also make a thoughtful homemade gift.
As you sink your teeth into these fudgy delights, you'll get a layer of soft cookie. My perfect cookie is soft in the middle and crisp around the edges. Instead of using marshmallows and toasting them, as is who they are classically used in the Mississippi Mud Cake, I made marshmallow fluff frosting and slathered it over each cookie. I then drizzled over a generous amount of chocolate ganache (that's just a 'fancy' word for frosting). Finally, a sprinkle of toasted, salted pecans finished off these delectable bites.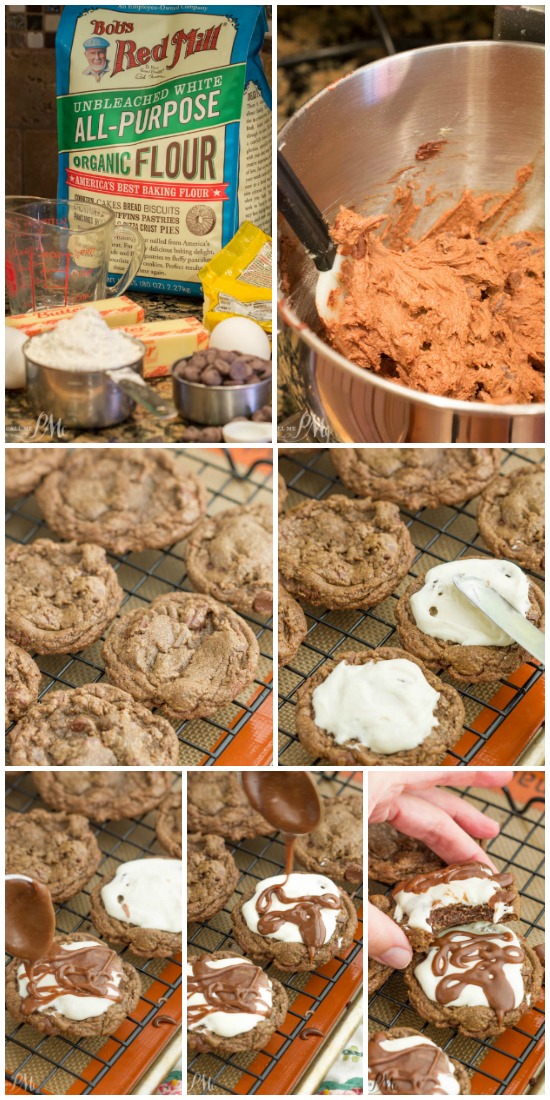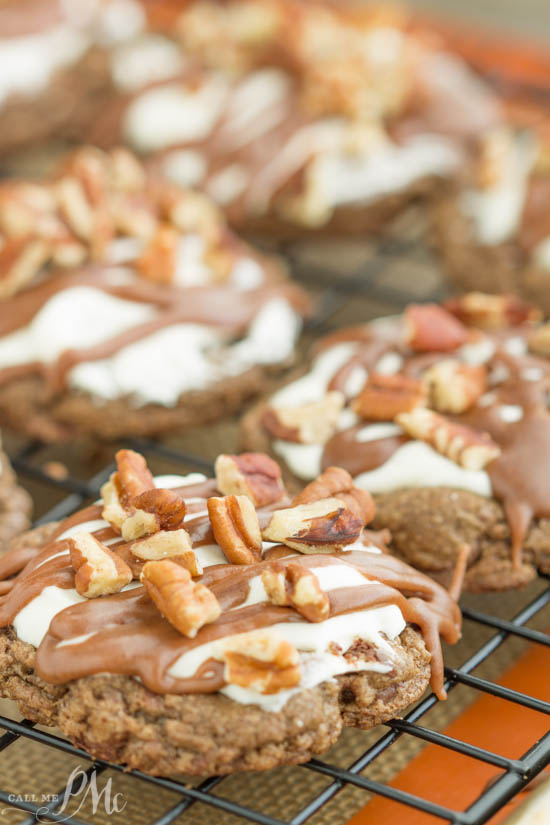 I was invited to join Bob's Red Mill United States of Cookies. Every state has something that truly makes it special and Bob's Red Mill is celebrating that diversity in cookie form! We can agree that everyone loves cookies, which is why we're celebrating a cookie from each state and why I made for you these Mississippi Mud Cookies with Marshmallow Fluff and Chocolate Frosting. You can visit the United States of Cookies website or search #50StatesofCookies on Facebook and Twitter to see all of our submissions.
Being from Northeast Mississippi, I chose to share Mississippi Mud Cookies with Marshmallow Fluff and Chocolate Frosting. It's unclear how 'Mississippi Mud' pie, cakes, or cookies came to be. However, everyone agrees that these desserts are metaphorically named for the dark, richly organic mud found along the Mississippi River. 'Mississippi Mud' pies, cakes, and cookies are rich, fudgy, dark chocolate desserts and are always a crowd-pleaser at potlucks and parties.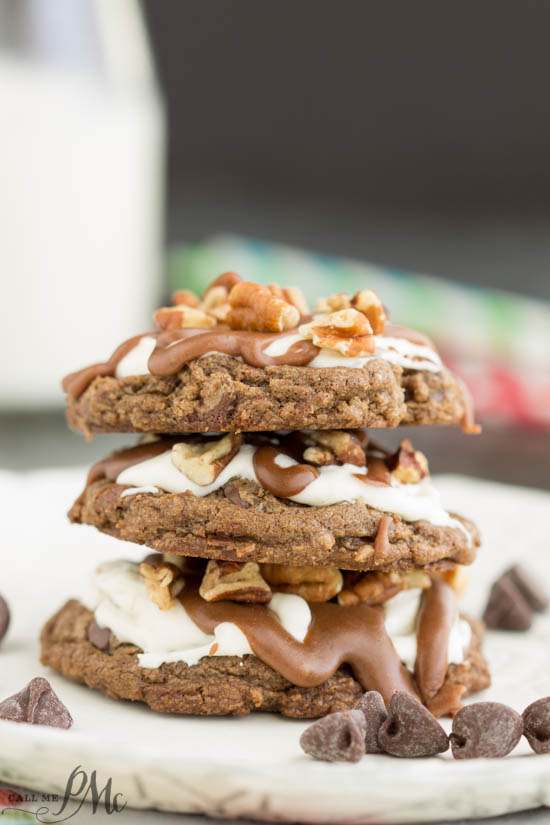 Also, I recently shared with you Raspberry Streusel Cream Cheese Coffee Cake that I made using Bob's Red Mill Organic All-Purpose flour.
Organic Unbleached All Purpose White Flour
Organic Unbleached White Flour is freshly milled from Organic hard red wheat. Both the bran and the germ have been removed leaving the endosperm that is made into white flour. It is not enriched with any additives.
This is the same high protein flour used by professional bakers and produces high, well-textured loaves of bread equally as well as it produces light, airy baked goods.
This kitchen staple is incredibly versatile and perfect for all of your baking needs.
Furthermore, I enjoy using Bob's Red Mill products, you an always count on a superior product. For an in-store coupon for Bob's Red Mill product, click here.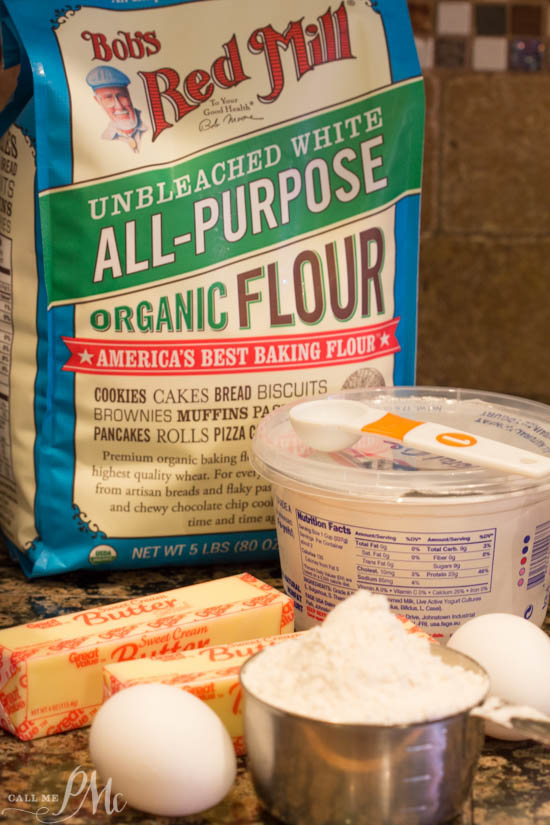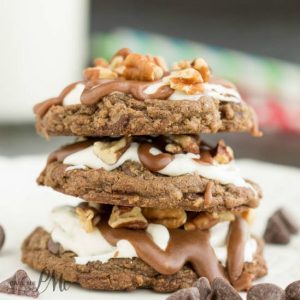 Print
Mississippi Mud Cookies with Marshmallow Fluff and Chocolate Frosting
Yield 18
Mississippi Mud Cookies with Marshmallow Fluff and Chocolate Frosting is a delectable fudge cookie recipe topped with marshmallow fluff frosting, chocolate ganache, and pecans.
Ingredients
FOR THE COOKIES
1 and 1/4 cup Bob's Red Mill Organic All-purpose flour
1/2 teaspoon baking soda
1/4 teaspoon salt
1 egg
1/2 cup butter, at room temperature
1/4 cup granulated sugar
1/2 cup packed brown sugar
1 and 1/2 cup dark chocolate chips
FOR THE MARSHMALLOW FLUFF
1/2 cup butter, at room temperature
1 (7-ounce) container marshmallow fluff
1 cup confectioners sugar
FOR THE CHOCOLATE FROSTING
1/4 cup butter
1/3 cup cocoa powder
1/3 cup milk
3 to 3 and 1/2 cup confectioners sugar
1/2 cup chopped, salted pecans
Instructions
Melt ¾ cup chocolate chips in a microwave. Stir until smooth. Allow to cool.
In a small bowl, combine flour, baking soda, and salt. Set aside.
In the bowl of a mixer, cream butter, brown sugar, and granulated sugar.
Add cooled chocolate and egg; beat well.
Gradually blend in flour mixture.
Stir in remaining ¾ cup chocolate chips.
Chill dough 15 to 30 minutes minimum.
Using a spring release scoop, place on an ungreased cookie sheet.
Bake at 375 degrees Fahrenheit for 8 to 9 minutes. Allow to stand 5 minutes on cookie sheet before carefully removing to a wire rack.
FOR THE MARSHMALLOW FLUFF
Whip the butter in an electric mixer until smooth and fluffy.
Add marshmallow fluff to butter and mix until smooth.
On low speed, slowly add confectioners sugar to the mixture.
Cream until smooth.
Spread on top of cooled cookies.
FOR THE CHOCOLATE FROSTING
Melt butter in a small saucepan on low heat.
Whisk in cocoa powder and milk.
Sift sugar, then add slowly to the mixture.
Whisk until combined. Add enough sugar so that the mixture is pourable. It will get thicker and harden as it cools.
Drizzle over cookies.
Immediately sprinkle the chopped pecans on the cookies while the frosting is warm and before it sets.
Notes
Makes about 18 2-inch cookies.Recipe from Paula @CallMePMc.com All images and content are copyright protected. Please do not use my images without prior permission that includes copying the ingredient list or entire recipe and posting in the comments on Pinterest for Facebook. If you want to share this recipe, please simply link back to this post for the recipe.
Mississippi Mud Cookies with Marshmallow Fluff and Chocolate Frosting Notes
Salted or unsalted butter may be used, use what you have on hand or what you prefer.
As well, light or dark brown sugar can be used in this recipe.
Use a spring release scoop so that all the cookies will be the same size. They will cook more evenly being the same size, plus they're just prettier.
Use 2 cookie sheets when baking cookies. Allow the cookie sheets to cool completely before placing the second batch of dough on them. Never place cookie dough on a hot sheet.
I recommend chilling the dough 30 minutes to one hour in the refrigerator before baking. This allows the butter to firm up again which results in a thicker, chewier cookie. Room temperature butter will make a thinner, crisper cookie.
Additionally, you can also freeze the cookie dough. By doing this, you can take a few out at a time and bake them. The method for freezing is, scoop all the cookies out using a spring release scoop. Place balls of dough on waxed paper or parchment paper on a pan that will fit into your refrigerator. Finally, after the dough is chilled and firm, you can then transfer them to a zip-top freezer bag. Store up to 4 weeks frozen.
To bake frozen Triple Layer Chocolate Cookies, remove from oven and place on a cookie sheet 10 to 15 minutes before baking. Bake as directed. For a large scoop, bake 17 minutes. For a small scoop, bake 12 to 13 minutes. Of course, these are soft-baked, chewy cookies. Bake them to your liking. If you like them more crunchy, bake a couple minutes longer.
I was selected for this opportunity as a member of Clever and the content and opinions expressed here are all my own.