Monthly Meal Plan 5 – Because life is hectic and planning meals the last minute is the last thing I want to do!
I've got a whole month of recipes for delicious meals for your family!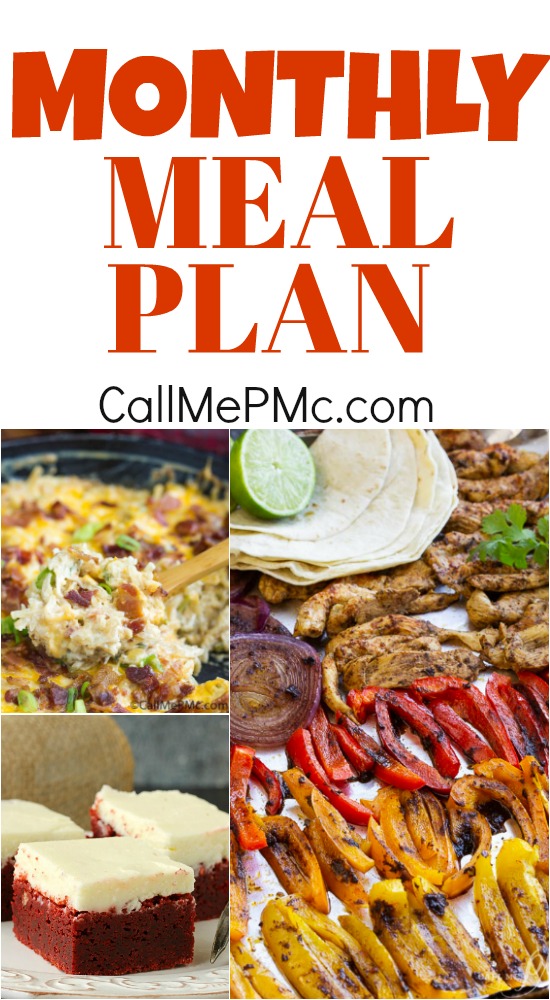 These delicious and comforting MONTHLY MENU PLAN recipes will have your family running to the table!
How do I get the recipes for the Monthly Meal Plan 5?
All you need to do is click on the recipe title below. Each link will take you to the full, printable recipe.


Skillet Lasagna
King Ranch Chicken Soup
Weeknight Enchiladas
Sheet Pan Fajitas
Sheet Pan Chicken & Veggies
Sweet Heat Chicken Kabobs
Minestrone
Mushroom and Mozzarella Skillet Chicken
Pasta with Fried Zucchini
One Sheet Pan Honey Mustard Chicken
One Pot Chicken Quesadilla Pasta
One Pot Chicken in Lime Coconut Sauce
Buffalo Ranch Chicken Wraps
Slow Cooker Chicken Enchilada Soup
Buffalo Chicken Bread
Pork Patties with Apples
Low Fodmap Satay Pork Meatballs
Slow Cooker Pulled Pork Tenderloin
Tuscan Tortellini Vegetable Soup
Lobster & Shrimp Mac n' Cheese

Bacon mac and cheese
Roasted vegetable nachos
Parmesan Cauliflower
Hashbrown casserole
Honey Glazed Baby Carrots
Spiced Potato Wedges
Pan-Fried Collard Greens
Quinoa Pilaf Salad
Roasted Potatoes
Roasted Cauliflower
Asian Red Cabbage Slaw
French Onion Smashed Potato Bites
Squash Ricotta Stuffed Shells
3 Ingredient Mac n Cheese

Cranberry bliss bar
Strawberry & cream pound cake
Chocolate Espresso and Chilli Mousse
No Bake Nutella Tart
Red Velvet M&M Cake Mix Cookies
Raspberry Chocolate Chip Crumb Bars
Red Velvet Brownies

Eggs Benedict
Ham Breakfast Casserole
M&M Cinnamon Rolls
Cherry Almond Granola
Black Pepper Mascarpone Scones

Kiss on the Lips Martini
Bailey's Banana Smoothie