I have a really good Old Fashion Beef Vegetable Soup Recipe to share with you today!
Look, doesn't it look tasty? Especially for the cold days we've been having recently.
We traveled to an even colder area during the holidays, it was fun,
but I'm thinking we should have gone to a warm destination!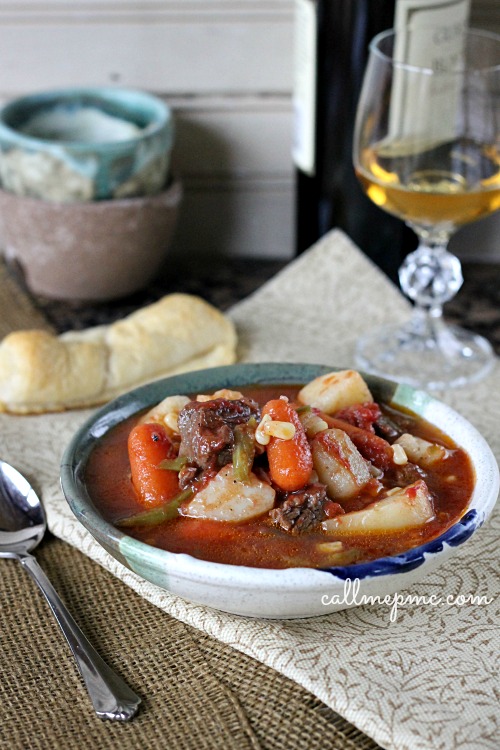 Do you like to travel? I like to travel as long as the whole family goes, but I don't like to leave the boys to go. But, then, I hate packing them when we all travel. No, I can't trust them to do it themselves yet. Do you like to pack? I absolutely hate it!
H-a-t-e it!
I used to be a very thorough, smart packer. But, then I got the task of packing for me and both boys. It's just over-whelming. At least when we go to he beach, they don't really need clothes. Well, you know what I mean. They need a couple of swimsuits, suntan lotion and 2 pairs of shorts! Boys are easy like that.
Traveling to a cold area with coats and boots and sweaters is exhausting!
While I packed for the latest trip, Big Daddy made this awesome soup. He's the soup maker in the family. He makes a HUGE production of making soup. That's pretty exhausting too!
The soups I've made in the past take about 30 minutes to make. That's why I like soup. It's quick and most of them can be made in a slow cooker and require very little hands-on time.
Not for Big Daddy. Oh, no. When Big Daddy makes soup it takes all day! Whatever soup he's making, I call All Day Soup.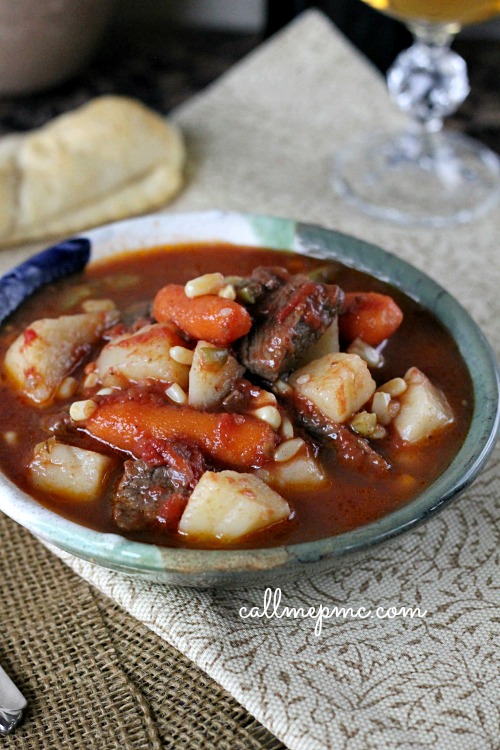 The All Day soup he made today was Beef Vegetable Soup. It has a tangy tomato broth and is full of hearty vegetables. I always ask him to put extra potatoes in because I like them best. When no one is watching I try to get just potatoes in my bowl! Shhhh!
**Full Disclosure – This soup does not take all day to make, it takes only about 90 minutes! Or, if you prefer, you can take all day like Big Daddy does!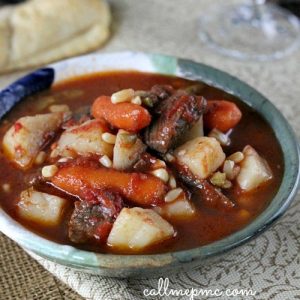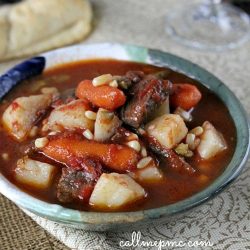 Old Fashion Beef Vegetable Soup Recipe
This is a hearty beef and vegetable stew. Perfect for cold winter nights. Easy enough to make on a weeknight. Substitute your favorite vegetables if you aren't fond of the one's I used. It would be great with pumpkin or sweet potatoes. This recipe is easily adapted for the slow cooker. After browning meat, transfer to a slow cooker and simmer 4 hours.
Ingredients
1

and 1/2 pound chuck roast

cubed

4

cup

potatoes

cubed (about 5 potatoes. I like Yukon gold or red)

16

oz

pkg baby carrots

1

cup

onion

diced

28

oz

canned diced tomatoes

28

oz

tomato juice

1 14.5

oz

can green beans

drained (I used French cut, but regular will work.)

1 7

or 11 oz can shoe peg corn

drained

salt and pepper to taste
Instructions
Brown meat - Heat an 8 quart stock pot or Dutch oven to med-hi. Add oil and saute roast until brown. Stir and brown on all sides of roast. Remove meat to a platter.

Cook vegetables - To remaining oil in pot, add onions and carrots. Cover and cook until the onion is soft, about 5 minutes. Add beef and and juices back to the pan.

Simmer - Add salt, pepper, bay leaf, diced tomatoes and tomato juice to the pan and bring to a boil over high heat. Reduce the heat to medium-low and simmer for 1 hour. Add the potatoes and stir. Simmer until the beef and the potatoes are tender, about 20 minutes. Add corn and green beans, cook 5 minutes.

Remove bay leaf. Ladle into bowls and eat immediately.
Recipe Notes
Recipe from CallMePMc.com All images and content are copyright protected. Please do not use my images without prior permission. If you want to republish this recipe, please re-write the recipe in your own words, or simply link back to this post for the recipe. Thank you, Paula
One month ago: Homemade Southern-style Cornbread Dressing
One year ago: Extreme Rice
You may also like: Brie & Fig Grilled Cheese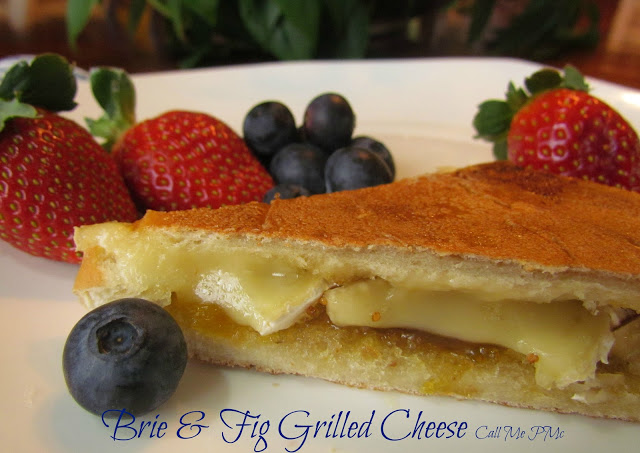 Bacon & Pear Stuffed Pork Loin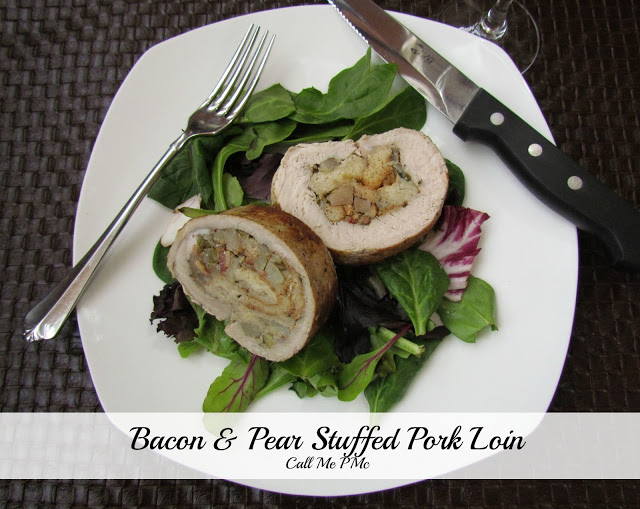 Pan Seared Catfish with Champagne Risotto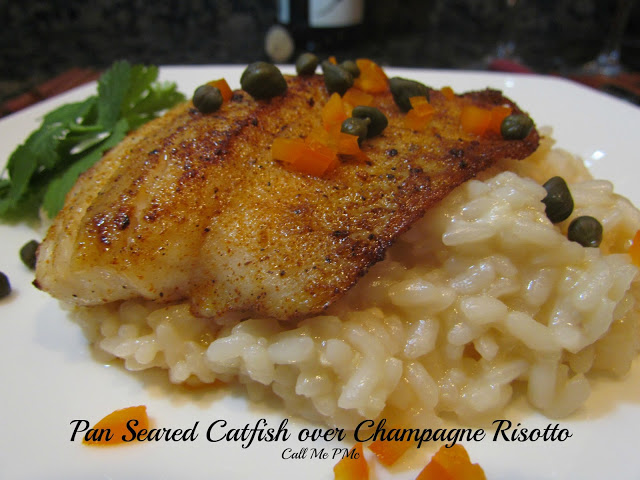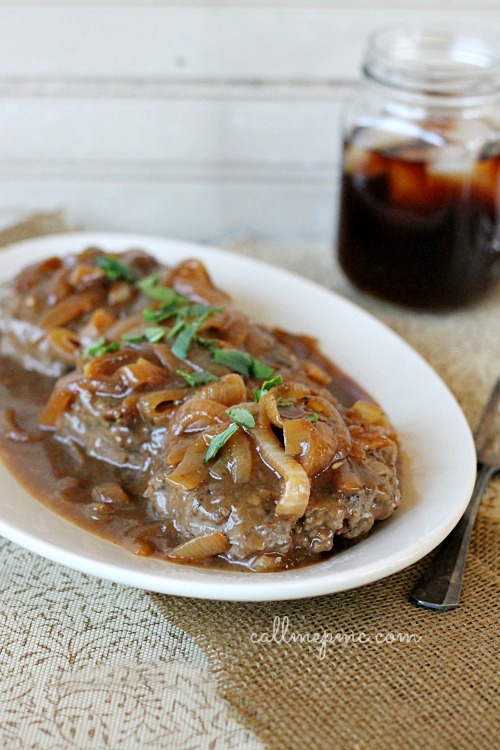 For more scrumptious recipes, fun projects, and exciting news, subscribe to Call Me PMc
Facebook, Twitter, Pinterest, Google+, Bloglovin'