I'm turning cartwheels I'm so excited!!
Ok, that's a tad bit extreme, but I am super excited that Big Daddy's on the smoker today!
He's a great cook, he's even better on the grill.
"Paula, it's not a grill…. It's a smoker!"
So, it's a Smoker and we Smoked Boston Butts, which is actually a pork shoulder….
Grilling/Smoking… shoulder/butt…
p

uh

–

tey

-toh/puh-tay-tuh
It's so complicated. And, I SO don't have the patience for it!!
I'll turn it over to Big Daddy now!
My smoker holds more meat than I want to buy!
It holds about 12 slabs of spare ribs, or about 20 baby back ribs, or 18 Boston Butts or 25 chickens!!
It's approximately 2 1/2 feet by 5 feet.
The firebox is the opening at the bottom in this picture.
The cooking surface is punched steel.
It is built on a 8×12 boat trailer frame making it easily transportable.
I start with about 5 lbs of charcoal, shown here, just coming up to temperature. I control the burn rate by adjusting the smoke stack openings and opening to various degrees the fire box door. I, then, feed charcoal as need to maintain the desired temperature.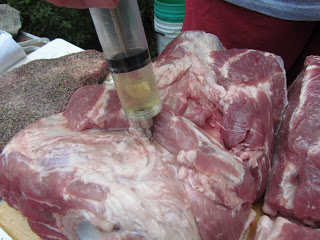 I inject the shoulders with apple juice for extra flavor and moisture.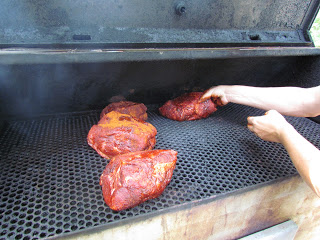 I rub the shoulders with a commercial rub containing brown sugar, paprika, salt, black pepper, garlic powder, and cumin. The rub adds robust flavor and creates a bark, or crust, on the exterior of the meat.
I use all kinds of wood for smoke flavor. I chose Hickory 

chunks

in this application because of the extended cooking time required. Be sure to soak the chunks in water, so the chunks smolder slowly.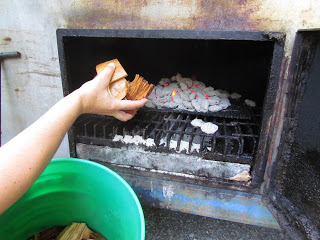 Add the water soaked chunks to the coals in the firebox to create smoke. Smoke adds another layer of flavor to the Butts.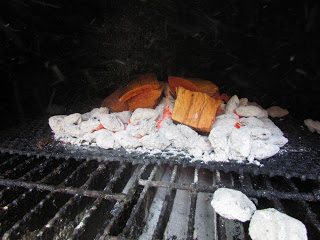 Monitor the coals to maintain a constant temperature. Continue adding wood chunks as needed to maintain smoke level.
I cook between 225-250 degrees for 8 to 9 hours for Boston Butts/shoulders.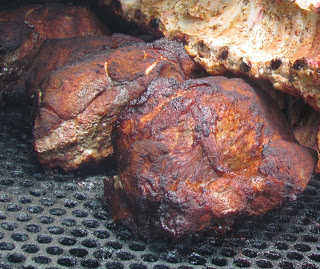 These Butts have about two hours of smoke on them.
Boston Butts (same at pork shoulder)
Be patient you'll need lots of time and 6 pack or two…. or three.
Prep the Meat:
Sit the meat out before you begin preparing the smoker so they'll come to room temperature. Then inject them in order to maintain moisture. I use apple juice. Then rub the meat with dry rub, or spices. I use a commercial rub, there are many rubs on the market to suit your taste.
Start Smoker:
Begin soaking wood in water, I use Hickory chunks. Light coals, when they're smoldering add wood chunks. Adjust grill opening to bring temperature up to 225 to 250 degrees. I may take 45 to 60 minutes to reach this temperature.
Add meat to smoker:
Place the Boston Butts on the grill grate and be patient. It takes at least 7 to 8 hours for a 8 pound Butt.