Baked to crispy perfection, Twice Baked Feta Potatoes can be prepared ahead and rebaked at the serving time! You can even freeze them too making holiday meal prep a breeze!
Twice Baked Feta Potatoes
There are not many dishes that I'd choose over a dessert. Potatoes or pasta rank second on my list of favorites. My love of potatoes began at an early age, growing up, my mother served some form of potatoes almost daily. We would joke about it; it wasn't 'are we having potatoes?', it was more like 'what kind of potatoes are we having?'  Baked potatoes was my favorite answer to that question. I'd slather on almost a whole stick of butter on mine. (I know you're thinking you have the wrong Paula using that amount of butter, right?)
Now, I try to be a little healthier with my choices. Don't get me wrong, if I could put a stick of butter on my baked potato and still fit in my jeans, I'd sure do it!! These days, I try to make dishes tha are somewhat healthier so that I can splurge on dessert  like these Twice Baked Feta Potatoes. I use feta and Greek yogurt which adds a nice tang, substituting blue cheese would be nice, as well, if you enjoy it.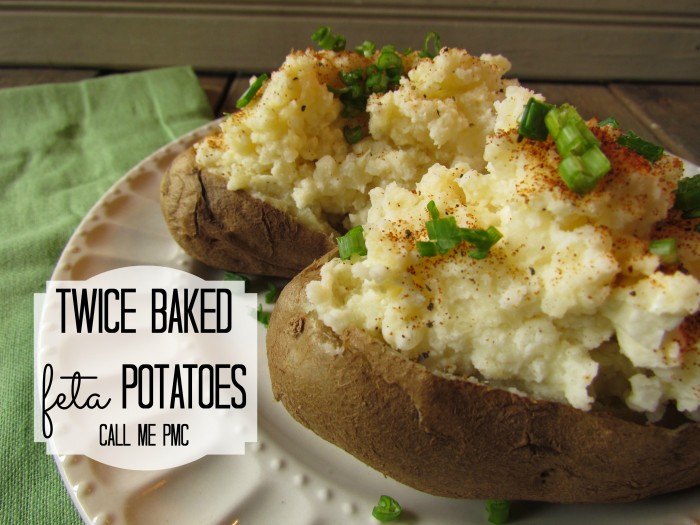 How do I make a Twice Baked Potato?
First, you bake it once. Then, scoop the inside flesh out of the potato leaving the skin solid. Next, you'll mix the flesh with yummy ingredients. For this recipe, you'll mix it with yogurt, cheese, chives, milk, and salt. Finally, you refill the potato with the potato mixture and bake it again, thus, the twice-baked adjective.
They're simple to make but looks like you made a fuss. This is why they're so good for entertaining.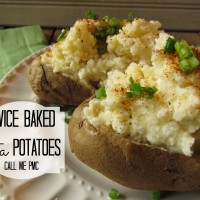 Print Recipe
Twice Baked Feta Potatoes
Ingredients
4

medium baking potatoes

1/2

c

milk

1/2

c

Greek yogurt

4

oz

feta cheese

crumbled

1/4

c

minced chives +1 T of garnish

2

tsp

seasoned salt

1

tsp

pepper

2

T

butter
Instructions
Preheat oven to 400 degrees. Wash potatoes and pierce with a fork. Wrap in aluminum foil and place on a baking sheet. Bake 1 hour 15 minutes or until potatoes are tender.

Cut a thin slice off the top of the potatoes and scoop out the inside careful to leave the shells intact. Place the shells back on the baking sheet. In a

bowl

, mash potato pulp and milk. When it's as smooth as you like add yogurt, feta, chives, salt, pepper and butter and stir. Spoon mixture into potato shells.

Bake for 20 minutes or until hot and lightly brown on top.

Garnish with additional 1 T chives.
This post contains affiliate links. If you click the link and make a purchase I will receive a small commission at no cost to you. Visit all my recommended products at Paula's Picks on Amazon. Read my entire Privacy Policy here.