Saturday was work day at the Joneses.
Now, I don't mind work day.
I love to be organized.
But, it was 155 degrees outside Saturday!!!!
geezzzzzzzzzz……
Now, I don't mind sweating either… I just want to be exercising when I sweat!!!
And, actually, above the heat (did I mention it was 155 degrees)
and the sweat (did I mention I don't like to sweat?),
it wasn't even my project! 
It was Big Daddy's cleaning out the garage project and I so didn't want to be involved.
I thought it was a guy project!
I have ovaries!! I shouldn't have to clean the garage! (that makes perfect sense to me!)
(*sigh*)
I did help.
I picked up.
I threw away.
I pouted.
I sweated.
And, I went inside to get drinks and prepare lunch as quickly as I thought I could get away with it!
Shhhhh……..
don't give away my secret. 😉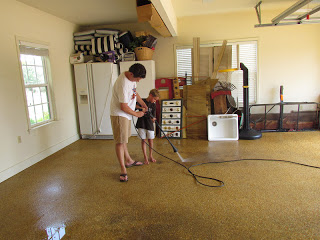 Big Daddy giving Ryder a pressure wash tutorial!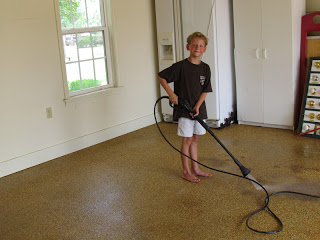 Always camera ready!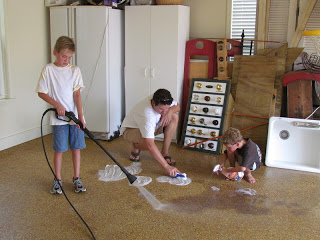 Actually, I didn't pose this.
oh, and I took pictures as often as I could…
again – Shhhh!