How to Roast and Peel Poblano Peppers
This post may contain affiliate links that won't change your price but will share some commission.
How to Roast and Peel Poblano Peppers- a quick video to roast and peel poblano peppers.
Poblano peppers are large green chile that is mildly spicy. Many recipes require roasted and/or stuffed poblano peppers. Roasting poblanos enhance the flavor. It also makes it easier to remove then thin, paper-like skin on the outside of the chile.
Roasting and peeling poblano peppers is a quick and simple step. The process takes 15 to 20 minutes. (scroll down for video)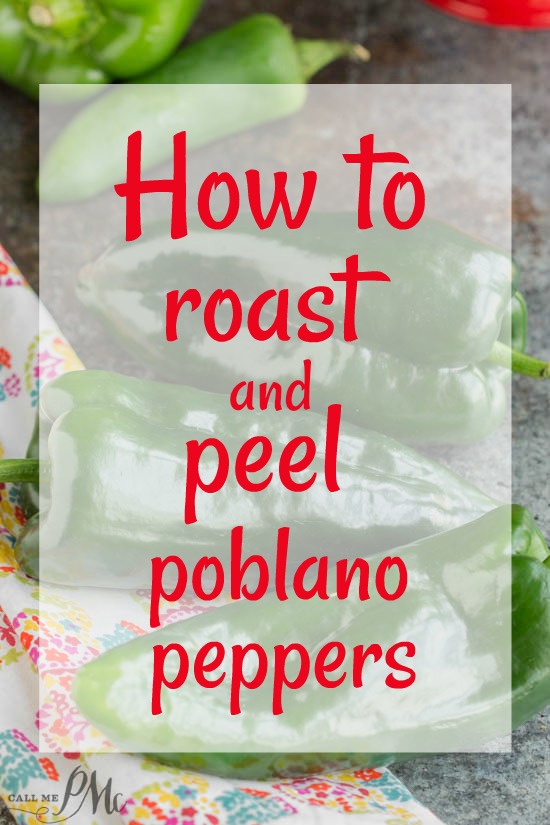 Can you eat the skin of a poblano pepper?
Yes, you can eat the skin of bell and poblano peppers. It is flavorless. However, it has an unappealing texture.
How to Roast and Peel Poblano Peppers
Step 1
Preheat the broiler in your oven to 450 degrees. Alternately, you can heat an open flame or a stovetop skillet to high. In the video, I roast the poblanos in the oven.
Step 2
Place your poblano peppers on the heat source. For the oven, I placed them on a sheet pan then directly under the broiler. Allow the peppers to roast approximately five minutes per side. The skin will blister and darken. A little tip, the skin will also crackle and pop. This is how I tell when they're ready to turn. Rotate the pepper once the side on the heat source has blistered. Repeat this process until the entire pepper has blistered.
Step 3
Remove the pepper from the heat source. Place the peppers in a zip-top bag or bowl with a lid. Allow the peppers to cool about 10 minutes or until they are comfortable for you to handle them. The steam collects and helps release the skin from the pepper making them easier to peel.
Step 4
Pinch the bubbled skin with your fingers and peel off the pepper. Sometimes it's easier to use a paper towel. Experiment and use the best technique for you.
Step 5
Next, using a sharp knife, cut the pepper open and remove the seeds. Discard the seeds and skin of the pepper.
You may enjoy these recipes
Your poblano peppers are now roasted, skinned, and seeded. Proceed with your recipe.

haring this recipe with other at The Country Cook and Southern Bite.