Pound Cake Recipes Reviewed is my personal analysis of all many pound cakes from classic to those with a little more flair. Pound Cakes are my very favorite dessert to make. Therefore, I decided to review pound cake recipes to see which ones are the best, which ones need tweaking, and which ones need tossing. As well, I offer many tips in each post on how to cook the perfect pound cake. Below, are all the recipes I've tested. Simply click on the photo for the review and recipe.
Pound Cake Recipes Reviewed – History
What is a 'Pound Cake'?
A pound cake is one of the easiest, most basic cakes to make. For tips and tricks, read How to Bake the Perfect Pound Cake. It gets the name from the original ingredients which consisted of a pound of flour, a pound of butter, a pound of sugar, and a pound of eggs. In the days when many people couldn't read, this simple cake recipe was easy to remember.
As you can imagine, a cake that uses one pound of each of flour, butter, sugar, and eggs would make a rather large cake. It would serve multiple families. As the years passed, the cake ingredient ratios were decreased in order to make a smaller cake. However, the name 'pound' cake stuck.
Originally…
Eggs are the original leavening agent in pound cakes. Baking powder or baking soda wasn't added. In addition to baking powder/soda, people have started adding flavors like orange, coconut, and chocolate to amp up the flavor. Nuts and chocolate chips also make an appearance, as does, liquors in some recipes.
Typically, dairy products are milk, buttermilk, cream cheese, sour cream, ricotta cheese, and more.
Pound Cake Recipes Reviewed
History of the Pound Cake
1700s
A British creation, the pound cake that dates back to the early 1700s.
1796
The cookbook American Cookery: or, The Art of Dressing Viands, Fish, Poultry and Vegetables, and the Best Modes of Making Puff-pastes, Pies, Tarts, Puddings, Custards, and Preserves, and all kinds of Cakes, from the Imperial Plumb to plain Cake by Amelia Simmons was the first cookbook authored by an American and published in the United States.
Note: The spelling below is how the actual recipe spelled the words. "F" was used instead of "S."
POUND CAKE – One pound fugar, one pound butter, one pound flour, ten eggs, rofe water one gill, spices to our tafte; watch it well, it will bake in a flow oven in 15 minutes.

Another (called) POUND CAKE – Work three quarters of a pound butter, one pound of good fugar, till very white, whip ten whites to a foam, add the yolks and beat together, add one fpoon rofe water, two of brandy, and put the whole to one and a quarter of a pound flour, if yet to foft add flour and bake flowly.
1800s
Pound Cake recipes began to deviate in the mid-1800s from the original pound of each of the ingredients to make a lighter cake.
1881
The Pound Cake has traditionally been a popular dessert in the southern states. The first known written cookbook contained two pound cake recipes.
1900s
In some recipes, artificial leaveners, baking powder, or baking soda were added. Currently, pound cake recipes use different proportions of the same basic ingredients as the original formula to produce a lighter, fluffier, and tastier cake.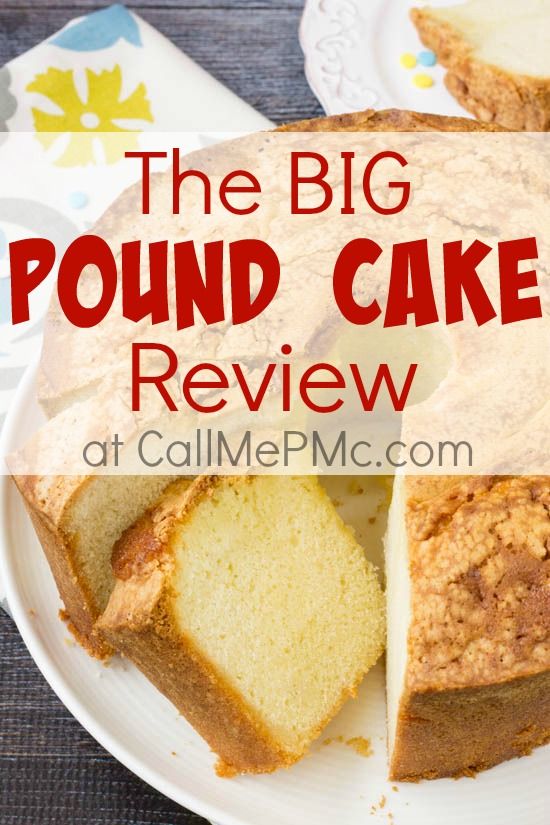 Pound Cake Recipes Reviewed. Method
The basic process for mixing a pound cake is almost always the same. Please note for each individual recipe I will give you very specific mixing instructions, especially when they deviate from the traditional indicated below in the text as well as in the video.
Cream the butter and sugar together until light and fluffy. The color will actually get lighter in color to a very pale yellow.
Next, mix in the room temperature eggs one at a time until they disappear into the batter
The next step is to add the room temperature liquid, typically milk, butter, cream cheese, sour cream, etc., alternately with the flour until the mixture is smooth.
Pour into your baking pan and bake until cooked through.
Watch How!
Old Fashioned Blue Ribbon Pound Cake video
Pound Cake Recipes Reviewed
Please click the photograph or the title under the photo for the recipe of the Pound Cake Recipes Reviewed.
Here are some of my recommended bakeware products.