Trisha Yearwoods Lemon Pound Cake with Glaze is moist and perfectly flavored. This cake is bright and fresh and a must-make recipe.
This lemon pound cake has just the right amount of lemon and the cream cheese glaze adds just the right about of creamy, tart goodness.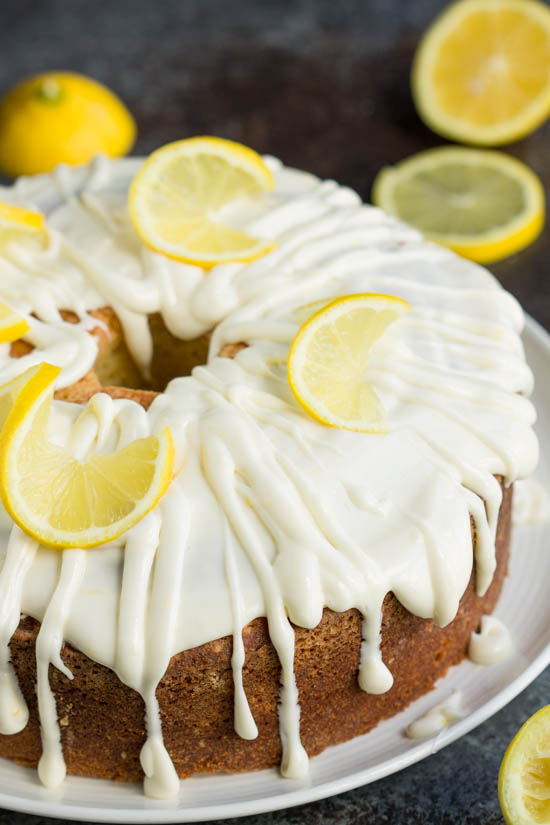 Trisha Yearwoods Lemon Pound Cake with Glaze doesn't have as fine crumb texture as most of the other pound cakes I've made. It has more of a classic yellow cake texture than a small crumb texture of a traditional pound cake. It is buttery and soft with a light lemon flavor. I highly recommend the Lemon Cream Cheese Glaze. I have also made this Powdered Sugar Glaze and used lemon instead of lime juice. It's very good as well as a great alternative if you don't have cream cheese.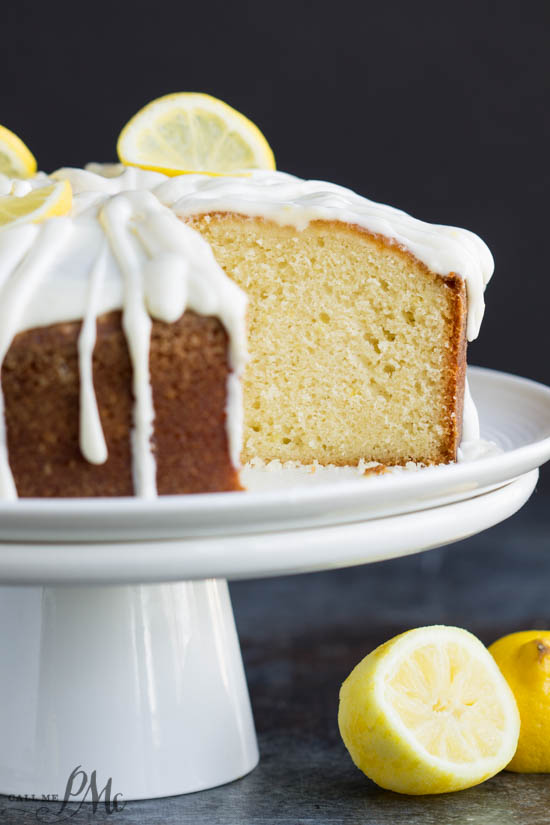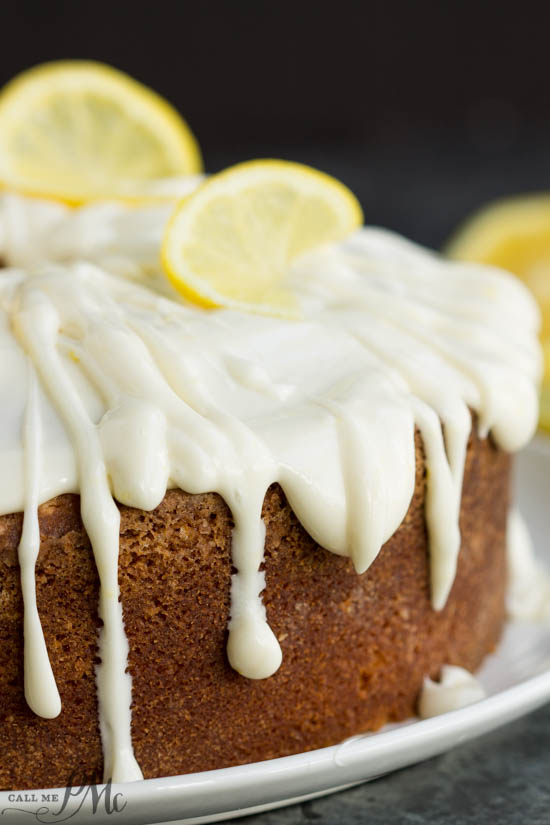 This easy-to-make recipe is loaded with delicious lemon flavor, and topped with an amazing lemon frosting. Even though this pound cake is lemon flavored it still pairs well with fresh or grilled fruit. fruit sauce, or ice cream. I always like ice cream to cut through the richness of a sweet cake. What about you?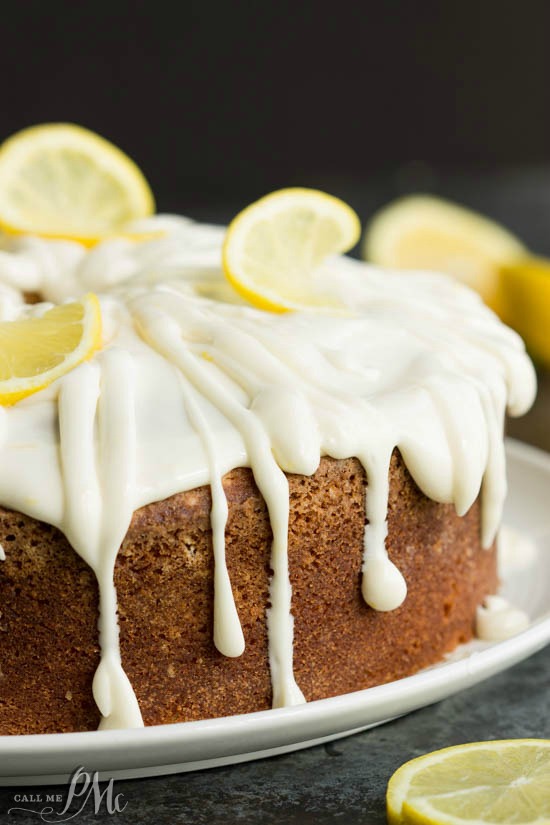 If you've been a following my Pound Cake series, you know by now that pound cakes are my favorite thing to cook. Making a pound cake relaxes me. I know, that sounds crazy to some people.
Here are a few tips so your Trisha Yearwoods Lemon Pound Cake with Glaze will turn out perfectly.
Read this post: How to correctly measure flour.
Cream the butter and sugar until it's light and fluffy.
Add the eggs one at a time and beat until the yolk just disappears into the batter.
Over the course of baking pound cakes for this series, I have changed from using a non-stick spray on my pans to greasing them then dusting with flour. I have found that generously greasing with Crisco solid vegetable shortening then putting about 1/4 cup flour in a sift and dusting it over the shortening really works better to prevent sticking.
Allow the cake to cool at least 20 minutes in the pan before inverting it onto a platter.
Always cool completely before covering or refrigerating.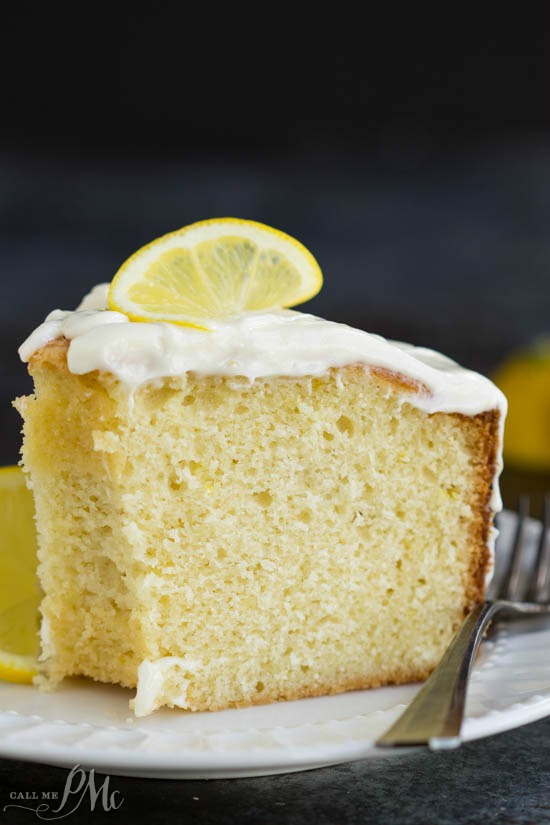 Trisha Yearwoods Lemon Pound Cake with Glaze
Yield 14
Trisha Yearwoods Lemon Pound Cake with Glaze is moist and perfectly flavored. This soft textured pound cake is always a crowd-pleaser.
Ingredients
POUND CAKE
1/2 cup salted butter, at room temperature
1/2 cup solid vegetable shortening
3 cups all-purpose flour
1/2 teaspoon baking powder
1/2 teaspoon baking soda
1/4 teaspoon salt
2 cups granulated sugar
5 large eggs, at room temperature
1 teaspoon vanilla extract
1 teaspoon freshly grated lemon zest
1 tablespoon freshly squeezed lemon juice
1 cup buttermilk
LEMON CREAM CHEESE GLAZE
3 ounces cream cheese, at room temperature
1 teaspoon lemon zest
1 tablespoon fresh lemon juice
1/4 teaspoon vanilla extract
1 and 1/2 cup sifted powdered sugar
Instructions
Grease then flour a 10-inch tube or bundt pan.
Preheat oven to 350 degrees F.
Sift together flour, baking powder, baking soda, and salt.
In the bowl of a mixer, cream butter, shortening, and sugar until creamy about 5 minutes.
Add the eggs one at a time beating until the yolk disappears into the batter.
Add vanilla, lemon zest, and lemon juice.
Add the flour mixture alternately with the buttermilk, beginning and ending with the flour.
Scrape sides and beat until well blended.
Pour into the prepared pan.
Bake 60 to 70 minutes or until wooden pick inserted in center comes out clean or with dry crumbs.
Let cool 20 to 30 minutes before inverting onto a serving dish.
Cool completely before frosting with Lemon Cream Cheese Glaze.
LEMON CREAM CHEESE GLAZE
Beat cream cheese until smooth.
Beat in zest, juice, and vanilla.
Slow stir in powdered sugar until smooth.
Spoon over cake.
Store cake in refrigerator.
Notes
Recipe from Paula @CallMePMc.com All images and content are copyright protected. Please do not use my images without prior permission that includes copying the ingredient list or entire recipe and posting in the comments on Pinterest for Facebook. If you want to share this recipe, please simply link back to this post for the recipe.
Please check out my other pound cakes in this series below.