Scratch made Key Lime Pound Cake Recipe with Key Lime Glaze is a wonderfully tart and sweet pound cake. It's moist with a fine crumb and dense texture characteristic of pound cakes. It's a delicious twist to a traditional Southern pound cake recipe. This is the perfect cake for spring and summer!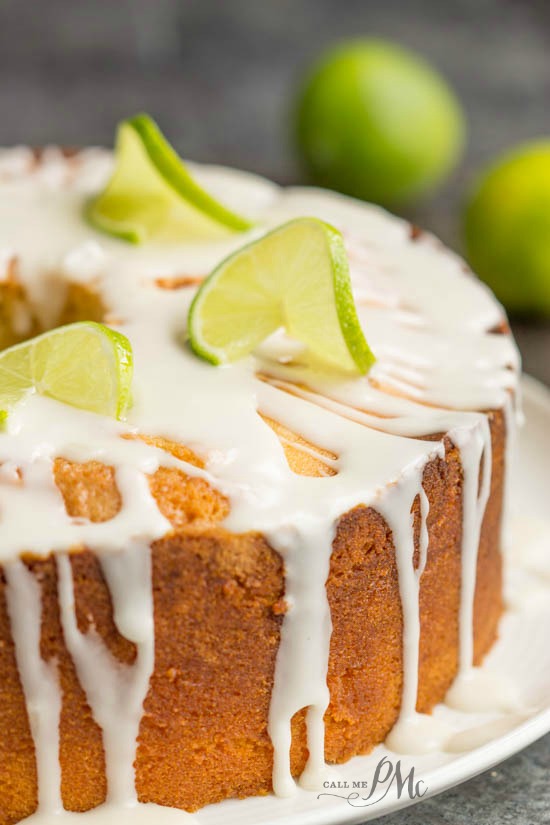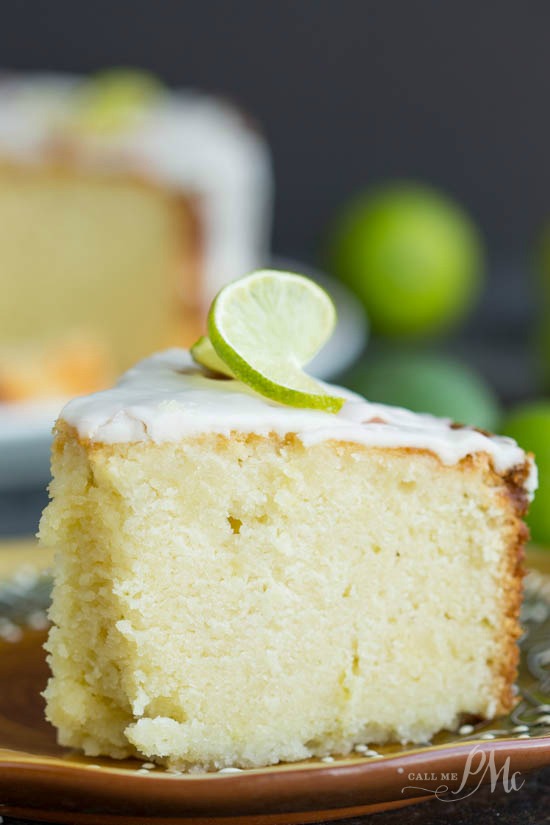 Nothing beats the rich, buttery flavor of a homemade pound cake and Scratch Made Key Lime Pound Cake Recipe with Key Lime Glaze is no exception. Give your traditional pound cake recipe a break and try this one. It's full of bright citrus flavor that you're sure to love. One bite and you'll be reminded of that favorite beachy destination!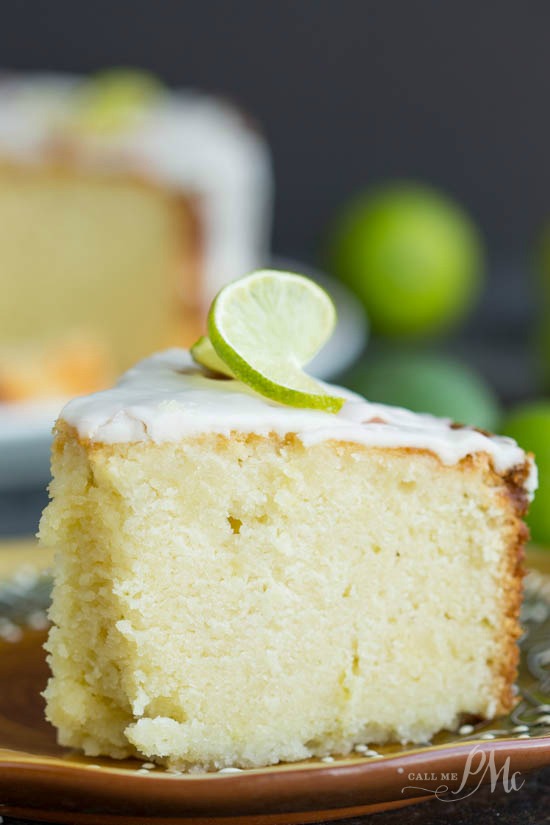 Scratch Made Key Lime Pound Cake Recipe with Key Lime Glaze
When it comes to measuring flour, a cup is not always a cup. Sifting is a must. Please read this post on how to correctly measure flour.
This pound cake is dense and moist. The batter is thick and it takes a long time to bake. I baked it at 325 degrees F for 1 hour and 30 minutes. That low, slow baking makes this pound cake 'crusty' on the outside and with a soft, tender texture and small crumb inside. You'll be tempted to take the cake out at 1 hour and 15 minutes because the outside is golden brown. Do not. Test it carefully (without moving the cake too much) with a small, long wooden skewer. The cake is done with no crumbs or dry crumbs are on the skewer.
It takes a little patience to make. You'll need to cream the butter and sugar until it's light and fluffy. This is a must.
Also, add the eggs one at a time. You may want to dump them all in at once but resist the urge.
Finally, allow the cake to cool at least 20 to 30 minutes in the pan before inverting it onto a platter.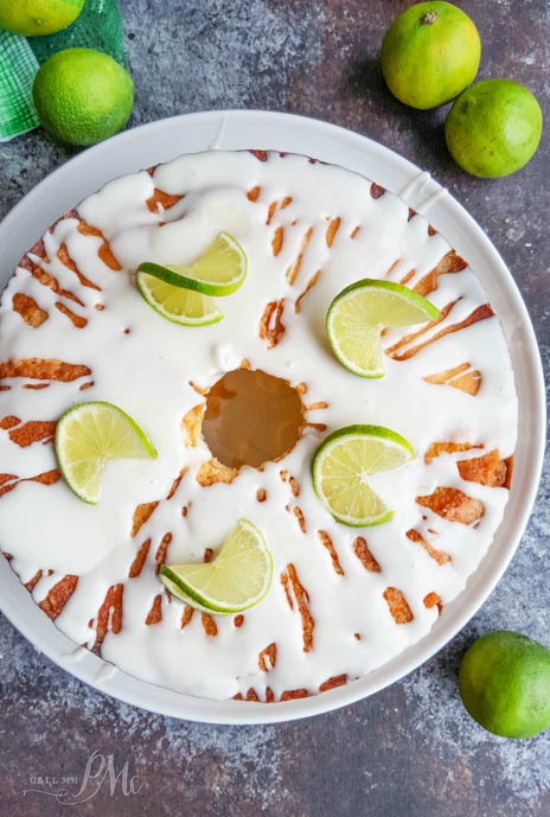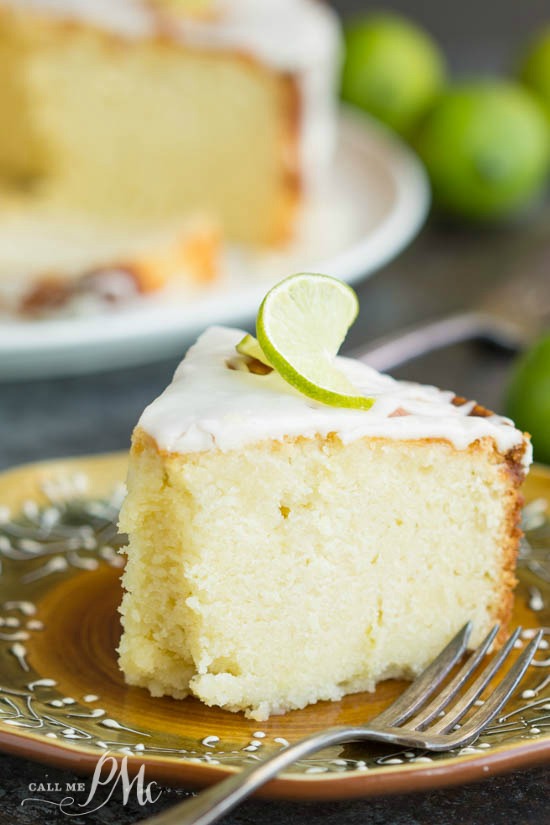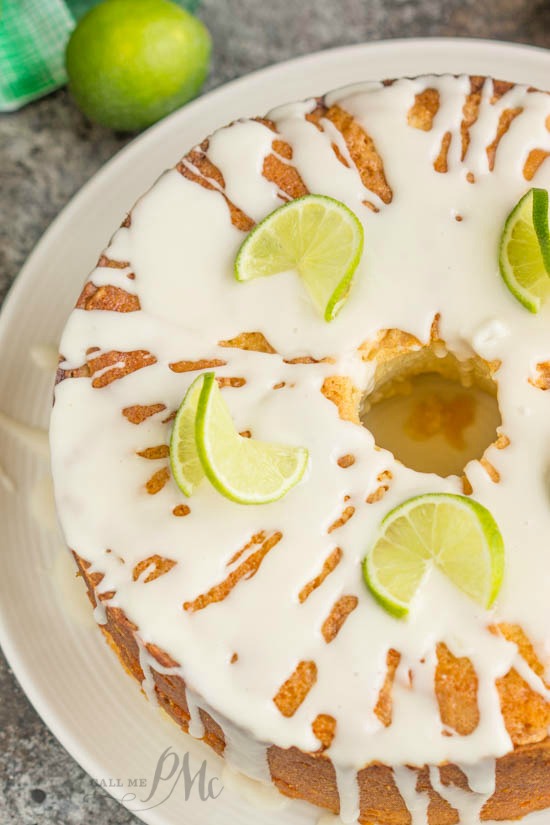 Scratch Made Key Lime Pound Cake Recipe with Key Lime Glaze
Yield 12
Scratch Made Key Lime Pound Cake Recipe with Key Lime Glaze is a bright and moist pound cake that is sure to please your palate. Full of flavor, this dessert is great for entertaining.
Ingredients
1 cup butter at room temperature, no substitutions
1/2 cup shortening
3 cups granulated sugar
6 large eggs at room temperature
3 cups all-purpose flour, sifted (read my tips on how to correctly measure flour)
1/2 teaspoon baking powder
1/8 teaspoon salt
1 cup whole milk (1% or 2% may be used, but cake will not be as rich)
1 teaspoon vanilla extract
1 and 1/2 teaspoon Key lime zest (regular limes can be used)
1/3 cup fresh Key lime juice (regular limes can be used)
KEY LIME GLAZE
1 and 1/2 cups confectioners' sugar
3 tablespoons fresh Key lime juice
1/2 teaspoon vanilla extract
Instructions
Preheat oven to 325 degrees F.
Grease and flour a 10-inch (12 cup) tube or bundt pan.
Cream butter and shortening at medium speed with a heavy-duty mixer.
Gradually add sugar, beating at medium speed until light and fluffy.
Add eggs, one at a time. Beat just until blended after each addition.
Stir together flour, baking powder, and salt.
Add flour mixture to butter mixture alternately with milk. Begin and end with flour mixture.
Beat at low speed until just blended after each addition.
Stir in vanilla, lime zest, and lime juice.
Spoon batter into prepared pan.
Bake at 325 degrees for 1 hour 25 to 30 minutes.
Test doneness by inserting a long wooden pick or skewer into the center of cake. The cake is done when the skewer comes out clean or with dry crumbs.
Cool cake in pan on a wire rack 25 to 30 minutes before inverting onto a serving tray to cool completely.
While cake is cooling on tray, prepare glaze. Mix glaze ingredients together with a whisk and drizzle over cake.
Store on countertop for 3 days or in refrigerator up to 7 days.
Notes
Recipe from Paula @CallMePMc.com All images and content are copyright protected. Please do not use my images without prior permission that includes copying the ingredient list or entire recipe and posting in the comments on Pinterest for Facebook. If you want to share this recipe, please simply link back to this post for the recipe.
Recipe adapted from Southern Living.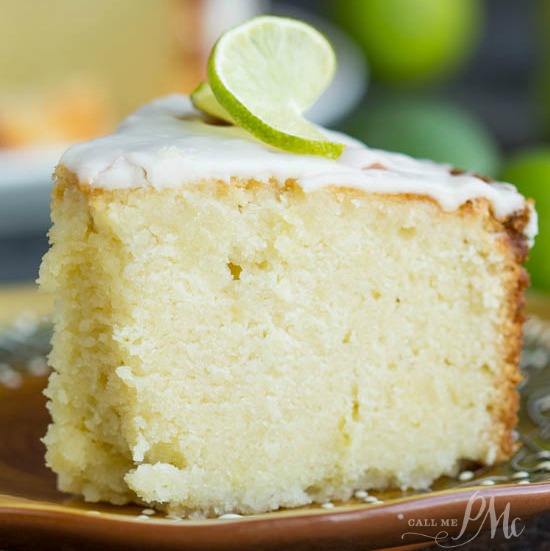 If you like Scratch Made Key Lime Pound Cake Recipe with Key Lime Glaze, you may also like these pound cakes in my series
Peanut Butter Pound Cake with Peanut Butter Glaze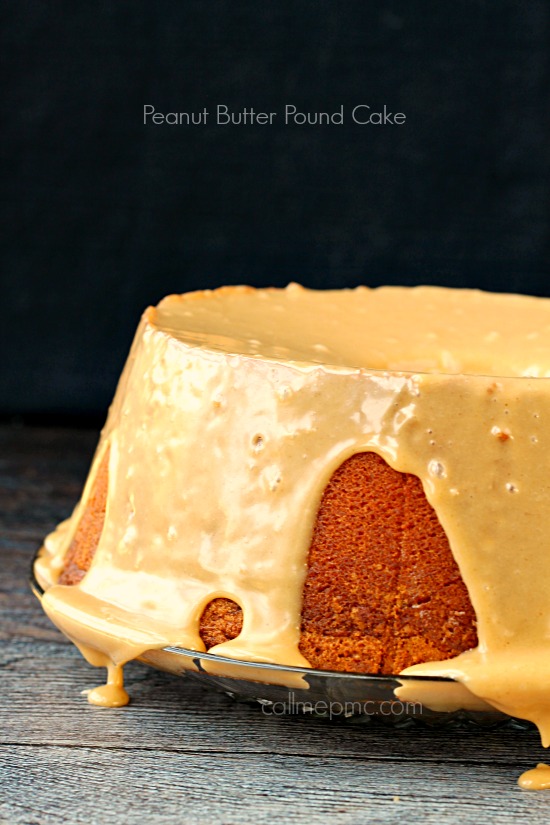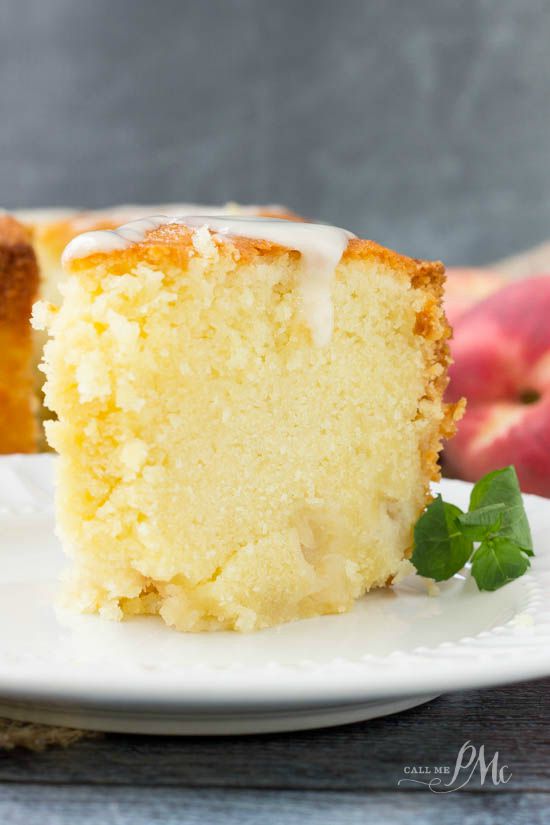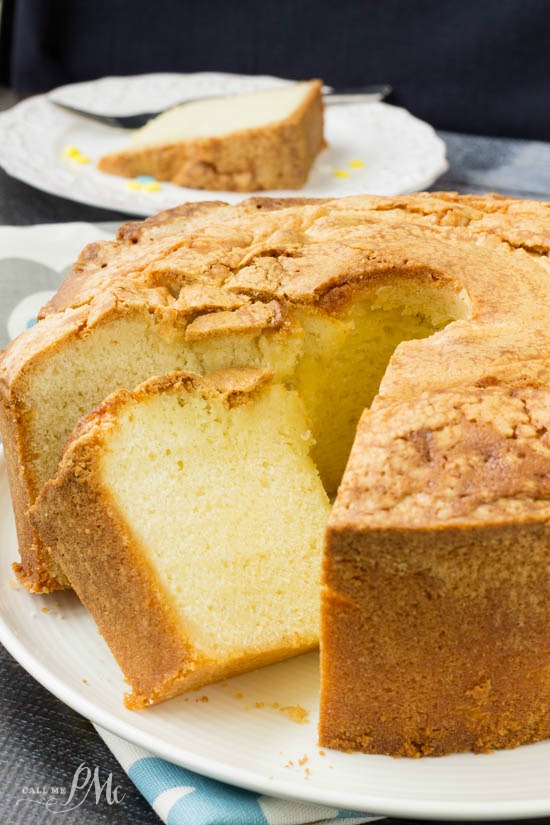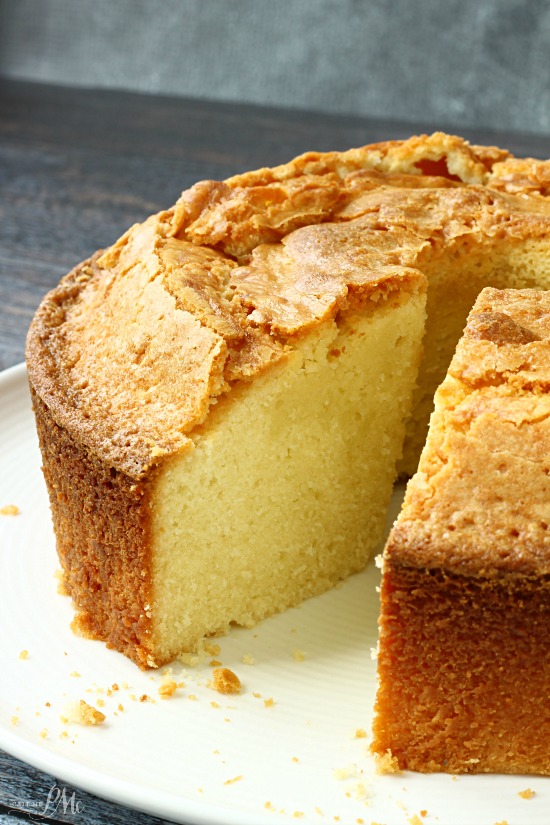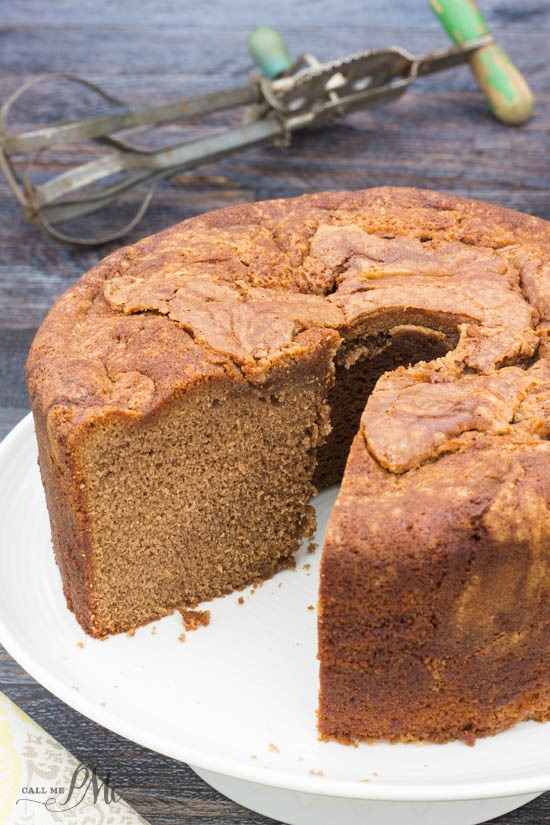 For all the pound cake recipes that I've tested so far see below!

Sharing Scratch Made Key Lime Pound Cake Recipe with Key Lime Glaze here