Share now with your friends
Use your favorite eggnog to make this buttery Eggnog Pound Cake. Combining the flavors of eggnog in a pound cake will get you rave reviews at your holiday celebrations.

A luscious pound cake, this recipe celebrates the season with the addition of a popular beverage in the cake. The custard base of eggnog makes it the ideal addition to pound cakes. Eggnog is silky and creamy thus making the cake soft, velvety and buttery tasting.
Always a crowd-pleaser, Crispy Eggnog Pound Cake is wonderful at holiday celebrations.
I have reviewed A LOT of pound cakes and shared them with you. You can get all of those reviews and recipes here. I also wrote an extensive post on Bake the Perfect Pound Cake that's worth a read.
Here is a sample of some of my pound cakes.
Eggnog Pound Cake
If you use a flavored eggnog, your pound cake will naturally take on that flavor. For this reason, I recommend a plain eggnog that doesn't contain cinnamon or a strong vanilla flavor.
You can substitute eggnog in your favorite pound cake recipe for the buttermilk, sour cream, cream cheese, or milk. I adapted this Eggnog Pound Cake from my favorite whipping cream pound cake and was thrilled with the result.
I opted not to put a glaze on my Eggnog Pound Cake simply because the outside was nice and crispy and I didn't think it needed anything else. If you want to make an Eggnog Glaze, whisk together 2 to 3 tablespoons eggnog (depending on how thin you want the glaze) with 2 cups confectioners' sugar, and 1/2 teaspoon vanilla extract. Pour over cooled cake.
If omitting the glaze, serve simply with a dusting of confectioners' sugar, fresh fruit, or a raspberry sauce and ice cream.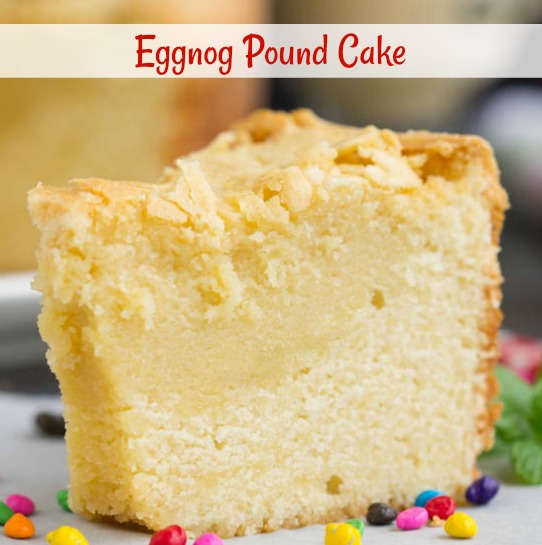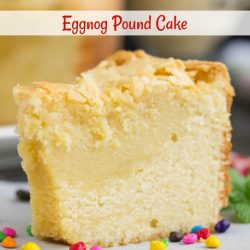 Eggnog Pound Cake
A luscious pound cake, this recipe for Eggnog Pound Cake celebrates the season with a crowd-pleasing ingredient. Eggnog adds a luxurious flavor and creaminess to the cake. It's buttery, soft inside with a crispy outside and top. 
Ingredients
3

cups

granulated sugar

1

cup

butter

at room temperature (no substitution)

6

large eggs at room temperature

3

cups

sifted all-purpose flour

1

cup

plain eggnog

no alcohol or spices added

1

tablespoon

vanilla extract
Instructions
Preheat the oven to 325 degrees F.

Grease a tube pan with solid vegetable shortening then sprinkle flour or granulated sugar over the shortening.*If you have a 2-part, 10-inch tube pan, wrap aluminum foil around the outside of the bundt pan to prevent any batter from leaking out.

In the bowl of your stand mixer, cream butter until smooth. Add sugar and mix until smooth about 2 to 3 minutes on medium speed.

Add eggs, one at a time, beating well after each addition.

Add flour and eggnog alternately to sugar mixture, beginning and ending with flour.

Add vanilla and mix on low to medium until well combined.

Pour batter into a buttered and floured prepared 10-inch tube or bundt pan.

Bake for 1 hour 15 minutes. 

Cool in the pan for 20 to 25 minutes before inverting onto a serving tray to cool completely.

Store in an airtight container on the countertop 3 to 4 days.
Recipe Notes
As a busy mom, Paula saw the need to simplify cooking and meal prep without sacrificing flavor. She provides simple recipes and time-saving strategies for delicious and nutritious meals for your family. Please share CallMePMc.com with your friends. 
Recipe from Paula @CallMePMc.com All images and content are copyright protected. Please do not use my images without prior permission that includes copying the ingredient list or entire recipe and posting in the comments on Pinterest for Facebook. If you want to share this recipe, please simply link back to this post for the recipe.
Thank you, Paula

Share now with your friends