Blueberries and Lemon are the challenge ingredients this month at Lady Behind the Curtain recipe challenge.  You know how I love Pound Cakes, but I didn't want to make a regular ole pound cake for this challenge. Of course, I had to use the specified ingredients. I decided on the Blueberry Swirl Pound Cake with Lemon Glaze. I shook things up a little this time not only with the addition of blueberries and lemon. For the first time ever, I added Greek yogurt AND, wait for it……………….coconut oil!!!
Yes, coconut oil.
In a Pound Cake!!
Now, don't go getting all excited thinking it all Healthy or Skinny!
I did use the yogurt instead of sour cream, 100%.
I did not, however, replace all the butter with coconut oil.
Yes, I was chicken.
I only replaced 1/2 cup of butter with the coconut oil. I'll get more brave with this, I promise.
It still had the same wonderful texture. I could not tell any difference in the traditional way I make this or with these new ingredients! In the spirit of full disclosure, I could not taste much of the blueberry flavor. Next time I'll add more, however, the recipe below is exactly the proportions that I made used.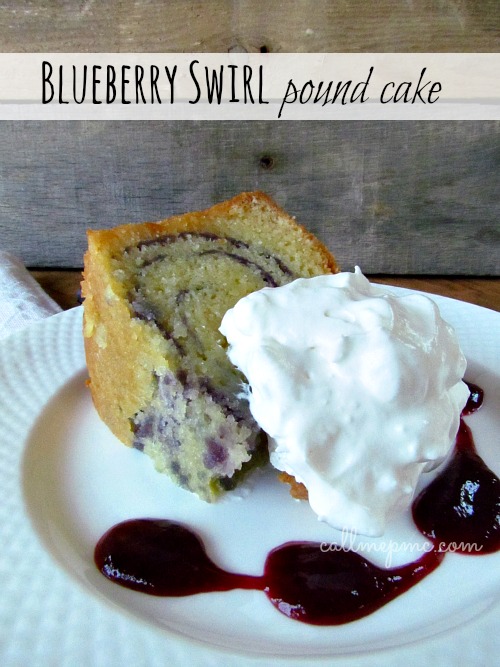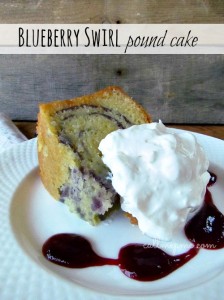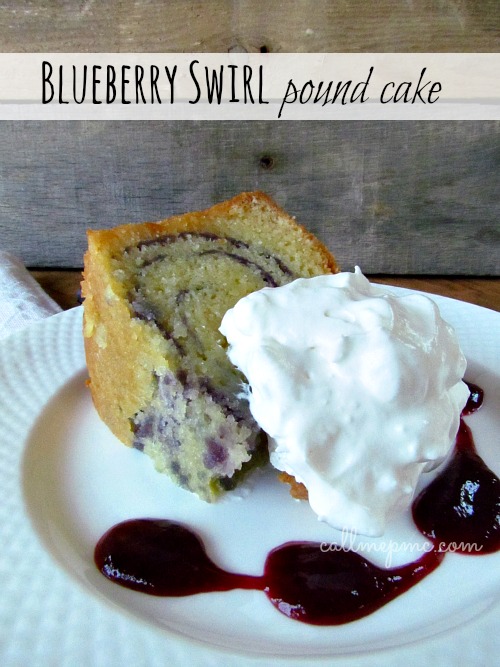 Print
Blueberry Filling
Blueberry sauce is swirled through this pound cake. Pound cake is always a crowd-pleasing dessert and this recipe is not exception!
Ingredients
Blueberry Filling
1 and 1/4 cup blueberries
1/4 cup sugar
2 Tablespoon cornstarch
1//3 cup water (add more water if it's too thick.)
Glaze
1 cup confectioners Sugar
4 Tablespoon lemon juice
Cake
3 and 1/4 cup sugar, divided
1 cup butter, softened
1/2 cup coconut oil
1 cup Greek yogurt
1 teaspoon lemon zest
1 teaspoon vanilla extract
6 large eggs
3 and 1/4 cup all-purpose flour
1/2 teaspoon baking soda
1/4 teaspoon salt
Instructions
Add all Blueberry Filling ingredients to a small sauce pan.
Mash blueberries with a potato masher.
Bring to a boil and stir frequently. Boil 2 minutes.
Remove from heat and allow to cool.
Pour through strainer, mashed it through with the back of a spoon, You'll have to scrap it off the bottom too. It's thick using the amounts listed above. For a thinner sauce (for pouring over ice cream, cake, etc) add 1/2 or more water. Sauce will get thicker as it cools. Cover and refrigerate 3 hours or up to 3 days for this recipe.
For the cake: Preheat oven to 325 degrees. Spray a 12 to 15 cup Bundt pan with nonstick baking spray with flour.
In a large bowl, beat butter, coconut oil and Greek yogurt at medium speed with a mixer until combined. Gradually add remaining 3 cups sugar. Beat until fluffy. Add lemon zest and vanilla, beating until combined. Add eggs one at a time, beating after each addition.
In a medium bowl, combine flour, baking soda, and salt. Gradually add to butter mixture beating until combined.
Spoon 4 cups batter into prepared pan. Using the back of a spoon, spread batter evenly around pan and flatten in the center.
Spoon 4 T blueberry filling into center of batter, using the back of a spoon spread filling in a trench down center of batter. Top with 4 cups of batter, then another 4 T blueberry filling. Repeat process until all batter and filling is used.
Bake for 1 hour and 30 minutes or until a wooden pick inserted in cake comes out clean. If cake begins to get to brown on top, tent it with aluminum foil to prevent over-browning. Let cake cool 20 to 30 minutes in pan before removing. Remove from pan, allow to cool completely on a wire rack.
Whisk confectioners sugar and lemon juice until smooth. Drizzle over warm cake.
See all the Blueberry & Lemon recipes below!!
I also made these for this challenge:
Lime Coconut Icebox Cake and Strawberry Raspberry No Cook Cheesecake
You may also like these cakes!