HOW TO FREEZE BANANAS FOR SMOOTHIES
This post may contain affiliate links that won't change your price but will share some commission.
How to Freeze Bananas for Smoothies. Armed with a freezer full of frozen bananas, you'll always be ready for smoothies, nice cream, or banana bread.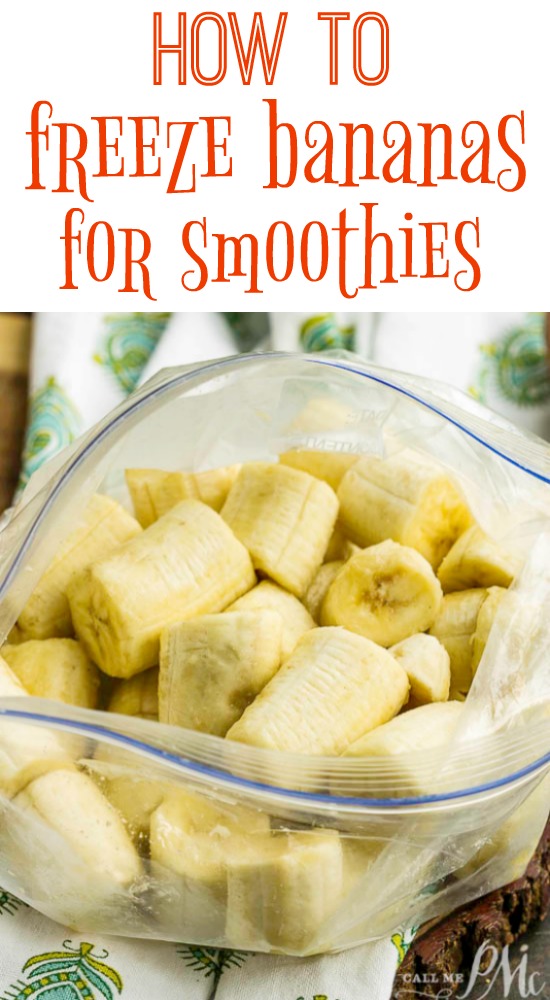 Are bananas a staple for you in smoothies? Me too!
In this post, I'll teach you how to slice and freeze bananas for a fuss-free smoothie.
(Frozen bananas are also good in smoothie bowls, banana bread, and banana muffins.
I got hooked on smoothie bowls on a recent trip to the beach. Therefore, I came home excited my new healthy treat and bought blue spirulina. acai powder, and fruit. As well, I froze a big batch of bananas.
At no point in my life, has anyone told me or have I read that you don't freeze bananas with the peeling on them!
I got ready to make my first smoothie bowl. It took me at least 10 minutes and frozen hands to peel my bananas.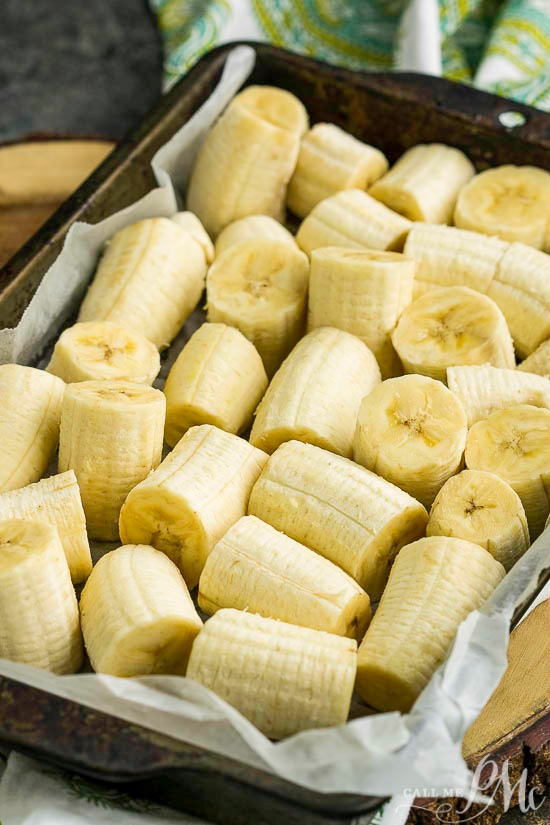 Now, I have developed a super easy method for freezing bananas. From now on, I have a perfect bag of frozen bananas in the freezer that don't have freezer burn, aren't mushy, and aren't stuck together.
How to Freeze Bananas for Smoothies
FIRST – PREPARE A BAKING SHEET
If you throw peeled bananas in a bag, they freeze together in a big clump. This is impossible to chisel through for the amount you need. Therefore, prepare a baking sheet with parchment or wax paper so that you can lay your banana slices down flat and freeze them before you prepare them for storage. Make sure your sheet will fit in your freezer.
SECOND – PEEL AND SLICE THE BANANAS
You can use yellow or brown bananas. Overripe, spotty bananas have much more flavor. Next, slice the bananas and place them in a single layer on the parchment paper. I sliced them into 2-inch rounds. (Smaller slices are easier on your blender. I use a NutriBullet and I can drink right out of the container I mix it in.) Finally, place the tray of sliced bananas into the freezer for at least 30 minutes or until your bananas are completely frozen.
LAST – STORE BANANAS FOR LATER
Remove baking sheet from the freezer. Place the banana slices into a freezer-safe bag, remove the air from the bag, seal, and place in the freezer. Alternately, pre-measure the bananas in one cup measurements and freeze separately for even easier, no measuring, and faster smoothies!
Also, learn how to freeze avocados!
You can also find great recipes here or at Meal Plan Monday or Weekend Potluck