Rocky Road Hot Chocolate everyone's favorite campout dessert is turned into a hot and comforting drink!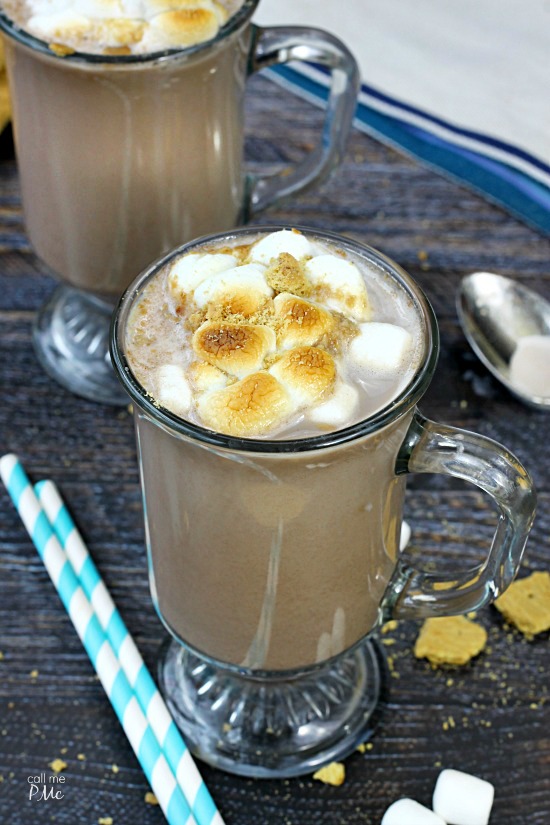 My boys love hot chocolate more than anything! I'm not exaggerating when I say that either. They love it so much that I had to stop making hot chocolate for breakfast during the school week so they would hurry, eat and not be late! I just knew when I found this Rocky Road Hot Chocolate recipe that they're heads would explode with excitement.
Combining one of their favorite campfire desserts with their favorite drink pretty much sealed my fate as 'Best Mom Ever' … to them anyway!
According to a new survey by Wakefield Research, watching movies tops the list of Americans' favorite indoor winter activities, followed by reading books and playing games. The top outdoor wintertime activity for Americans is building a snowman, followed by starting a snowball fight and sledding. Additionally, nearly 70 percent of Americans agree that hot chocolate is the drink that reminds them most of their childhood. So if you're looking to bring back carefree moments from winters past, try TruMoo Chocolate Marshmallow hot!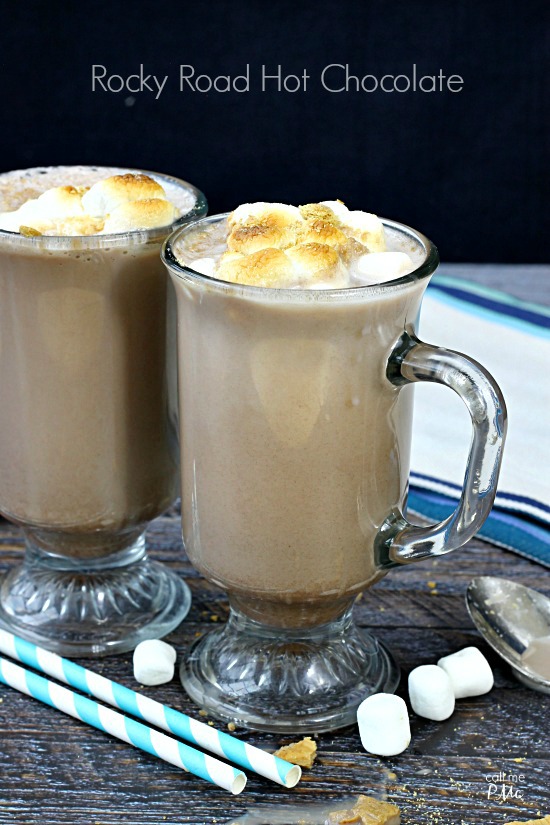 Rocky Road Hot Chocolate
Yield 2
Rich chocolate marshmallow milk is turned into a favorite childhood treat in this Rocky Road Hot Chocolate. Almost everyone loves a hot campout treat of Smores and this combines those comforting flavors in a warming hot chocolate.
Ingredients
2 cups TruMoo Chocolate Marshmallow milk
1/4 cup coarsely broken graham crackers
2 teaspoons vanilla extract
Instructions
Garnish: chocolate chips, graham cracker pieces, mini marshmallows, toasted almonds
In small saucepan over medium heat, heat TruMoo Chocolate Marshmallow milk, graham crackers and vanilla until milk is hot.
Pour into mugs. Garnish with chocolate chips, graham crackers, toasted almonds and mini marshmallows* if desired.
Notes
*If desired, broil mini marshmallows until lightly browned before garnishing.Gingerbread Hot Chocolate Recipe 2 cups TruMoo Chocolate Marshmallow milk1/2 teaspoon ground cinnamon1/2 teaspoon ground gingerDash ground cloves In small saucepan over medium heat, heat TruMoo Chocolate Marshmallow milk, cinnamon, ginger and cloves just until boiling. Remove from heat. Garnish with cinnamon stick and favorite gingerbread cookies if desired. To heat in microwave oven, combine above ingredients in glass measure. Heat on High 1 minute or until warmed through. Garnish as above. Serves 2.
Nutrition Facts
Serving Size 8 ounce
Amount Per Serving
% Daily Value
* Percent Daily Values are based on a 2,000 calorie diet. Your daily values may be higher or lower depending on your calorie needs.