Blonde Texas Sheet Cake with Pecans is a play off the popular chocolate version of Texas Sheet Cake. Deliciously moist and fluffy almond cake baked in a rectangle sheet pan then topped with scrumptiously creamy vanilla frosting!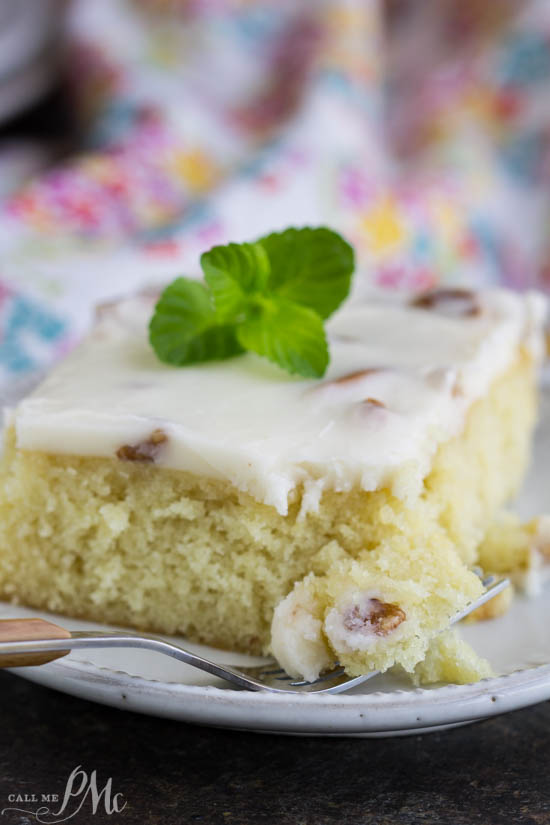 This cake is flavored with almond extract, but it's such a great basic cake that you can flavor it with your favorite. Vanilla flavor would be love, as would lemon or coconut.
Blonde Texas Sheet Cake with Pecans is a favorite at church potlucks and makes enough to serve a crowd.
More easy recipes that you may like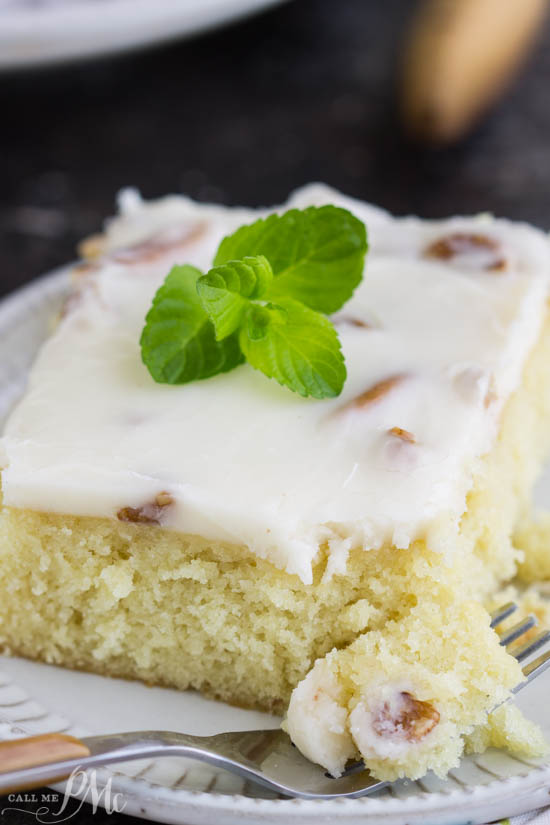 Blonde Texas Sheet Cake with Pecans
You can replace the almond extract in both the cake and icing with vanilla in the Blonde Texas Sheet Cake.
The addition of coconut in the icing will add more texture. With the addition of coconut in the frosting, you can replace the almond extract in the cake with coconut extract.
As well, lemon in both the cake and frosting will be out-of-this-world.
You can actually double the pecans in the frosting if you want more crunch.
Instead of pecans, you can add chopped almonds to the frosting.
If you want the cake to be white instead of yellow, replace the two eggs with four egg whites.
If you don't have a 10x15x1 inch sheet pan, you can bake it in a 9×13 inch pan. You'll need to increase the cooking time to 27 to 30 minutes.
Shop this post at Paula's Picks.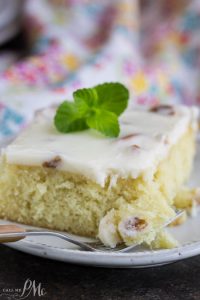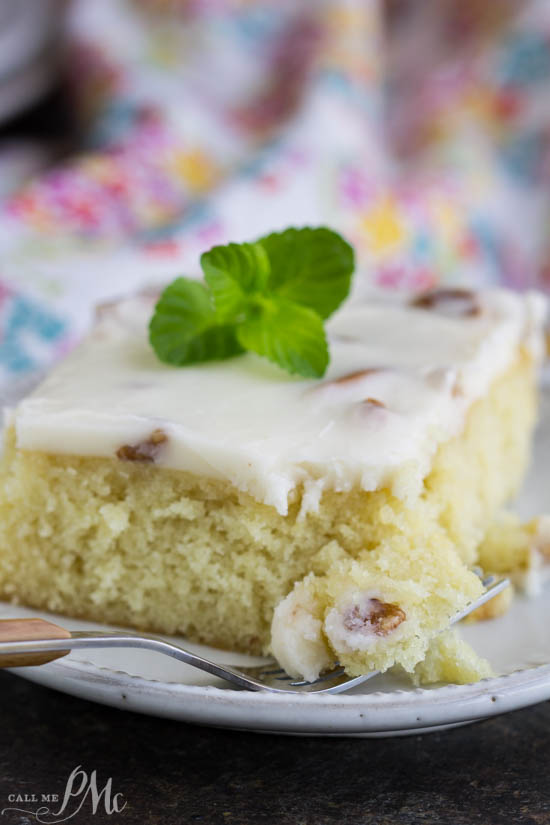 Print
Blonde Texas Sheet Cake with Pecans
Yield 16 servings
Blonde Texas Sheet Cake with Pecans the first cousin to the Texas Sheet Cake. This blond version is deliciously moist and fluffy.  
Ingredients
1 cup butter
1 cup water
2 cups all-purpose flour
2 cups white sugar
2 large eggs at room temperature
1/2 cup sour cream
1 teaspoon almond extract
1/2 teaspoon salt
1 teaspoon baking soda
1/2 cup butter
1/4 cup milk
4 and 1/2 cups confectioners' sugar
1/2 teaspoon almond extract
1 cup chopped pecans
Instructions
Spray a *10x15x1 inch sheet pan with nonstick spray.
Preheat oven to 375 degrees F.
In a large pan, bring 1 cup butter and water to a boil.
Remove from heat and stir in flour, sugar, eggs, sour cream, 1 teaspoon almond extract, salt, and baking soda.
Stir until smooth.
Pour batter into prepared pan. 
Bake at 375 degrees for 20 to 22 minutes or until the cake is golden brown.
Cool for 20 minutes.
For the frosting. Combine 1/2 cup butter and milk in a saucepan.
Bring to a boil then remove from heat.
Whisk in sugar and 1/2 teaspoon almond extract.
Stir in pecans.
Spread over warm cake.
Serve the cake warm or cold.
Store in an airtight container.
*Read post above for substitutions
Notes
Recipe from Paula @CallMePMc.com All images and content are copyright protected. Please do not use my images without prior permission that includes copying the ingredient list or entire recipe and posting in the comments on Pinterest for Facebook. If you want to share this recipe, please simply link back to this post for the recipe.
Courses dessert
Cuisine American, Southern
This post contains affiliate links. If you click through and purchase something, I may be compensated at no additional cost to you.
You can also find great recipes here or at Meal Plan Monday or Weekend Potluck.