How to Make Money Blogging
This post may contain affiliate links that won't change your price but will share some commission.
A step by step guide How to Make Money Blogging. Yes, you can make a good part time or full time income from home while making your own hours. It takes work and dedication. Read on to learn How to Make Money Blogging.
I decided to write 'How to Make Money Blogging' as a follow up to my post 'How to Start a Blog'. The really go hand in hand. For me they do, some people have blogs as a way to share family events and photos. However, I started Call Me PMc, not as a hobby, but as a source of income from day one.
As well, check out my Resource tab for more important links and blogging information.
For more scrumptious recipes, fun projects and exciting news, follow me around the web!
Pinterest, Facebook, Twitter, Instagram
As well, one of the questions I'm asked the most regarding my job is 'How to Make Money Blogging'? Seriously, some people think this is just a hobby. Trust me I like blogging, but I'm not sure I'd do it 40+ hours a week if I wasn't making money from it. Yes, I work 40 hours a week, I just get to pick and choose what hours so I work it around my family. Not, a day goes by that I don't do something on the blog, even weekends.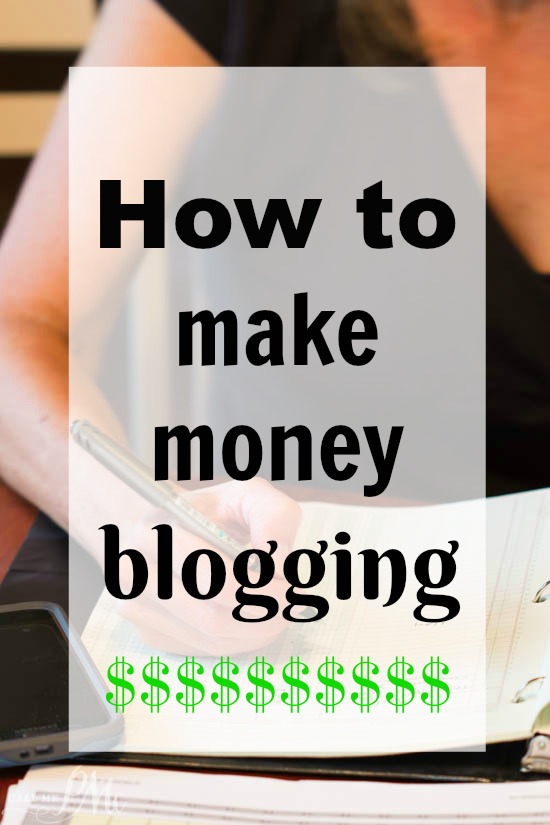 How to Make Money Blogging
There are a lot of different ways to make money blogging. I recommend trying several of them to see what works best for you and what you enjoy doing. The internet is always changing and multiple income streams help you spread the risk if one form isn't performing well.
Most importantly remember, before you start making money on your blog.
Content is king. Work on your writing and photography. Write useful and engaging content. Write with personality and make it interesting and worthwhile.
Build your readership. There are so many blogs now, don't assume that just because you started a blog that people will find it and read it. You must promote your blog. Use social media, friends, and word of mouth to get your blog noticed.
Build engagement with your readers. Ask questions in your post and on social media and encourage comments. Think about building a community of readers.
This is why bloggers get upset when someone steals out content. We don't make money if people don't visit our blog. If someone steals content that we've spent hours and hours working on and posts it somewhere that readers don't visit our sites for it, we don't make any money and all that time is virtually wasted.
Now you're ready to start making money on your blog. For the most part, all the promoting you're doing is to get traffic to your site. You can't make money on ads if you don't have traffic. Brands won't see the value in choosing your site to represent them if no one is seeing your content. Build traffic. Build readership. Now let's make money!
How to Make Money Blogging
1. Advertising
There are many ways to monetize through advertising.
Ad Networks
There are many Ad Networks available. Ad Networks manage the ads on your site so you can spend time on developing content. Some of these have traffic requirements. Most ad networks manage ads on your site, in-text ads, video ads, podcast ads, in-image ads, and some may offer brand-sponsored posts. The higher your traffic is the more you'll make on ads. Check out the list of Ad Networks below.
Direct Advertising
Some people reserve ads spots for ads they sell directly. This is great if you can since you're cutting out the middle man. However, I found that ad networks are much better at selling ads to vendors than I can. One benefit to direct ad sales is you have complete control over the ads. You don't have as much control when an agency is managing them.
2. Ambassadorships
Brands hire bloggers to create content for 6 to 12-month terms. By hiring trusted influencers, brands are guaranteed consistent content that is spread across multi social platforms. In turn, readers can see how a product or service affects the influencers life. It's a win-win for both the brand and the influencer.
Along with creating content, bloggers may be asked to attend events, test products, and take surveys for the brand.
You may need to reach out to brands and show them what you have to offer. If you're uncomfortable with the Jenny Melrose offers a great online class.
3. Sponsored Work through blog posts & social media work
If your traffic is not very high right now and you're not making a lot from displaying ads on your site, you can still make a great income doing sponsored work. Whereas with an Ambassadorship you work directly with the brand or PR company, there are companies that act as a go-between for bloggers and brands. Yes, they take a cut, but if you're not good at reaching out to brands directly, this is perfect for you. The companies typically have new campaigns each week in which you apply to those you're interested and that fit your blog niche.
Occasionally, or if you have worked with a company enough, they will reach out to you directly to see if you're interested. You typically, use the brand's product, photograph it, and write about it in a blog post. You then promote it on your social platforms and report back to the company on performance.
Typically, brands look at the number of followers on social media and your blog for writing, photos, content, etc, to choose bloggers for each campaign. This is one reason it's important to grow your social media accounts.
4. Sell a product
You may choose to sell a product such as a book, ebook, courses, printables, or merchandise you make on your site. Do you make spices blends, muffin mixes, makes crafts or jewelry? Yo can also sell memberships or subscriptions on your site for income.
5. Sell a service
You can also sell a service such as photography or blog related workshops. You may organize a blog retreat or conference. There's training, coaching, consulting, photography, and designing in which you can make income. Recognize what you're good at, find a need, and market your skills.
Some bloggers also work as Virtual Assistants for other bloggers until their own blog gets more traffic. Virtual assistants often schedule social media shares. It's a great way to make extra income. As well, it's a win-win situation since we already know the blogging business.
Bloggers can also freelance write for large sites as a way of income.
6. Organize a blog conference or workshop
If organization is your strong point, you may want to organize a workshop, conference or retreat. You can plan an event with experts in any blog related job, just me there are a lot of components to blogging that we need to know and need help within the ever-changing world of the internet. I'm constantly reading articles on SEO, writing, photography, videography, how to pitch brands, how to grow readership, how to grow your Facebook page and other social media platforms, taxes, how to be better organized, the topics are almost endless. Sometimes you need hands-on and workshops are great because you can spend a condensed about of focused time on a subject.
7. Affiliate sales
There are a lot of companies that offer affiliate sales options. Bloggers are given an affiliate link that they promote usually within a blog post. Therefore, when a reader clicks on the link and makes a purchase the blogger gets paid a commission per lead or sale of the product. Amazon and Ebay or two of the most popular affiliates.
I am an Amazon Affiliate and have an Amazon store that you can check out here. I simply added some of my favorite products or tools and appliances that I've found useful to the store for my readers.
Host companies like Orange Geek and Bluehost offer affiliate sales. I use Orange Geek and I'm extremely happy with them. Check out their rates, they are very competitive and use my promo code it gives a new customer 10% off their first hosting purchase. Use promo code: callmepmc
Bloggers that have books or classes offer affiliate sales.
TubeBuddy is a great service to optimize your videos!
FTC Guidelines
Most noteworthy, when bloggers get paid to endorse a product, we must disclose that we're getting paid both in the blog post and in the social media shares for that post. Most companies with remind you to include this or have a specific disclosure wording they want you to include in the post. I encourage you to be aware of the rules by reading the official Federal Trade Commission's Guidelines.
Getting Paid
Companies usually have different terms for getting paid most are from 30 to 60 days. I urge you to keep good records. Most importantly, with so many different income streams you need a good system to know if and when you got paid. As well, this is good for tax purposes.
Companies pay either through direct deposit, check, or I've found, most like to pay through PayPal.
If you're just starting a blog and beginning to have blogging income, I urge you to set up a business bank account. Again, it's easier to keep track of for taxes.
Proud member of (click badge for site)
* Indicates companies I work with currently or have worked with in the past.
This post contains affiliate links. If you click through and make a purchase, I may receive a commission (at no additional cost to you).