Big Daddy had the idea for a Stuffed Smoked Pork Loin. It's just one of those he-man foods. Meat, meat and more meat!
Is it bad that he smoked his own Father's Day dinner? Actually, he's quit happy when he smoking or grilling, so in his case, yes, I think it's perfectly acceptable!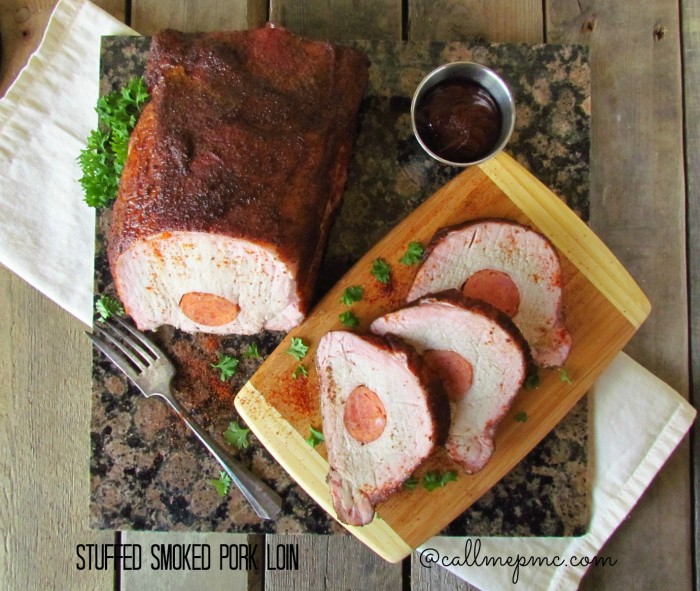 You don't need a lot of crazy ingredients for this dish
Pork loin, sausage and seasoning that's it!
OH and time – low and slow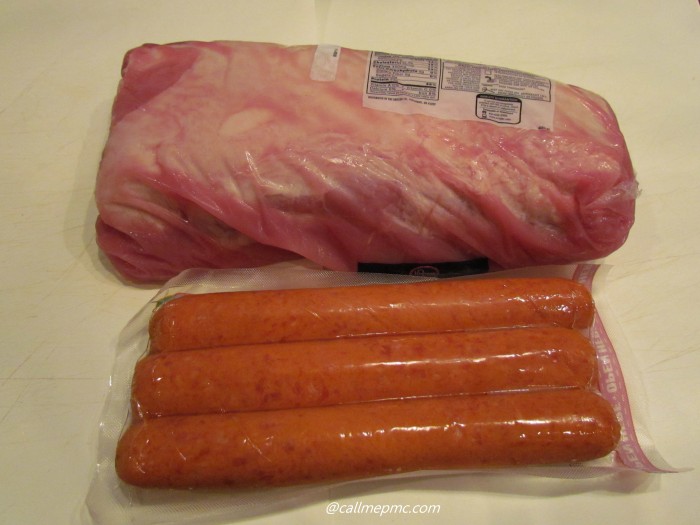 We used a 4 pound pork loin and one of the sausages shown above.
I used garlic, cumin, cinnamon, salt, pepper, dry mustard and chili powder for the rub.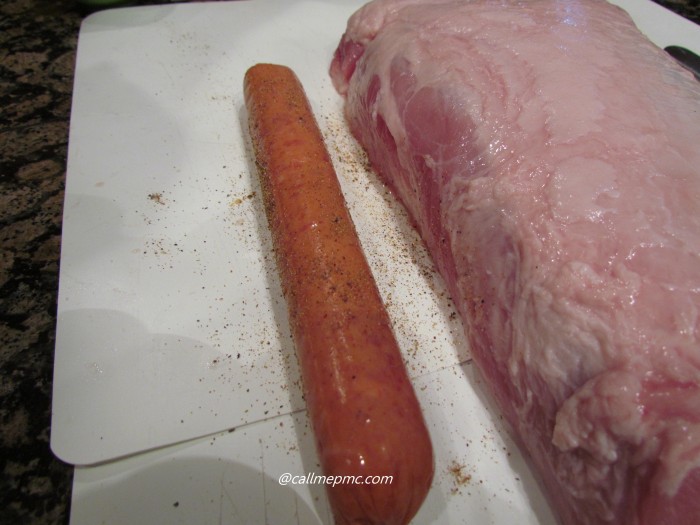 This sausage is going in this pork loin.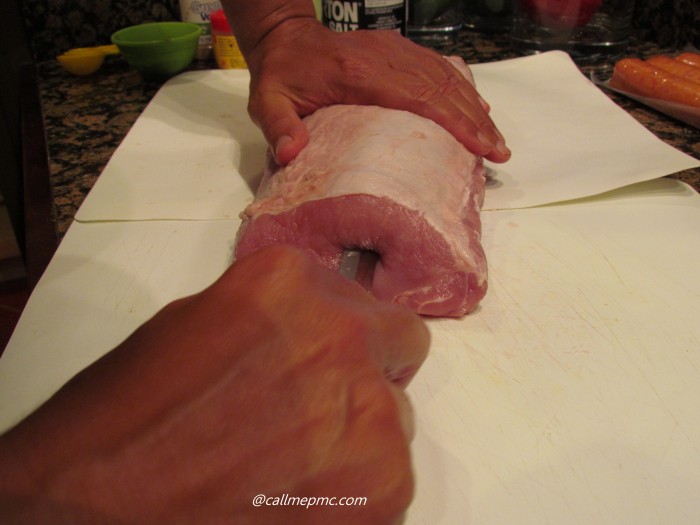 Cut a  pocket in the pork for the sausage to fit in…
I know, let's move on…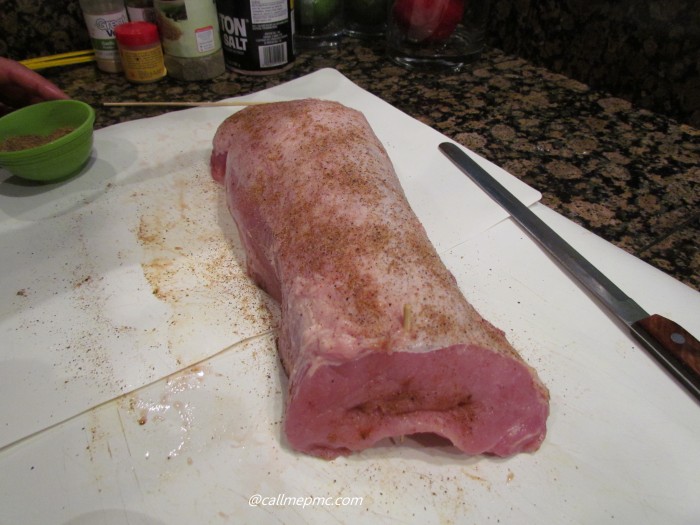 Put the sausage in the loin and close the cut with a skewer.
I know..let's move on…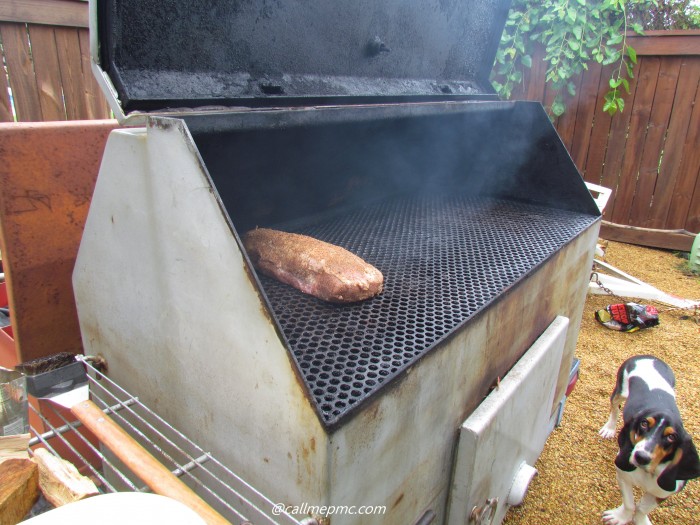 Put loin on a smoker heated to 250 to 275 degrees.
Look at my sweet doggie, Summer. muah love that girl!
At 250 to 275 degrees it took 2 hours to smoke this 4 pound loin.
Test doneness with a meat thermometer, it's the only way to accurately tell if the pork is cooked.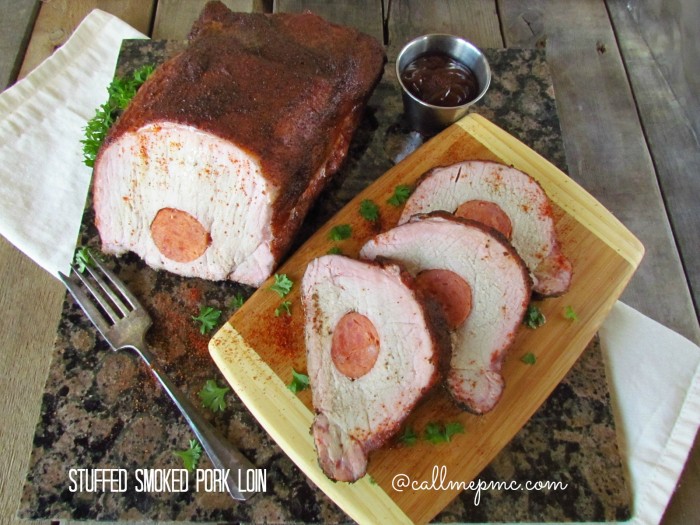 Stuffed Smoked Pork Loin
Ingredients
1 tsp salt
2 tsp pepper
½ tsp cinnamon
1 tsp cumin
1 tsp garlic
1 tsp dry mustard
1 tsp chili powder
3 to 4 pound pork loin
smoked sausage (I used one about 10 inches long with a smoky flavor)
Instructions
Heat grill or smoker to 250 to 275 degrees.
Cut a pocket in loin and push sausage into loin. Secure with a wooden skewer.
Combine salt, pepper, cinnamon, cumin, garlic, mustard and chili powder in a small bowl. Rub on outside of loin.
Place loin on grill or smoker, close lid and smoke 2 to 2.5 hours or until thermometer inserted in center reaches 150 degrees. (Temp will rise as it sets. You want it to reach 160 at its' highest)
Take off grill and allow to rest 10 minutes before slicing.
Notes
©CallMePMc.com All images & content are copyright protected. Please do not use my images without prior permission. If you want to republish this recipe, please re-write the recipe in your own words, or link back to this post for the recipe.
See Big Daddy Grill here as well!
Pecan Smoked Pork Ribs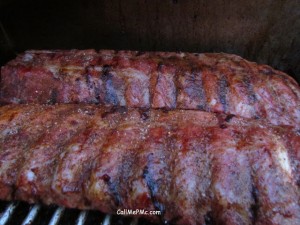 Smoked Pork Shoulders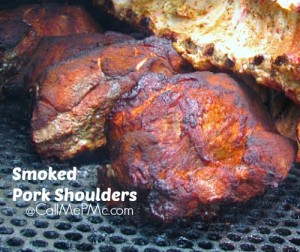 Perfect Applewood Smoke Beer Can Chicken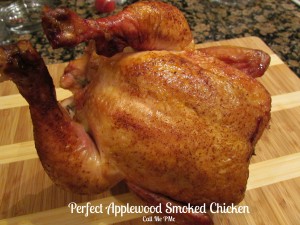 Rosemary Lemon Grilled Chicken Breasts