In April, I posted about our trip to The Masters golf tournament and shared my recreation of their famous Pimento Cheese Sandwich.  I shared tips and info and a little about the food they offer. I received a lot of comments on one specific item that I referenced: the Georgia Peach Ice Cream Sandwich. I really enjoyed it and knew that I'd try to recreate it at some point. After so many people emailed and commented asking about the sandwich I decided to try it sooner rather than later.
This was my first attempt at the ice cream sandwich and I'm very pleased with how it turned out. I hope you enjoy it as well.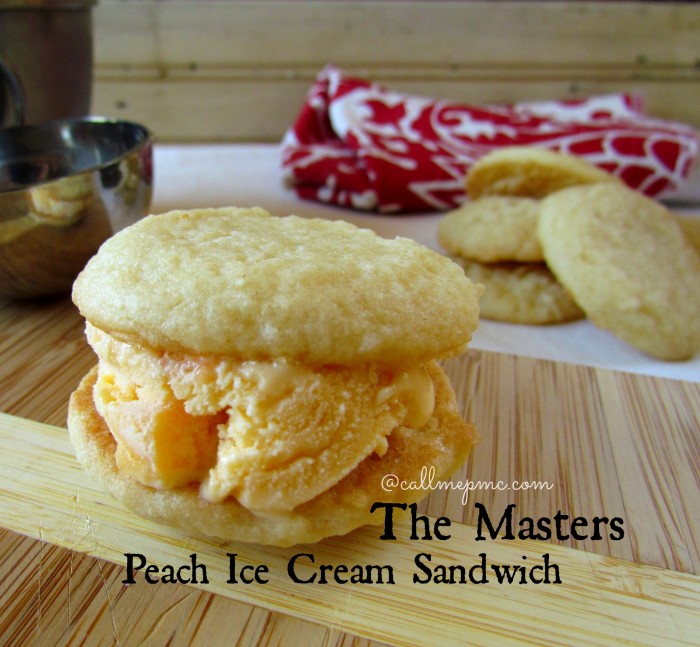 Below are the recipes for Peach Ice Cream. See my favorite Sugar Cookies here. Hard freeze ice cream at least 1 hour before making sandwiches. You can put them together and enjoy them immediately or wrap individually in plastic wrap and take out one by one to enjoy.
If you're just making Peach Ice Cream and don't plan to put it in the sandwiches, consider adding chopped pecans.
Print Recipe
The Masters Peach Ice Cream Sandwich
Ingredients
3-1/2

cups

sugar

2

cups

half-and-half cream

3/4

teaspoon

salt

6

eggs

lightly beaten

4

cups

heavy whipping cream

2

teaspoons

vanilla extract

6 to 8

medium peaches

peeled and sliced or 4 cups frozen unsweetened peach slices
Instructions
In a large saucepan, heat half-and-half to 175°; stir in the sugar and salt until dissolved.

Whisk a small amount of hot cream mixture into the eggs.

Return mixture to the pan, whisking constantly.

Cook and stir over low heat until the mixture reaches at least 160° and coats the back of a metal spoon.

Remove from the heat. Cool quickly by placing pan in a

bowl

of ice water; stir for 2 minutes.

Stir in whipping cream and

vanilla

.

Press plastic wrap onto surface of custard. Refrigerate for several hours or overnight.

Place peaches in a blender, cover, and process until pureed.

Stir into the custard.

Fill cylinder of ice cream freezer two-thirds full; freeze according to manufacturer's directions.

Refrigerate remaining mixture until ready to freeze, stirring before freezing each batch.

Allow to firm up in the refrigerator freezer for 2-4 hours before serving.
 You may also enjoy:
Click picture for recipe