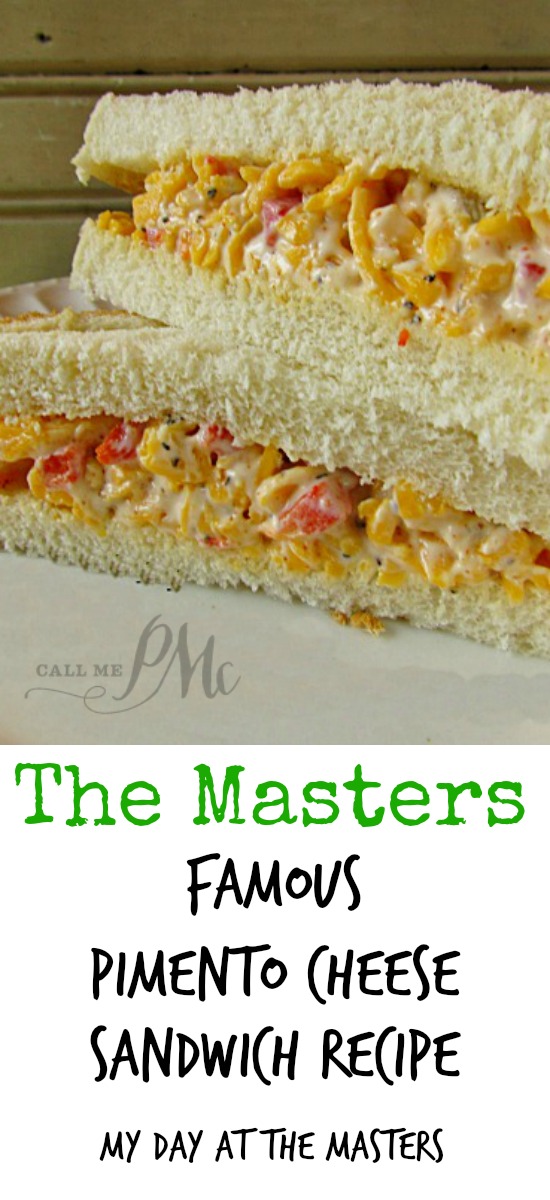 I was lucky to score tickets to this year's Masters practice round on Wednesday. The stars must have been aligned because it's not easy to get them. I wanted to do something special for Big Daddy and he couldn't have been more happy about going. Wednesday is also when the Par 3 tournament is and we got front row seats on Hole number 4. We saw all the players up close and personal especially when Mr. Jack Nicholas and Brant Snedeker hit their ball in the gallery into the seat right next to us.
I don't have any special tips on getting tickets, but I can tell you a couple of tips for the day if you are lucky enough to go.
Get there early

Wear comfortable shoes
Wear sunscreen
Get as much swag as you can afford
Eat the Pimento Cheese Sandwich
During the practice rounds you cannot take you phone is (I felt totally disconnected from the world!), but you can take pictures.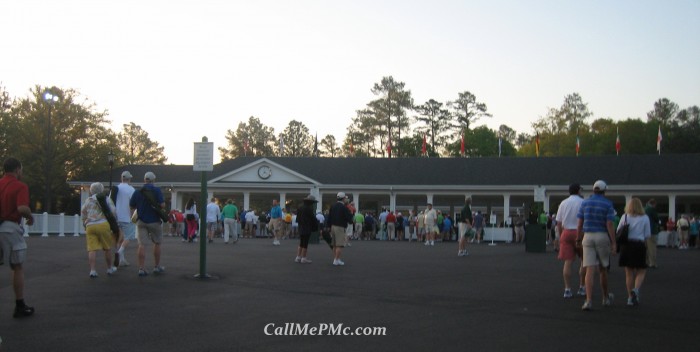 There was more security here than an the airports I've been through!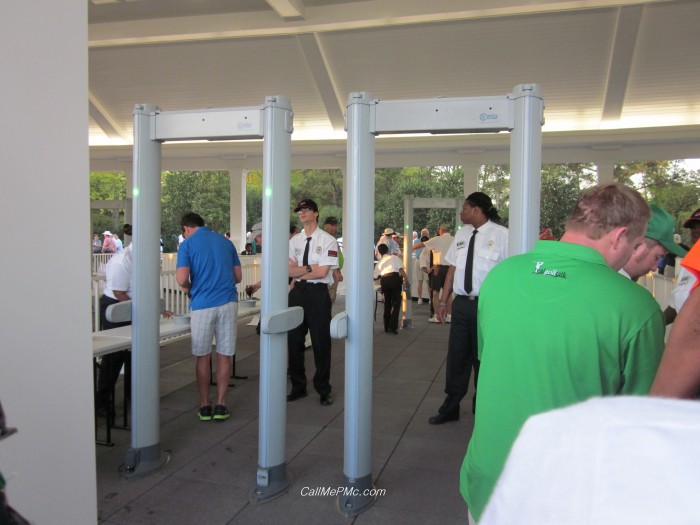 All the workers, were extremely nice and very informative.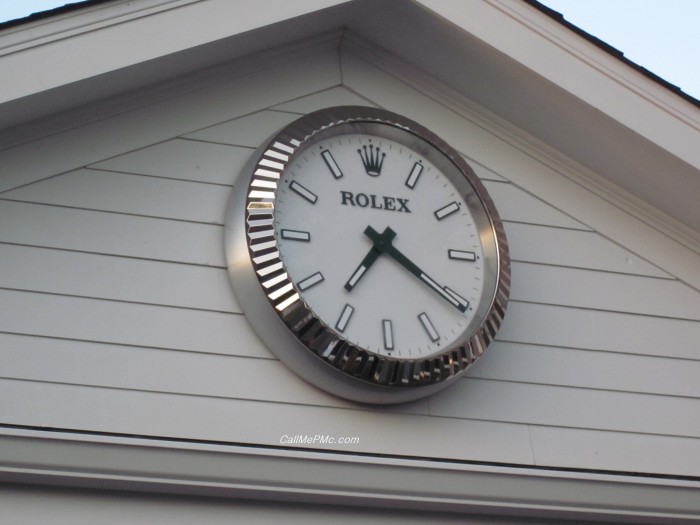 We had read that the gates didn't open until 8 a.m., but had also been informed to get there early for parking.
We left our hotel, which was very close, at 7 a.m., parked without incident, and by the time we walked to the gates,
they had just opened well before 8:00. Perfect!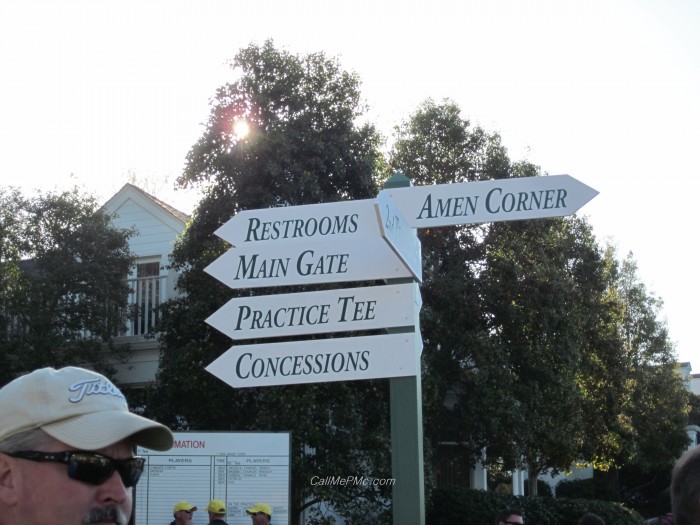 Signs like this was placed throughout and if you didn't see a sign, there was always an attendant worker close by to ask.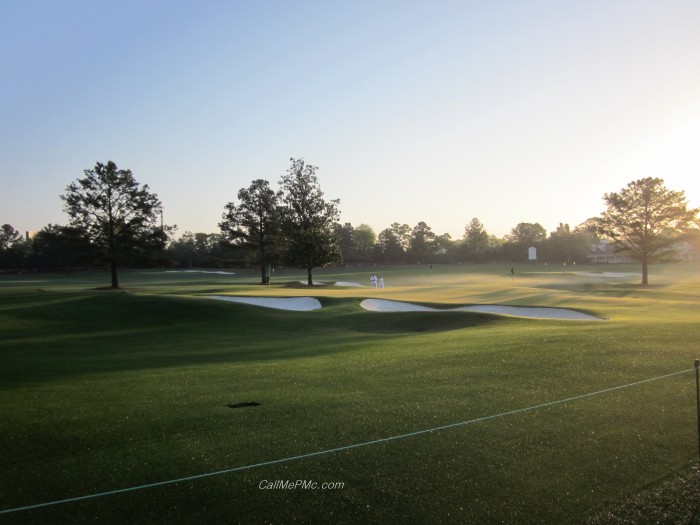 Beautiful! This is the Practice Driving Range. Not many golfers were out yet. We walked most of the course just looking.
 Mandatory photo opt!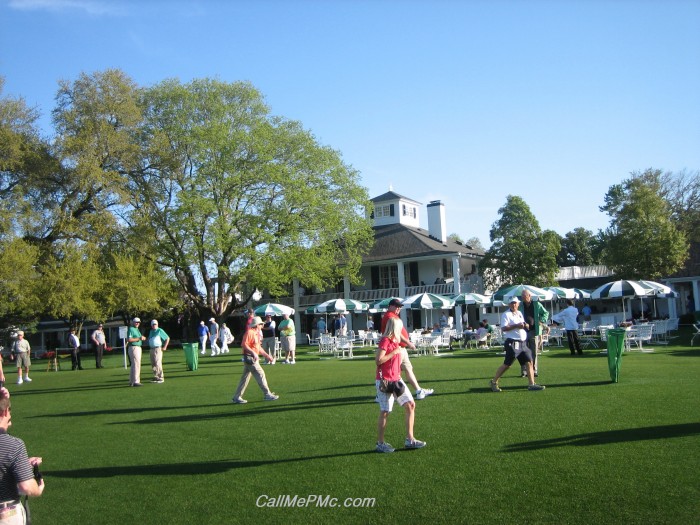 We thought there were a lot of people here at this time. NOT! You have no idea!!!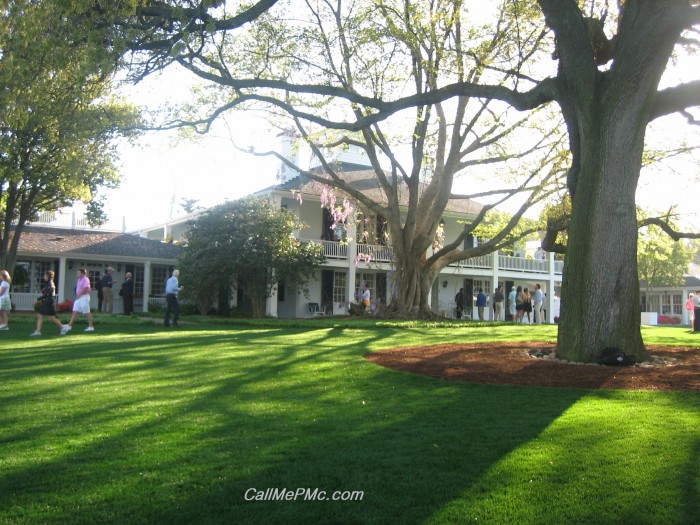 Butler Cabin – not really what I think of as a 'cabin' , very beautiful.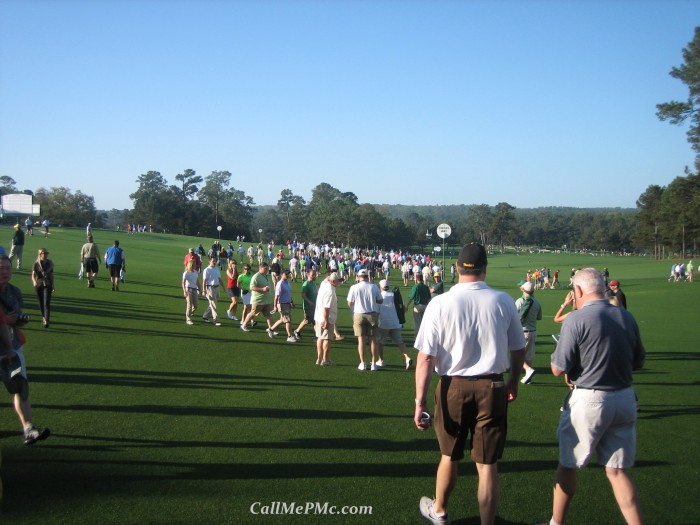 Walking and looking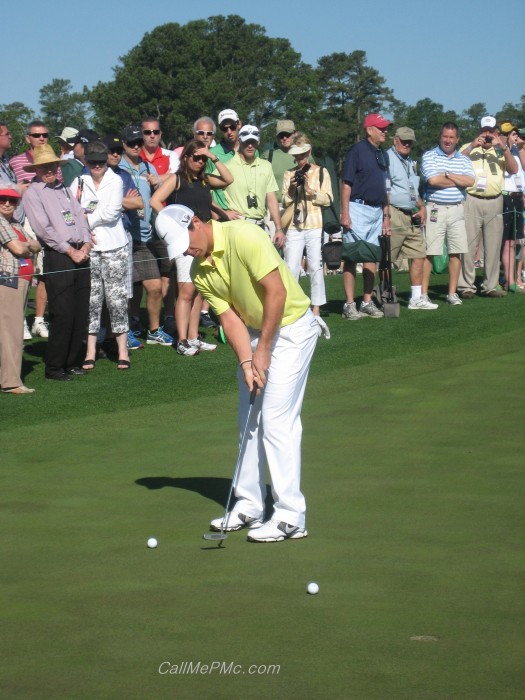 Rory McIlroy on the Practice Green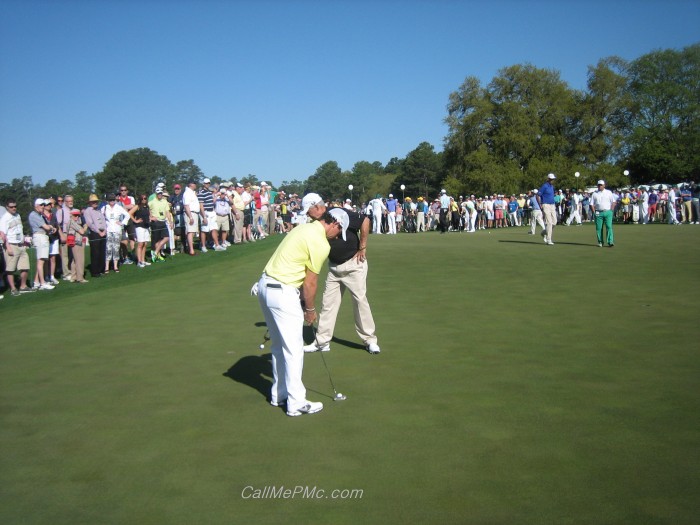 Rory again.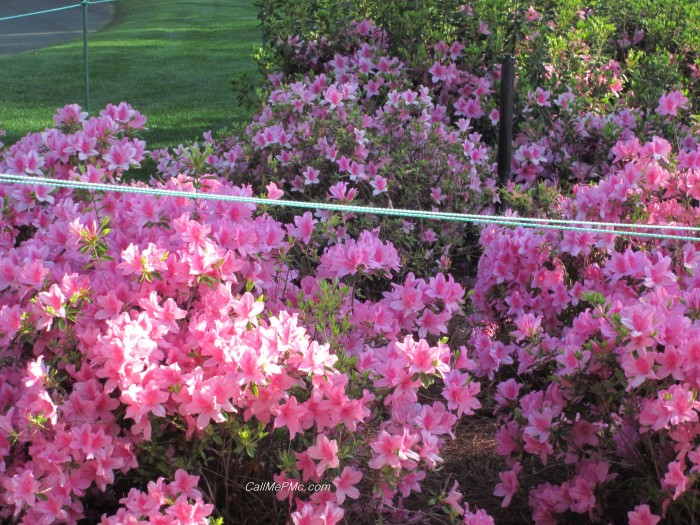 Beautiful azaleas along with other native plants filled the course with blooms.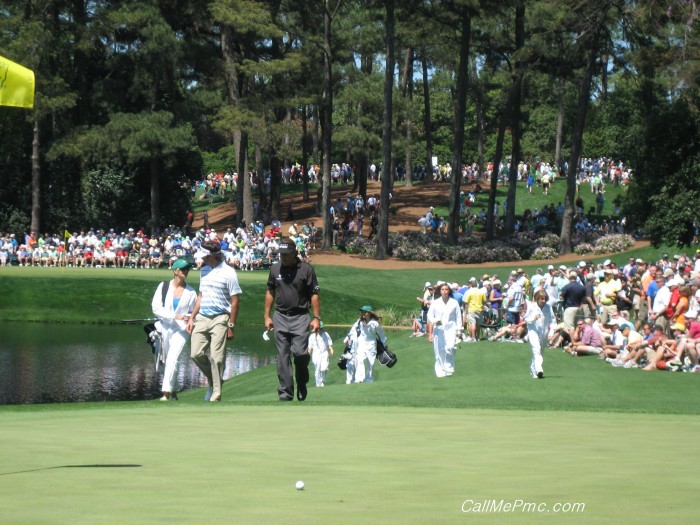 Par 3 – As soon as we sat down at Hole 4 for the Par 3 this is what I looked up and saw.
Bubba Watson and Phil Mickelson (and their caddies) were walking up to the green.
What I liked most about the Par 3 was the caddies. The golfers had their families with them. They were relaxed.
They laughed and joked with the crowd. They signed autographs, the players, not the families…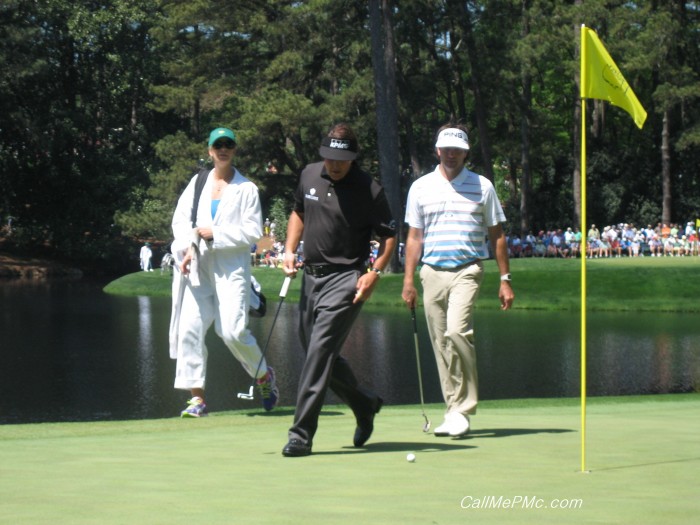 Phil and Bubba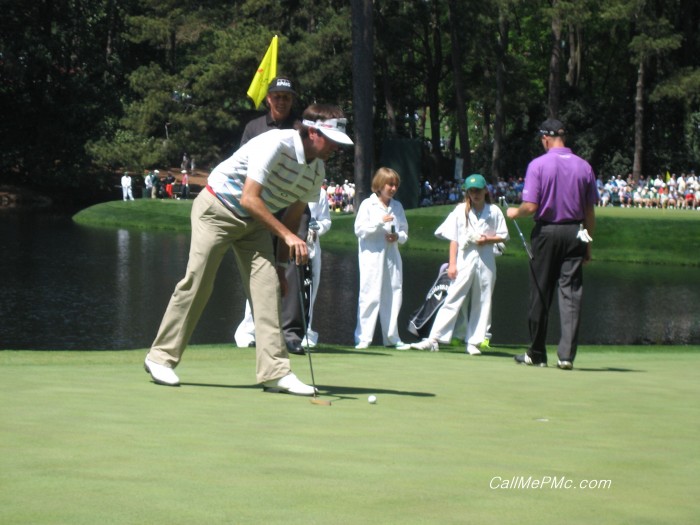 Bubba lining it up.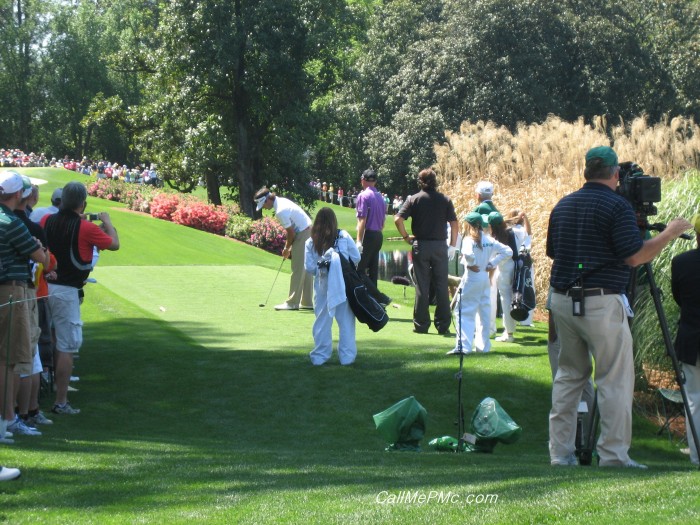 Where we were sitting, we could see them teeing off for Hole 5.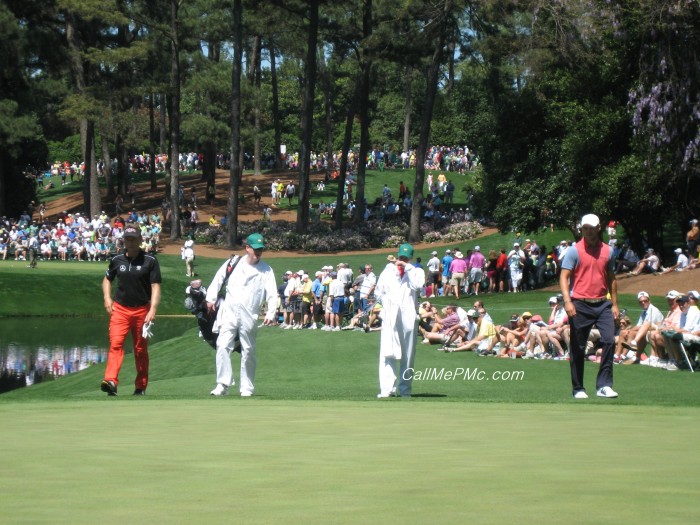 Bernhard Langer  (in the red)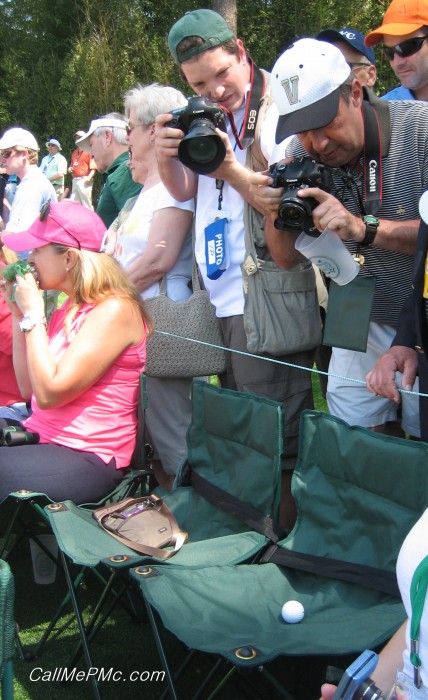 Brandt Snedeker hit his ball right into the gallery. It landed, as you can see, in the chair beside my friend.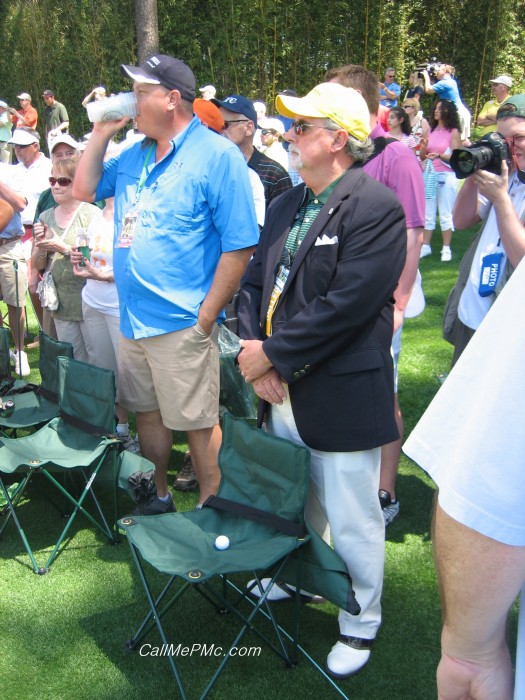 The Marshall is 'protecting' the bowl.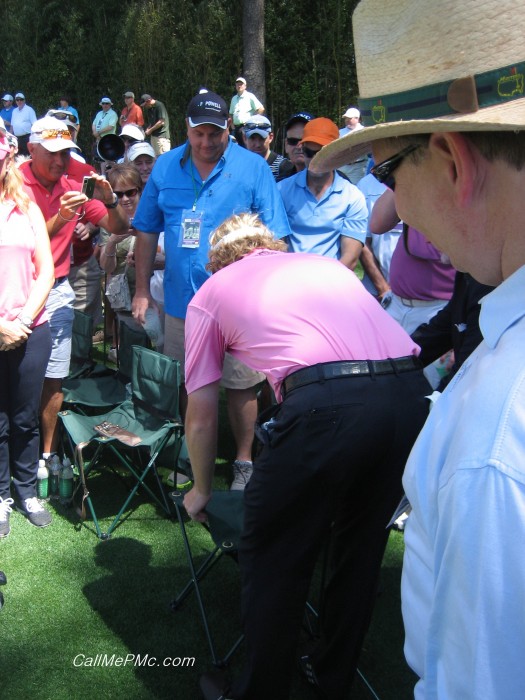 Brandt about to hit from where he dropped it out of the chair. All I can really remember thinking is he has really great hair!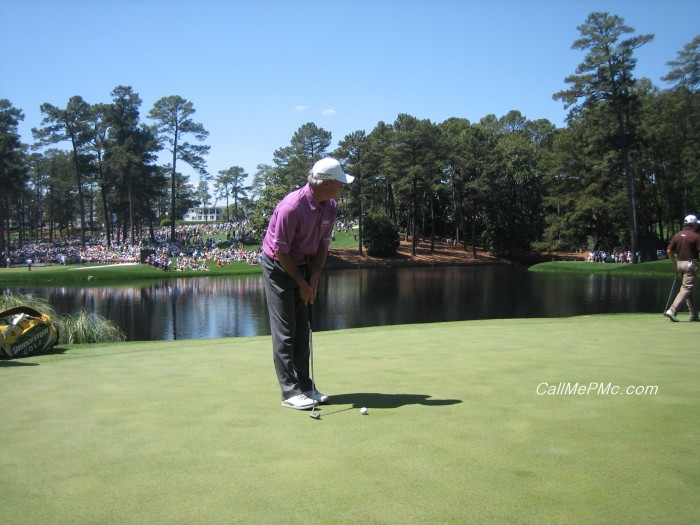 Fred Couples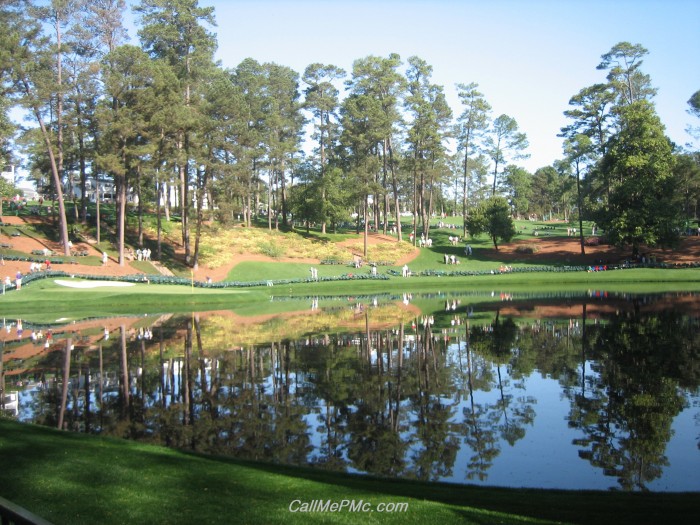 Looking across the lake on the Par 3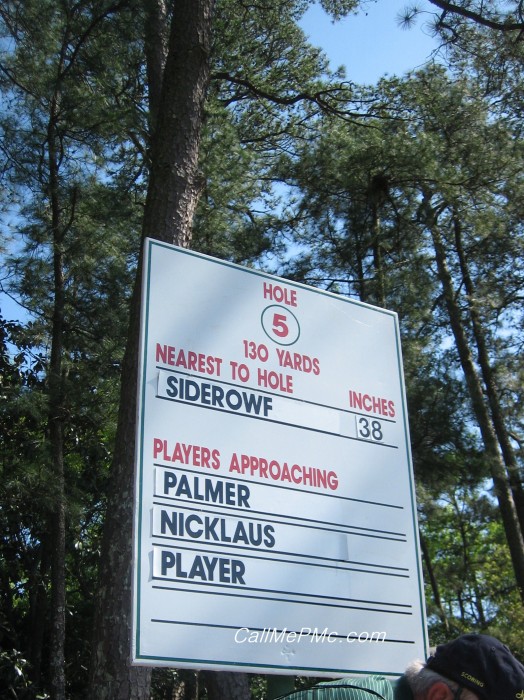 Iconic – Arnold Palmer, Jack Nicklaus, Gary Player together on the Par 3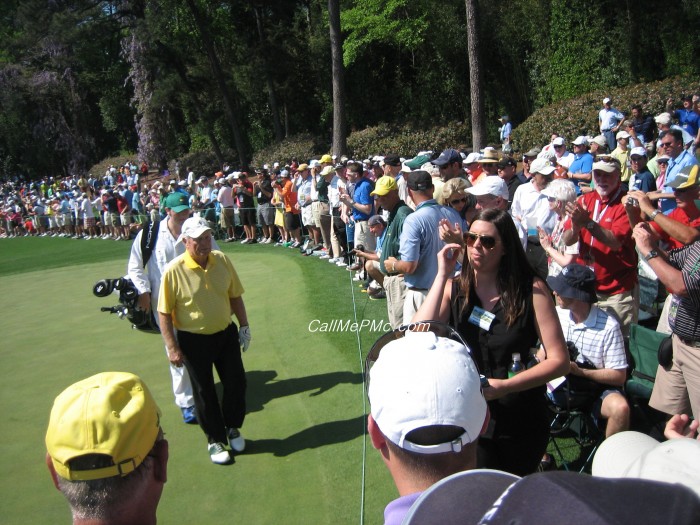 Mr. Nicklaus also hit his ball right next to us.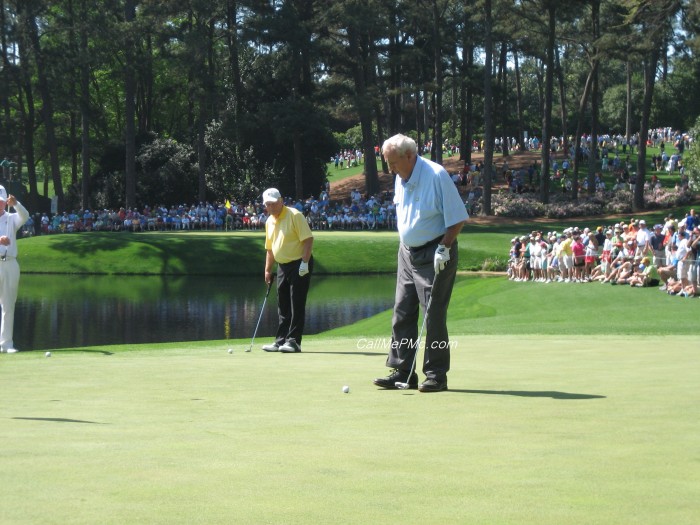 Jack Nicklaus and Arnold Palmer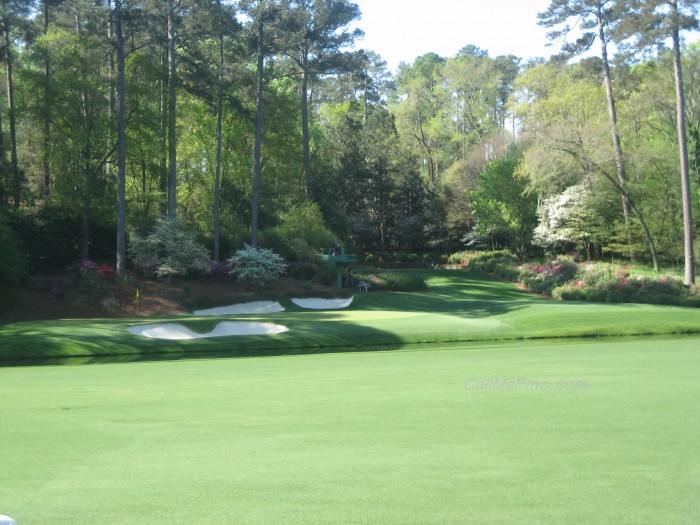 #12 at Amen Corner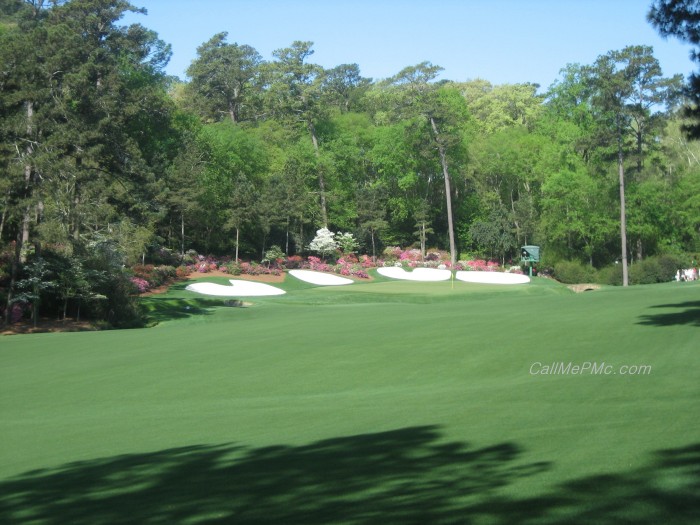 #13 at Amen Corner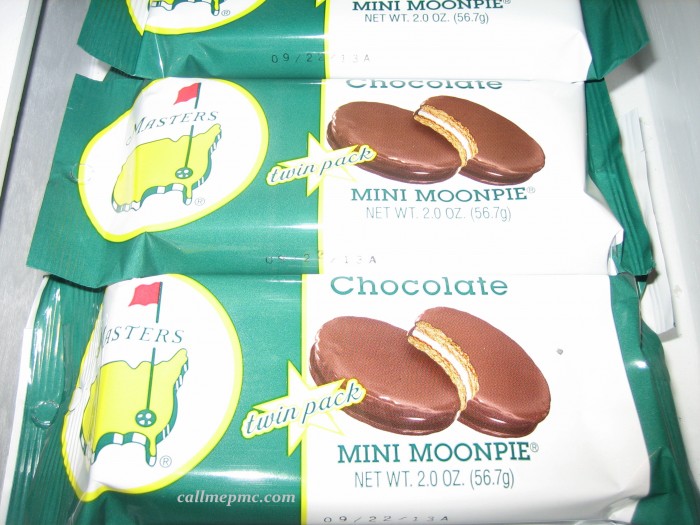 The food was simple but very good.
Mini Moon Pies (It's a Southern thing,)
Egg Salad Sandwich
BBQ Sandwiches
Chicken in a Biscuit (for breakfast)
Chicken sandwich and Chicken Wraps
Sugar Cookie Sandwiches with Peach Ice Cream (yum!)
and the famous Pimento Cheese Sandwich which I'll share a recipe for at the end of this post.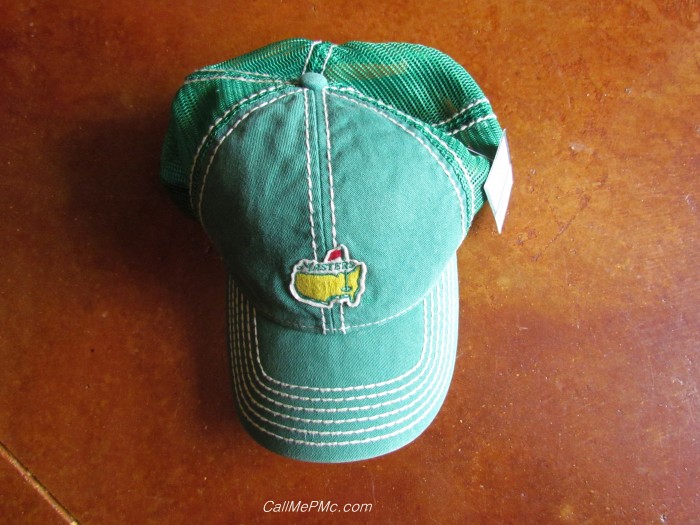 And, you can't go to the Masters without buying a little, or a lot, of swag!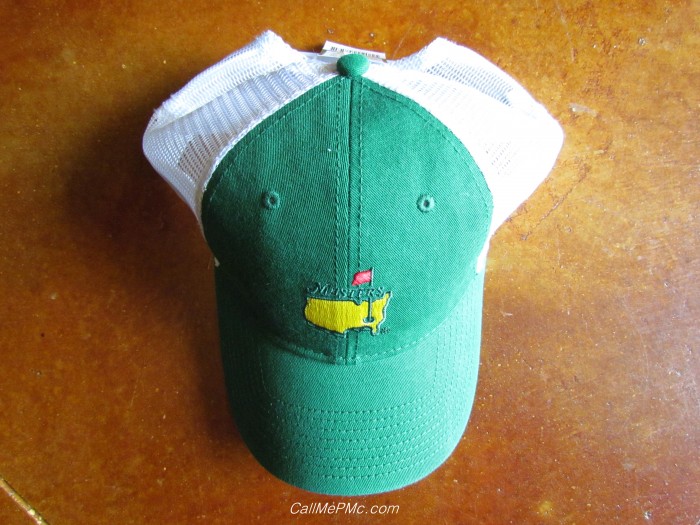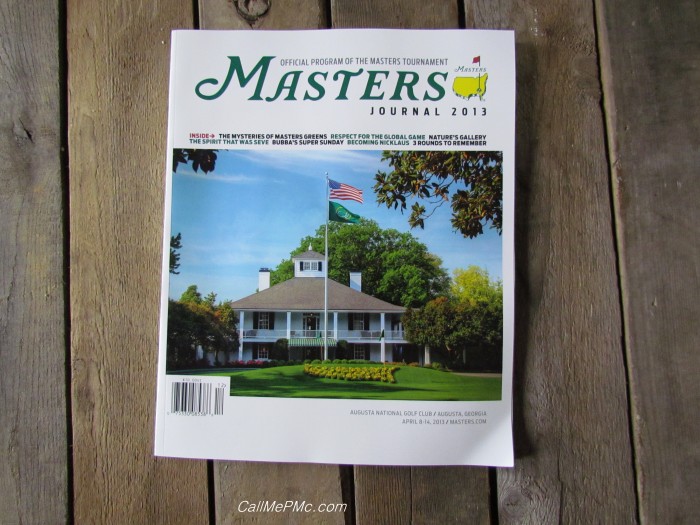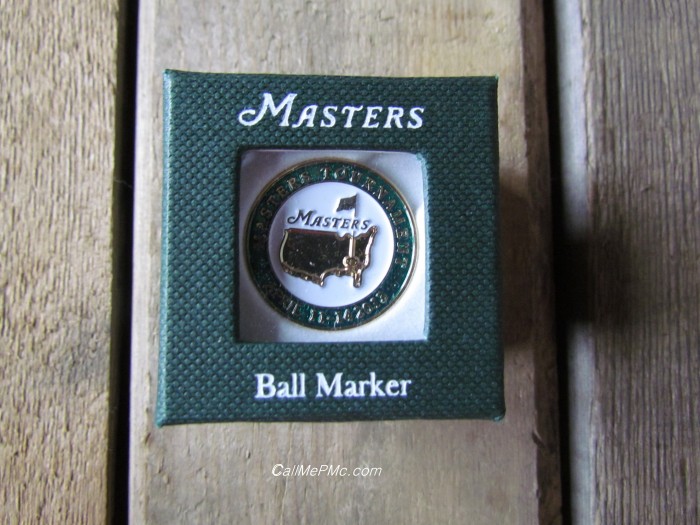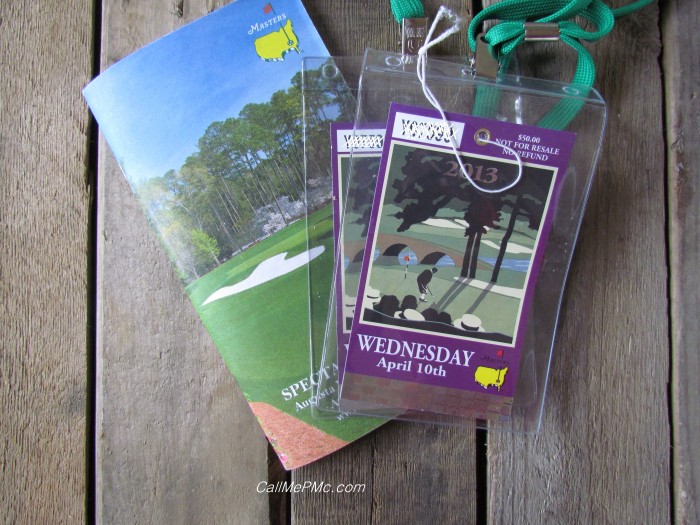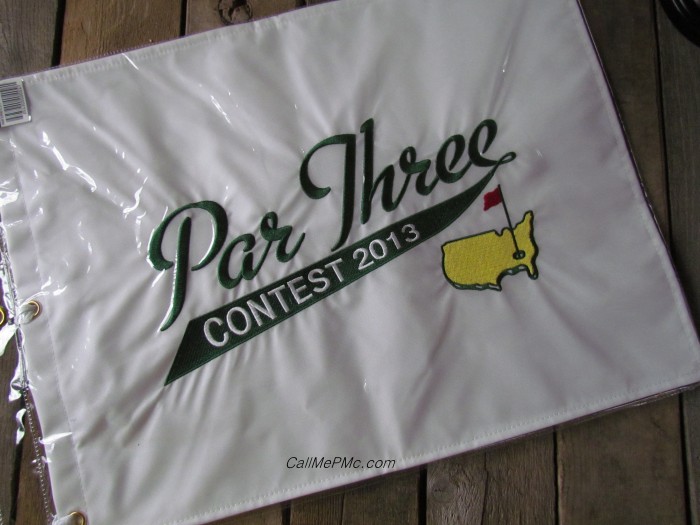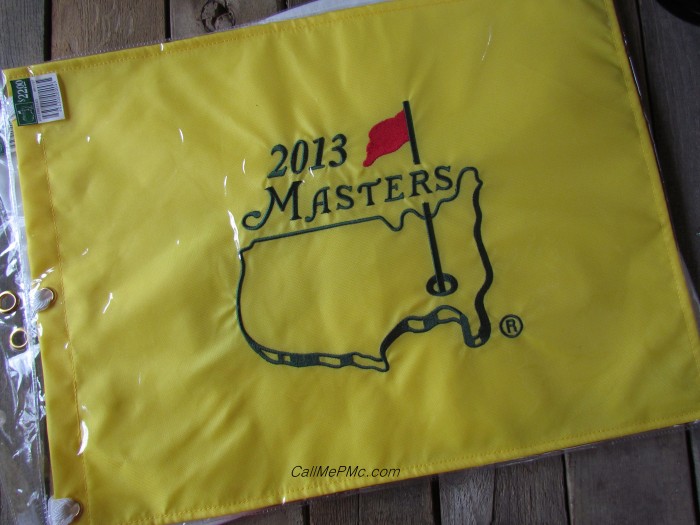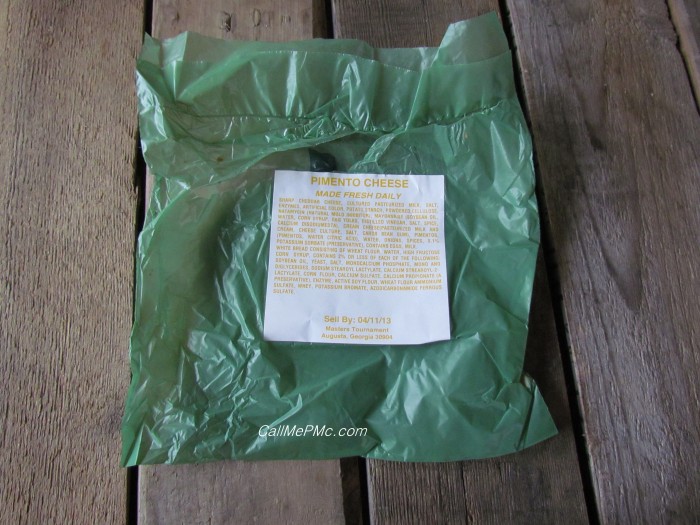 No, I didn't bring a sandwich home, but I did write down what I tasted and what we thought was in it.-
So this is it – The Masters Famous Pimento Cheese Sandwich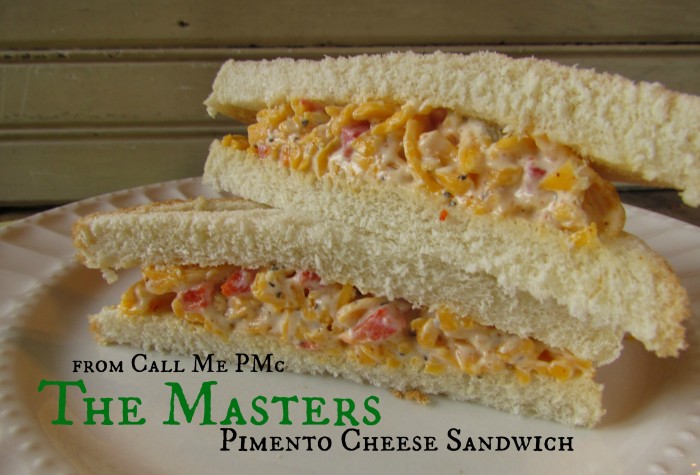 I tried different combinations and tweaked the recipe and this comes very, very close to what's served.
Enjoy!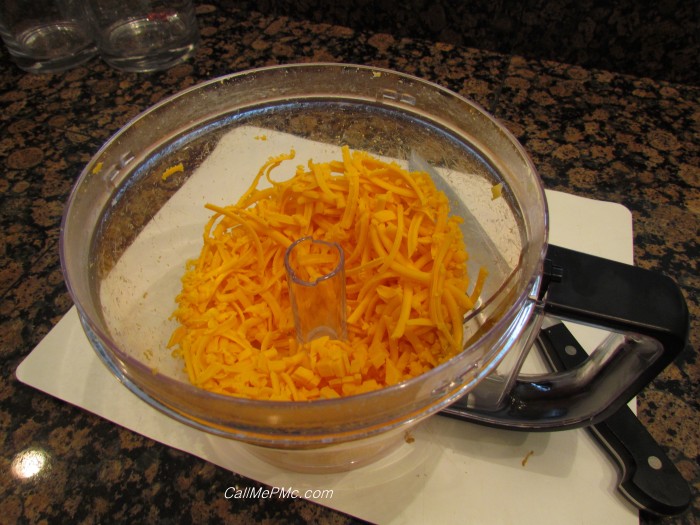 cheddar cheese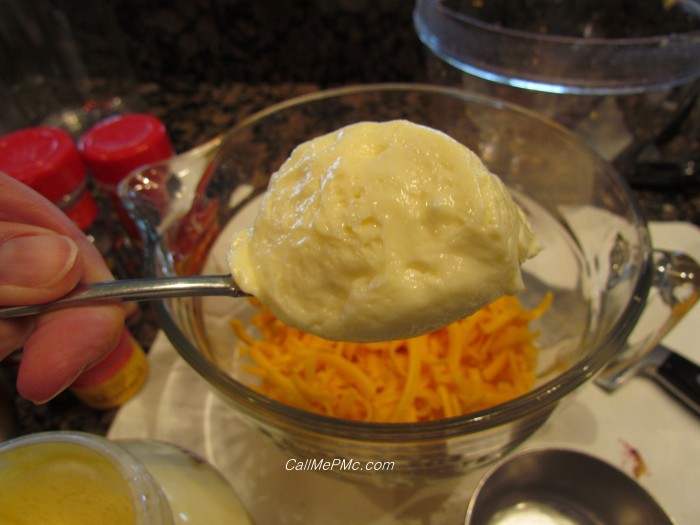 Blue Plate Mayonnaise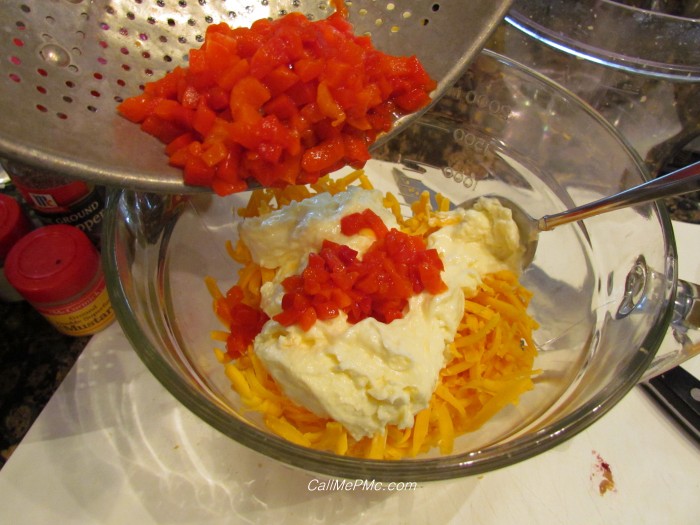 Diced pimentos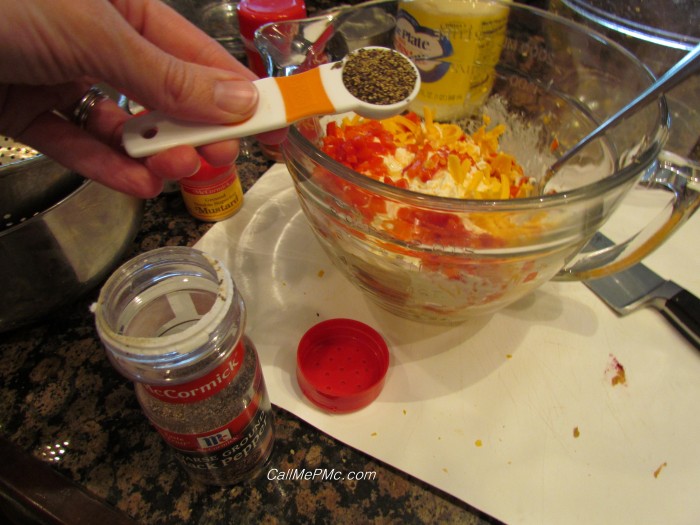 black pepper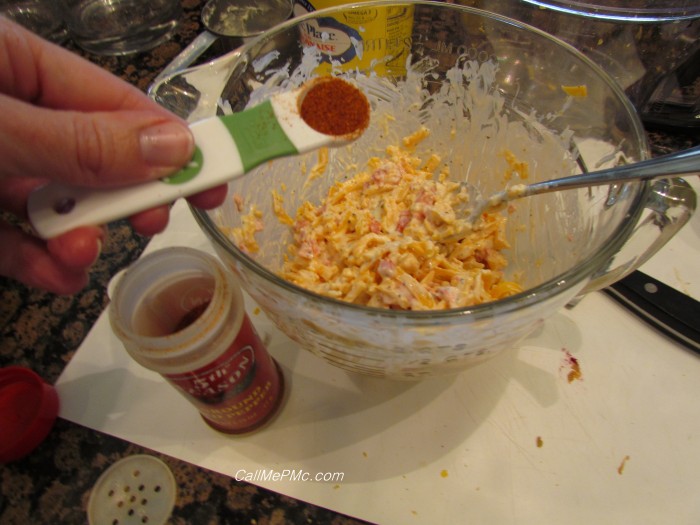 Red pepper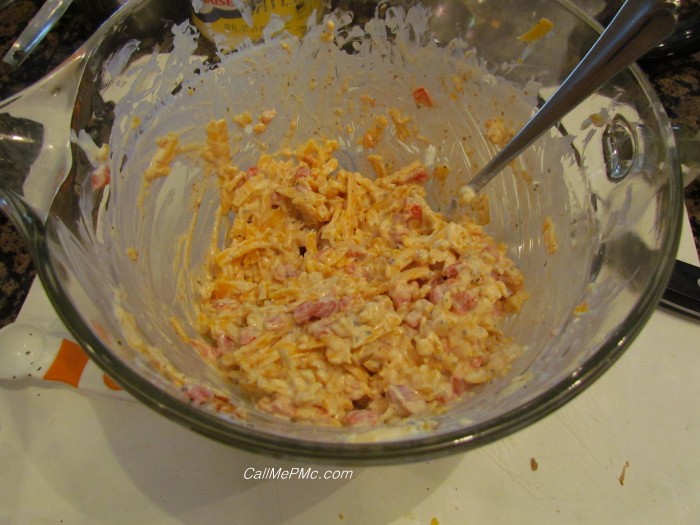 Mix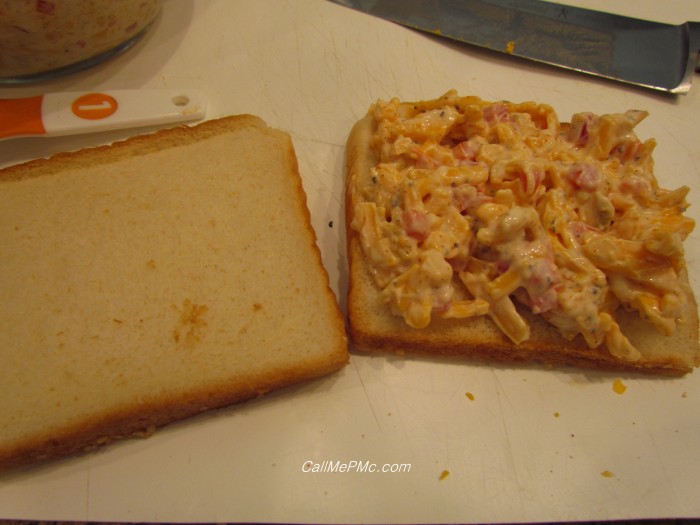 Spread.
Eat!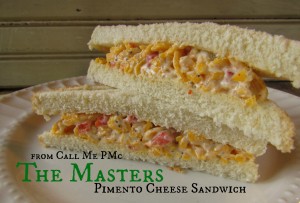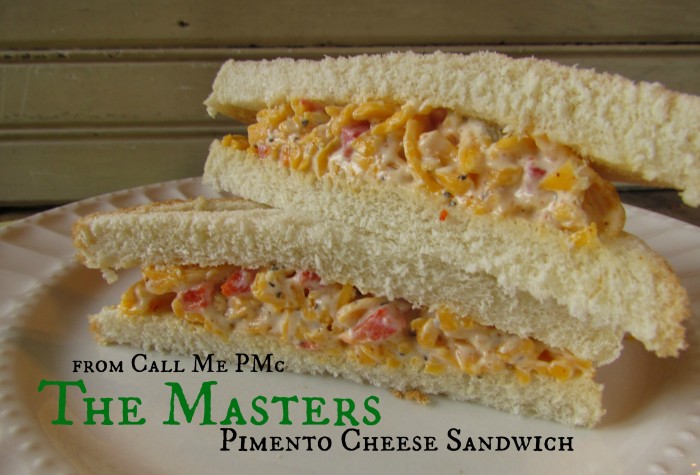 Print
The Masters Famous Pimento Cheese Sandwich
Yield 24
Ingredients
1 - 4 ounce jar pimentos
1 cup Blue Plate mayonnaise
1 teaspoon ground black pepper
1/2 teaspoon ground red pepper
8 ounce mild cheddar cheese, shredded*
24 slices white bread
Instructions
Drain pimentos
Mix cheese, mayonnaise, pimentos, black pepper and red pepper until combined.
Spread on slice of bread and top with another slice.
Serve and enjoy!
Notes
I don't recommend using the pre-shredded cheese. Purchase a block and shred it yourself.
Sharing at these parties.