Tips and Tricks for a Green Lawn Part 3
This post may contain affiliate links that won't change your price but will share some commission.
Tips and Tricks for a Green Lawn Part 3 – After a little reading on the internet, talking with my lawn-care loving husband, and asking a friendly salesperson in-store we set out to make our purchases and beautify the lawn (and those terribly ugly bald spots).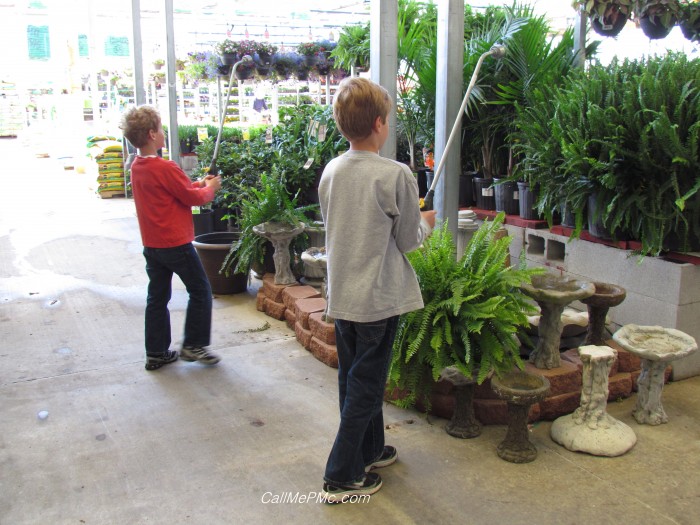 My favorite purchase was the shower wand.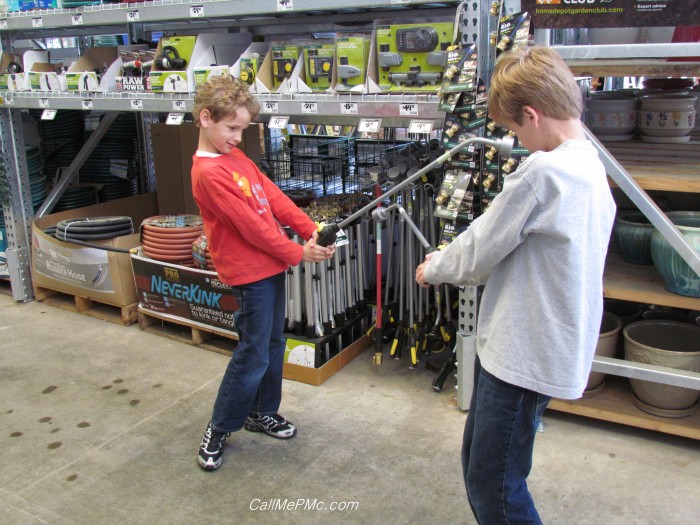 The boys like the wands too, but for different reasons! They can turn just about anything into a lightsaber!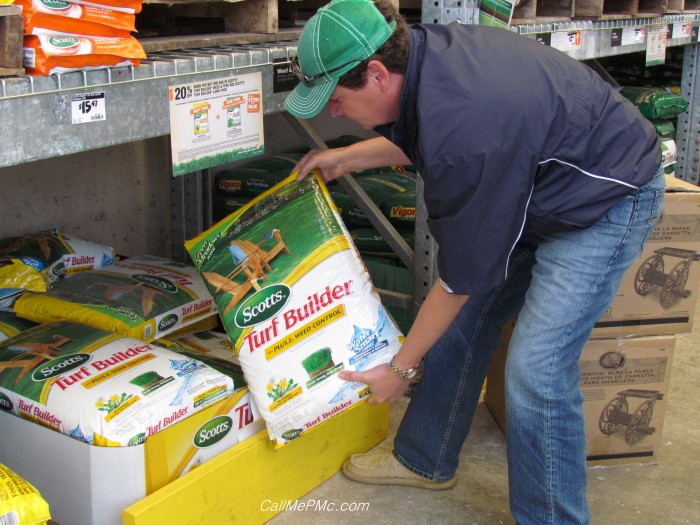 Wesley has always used Scott's Turf Builder for the lawn and has been happy with the results.
He didn't see a reason to try anything else.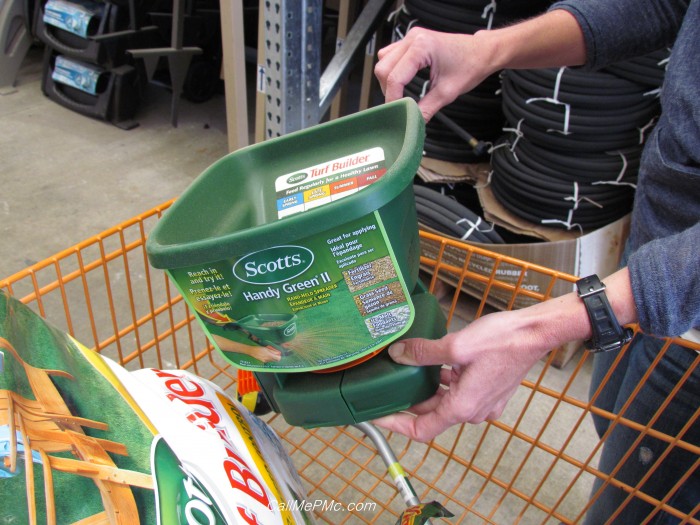 We chose a small spreader to distribute the Scott's Turf Builder.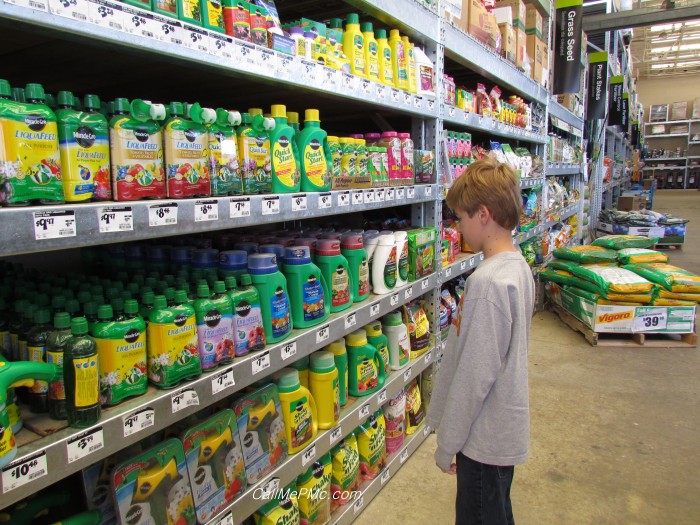 We asked Lincoln to find liquid fertilizer from the various varieties offered.
We've used a combination of fertilizer and watering along with spot spraying weeds in the past to maintain the lawn.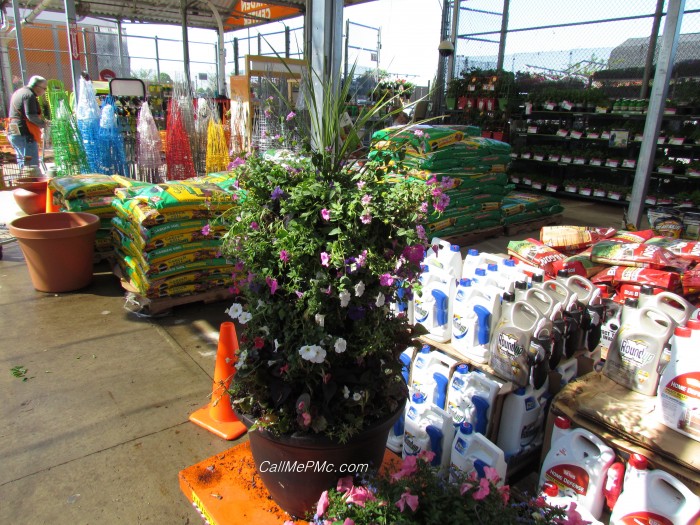 While looking for a water hose, I saw this Flower Tower just like the one my friend Julie from
White Lights on Wednesday made for her #Digin project!
Beautiful!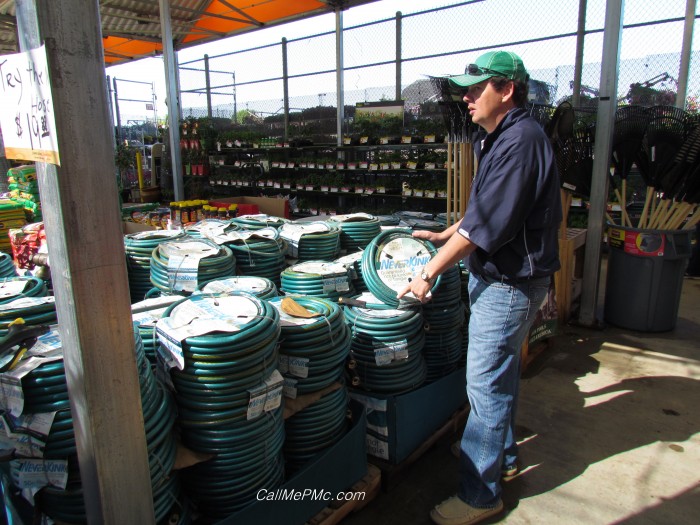 We have an area of lawn that the sprinklers don't reach so we need to get a water hose for those
hot and dry Mississippi Summers.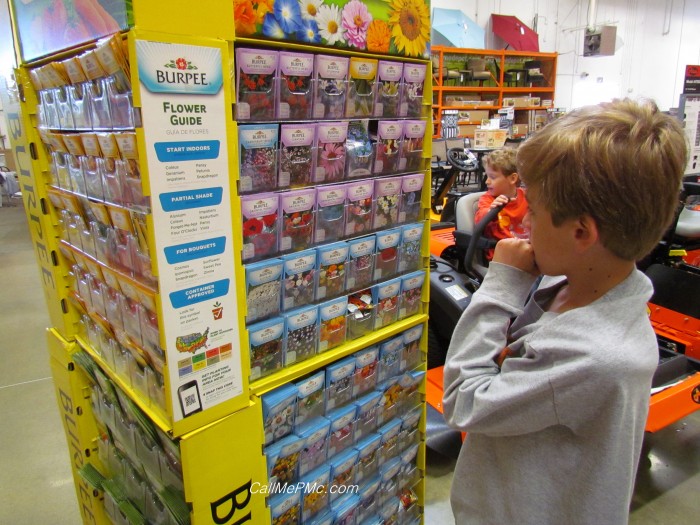 It's difficult to keep the boys focused on the lawn.
Lincoln wants to plant a vegetable garden.
Do you see Ryder 'mowing' in the background?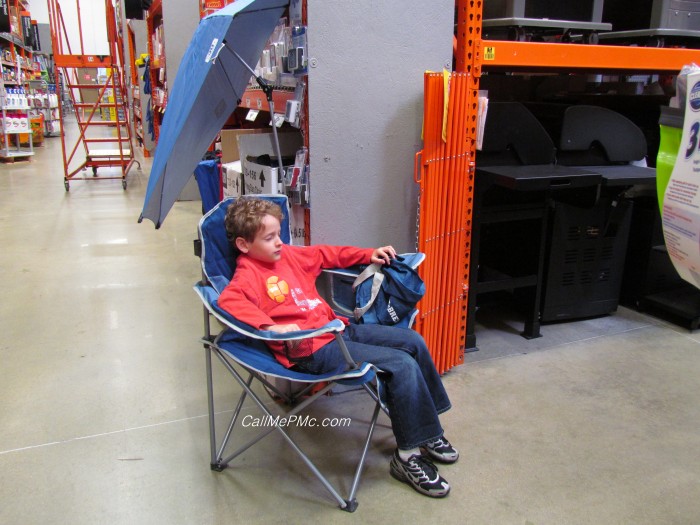 Hehe, I think we wore Ryder out. Is he asleep?!
At least he's not climbing the shelves!
I checked into purchasing weed killer, but decided on Scott's Weed and Feed instead.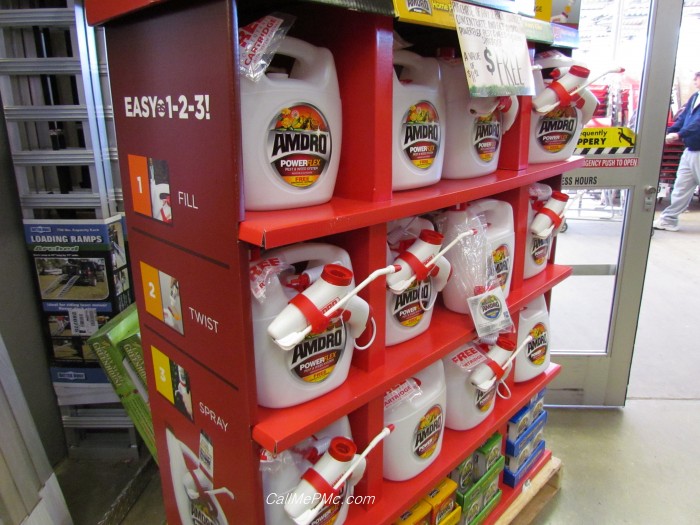 If you have serious weeds, you may consider purchasing just a weed killer.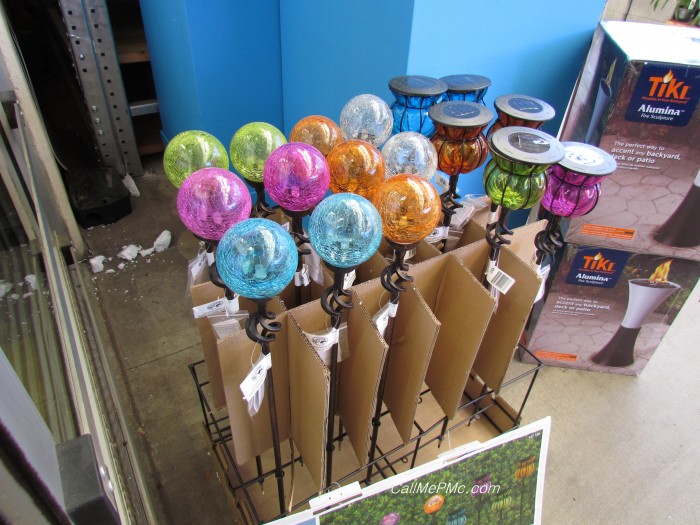 I always have to look at the pretty! Because basically the grass is boring.
But, boring as it is, it's also probably the most important.
Think about it…if your grass is ugly, it really doesn't matter if your shrubs, trees, and flowers are beautiful.
Right?
Because in most yards, the lawn takes up the majority of the outside space.
If the lawn is brown or has tall weeds, you're just not going to look further.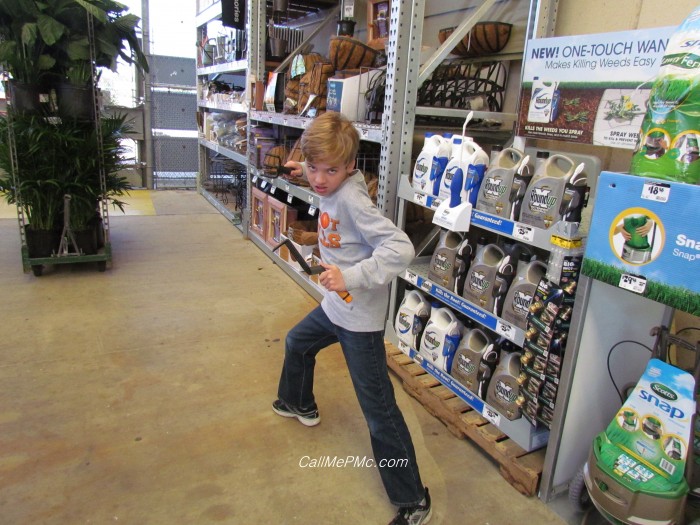 My kids can turn anything into a game!
Hey, a little fun along with a little work… I'm good with that!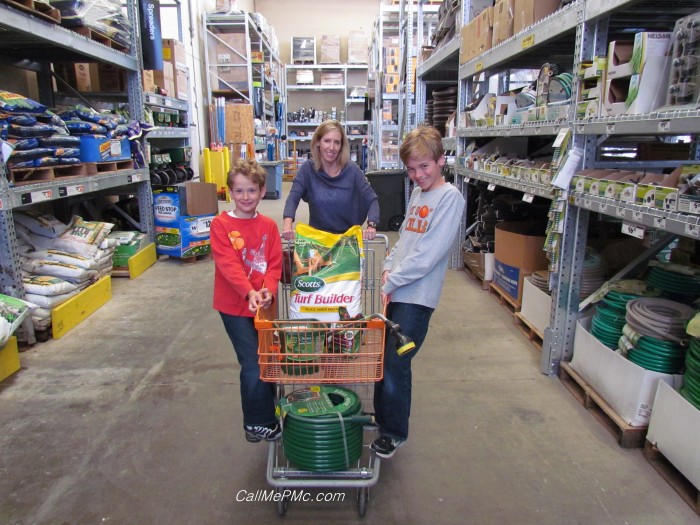 So my shopping fun is about to end.
We're all loaded up with the products I need.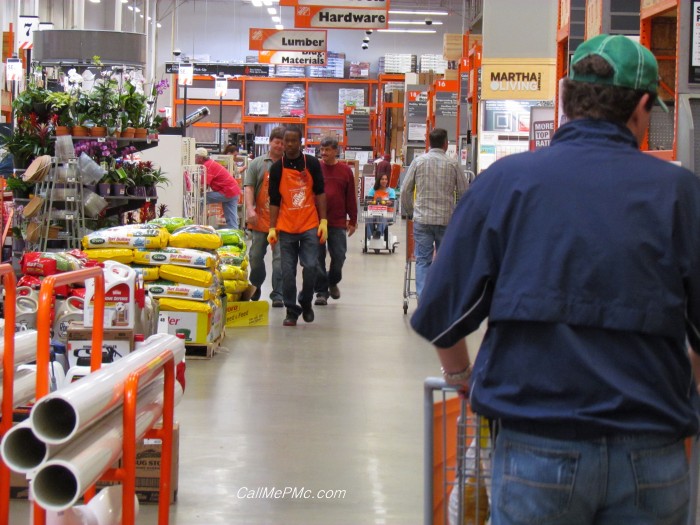 I was really impressed by the staff. Every single clerk that walked by asked if we needed help.
We never had to go far to seek out help either. A friendly clerk was always nearby.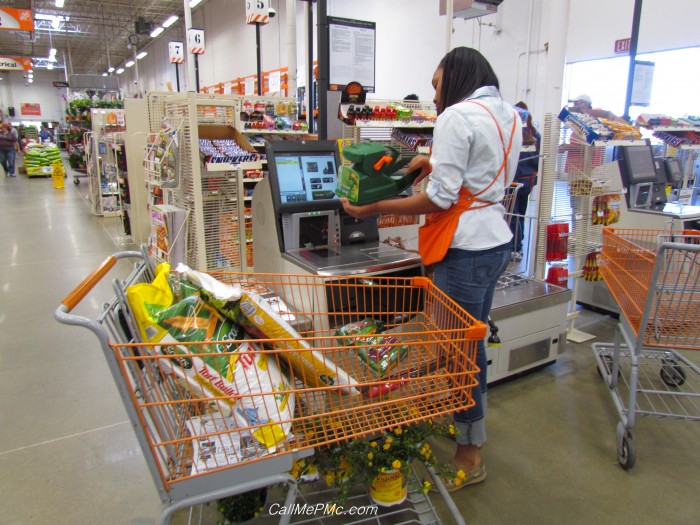 I was ready for the check-out clerk to have a dozen questions about my e-card.
She knew exactly what to do and checked us out without question.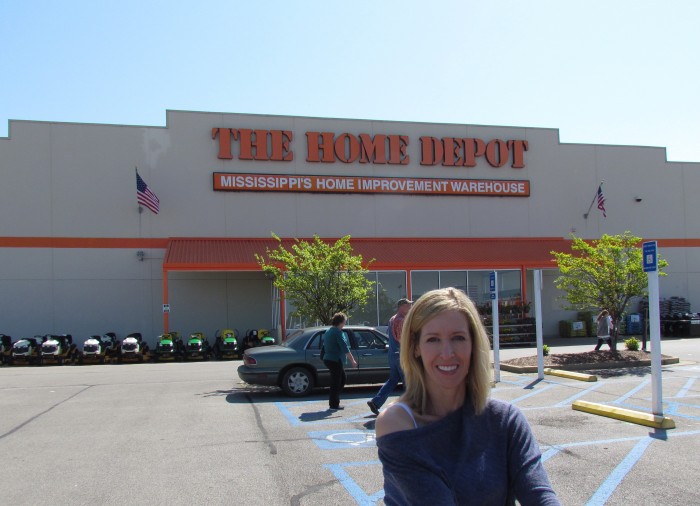 Hi friends! That's me 🙂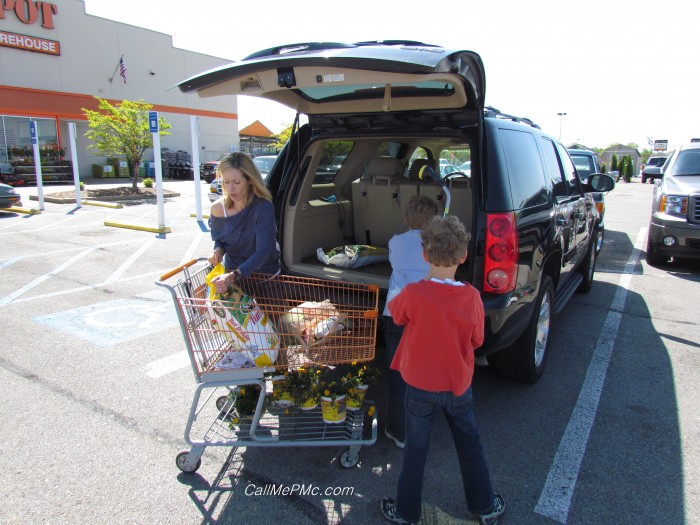 Now, we're ready to feed and weed!
Lincoln is being a great son and putting the cart up for me.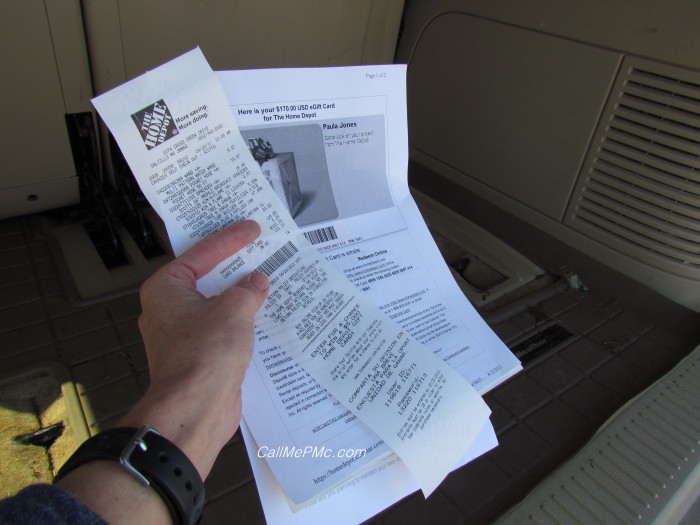 As you can tell, we had a family fun day and a great experience at The Home Depot.
With our shopping trip complete, we immediately went home and began working on the lawn.
The front yard looks pretty good. Since Summer is limited to the back yard there aren't bald spots in the front.
The grass is the highest-maintenance item we have. I would think this is true for everyone
* It requires weekly mowing (during the Summer), edging, fertilizing, and watering.
Like I stated before, I think it's the most important part of the landscape as well.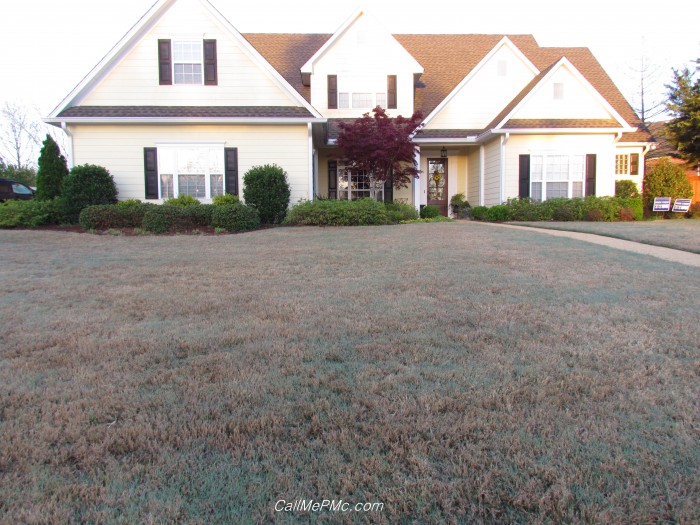 Green grass was beginning to grow.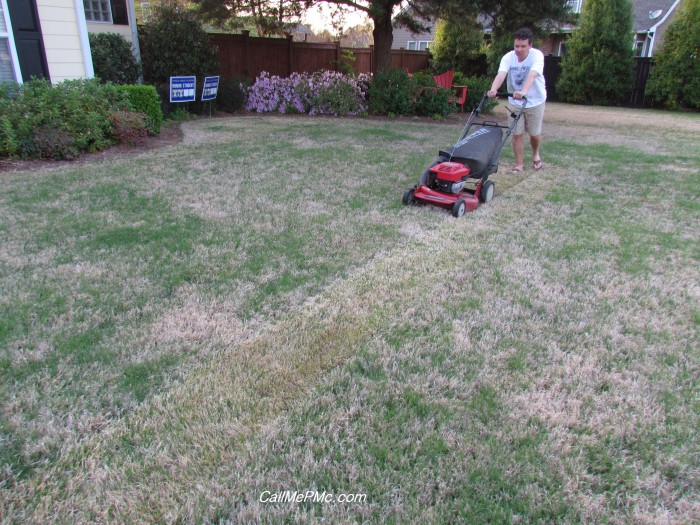 We mowed to remove the dead grass. And, when I say 'we', I mean Wesley.

See the difference in the area that is mowed and the area that isn't?
After mowing, we spread Scott's Turf Builder weed and feed.
This is a two-in-one product that fertilizes by building a strong root system as well as kills weeds.
It lasts for 6 weeks so that's help with maintenance.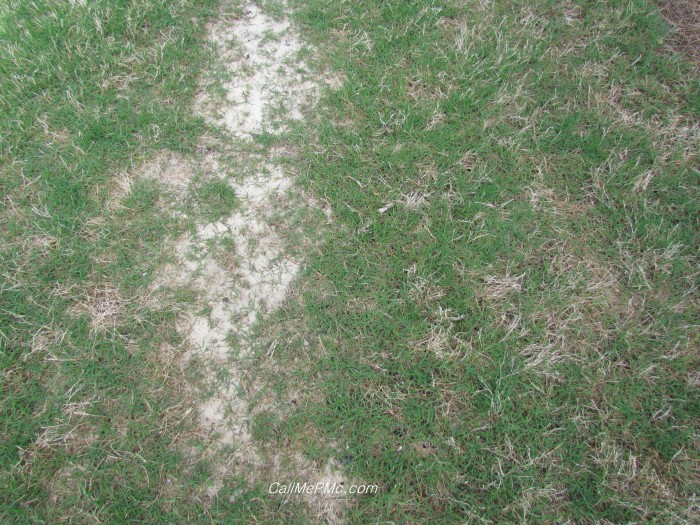 We're paying special attention to the bald areas in the lawn with extra Scott's Turf Builder and watering.
Even though I'll have to water it myself, seeing green grass instead of dirt will be worth the effort.
I'm documenting growth with pictures and will be sharing the results with you as it fills in with grass.
After reading and researching for this series, I have learned a lot about lawn maintenance. For instance, I thought to get your lawn green and healthy you just needed to fertilize a lot and water a lot. This is not true. Below, I have listed some Lawn Maintenance Guidelines.
Tips and Tricks for a Green Lawn Part 3
Feed
Use the minimum amount of fertilizer necessary to keep grass looking healthy and green. The best way to fertilize for optimal root systems and healthy top growth is to use slow-release nitrogen. Using quick-release nitrogen in large quantities to get grass green quickly only results in weak roots and because of increased leaf growth, those lawns will need mowing more frequently.
Quick-release fertilizers are more attractive to gardeners because they're cheaper, however, slow-release forms of nitrogen do not have to be applied as often. Slow-release fed lawns also have better root systems and reduced leaf growth which mean less mowing for you.
When to Feed:
Cool-season grass grows best in Spring and Fall. Fertilize this grass when it begins to warm in Spring or as it gets cooler in the Fall.

If you plan to fertilize at regular intervals during the Spring, stop as soon as the weather gets hot. If you like, you can feed once more in the Fall after the first frost to set up the lawn for next Spring.
Feed warm-season grasses in late Spring and again in August.
If you use a slow-release fertilizer, feed small doses every six to ten weeks stopping about eight weeks before the first frost.
If your lawn has good color and is growing well, delay additional feedings by a week or two.
Overfeeding the lawn is wasteful and potentially harmful to the environment as well as the grass.
Weed
A healthy lawn will grow dense enough to crowd out weeds. Mowing will remove weed heads before seeds form and the plant will die at the end of its growth cycle. Applying a preemergent weed killer early in the Spring will kill weed seeds before they sprout. Note, preemergent herbicides will also kill grass seeds to proceed with caution.
Water
Water lawns deeply and infrequently. Deep watering encourages roots to grow down rather than sideways. (Who knew??) Why is deep roots important? Deep-rooted grass is more drought-tolerant. The average lawn needs about 1 inch of water weekly. Water lawns early in the morning for optimum absorption and minimum evaporation.
Tips and Tricks for a Green Lawn Part 3: Mow
Cutting grass too short results in problems related to drought, insects, foot traffic, and inadequate sun. You should never remove more than 1/3 of the leaf surface each time you mow. Depending on your region, how much water the lawn receives and fertilization are factors in how often you need to mow although most people can work on a once-a-week schedule.
In addition, sharpen lawn mower blades once a year to prevent tearing grass leaves. Each torn blade will die back 1/8 to 1/4 inch resulting in a slightly brown lawn. Torn leaves are also more susceptible to disease.
I recommend Scott's Turf Builder for grass maintenance and the Vigoro Tree Shrub and Evergreen Plant Food for green, lush shrubs/trees as you #DigIn for Spring. Now we just have to let the rain and time do its thing. Stay tuned for my lawn progress.
It's home improvement time, and The Home Depot has everything you need to #DigIn for Spring. No matter what projects you want to tackle, they have great values on all you need. They're ready to help you with renovation ideas and expert advice, too.
Tips and Tricks for a Green Lawn Part 2
Tricks and Tips for a Green Lawn Part 4
Tips & Tricks for a Green Lawn #5
This is a sponsored post written by me on behalf of The Home Depot.