I'm just thankful I snapped this quick picture before the boys knew these cookies where out of the oven!
When I started baking with Lincoln when he was, gosh, probably two-year old, this is the Sugar Cookie that we made. For years, the boys only wanted to make Sugar Cookies, but have recently started making Chocolate Chip cookies. They usually eat more of the dough than the baked cookies. I'll have to say, I enjoy the dough more as well!
I made these cookies this time to go with Peach Ice Cream that I'm turning into Peach Ice Cream Sandwiches like I recently had, and loved, while at The Masters Gold Tournament. You can see all those golf pictures here and well as The Masters Famous Pimento Cheese Sandwich.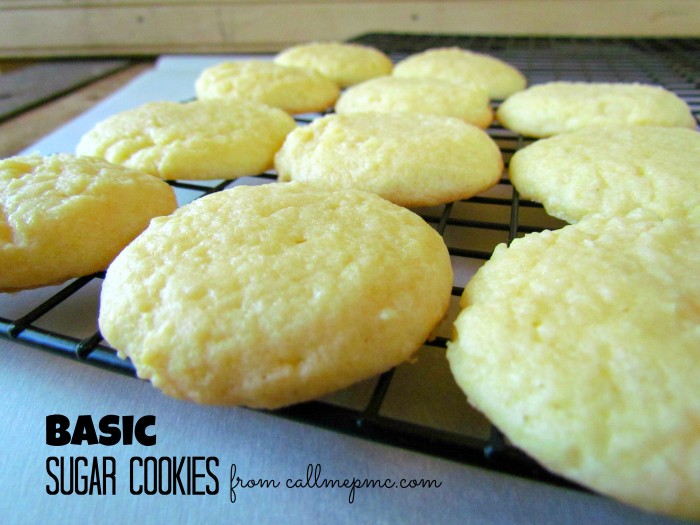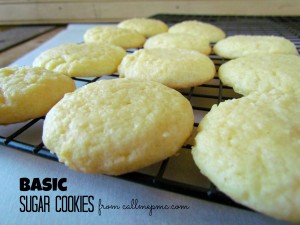 Print
Scratch-made Easy Sugar Cookies / Call Me PMc
Yield 2 dozen cookies
Do not refrigerate this dough before baking.
Ingredients
1 c butter, softened
1 1/2 c granulated sugar
1 egg
1 1 2/ tsp vanilla
2 3/4 c all-purpose flour
2 tsp baking powder
1 tsp salt
Instructions
Preheat oven to 400 degrees F. In a large bowl using an electric mixer, cream butter and sugar until light and fluffy. Add egg and vanilla. In another bowl, combine flour, baking powder and salt.. Add to butter mixture a little at a time. Mix well after each addition. Roll dough to 1/8 inch thickness. It may be easier to work with to separate the dough into two parts. Dip cookie cutter in flour before cutting. Bake cookies on ungreased cookie sheet 6 to 7 minutes or until cookies are lightly browned. Cool 2 minutes on cookie sheet before removing to wire rack to cool completely.
Notes
This cookie is an excellent cookie to decorate.
Courses Dessert
I can't believe my blog is over a year old already. Don't forget the great recipes that I shared!