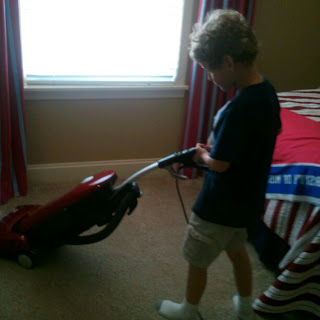 I decided to get a little crafty. Not for myself, mind you, but because I'm tired of reminding the boys of their chores 10 times a day and at bedtime them still not being completed!
Therefore, I made this handy dandy little Chore Chart. I got the idea from Pinterest. I obviously didn't Pin It because when I actually went back through my Boards I couldn't find it. That's also why it's pretty basic…. how is it that I can spend hours upon hours making a cake but can't focus 15 minutes on something like this?!
There are multitudes of variations on Chore Charts, but I decided this would work best for us. I put their initial on it and hang it in their rooms.  On the clothes pins are the name of what they need to do. If you can see it, I even wrote down brush teeth morning, brush teeth night, comb hair, make bed. This seems elementary but I'm seriously tired of asking if they have. (The answer is always 'No')
All the chores To Do are on the left, when they've completed the task they move the pin to the right. All pins must be moved by bedtime.
If the pins are not completed and moved, they face consequences. (I decided not to give rewards for something they should be doing anyway, but to take away something if they don't complete daily tasks.)
There are daily chores and those pins will just move from left to right everyday.
Weekly chores will be added by me on the day in which they need to be completed. Example: I'll add the "Put the Recycle Out" pin on Tuesday to be completed and ready for recycle pickup on Wednesday morning.
As well, I added an "Ask Mommy" and "Ask Daddy" for those random chores that come up.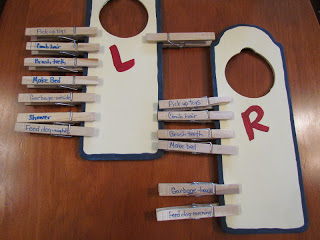 L is for Lincoln
R is for Ryder
L and R also comes in handy because I always put Lincoln's on left.
Ryder's things always are put on right. Clever huh?
So when I put their clean clothes on the stairs to be put up Lincoln's are on the left,
Ryder's are on the right.
*My kids are also color coded.
Lincoln started out as a baby having
blue
(
I guess because we thought eventually there would be a pink. Didn't happen!
)
So when Ryder came, his stuff got to be
Red
, as in
Ryder Red
.
Ha! Love that!
And, now at 10 and 7 they just know…
Lincoln
's stuff (backpacks, towels, sheets, on and on and on) is
Blue
no confusion!!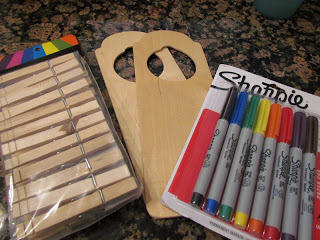 Supplies for chart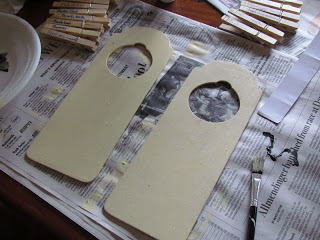 Paint, sand, paint, sand
Basic. Now just write chores on clothes pins and your set!