Copycat Cracker Barrel Restaurant Mac and Cheese Recipe, is buttery, creamy, and just may be the ultimate comfort food! This easy stove top recipe is over-the-top delicious and always a crowd-pleaser.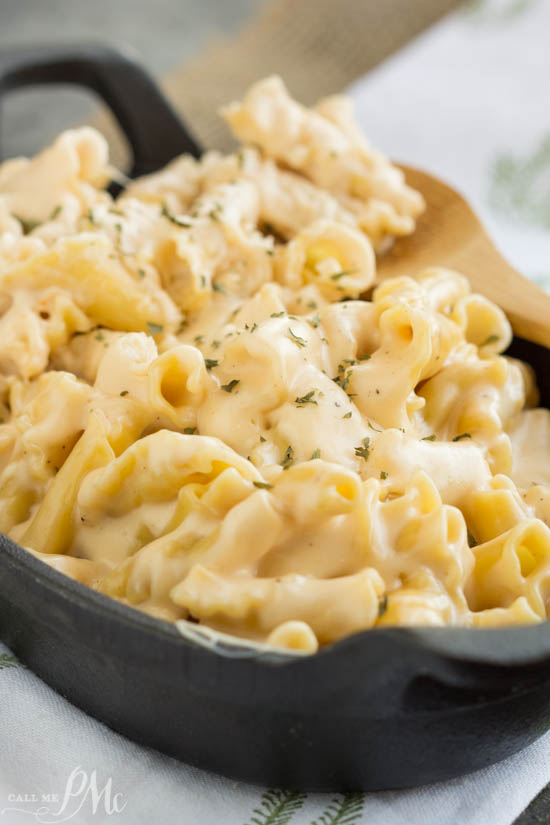 Great for potlucks and weeknight meals alike, Copycat Cracker Barrel Restaurant Mac and Cheese Recipe is modeled after my favorite side dish from Cracker Barrel restaurant.
If you're a lover of mac and cheese and the blue-box variety, promise me know you'll try this recipe! You'll never go back to the blue-box. This recipe is just as easy, almost as quick, and the flavor is above and beyond the boxed variety.
Copycat Cracker Barrel Restaurant Mac and Cheese Recipe has a cheesy sauce and chewy pasta.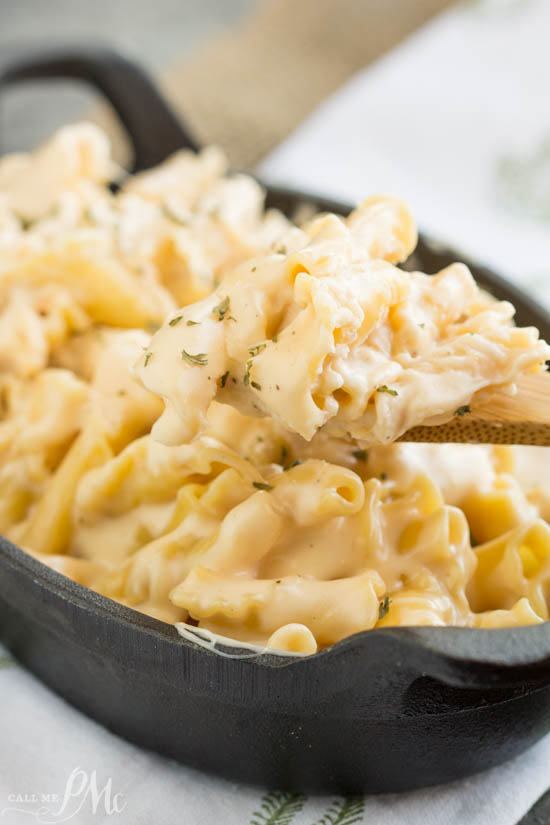 Copycat Cracker Barrel Restaurant Mac and Cheese Recipe
First of all, I don't recommend the pre-shredded cheese. It is coated with corn starch and will alter the recipe, especially the thickness of the sauce. It taste differently to me as well.
Additionally, this mac and cheese is actually cooked and can be eaten without doing the last step in the oven. I like the cheese to get slightly crispy around the edges though.
If you are putting it in the oven, be sure not to over cook your pasta. It will continue to cook and absorb moisture in the oven. You want the pasta to be al dente, or cooked so as to be still firm when biten.
As well, you can substitute any cheese. Use your favorite or what you have on hand. Yes, it will alter the taste, but if you like the cheese you'll like it mixed into pasta.
Finally, try different mix-ins like ham, bacon, vegetables, caramelized onions, and peppers to add a change to traditional mac and cheese.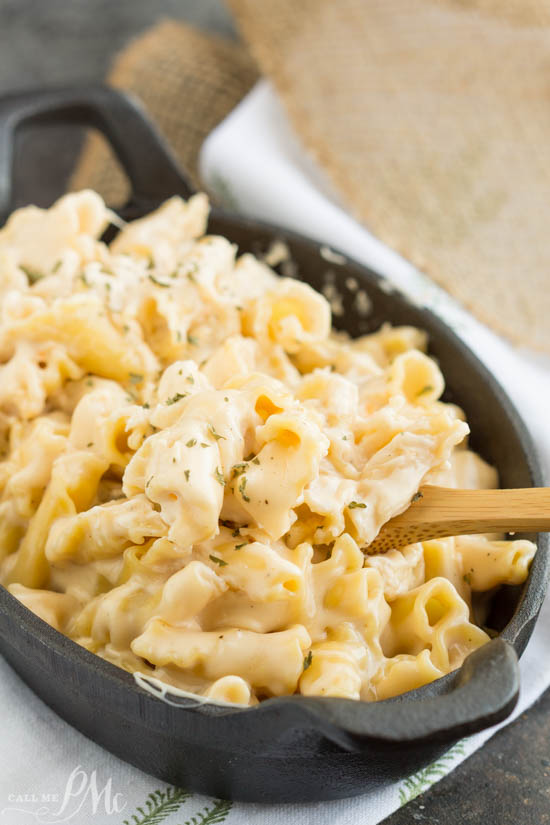 More Mac & Cheese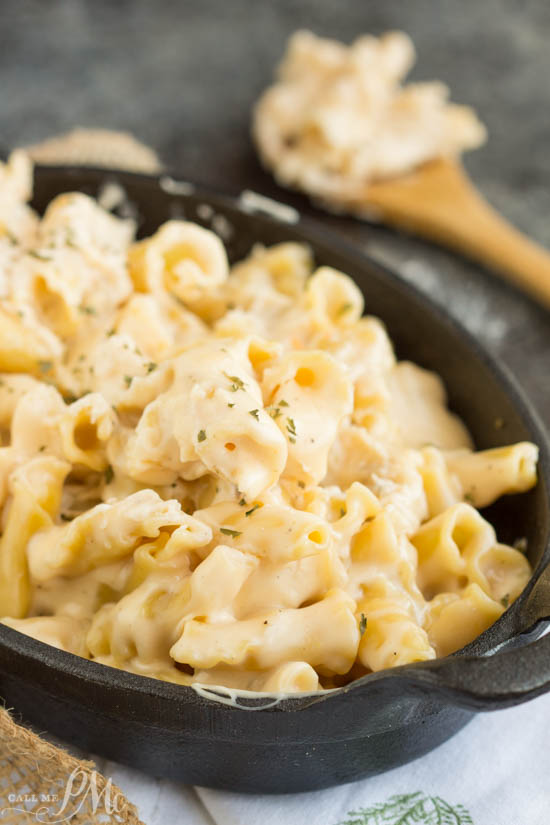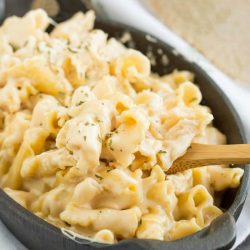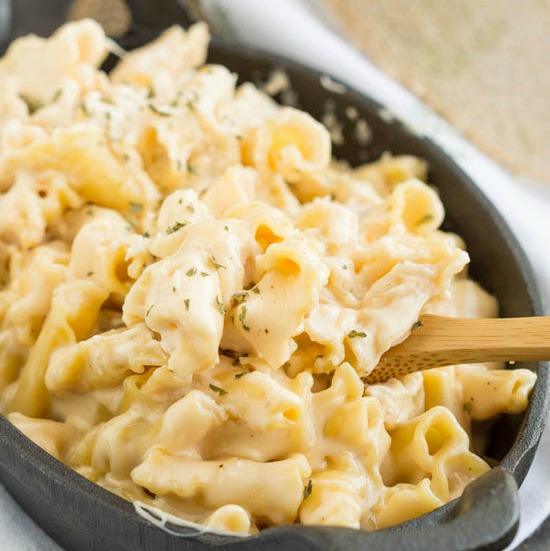 Copycat Cracker Barrel Restaurant Mac and Cheese Recipe
Copycat Cracker Barrel Restaurant Mac and Cheese Recipe developed from my love of mac and cheese. This recipe is creamy and decadent. 
Ingredients
2

tablespoons

butter

2

tablespoons

flour

1

cup

low sodium chicken broth

1

⁄2 cup heavy cream

2 1

⁄2 cups shredded Colby cheese

2 1

⁄2 cups uncooked pasta

1

teaspoon

salt

1/8

teaspoon

ground black pepper

optioanl add-ins - 1 cup diced ham

1 cup cooked bacon, 1 jar drained diced pimentos, 1 cup caramelized onions, or 2 cups steamed broccoli spears.
Instructions
Bring 4 cups water to a boil in a separate pot; add salt and pasta. Cook the pasta until al dente then drain.

In a saucepan, melt butter over medium heat; add the flour a little bit at a time whisking to combine to make a roux. Cook for 2 minutes.

Heat the broth.

Add the broth to the roux, stirring constantly with the whisk.

Add a cream until it reaches the desired consistency. Remember it will thicken more as it cooks.

Add shredded cheese to the cream sauce stirring until cheese melts. 

Add the pasta and stir to combine.

Pour the mix into an oven safe dish and bake uncovered in a preheated oven set to 350°F for about 10 minutes or until brown around the edges.

Remove and let stand for 10 minutes before serving. Enjoy! 
Recipe Notes
Recipe from Paula @CallMePMc.com All images and content are copyright protected. Please do not use my images without prior permission that includes copying the ingredient list or entire recipe and posting in the comments on Pinterest for Facebook. If you want to share this recipe, please simply link back to this post for the recipe.