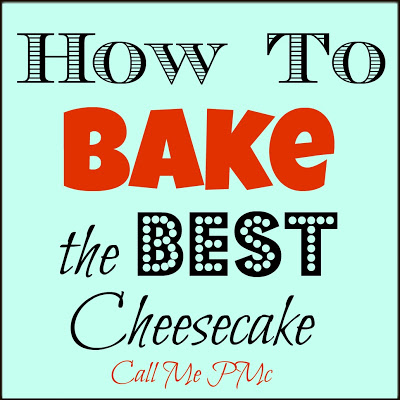 How to Bake the Perfect Cheesecake
Make sure

ALL ingredients are room temperature

. Cut the cream cheese into cubes and they'll come to room temperature faster.
Use

good, quality

ingredients. I have better results using Philadelphia brand cream cheese and real butter. (This is not a sponsored post for Philadelphia Cream Cheese.)
Don't

over beat

cheesecake, add eggs, one at a time on low speed until just blended.
Cream just until smooth and no lumps are visible.
Gently stir in any ingredients such as: chocolate, fruit or nuts at the end of the mixing process.
Bake in oven on

middle rack

with a pan half full of water on the lower rack. I fill a 9×13 casserole dish half full of water and place on the lowest rack.
Use a heavy-gauge pan and the size recommended in the recipe. This allows for more even baking.

Spray

bottom and sides of springform pan. This prevents sticking and cracking.
Preheat oven. This ensures proper heat level.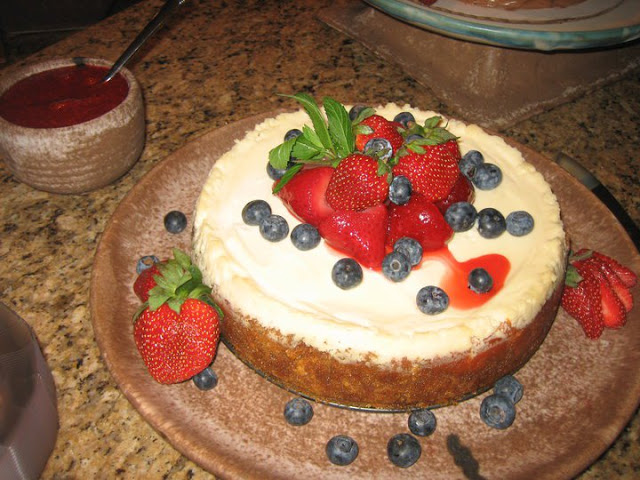 Do not over

 bake. The top with change from shiny to matte when done. It will be slightly puffy except for the very center. (The center will set while cooling.) If cooked too long it'll crack.
Do not open oven door while the cheesecake is baking.
Do not check doneness by sticking a wooden pick or knife it it. This will cause cracking.
Cool in the oven with door open 20 to 30 minutes, then move to a wire rack to cool completely.
After removing from the oven, run a thin knife or spatula around the edge to loosen from sides. Do not unlock fastener or remove from pan right away.
Cool cheesecake 

away from drafts

.
Refrigerate when completely cool.
If all these tips fail and you the top does crack:  top with fresh fruit, chocolate syrup or caramel. Ah, yes, the art of camouflage!