Local Eats | Sao Thai Tupelo
This post may contain affiliate links that won't change your price but will share some commission.
Local Eats | Sao Thai Tupelo is a home-owned and operated Thai restaurant that serves authentic Thai food.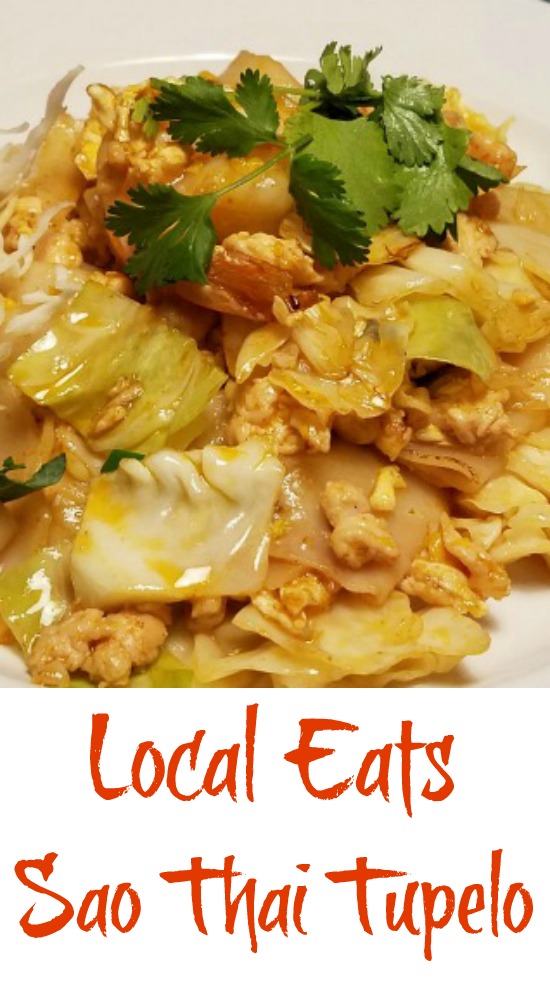 Sao Thai Tupelo
N. Gloster St
Tupelo, MS
At Sao Thai, the owner is the chef and his wife helps with everything. They will educate you on Thai food if you're unfamiliar with it explaining each dish and recommending those to try. They are friendly and helpful.
First of all, Sao Thao has a comfortable, homey, and quite atmosphere. One patron that has traveled extensively advised us that Sao Thai is much like an authentic restaurant you'd find in Thailand complete with an 'old American movie playing on the TV'.
As well, the food is great quality with a lot of spicy flavors. The chef manages to pack rich flavors into each bite. And, each dish has a nice balance of sweet, salty, and bitter with a little heat. These flavors work together to make each dish come alive!
Noodle Soup with Chicken and a cigar-sized Crispy Spring Roll makes a great starter. The broth of the soup is light yet rich and flavorful. The spring roll has an ultra crispy outside with tender vegetables within.
Additionally, Big Daddy and I shared a Steak Salad. It is entree-size so I suggest splitting it if you want room for noodles. The steak was seared perfectly on the outside. The salad had onions, mint leaves, cilantro, chili powder and a lime dressing that really brightened the taste. It was a nice mix of flavors.
Furthermore, fresh produce is abundant in the Sao Thai dishes. As well, organic chicken is used in many dishes. I particularly enjoyed Pad Thai with organic chicken where soft noodles are punctuated with crisp greens. Also, the Drunken noodles were are very flavorful. Being a pasta lover, I really like the extra wide noodles in the Drunken noodles.
For more of my Local Eats reviews visit Local Eats. For my travel posts and reviews, visit Travel.
Local Eats | Sao Thai Tupelo