Local Eats | Where to Eat in Tupelo MS
This post may contain affiliate links that won't change your price but will share some commission.
Are you new to Tupelo or just passing through? Looking for a great place to dine while you're here? I've got all the details for Local Eats | Where to Eat in Tupelo MS
For more scrumptious recipes, fun projects and exciting news, follow me around the web!
Pinterest, Facebook, Twitter, Instagram

Tupelo, MS is best known for being the birthplace of Elvis Presley, the King of Rock and Roll. I wrote a series on Elvis and famous Tupelo destinations that he visited. You can read them here.
Tupelo is also becoming a 'foodie' destination. Because it's a regional shopping hub, we've had all the franchise restaurants. We also have locally owned restaurants that are outstanding.
Local Eats | Where to Eat in Tupelo MS
Being a foodie and food blogger, I'm asked frequently by friends visiting the area Where to Eat in Tupelo MS? I'm finally putting it in black and white for you. Below I have listed for you in no particular order my favorite restaurants in Tupelo, MS.
As well, after the success and popularity of my review, My Favorite Destin FL Restaurants, I'm starting a new series to feature local restaurants. This post has been in the works for months and months. I finally decided to turn it into a series. You can find all my reviews under the tab Local Eats at the top of each page on my site under 'Extras'.
Kermit's Outlaw Kitchen or KOK
(662) 620-6622
To be honest, I wasn't a fan of KOK when they first opened. I'm not a huge meat eater and the menu was heavy on meat, burgers, and chicken. But, then they started offering a vegetable platter that made my head roll. Every time I eat there, I like it more and more. The menu was a bit quirky to me with it odd presentation, they serve almost everything on wood planks or beat-up tin pans. However, KOK won me over with its farm-to-table philosophy. You find an ever-changing, albeit always good, seasonal menu. They have an open kitchen where you can sit at the bar and watch everything being prepared. Or, you may want to head upstairs to the dining room for a more traditional and less smokey seating arrangement. This is a "farm-based restaurant", expect fresh local produce, hand-cut meats, and artisanal breads. They use local cows, pigs, chickens, vegetables, fruits, honey, butter, grits, etc, and prepare them in a wood-burning hearth grill.
I suggest making reservations. They fill up fast on Friday and Saturday nights. Prices are slightly high but it is all-natural, fresh, unique, delicious, and filling and, personally, I think it's worth the price.
While children are welcome, they do not offer a children's menu and the food is suitable for a more advanced palette.
Blue Canoe
2006 N Gloster St
Tupelo, Mississippi
(662) 269-2642
Blue Canoe is laid-back, casual, and funky. It has a dive bar feel with barn wood galore and an open invitation to sign the tables and walls. They have weekly live music.
Coincidently, Blue Canoe is my favorite restaurant. They have tasty weekly specials and a standard menu that is innovative and unique while still maintaining a hint of tradition and throwback to Southern favorites. Also available is the largest beer selection in Tupelo with over 100 beers and 35 of them on tap! I have, quite honestly, never had a bad meal or bad service at Blue Canoe.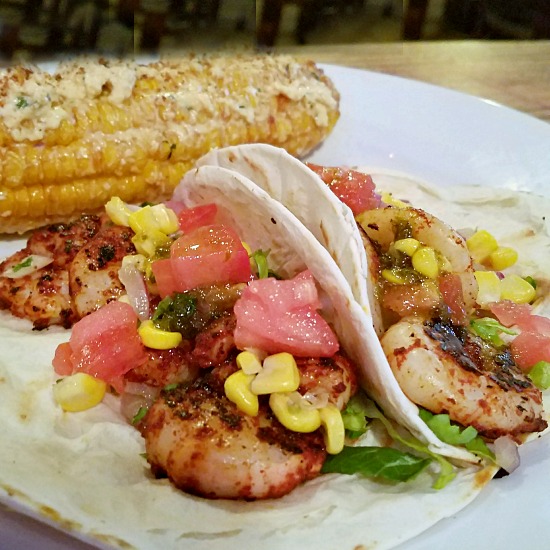 Blue Canoe offers a Brown Bag Bologna sandwich that my husband loves. It's hearty and flavorful. My personal favorite now (they originally had a Kentucky Hot Brown that held top honors for me but recently took it off the menu.) is shrimp tacos with street corn. It's a lighter dish with fresh flavors. Other perpetual favorites are the Avocado Wedges. They are flash-fried avocado slices topped with a smokey sauce. The Fried Black Eye Peas is a salsa made with black-eyed peas and seasonings. And, they have become famous for Connie's Blueberry Donut Bread Pudding, it is truly amazing! Just watch this video.
Go for the food, stay for the music.
Prices are average, $9 to $13 for an entree with generous portions. Reservations are not accepted but even when crowded the turnover is quick and the staff works hard to get you seated quickly. I've never had to wait over 10 minutes for a table.
Neon Pig Cafe
1203 N Gloster Street
Tupelo, MS 38804
662-269-2533
Neon Pig Cafe is delicious and unique. It's a butcher shop, seafood shop, restaurant, and sister store to Kermit's Outlaw Kitchen. Neon Pig Café is the only all-in-one butcher shop and restaurant in Mississippi.
You can purchase fresh vegetables, fruit, eggs, seafood, and meat in the farm-to-table restaurant. Jams, jellies, sauces, and other artisanal canned foods and mixes are available for purchase as well as a big variety of beer.
Neon Pig won the Best Burger in America award by thrillist.com for Smash Burger. Neon Pig's smash burger is a combination of aged filet, ribeye, sirloin, and bacon. It has a smoky flavor and coarse texture. It is served on a ciabatta bun with cheddar cheese, onion, and comeback sauce. As well, you can buy the smash burger meat and take it home to grill yourself if you prefer.
Also, try the Smash Potato, a baked potato loaded with smash meat, and burger fixins, and topped with a fried egg. Additionally, the shrimp tacos and turkey tacos offer a flavor sensation with every bite!
Place your order at the bar, help yourself to a drink and chips and find a seat. Bar seating is premium since you can watch the cook work the griddle. Friendly staff, great fresh food, slightly higher priced but well worth it for the quality.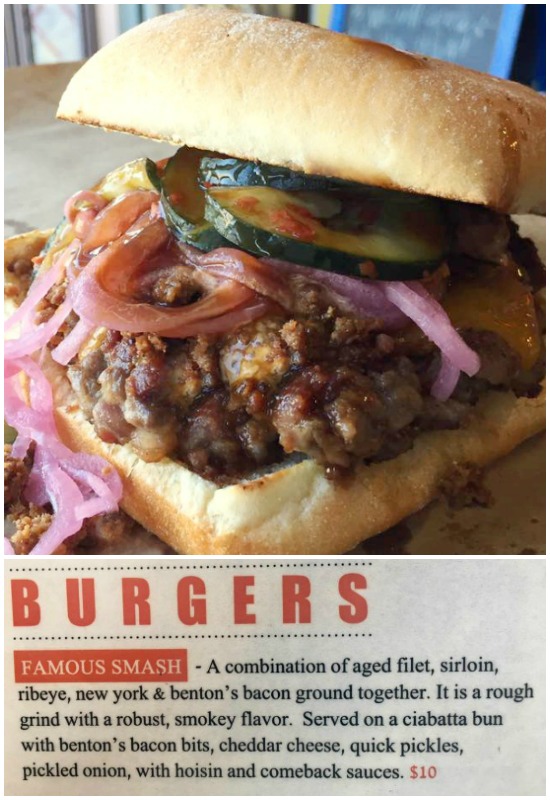 The Stable's Downtown Grill
206 N Spring St, Ste 3
Tupelo, Mississippi
(662) 840-1100
The Stables is a pub right off an alley downtown. It's really the perfect location for a bar. Do you want to know a little secret? It was actually a stable for horses originally. Cool, right?
The Stable's offers basic bar food as well as lunch specials Monday through Friday and brunch on Saturdays. The specials are always good as is the burger. In fact, their burger is top-notch. It's always seasoned and cooked to perfection. Catfish Nachos have been a perpetual favorite of mine. I even did a copycat version (you can get the recipe here for Fish Nachos) for when my boys were young and I couldn't get to the restaurant. Additionally, brunch is a traditional Southern-style breakfast with buttermilk biscuits, grits, milk gravy, bacon, omelets, and more. The amount is plentiful and the price is actually low for what you get. In fact, the entire menu is priced moderately to low with generous portions.
Beware, the cocktails are strong!
Connie's Fried Chicken
821 S Gloster St
Tupelo, MS 38801
662-842-7260
If you're going to do just one thing, you'd better do it great. Connie's does chicken great! This is a fast food, no nonsense, counter order restaurant and it's also the best chicken you find in Tupelo! Two brothers own the restaurant and one of them is always there. I attribute the high-quality consistent flavor and service to their dedication. The chicken tenders are fried but not greasy. They crispy, flavorful, and finger-licking good. But, wait alllmoooost better than the chicken is the onion rings!! Like, seriously, you've never had onion rings this good. However, not everything is fried and Connie's offers a superb salad bar.
Now, It really doesn't matter what time of day you go because the breakfast is just as good as lunch! Maybe, it's better. I'm a morning girl and I love breakfast foods! For breakfast, if you get there in time get one, two, or five blueberry donuts. For real, get more than you think you'll want because, trust me, you'll want an extra. Or, you'll eat your kids' donut and cause a ruckus… not that I personally have done that. Coincidently, I like the blueberry donuts so much, I made a copycat version that you can get the recipe here: Two Ingredient Blueberry Donuts.
Contact me at callmepmc(at)gmail(dot)com to reveiw your retaurant or working together.
I was not compensated to write this review. All opinions are my own.