Visit Airstream Row Seaside, FL
This post may contain affiliate links that won't change your price but will share some commission.
Visit Airstream Row Seaside, FL. Seaside, Florida is like a step back in time. Small cottages located around a central square and post office. It has a slower pace where you walk or bike everywhere, leisurely pass time rocking and reminsing on the porch, and greet your neighbors.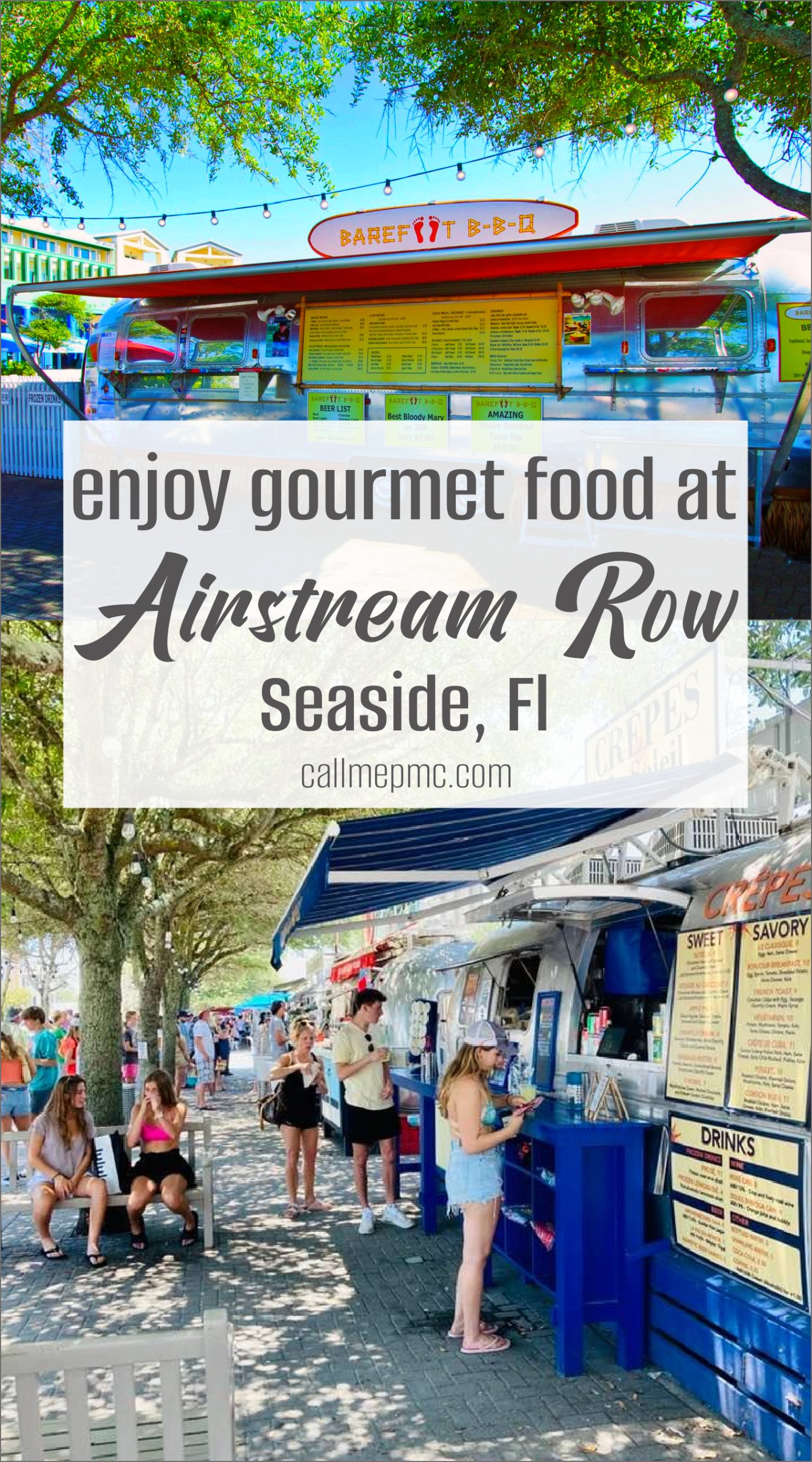 Seaside was purposely designed with this in mind. This small town was carefully crafted and maticulously designed to include various elements of a community, a post office, school, church, retail, restaurants, and, of course, all this faced the beach and Gulf.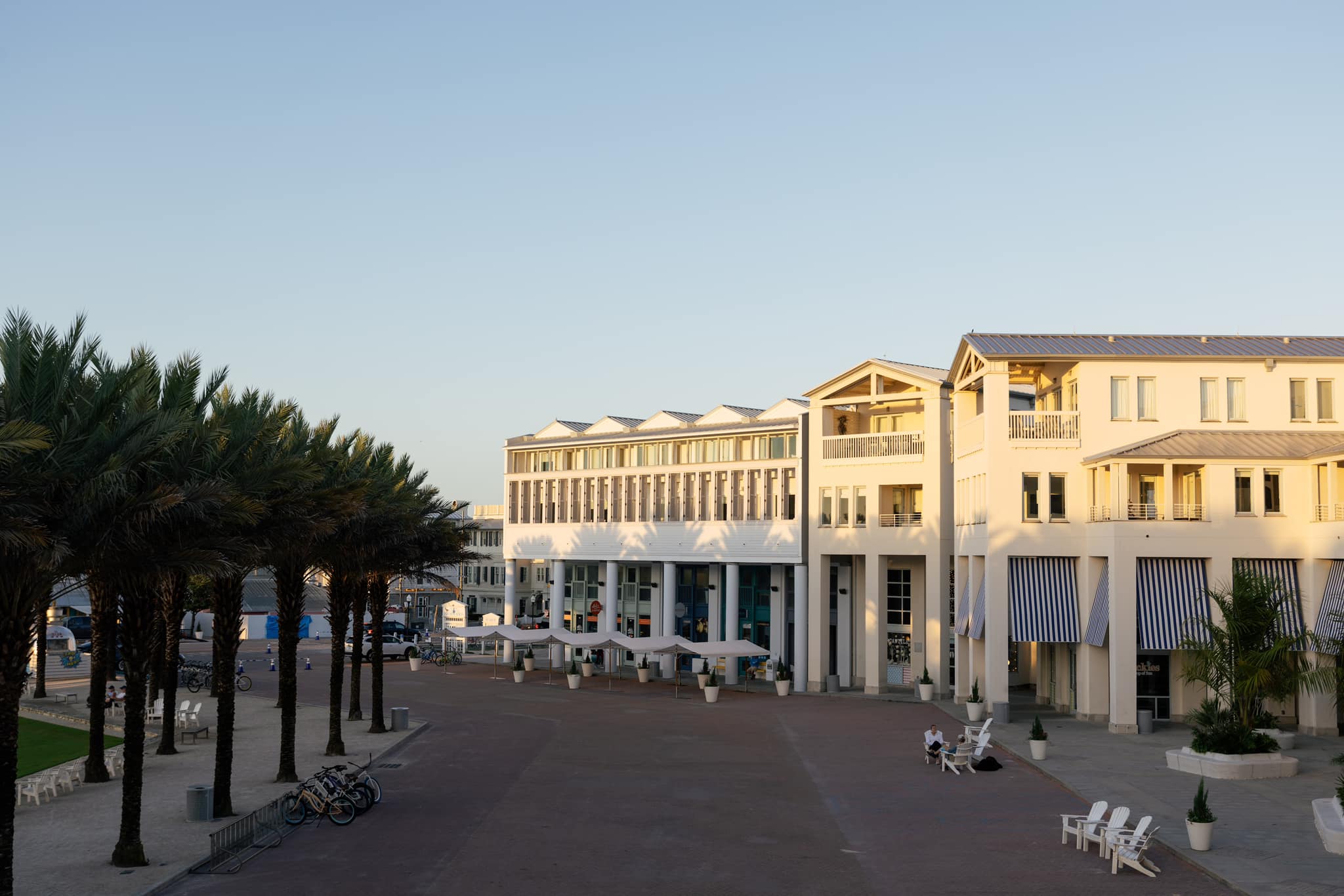 Airstream Row Seaside
Before there were many (maybe, any) markets, farmers sold their fares every Saturday at th eCentral Square. A tradition that continues today. Now, boutiques and restaurants line one side of the open-air theater and customized gourmet Airstream food trucks line the other on what is affectionately known as Airstream Row or Land Yacht District.
These Land Yachts offer equal quality of fresh and locally grown ingredients in the area located right in the middle of all the activity. You've got to Visit Airstream Row Seaside, FL for some of your meals.
How it Started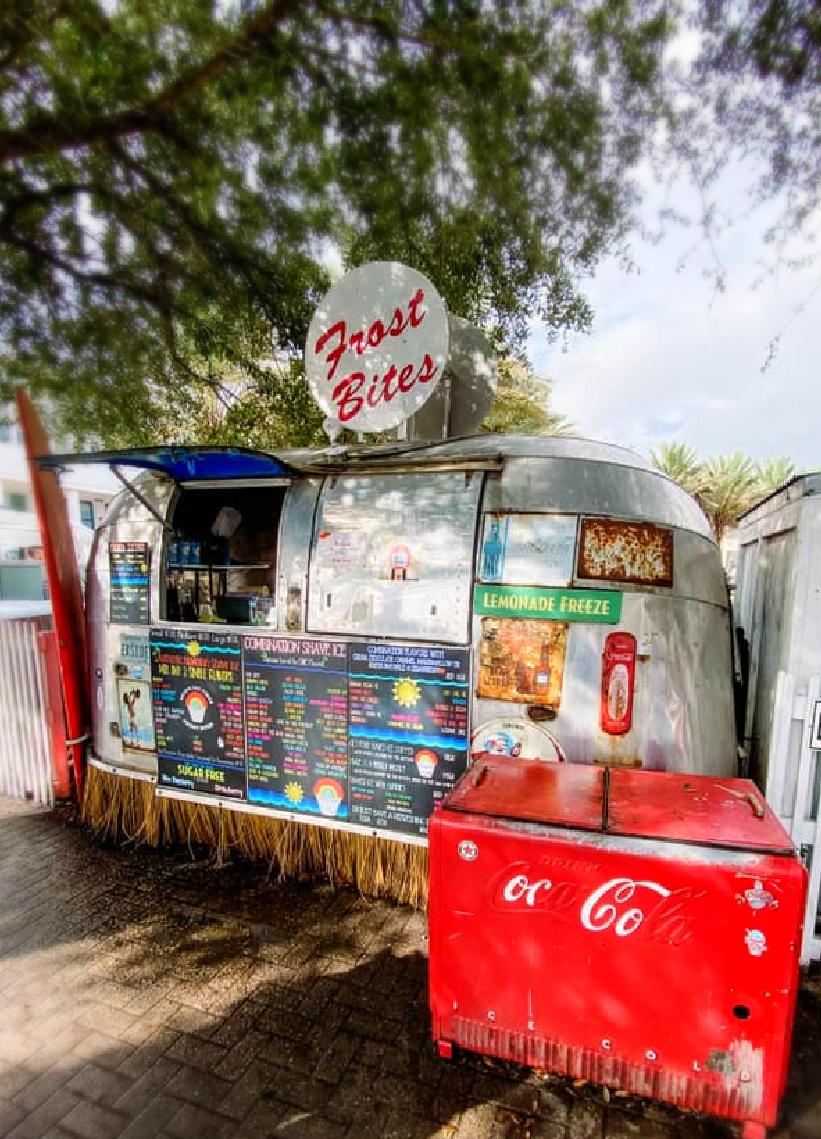 Facing the possibility of closing his snack business, Frost Bites, in Seaside, FL in the mid-1990s, Case Cooper got creative. Retail space was limited and costly so Case got creative and decided on setting up shop in a vintage Airstream camper. After all, an Airstream fit the look and feel of this new town with the retro look.
Soon, Case opened for business. Soon after other entrepenuers opened and the strip between the half-moon shaped town square and 30A became known as Airstream Row.
How It's Going
Frost Bites was joined by more Airstream food trucks. Today there's Barefoot BBQ, The Meltdown on 30A, Crepes du Soleil, Wild Bill's Beach Dogs, and Mr. Gyro Hero all with limited but gourmet menus.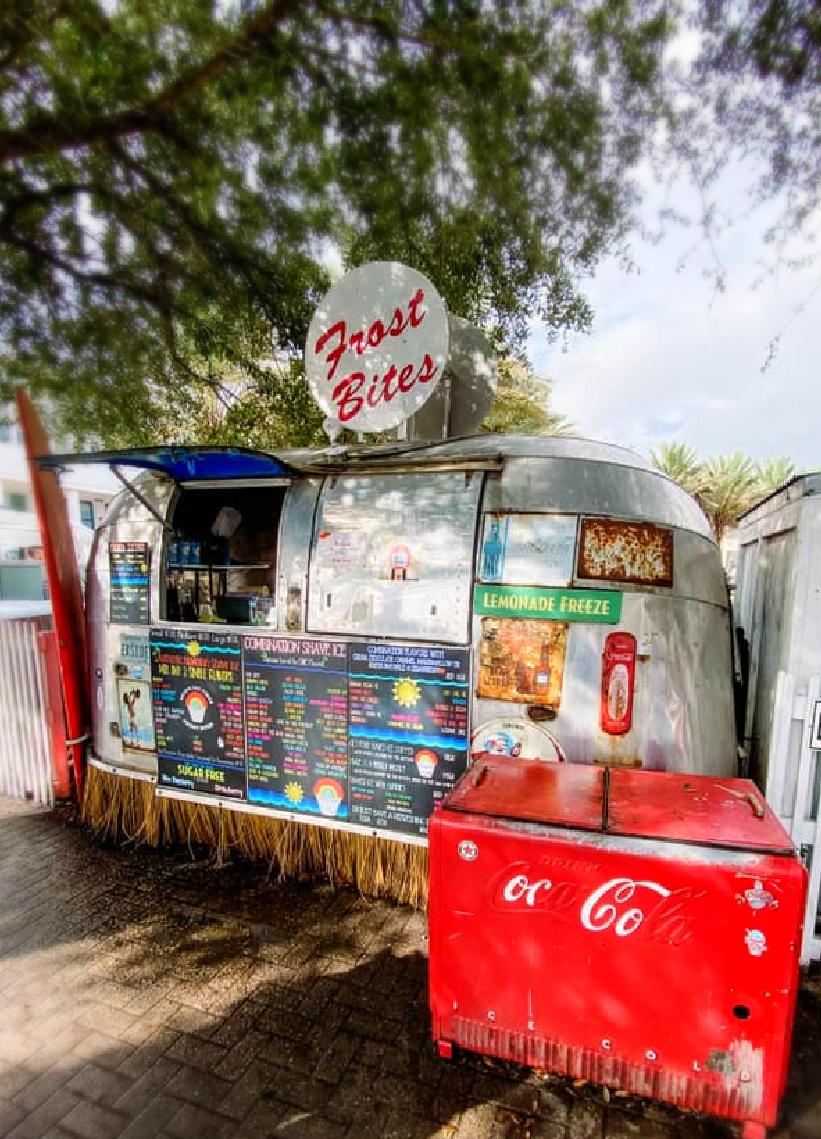 Frost Bites has more than 30 individual flavors of single shaved ice options, you can also choose from 60 combination shaved ice flavors. They also mix have different combinations and configurations of shaved ice, frozen custard, and cream sauce.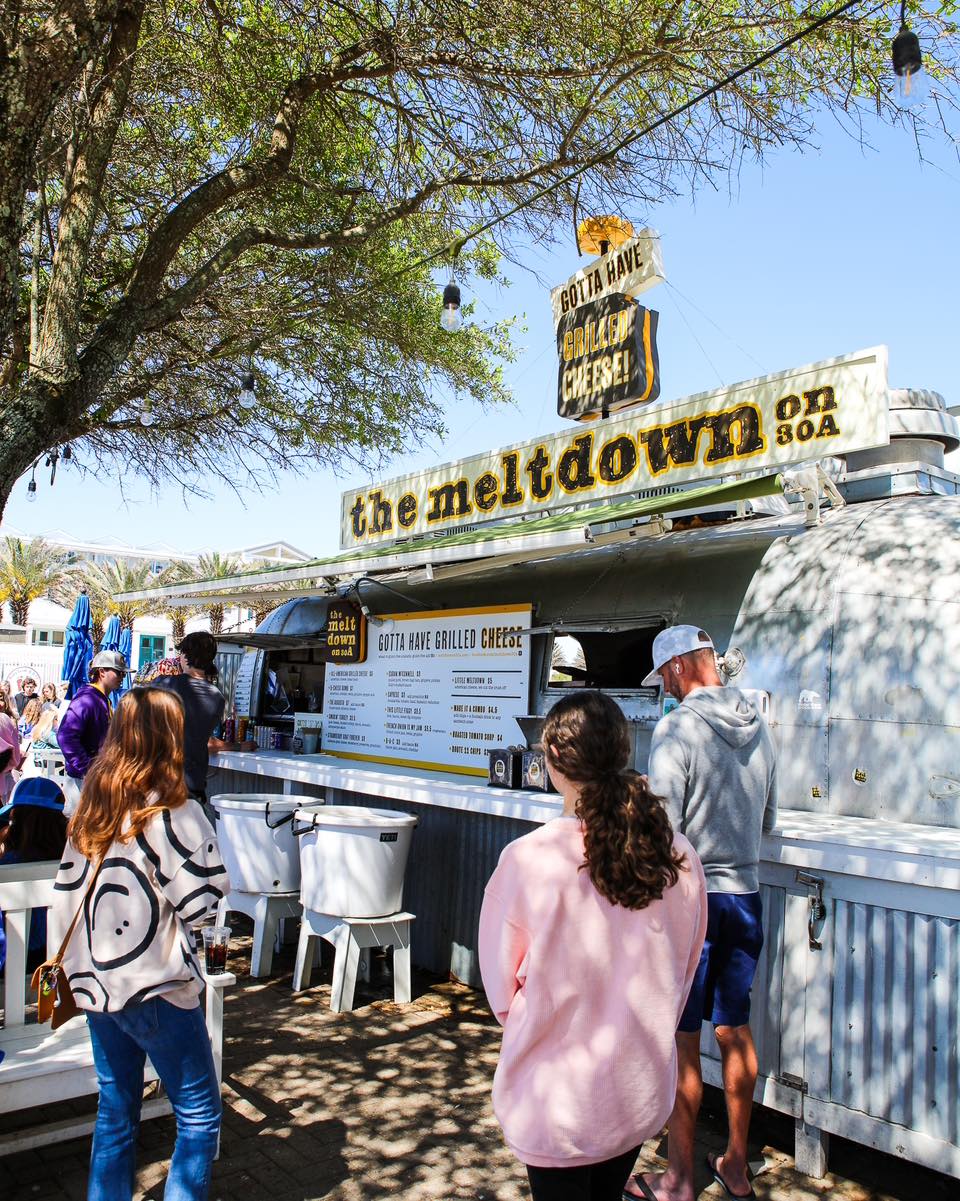 The Meltdown On 30A offers classic gourmet grilled cheese sandwiches and well as unforgetable combinations of grilled cheese. Try the Muenster Mushroom Melt, Meatloaf Melt, a Cuban McConnell with Gruyere cheese, Brie and Bacon on Cranbury Walnut Bread, or the Goat Cheese, Prosciutto, Arugula, and Tomato grilled cheese.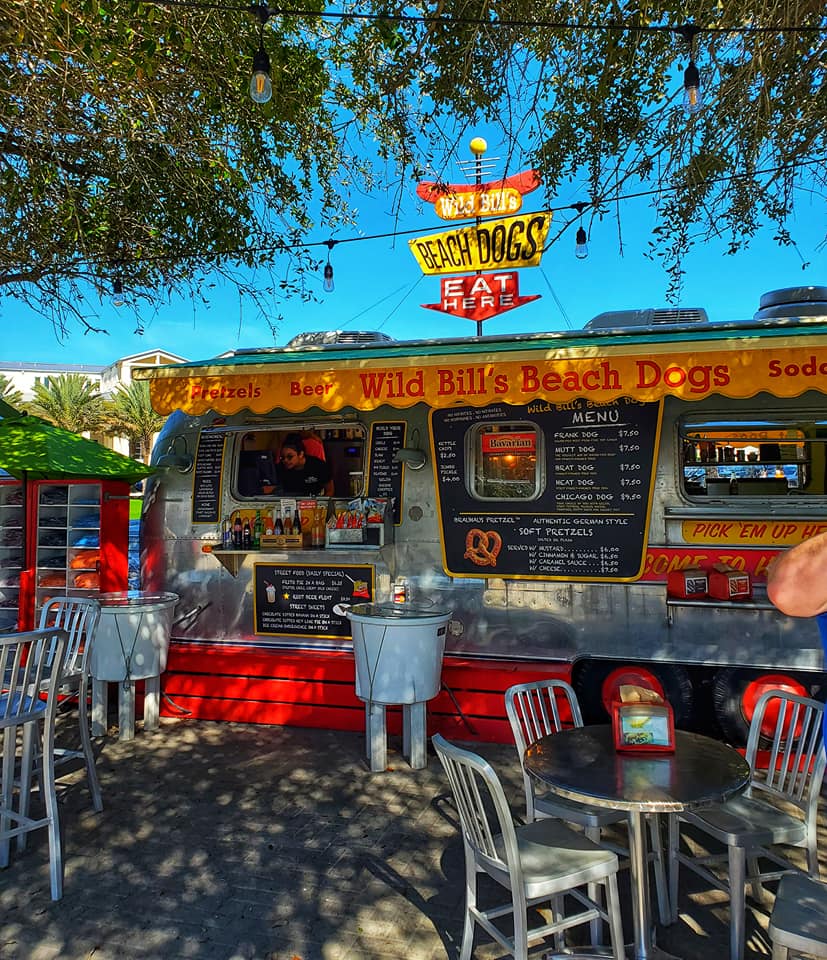 Wild Bill's Beach Dogs has grass-fed beef hotdogs. The meat is antibiotic-free, hormone-free, and nitrate-free.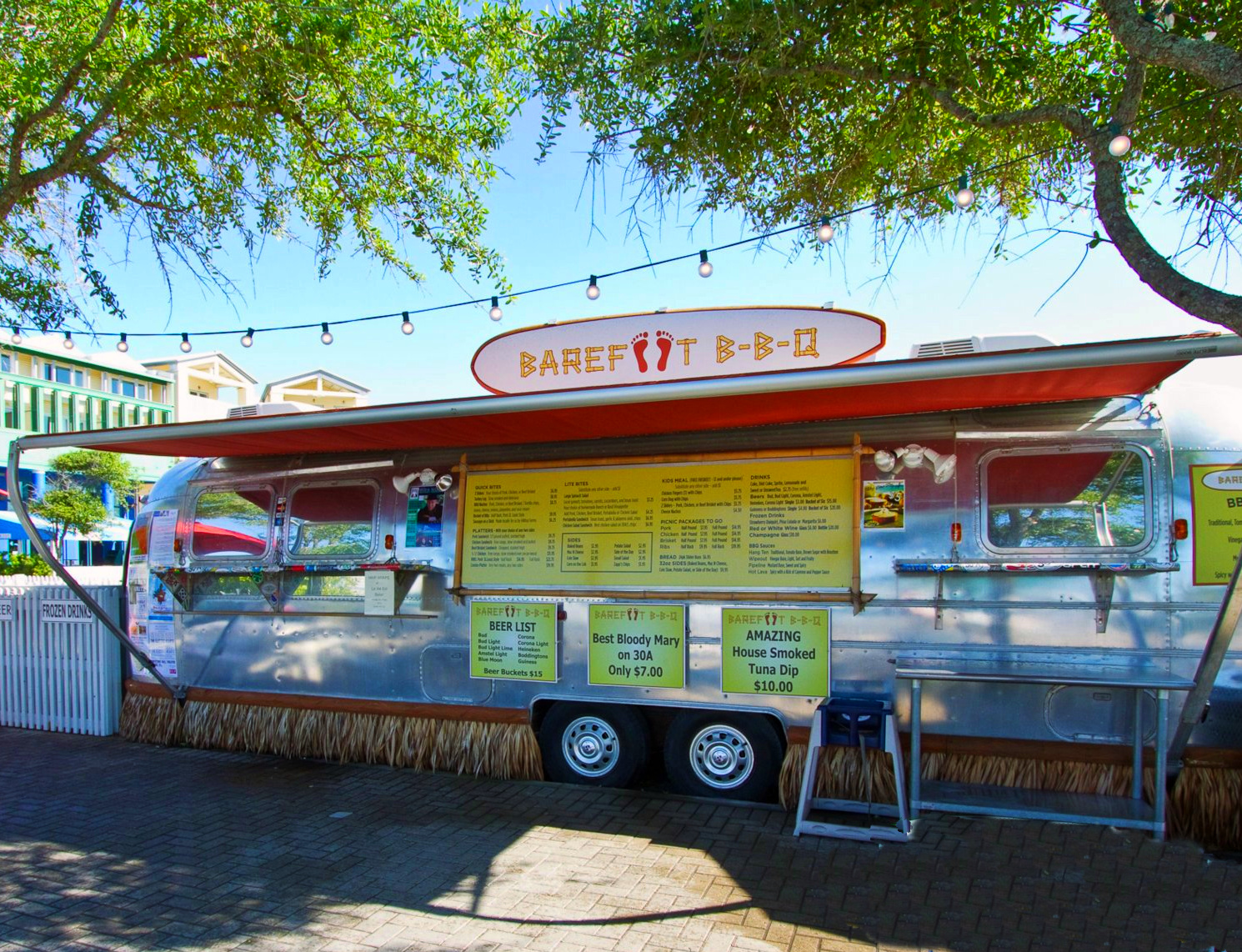 Barefoot BBQ has turned bbq into an art. This restaurant has one-of-a-kind fusion of Southern, Caribbean, and Texas barbecue staples, classic ribs and bbq sandwiches, and a variety of sliders, sides, and homemade sauces. Their meats are hormone-free, steroid-free, and antibiotic-free.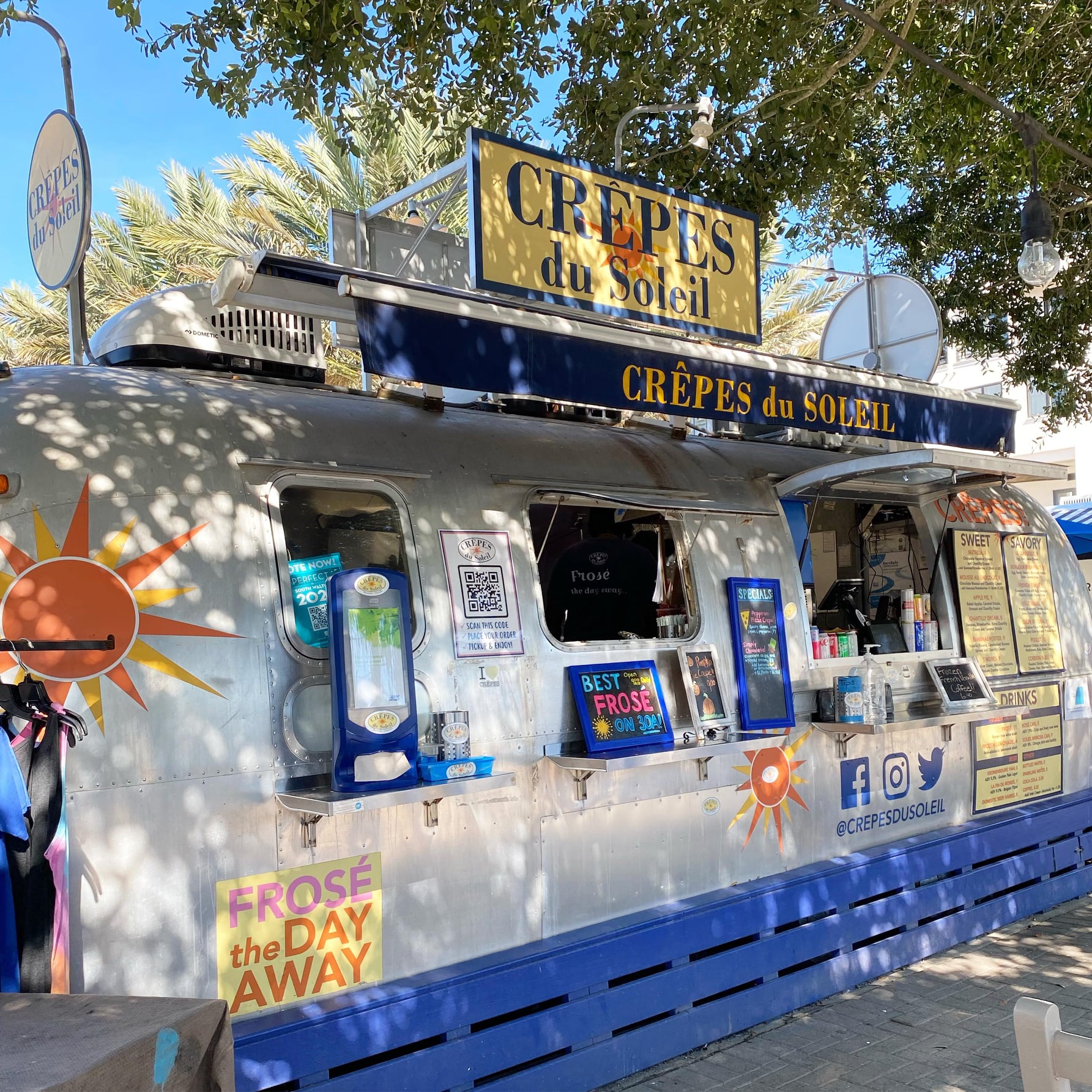 Sweet and savory crepes bring a French flare to Airstream Row at Crêpes du Soleil. They also have Frose, a frozen wine drink, and French mousse.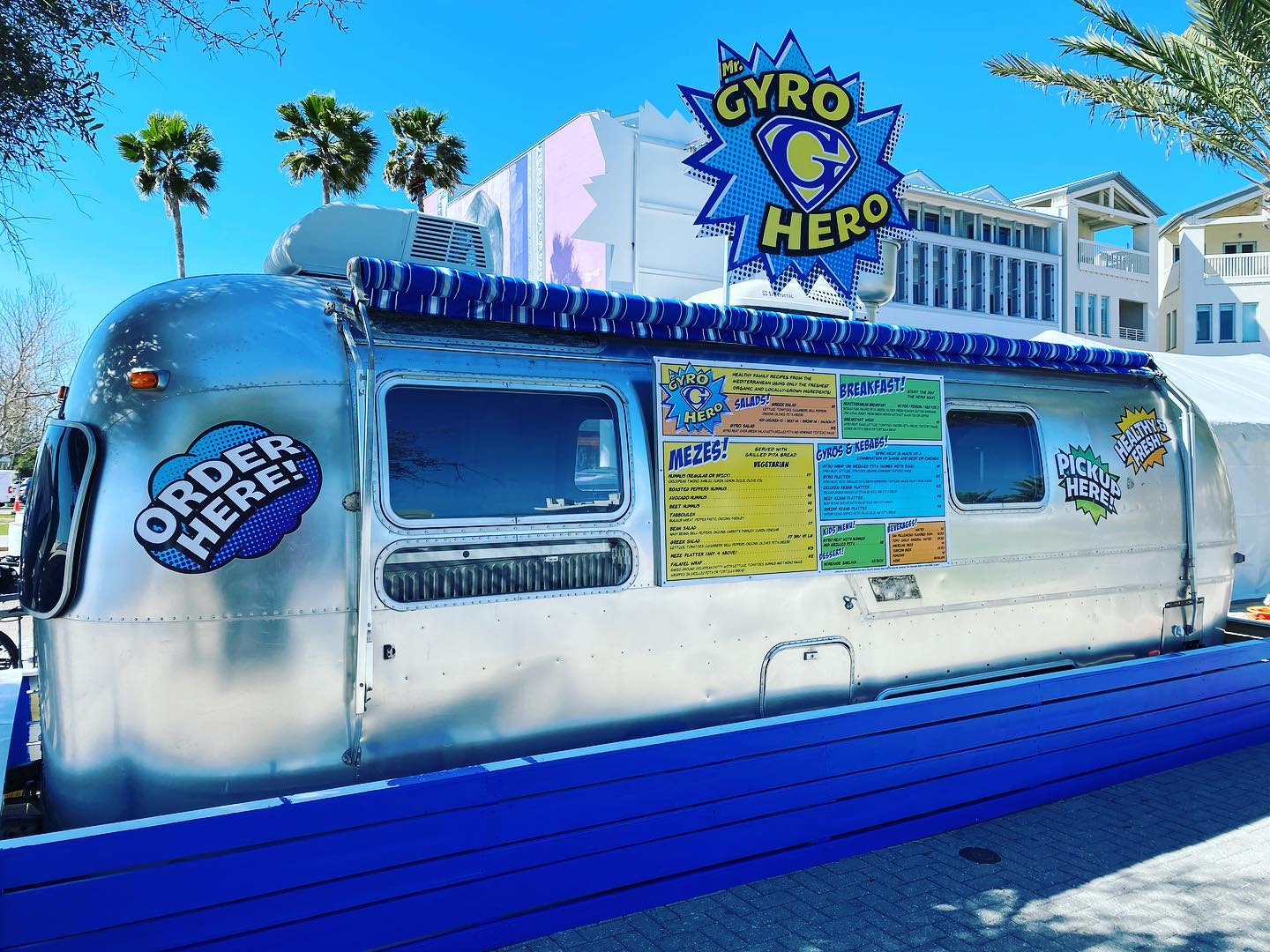 Known for their gyro Mr. Gyro Hero also offers other mediterranean food like falafels and kabobs. Gyro Hero sources fresh, locally grown, and organic ingredients.
Are you looking for more travel guides
Are you looking for more travel information? First, click over to Travel on the Cheap and find out easy ways to save when traveling. For guide, read 25 Things to do in Napa, My Favorite Destin, Fl Restaurants, Steakhouses in Vegas, 3 Days in St Augustine, Loudon County BBQ Trail, and My Day at The Masters.