My Favorite Destin, FL Restaurants
The greater Destin, Florida beaches are some of the prettiest beaches in the world. At just 6 hours away, they are my favorite as well. Not only is it beautiful, but they also have great fishing, snorkeling, parasailing, and boating. There are a ton of land-based activities for adults as well as children.
One of those activities for my 'foodie' family is eating out. I've composed this list of My Favorite Destin, FL Restaurants. My favorites range from dive bars to swanky gourmet and just about anywhere in between. I don't care so much about what the restaurant looks as what their food tastes like. It has to be good.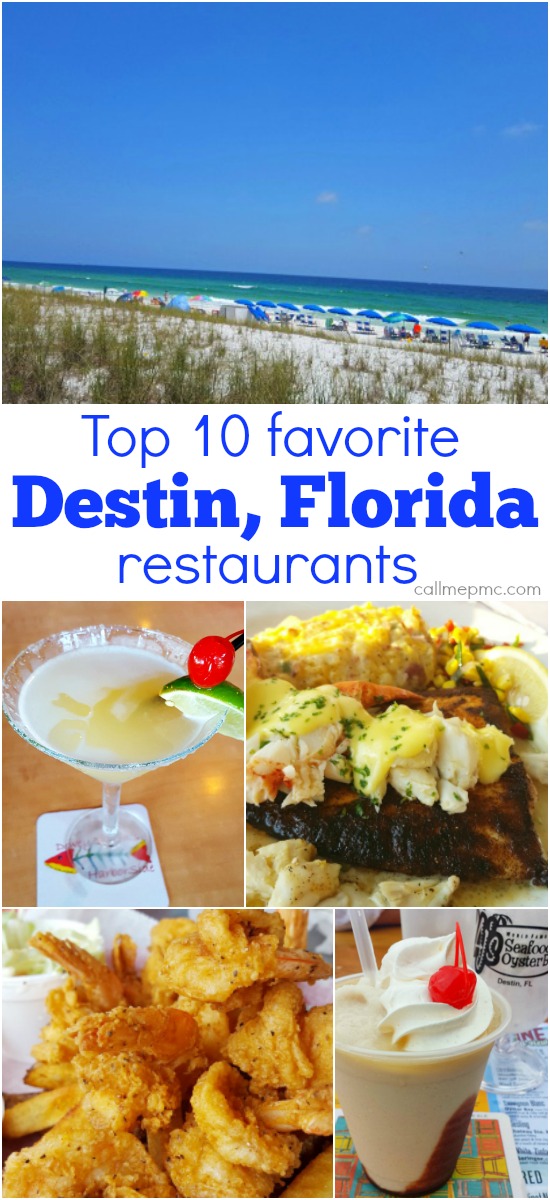 My Favorite Destin, FL Restaurants
(in no particular order!)
There are two locations, one on the bay and one on the harbor. The bay restaurant is original, very authentic, and rustic. I love dives and little hole-in-the-wall restaurants like this. The food is great; caught fresh daily and cooked in an add-on trailer in the back of the restaurant.
Dewey Destin on the Harbor is nicer although still casual. You can dine in flip-flops and t-shirts. The staff is knowledgeable and friendly. We're a foodie family that knows what we like and what we want and they were accommodating when we wanted to change sides and add 'extras' to our entrees.
Dewey Destin on the Harbor has a separate bar with a full selection of beers, bourbons, wine, and mixed drinks. Having a good selection of bourbon gets high ratings for a restaurant in my husband's opinion. He fancies himself a bourbon connoisseur and not every restaurant has his favorite Knob Creek. One of my favorite drinks now is the Pineapple Martini, pictured below.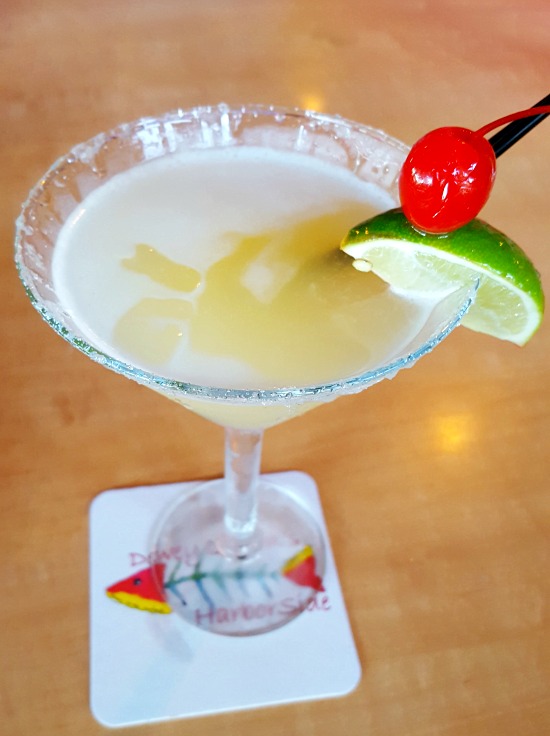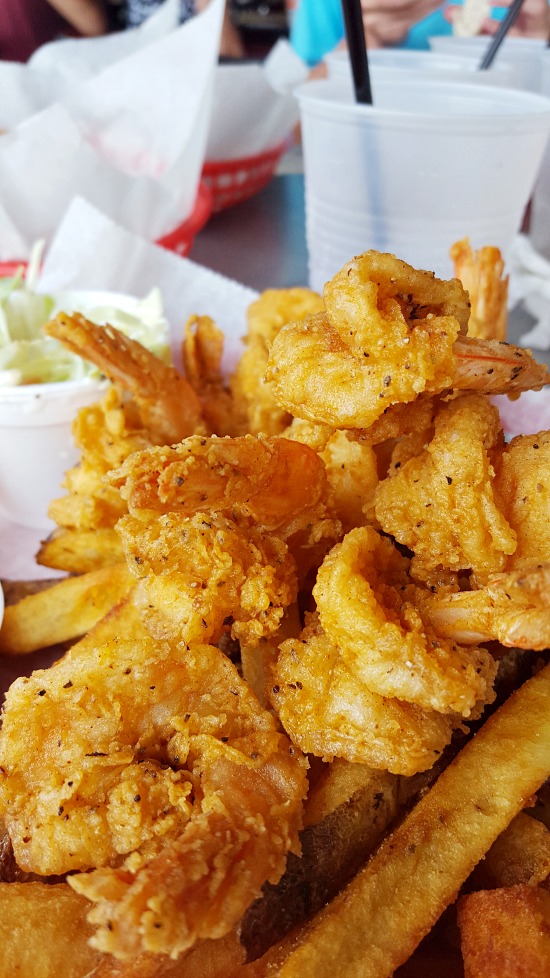 If you think your GPS is wrong, chances are it's not. Louisiana Lagniappe is located in a gated condo community. Keep driving, you're on the right street! Ultimately you'll arrive at the Harborside Restaurant.
The food never disappoints. They market the restaurant as Louisiana Creole-inspired; if you've been to New Orleans or eaten Cajun and Creole cuisine much you know that this is not quite 'creole'. That being said, it is good and different from most Destin seafood restaurants. The quality is superb and the staff is friendly.
The dress code is casual and family-friendly with an upscale and elegant feel. I recommend sitting on the back porch and getting there in time to see the sunset over the harbor. It's breathtaking, hot, but breathtaking and worth it!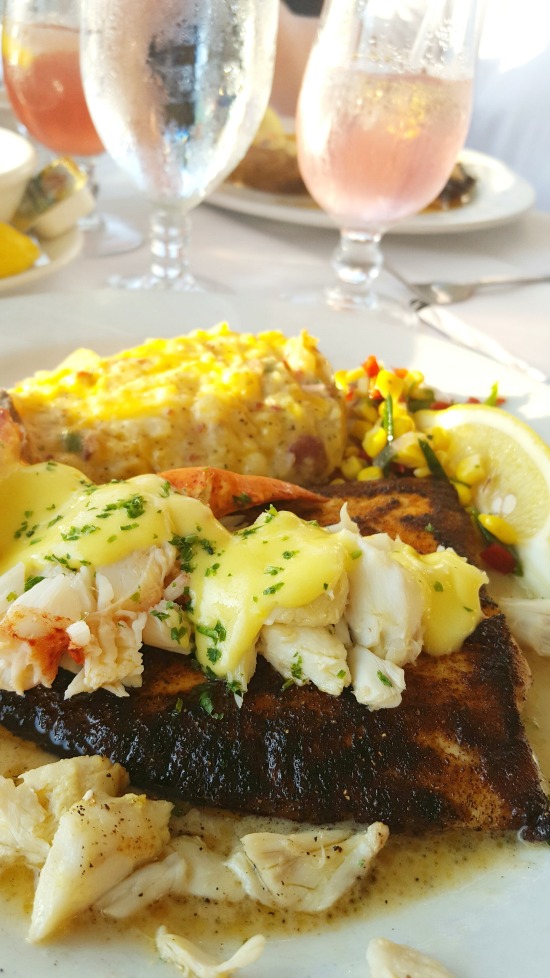 Actually, this restaurant is outside the city limits of Destin, but not a long drive. If you're staying in Destin, you'll enjoy the beautiful drive down the scenic coast.
Fish Out of Water is simply one of the best restaurants that I've dined at. The view is beautiful. Professional and friendly staff. Great organic farm-to-table philosophy and is perfect if you have food allergies.
Read Visit South Walton Blogging Beach Retreat for more on this amazing restaurant!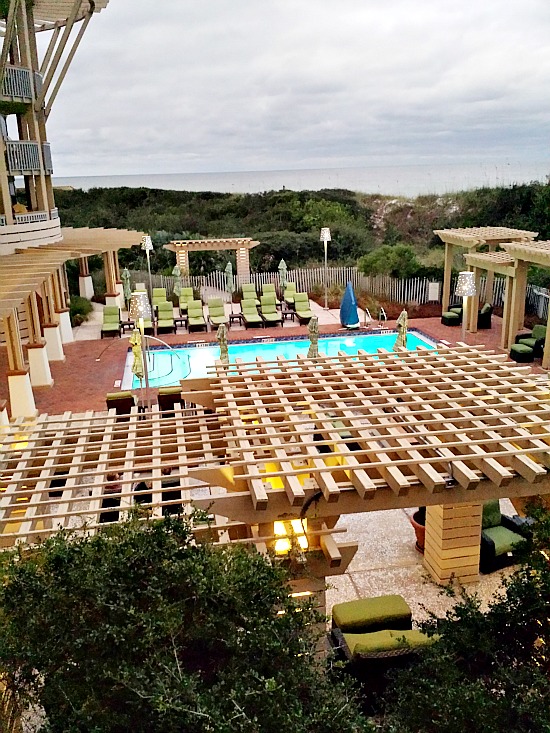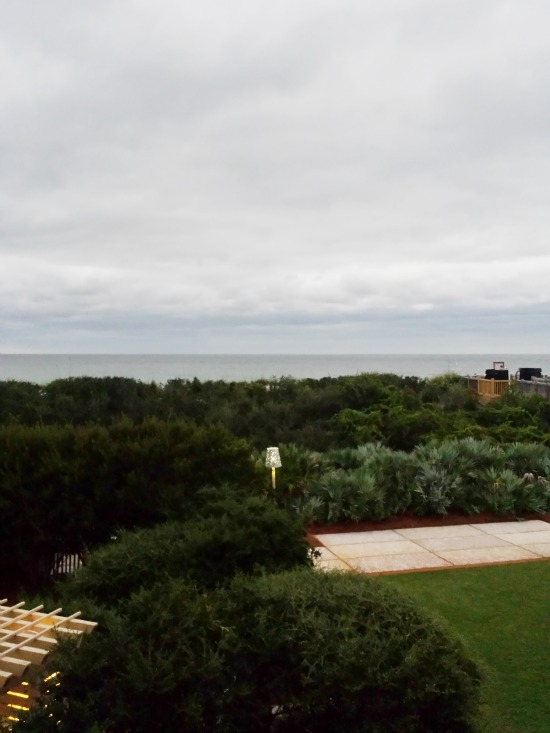 Beautiful harbor side dining. I got the Pan Roasted Gulf Grouper with feta cheese soufflé, garlic braised local spinach, house-made Alabama tomato jam, and citrus butter. Unbelievable!!!
Hubs loved the oysters and gave the medium-rare Chargrilled Angus Ribeye rave reviews.
Great view of the harbor if you sit on the patio. Fun atmosphere.
We dined early and there wasn't a wait, but there was a crowd waiting to be seated when we left. The staff was friendly. Great alcohol selection from cocktails to wine to beer. Prices are comparable to other restaurants.
First of all, it has to be said, to get over the fact that it's in a strip mall. The jazzy inside has much more pizazz and personality than the generic outside.
The atmosphere is relaxed. Think casual attire with fine dining. There's a wine store right inside the restaurant. The staff is so friendly and accommodating.
The Grape, Walnut & Blue Cheese Tart with Wine Crust is offered at lunch if outstanding. If you're there at dinner, ask for a slice, if they have any from lunch they'll gladly get you a slice.
The ribeye is seasoned and cooked perfectly. Scallops are full of flavor. Shrimp and grits, Cornmeal Pan-Fried Oysters, and crab cakes are always good. I've never had a bad meal at Vintij.
It's a great special occasion place since it is small, intimate, and typically not a tourist trap. Make reservations for large parties.
Fine dining, casual atmosphere. Great wine selection. Phenomenal.
I recommend taking advantage of the happy hour prices and bar menu.
The boys liked the flatbread pizza; all the other menu items were more complicated than their young palettes craved.
Portions are small but decadent. The price is on the higher side, $32+ for dinner entrees. But, you get what you pay for and the food is prepared perfectly.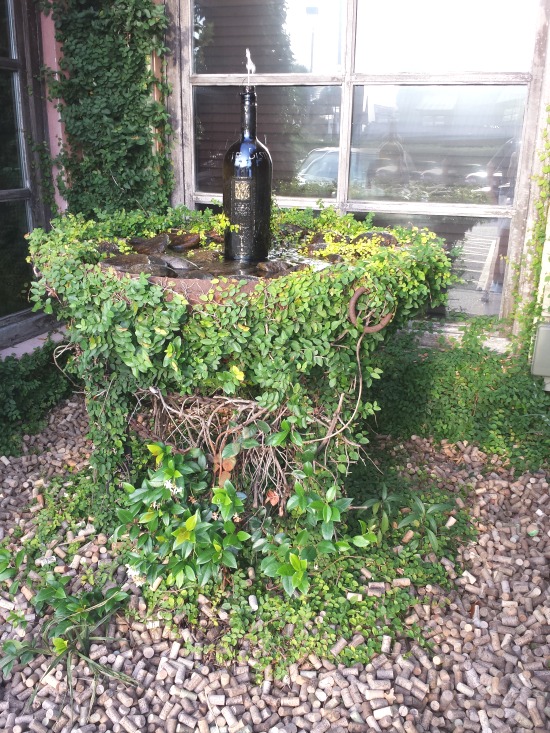 Ok, more of My Favorite Destin, FL Restaurants! What I must tell you first at Pompano Joe's you can get a bucket of margaritas!! A bucket!! Sign me up!
Aside from the bucket of margaritas, Pompano Joe's is great seaside dining. One of the very few restaurants that is right on the beach. Sit on the back deck and watch beach games and volleyball tournaments. And, the sunset at this location is stellar!
Inside there are huge fish tanks the kids love! Rustic, casual atmosphere.
The Food. Classic beach restaurant food. Fresh seafood and a good selection of different kinds of seafood. Fried anything. Steam platters. Sandwiches. I always get tacos if they're on the menu. Excellent choice, the tacos were fried Mahi Mahi or Gulf Grouper on soft flour tortillas with lettuce, pico de gallo, queso fresco, and chipotle mayonnaise. Delish!
Good food at good prices.
Note: Pompano Joe's, The Back Porch, and Louisiana Lagniappe are owned by the same company. Therefore, they are simple in food styles with different price points. Pompano Joe's has the lowest prices, The Back Porch is mid-range and Louisiana Lagniappe is the most expensive.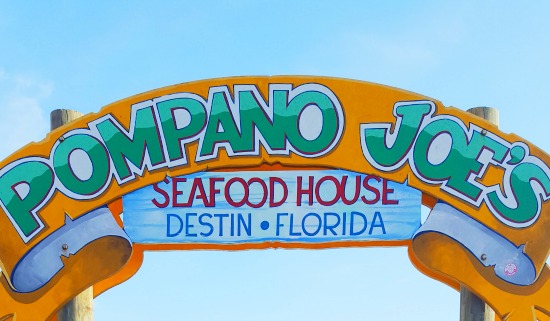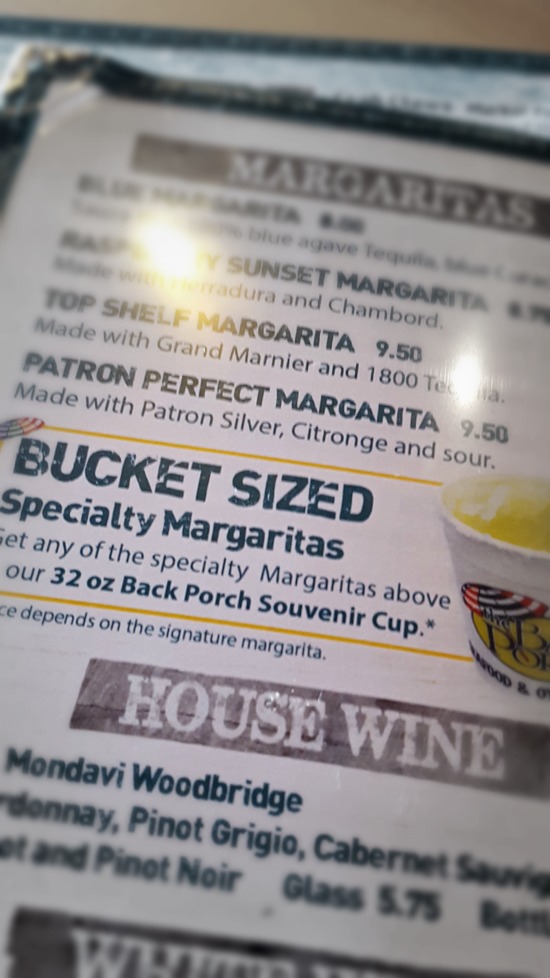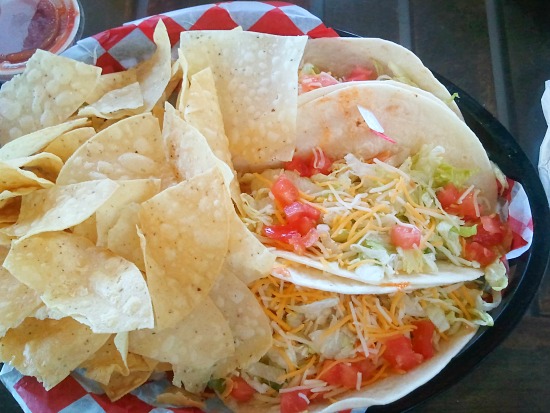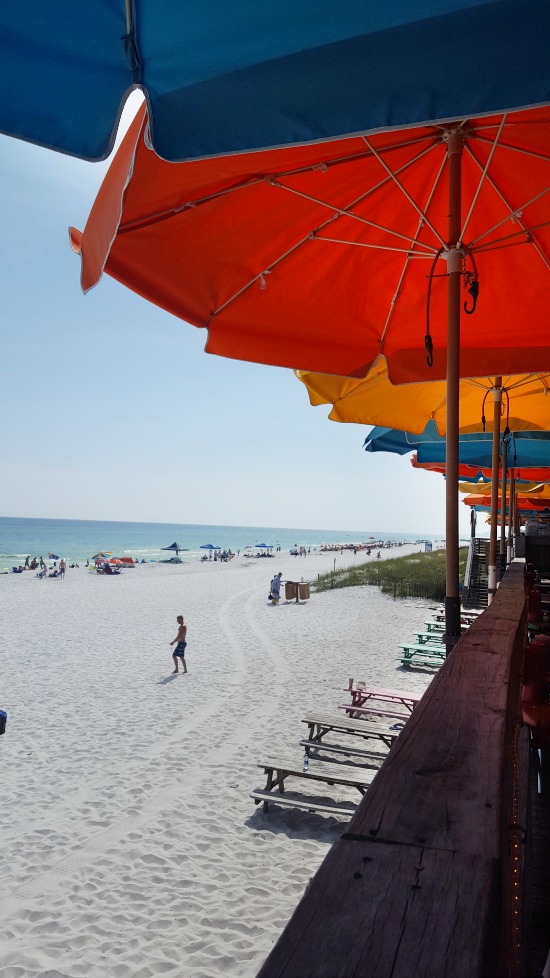 Boathouse – 288 Harbor Blvd, Destin, FL 32541
Original. Authentic. Dive. Rusty. Real.
I love it!!!
Ok. This place is not for everyone. It's a little dive bar with bras on the ceiling. If you want to know where the locals go, and where the fishermen go, this is it.
Live music. Cold beer. Locals. Strong drinks. Picnic tables.
Furthermore, they have great food. You can't get any fresher. The best raw oysters. Outstanding fried "Bang Me" shrimp, which is fried shrimp tossed in a hot sauce.
Sure, I like to get dressed up and go to a swanky restaurant to eat. But, I also like to stay in flip-flops with beach hair and just kick back in an unpretentious atmosphere.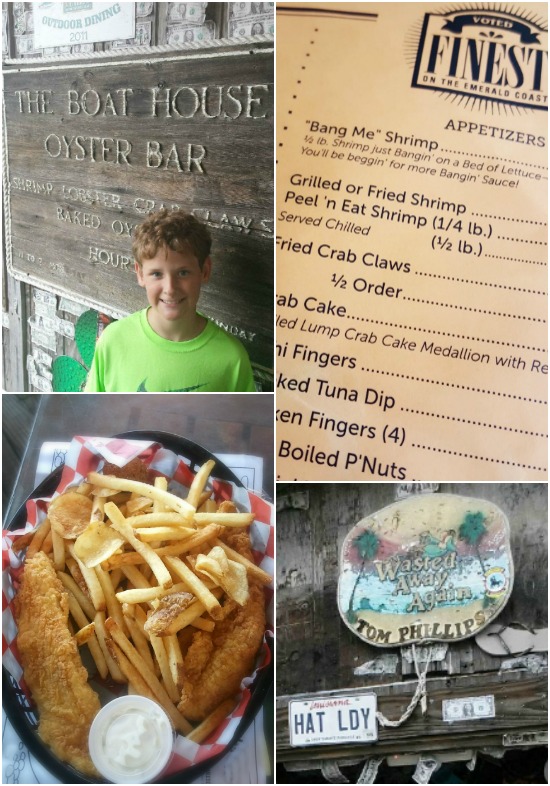 There are two things that I don't miss on a Destin beach trip. Blackened mahi-mahi at Dewey Destin (Harborside) and bacon at The Perfect Pig!
The bacon is hand-cut, fresh, and in-house daily. Whatever amount you think you want, get more! As well, I recommend the brown sugar bacon over plain, but both are outstanding.
Pictured below are the Parmesan-crusted breakfast grilled cheese sandwich with cheddar cheese, two eggs, and hand-sliced bacon. It is to die for! Furthermore, don't miss this treat along with the Creamy Southern-style cheddar grits!
Just a note, they take reservations now and if you're visiting on a holiday or busy weekend, I suggest making a reservation as soon as possible!
Also, see more photos and info here.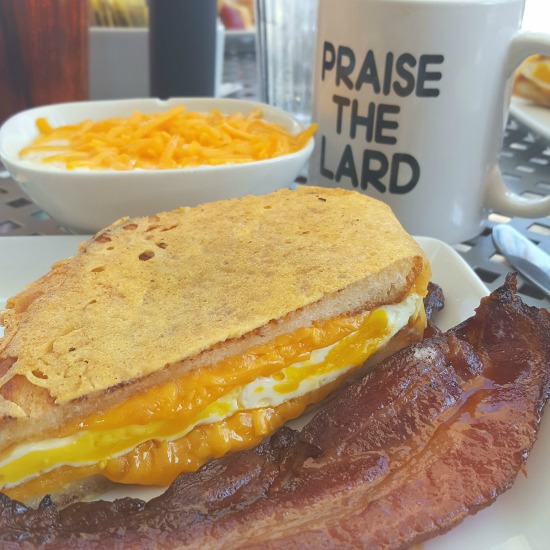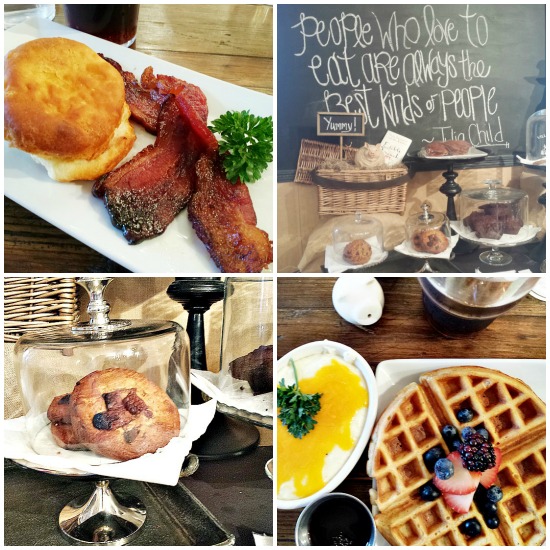 AJ's opens the Harborwalk Village entrance where street vendors and entertainers offer a carnival-like atmosphere. Multilevel, you want to be on the upper deck with the perfect harbor view and live music playing. Aj's is touristy, but I do enjoy the atmosphere. As well, there is a limited menu on the upper deck. Head downstairs for the full menu, window seats are available with a view of the harbor.
Start your meal with the steam platter is the best available and the Mudslide frozen cocktail pictured below.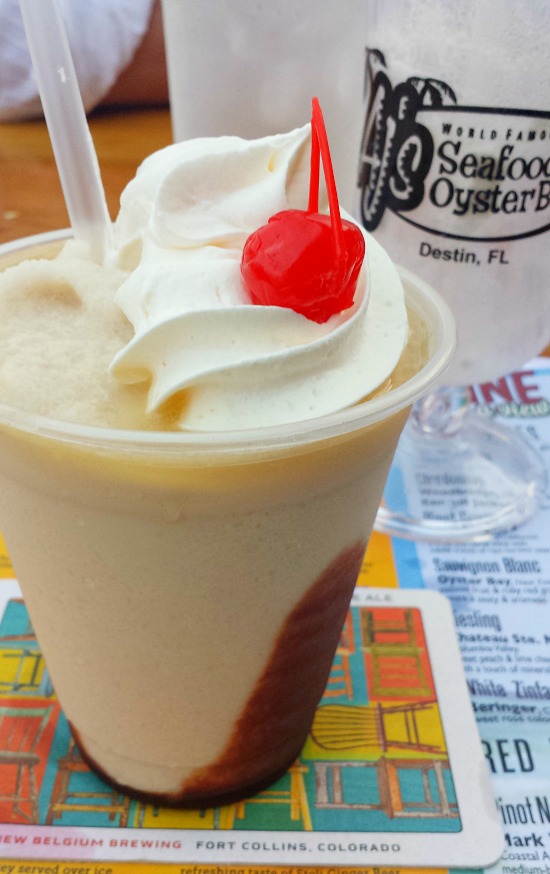 Honorable Mentions
La Paz Mexican Restaurant and Cantina is perfect for when you're tired of seafood. And McGuire's Irish Pub has a variety of non-seafood items on the menu as well.
This is not a paid sponsorship. The opinion expressed are 100% my own.