Beginner's Guide to Sedona
This post may contain affiliate links that won't change your price but will share some commission.
The beginner's guide to Sedona, Arizona. I'll answer all your travel questions about Sedona: when to go, where to stay, where to eat, where to hike, and what to pack. I hope this helps you plan an amazing Sedona getaway. Be sure to bookmark and save this, it's your ultimate Sedona travel guide for everyone but especially for first-timers.
For getaway gear, check out and save my essential travel items for future reference.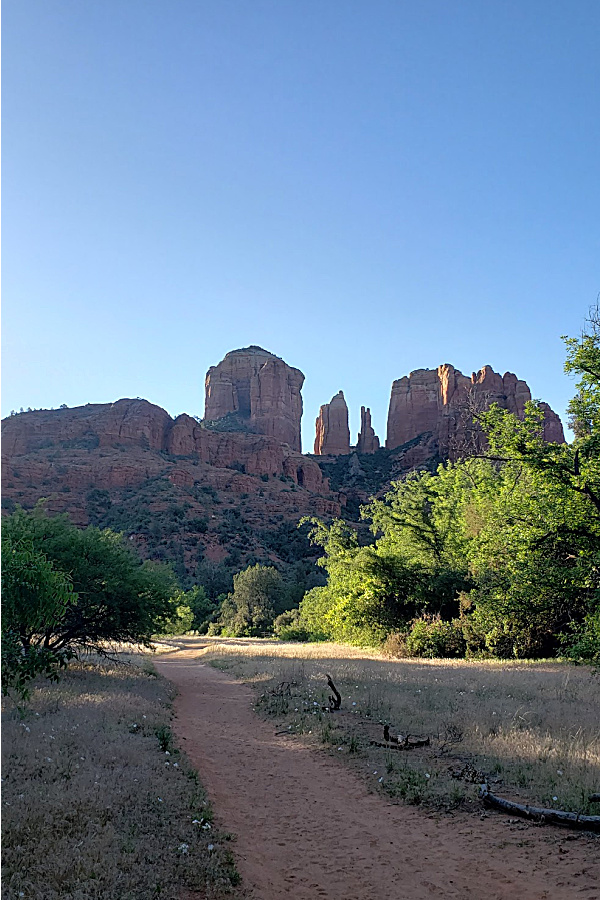 Beginner's Guide to Sedona
Sedona, Arizona is an adventure-lovers paradise with gorgeous vistas and red rock walls. There are hundreds of miles of hiking, biking, and horseback trails as well as rivers, waterfalls, and swimming holes to explore and premium golf courses to play a game or two.
Not an adventurer and outside enthusiast? There's plenty to do that doesn't envolve hiking and climbing. Check out the spas, art galleries, shopping, Jeep tours, cocktail bars and breweries.
There is literally something for everyone.
Travel can be overwhelming especially when a place offers so much to choose from. This guide is to help you plan your trip to Sedona.
You can check out my other travel guides here:
When is the best time of year to visit Sedona?
The best time of the year to visit Sedona, AZ is either from March to the end of May or September thru November. However, the cheapest time to visit is from November to February. As well, the least busy time corresponds with the cheapest and also the coldest months, January and February.
Of course, you can visit during the summer June thru August just be aware it will be blazing hot. You must stay hydrated and wear sunscreen.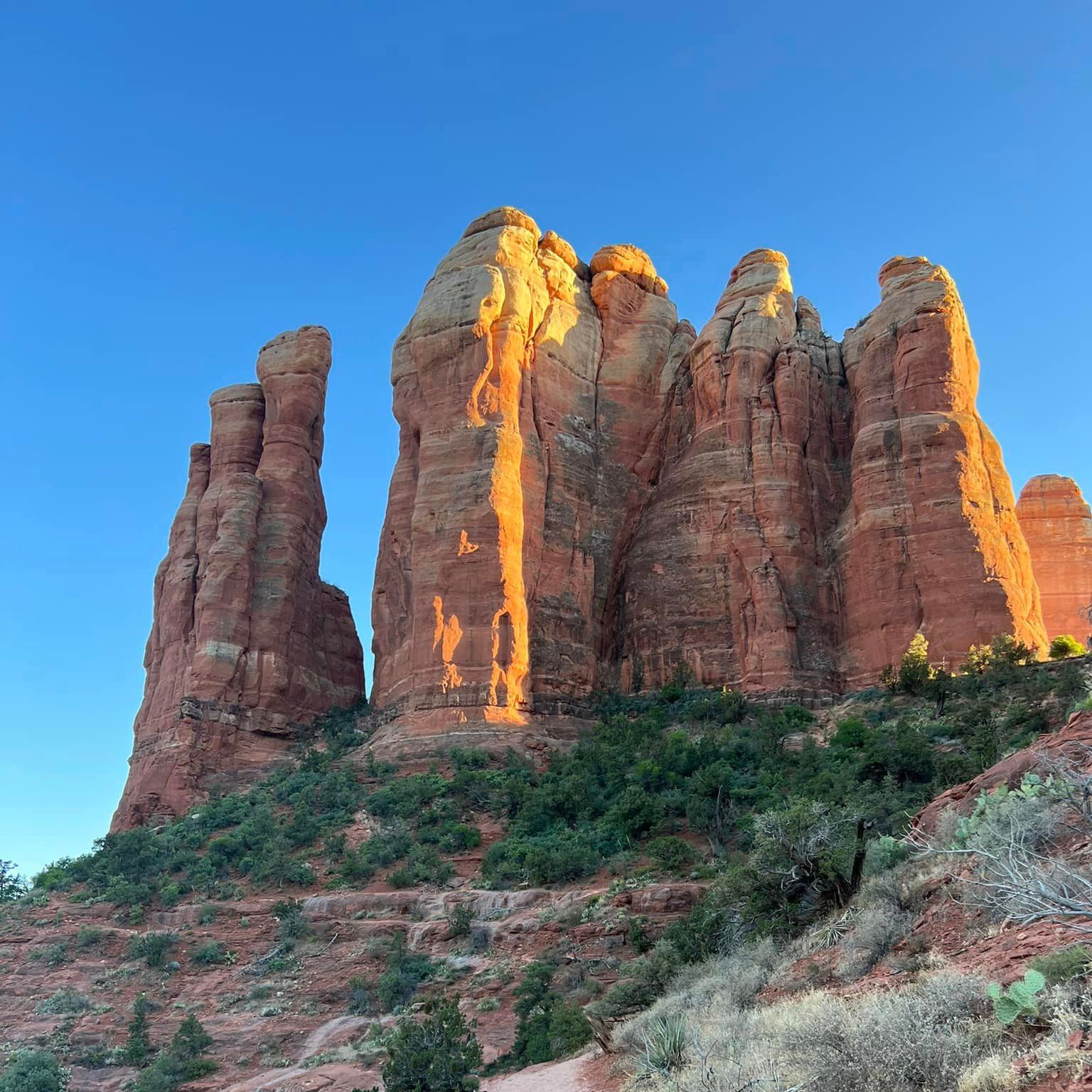 How to get to Sedona?
Flying into Pheonix then driving to Sedona is the most common method to get to Sedona. The Pheonix airport is a two hour drive from Sedona but be prepared for traffic both ways. Depending on the time of year and holidays, it may take up to 4 hours to drive. You'll want to rent a car for the drive. You'll also need a car to get around in Sedona once you get there. Sedona is spread-out and not easy to get around by walking. A car is a necessity! As well, there aren't shuttles to every trail head so you're own your own to get to them.
If you're driving to Sedona from the North, Flagstaff is a 50 to 60 minute drive. Flagstaff has an airport but it's small. American Airline flights come from Pheonix but you can't get there any faster by flying to Flagstaff because of layovers.
How long do I need in Sedona?
That's entirely up to you and how much you want to do. I recommend a minimum of three days. We stayed eight days on my first visit and still didn't get to do and see everything I wanted.
I highly recommend getting a feel for the area by planning and looking at maps as soon as you decide on dates. The US Forest Service has online maps. Or, you can get a paper map at the Park Ranger office when entering the town.
Beginner's Guide to Sedona: Lodging
I recommend booking accommodations early for more options.
I almost booked in Cottonwood because the prices where slightly lower. However, I decided against it and stayed at the Hilton Sedona Resort. This was a good decision in my opinion. Cottonwood is a good 20 minute drive and while I'm sure there are fun things to do in there, you'll save a lot of time driving if you book in Sedona.
For safety reasons, I prefer to stay at hotels when I travel alone or with my kids. However, some travelers like VRBO. Either way, I recommend that you book as early as possible, lodging is hard to find on short notice.
Camping is another lodging option. However, there are no camp grounds inside the city limits of Sedona. If you plan to camp, definitely plan ahead! For campground information and reservations, visit the Recreation.gov, USDA Forest Service website, Bureau of Land Management (BLM), and Free Campsites.
Furthermore, there are some mobile apps that can help you locate camp sites. Some of the highest rated ones are Allstays camp & rv, iOverlander, and the Dyrt.
Beginner's guide to Sedona: Hike these trails first!
Trails
Before we get to the trails, I want to mention Leave no trace. Leave no trace is an easily understood framework of minimum impact practices for anyone visiting the outdoors. Each Principle covers a specific topic and provides detailed information to empower you to minimize your impacts. (Read all about it) These principles are
Plan ahead and prepare
Travel and camp on durable surfaces
Dispose of waste properly
Leave what you find
Minimize campfire impacts
Respect wildlife
Be considerate of others
Cathedral Rock Trail
Cathedral Rock Trail = 1.2 miles
Elevation gain = 652 feet
Fee = $5 Red rock parking pass. It's valid at several trail heads.
Difficulty = Moderate
This is a short hike and steep climb to the top but worth it. The trail is hard to determine at times but look for the white arrows painted on the rocks. Cathedreal Rock Trail isn't shaded so I recommend going early at 6 am or late at dusk.
If you're looking for a longer trail you can start at Baldwin Trail and then to Cathedral Rock. Baldwin trail is partially shaded and follows Oak Creek for a short distance. It was cool on the valley floor by the creek!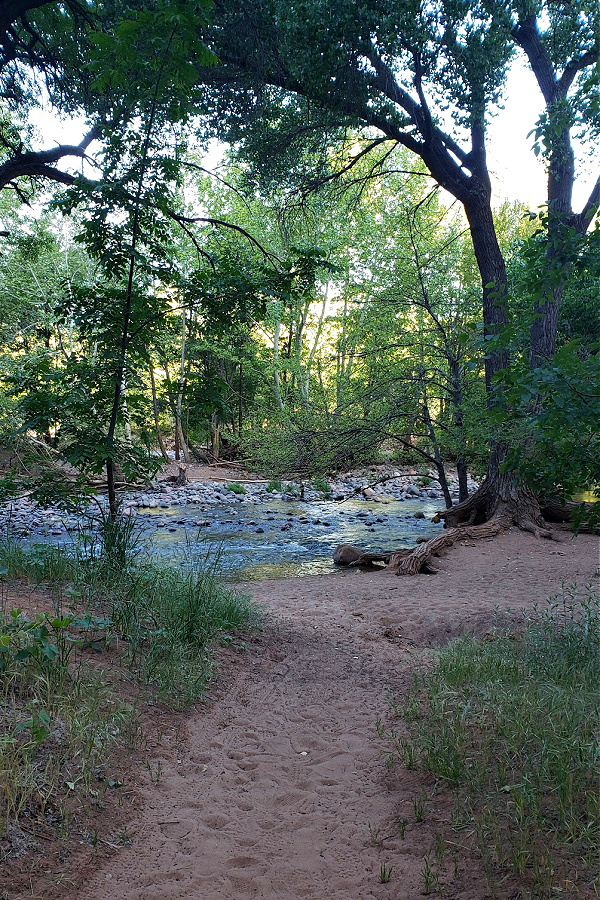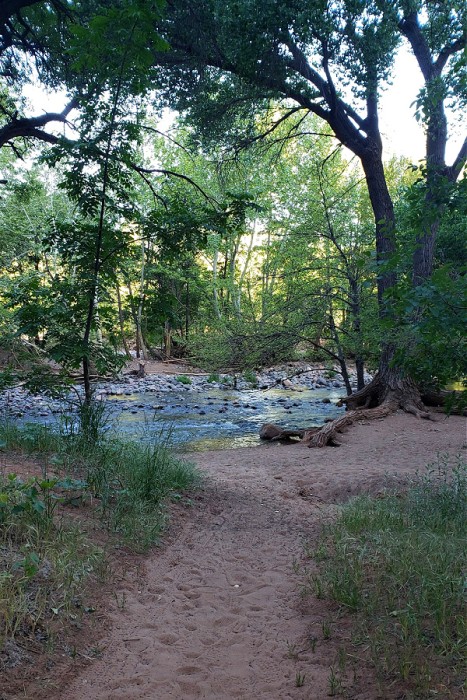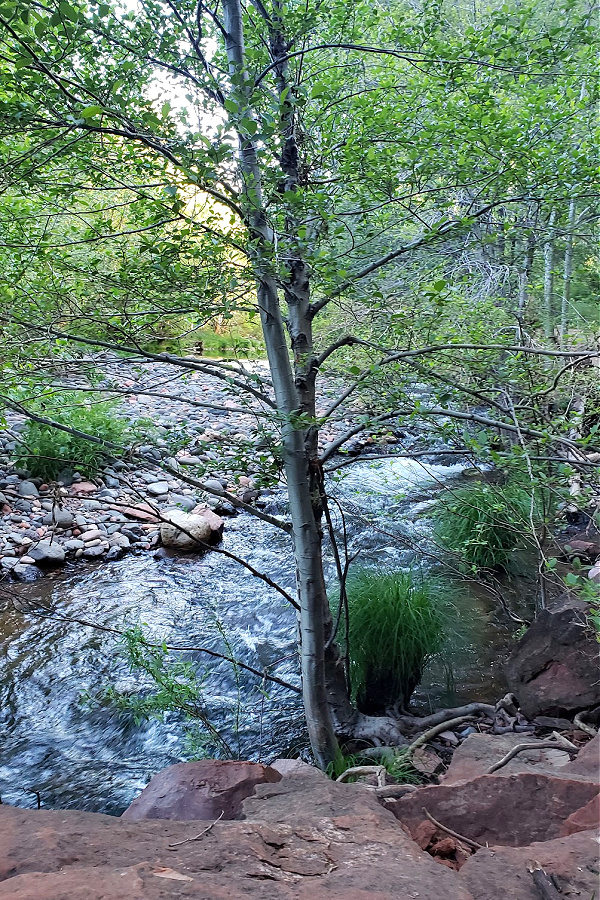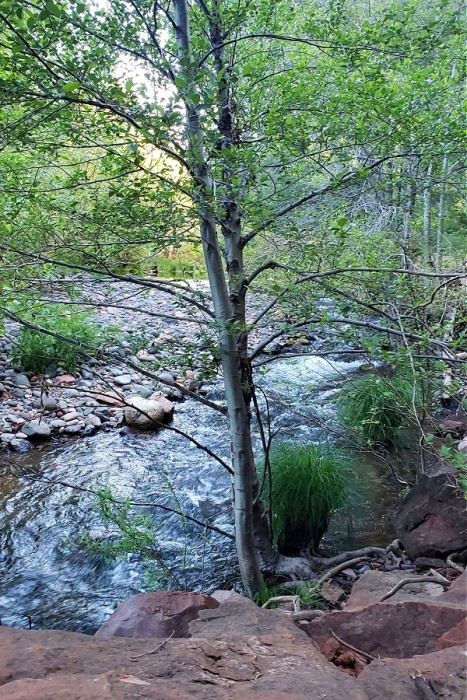 Devil's Bridge Trail
Devil's Bridge Trail = 4.5 miles
Elevation gain = 564 feet
Difficulty = Moderate
Devil's Bridge is the largest sandstone arch in Sedona and a must see landmark. For hikers, you can park at Dry Creek Vista parking lot. If you have a 4WD or ATV, you can drive along the dirt path to the Devil's Bridge parking lot and hike 0.8 miles to the bridge.
The hike from the Dry Creek Vista is an easy one. You'll hike through desert landscape until you get to the rock stairs the last 100 yards (or so) that leads up to Devil's Bridge.
Doe Mountain Loop
Doe Mountain Loop Trail = 1.5 miles
Elevation = 400 feet
Difficulty = Moderate

Short but fun climb. Dogs are allowed on a leash. Red Rocks pass $5 is needed but parking lot is ample. The view once you get to the top is magnificient!
Bell Rock Pathway
Bell Rock Pathway = 3.5 miles
Elevation = 200 feet
Difficulty = Moderate
Beautiful views of Bell Rock and Courthouse Butte along this popular trail.
Little Horse Trail
Little Horse Trail = 3.75 miles
Elevation = 400 feet

This trail starts at Bell Rock Pathway and splits off towards the "Two Nuns" formations. You can turn around at Chicken Point or keep hiking to Chapel of the Holy Cross.

Honestly, there are a lot of trails in this area and a lot of them intersect. Basically, I stayed confused in this area. My Eagle Scout son navigated.
What to pack for hiking
Here's my idea list of essential travel items. Plan for hot days and cool/cold nights especially in the spring and fall.
Water and snacks. You need to hydrate before, during, and after a hike.
Also, wear sunscreen even in winter. Wear a high SPF and reapply every hour you're on the trail.
Wear a UV protectant hat
Chapstick
Sunglasses
Light jacket
Proper workout clothes
Hiking boots or tennis shoes
Phone
A paper map or downloaded map in case you don't have cell service
Bug spray
Small first aid kit
Whistle
Hiking poles, depending on the hike
Non-hiking clothes if you plant to go to a nice dinner.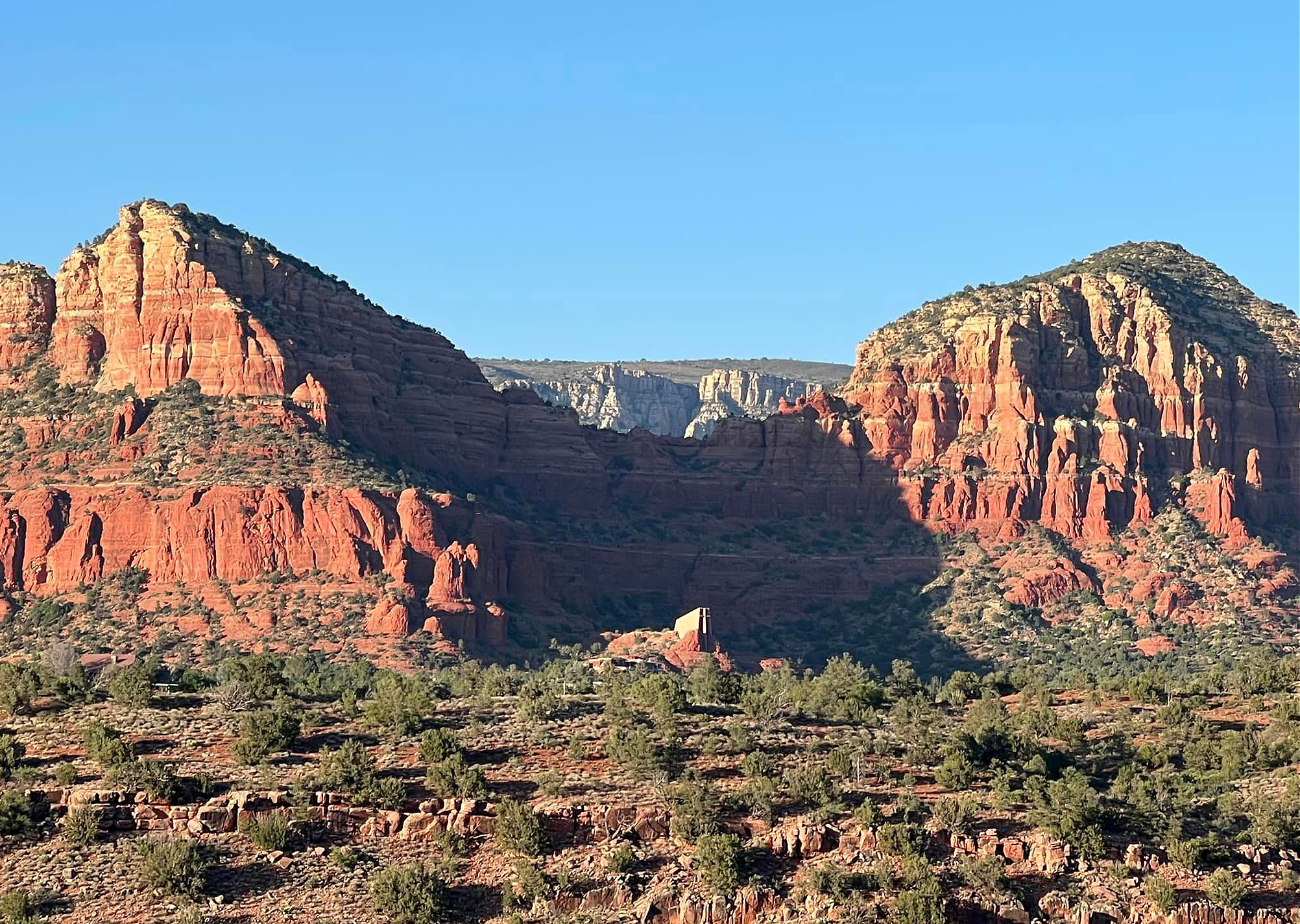 Beginner's Guide to Sedona: Eats
Where to eat
If this is your first time to visit Call Me PMc, er, I'm a foodie. Generally, this is a recipe sharing website, but I share my travels too. And, I love to travel because I love to try new foods and restaurants!
Sedona did not disappoint on the culinary front. Everyone told us to make reservations but we didn't have any trouble getting in restaurants. However, it was just two so that's easier to accommodate.
There are a lot of restaurant options and, almost, every restaurant offers health conscious items such as vegetarian, vegan, and gluten-free. As well, many of the restuarants source local, organic and climate friendly ingredients.
Breakfast
Berry Divine Acai Bowls and Local Juicery both had excellent smoothies and smoothie bowls.
Try Sedonuts if you want something sweet for breakfast. They also have excellent organic coffee.
Cuptown has a great morning vibe and coffee.
Colt, mentioned above, has an amazing, hearty breakfast until 10:30.