Taste the best of Sin City: The top steakhouses in Las Vegas to eat at now
This post may contain affiliate links that won't change your price but will share some commission.
Sin City is a dazzling culinary playground brimming with places to dine in style. So when you're craving a steak that's seared to perfection, juicy, and bursting with flavor, you'll want to navigate Las Vegas like a savvy local, unearthing the best steakhouses the city has to offer.
Get ready to indulge in the finest steaks Sin City has to offer! With an abundance of choice, ambiance, and quality, Las Vegas is the perfect destination for meat lovers. We've got the scoop on the best steakhouses in town, so you can eat like a local and pair your meal with the best bars and speakeasies Las Vegas has to offer.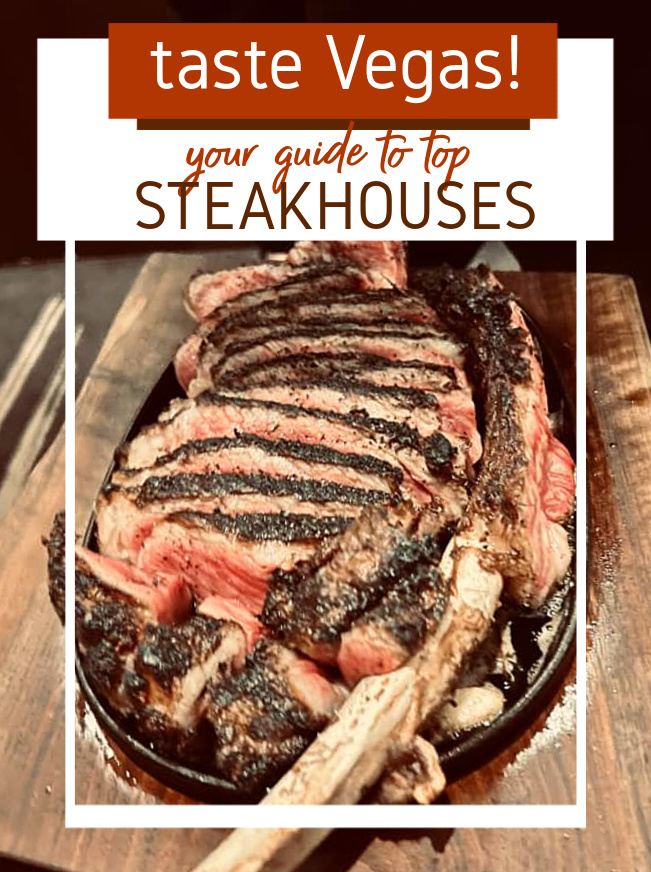 The best steakhouses in Las Vegas
Each of these establishments has its own unique charm and ambiance, promising an unforgettable steak dining experience in Las Vegas.
CUT by Wolfgang Puck: Located inside the sleek and stylish Palazzo Hotel, CUT exudes modern elegance. With stunning, minimalist decor and an open kitchen that allows you to witness the culinary magic, this steakhouse is an experience in itself. The service is top-notch, with knowledgeable staff who guide you through the impressive steak selection. It's not just the food that's a standout here; the architectural design is a visual treat, with a unique partition that opens up to the casino floor.
Jean Georges Steakhouse: Step into the ARIA Resort and you'll find yourself in the luxe surroundings of Jean Georges Steakhouse. The decor is an impressive mix of bold, dark tones with bright, contemporary touches. The ambiance is intimate and sophisticated, perfect for a special occasion. The open flame grill in the kitchen takes center stage, giving you a glimpse into the preparation of your meal. The service here is as refined as the decor, ensuring a memorable dining experience.
Gordon Ramsay Steak: A fusion of British heritage and French style, Gordon Ramsay Steak at Paris Las Vegas is a foodie's dream. The dramatic entrance, designed to resemble the Chunnel, leads into a modern dining room adorned with Union Jacks and a striking neon sculpture. The restaurant features an open kitchen, giving diners a chance to watch the chefs at work. The staff is well-versed in the menu and provides attentive service.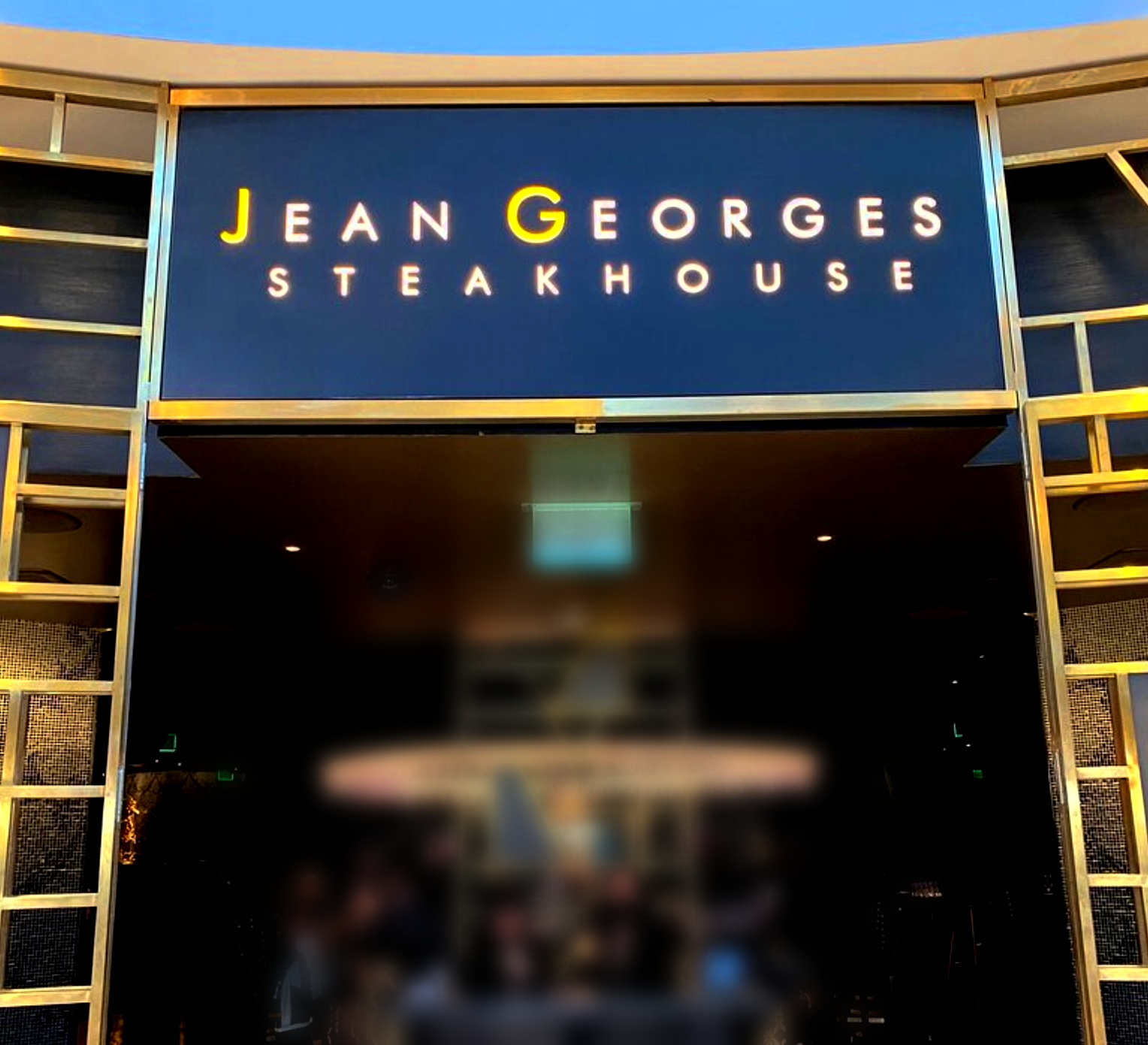 More Vegas Steakhouses
SW Steakhouse: Nestled in the Wynn Las Vegas, SW Steakhouse offers more than just a meal — it's a full-on experience. The outdoor patio boasts views of the Lake of Dreams, a spectacle of light, music, and imagery. Inside, the decor is elegant and warm, with rich woods and a beautiful color palette of cream and burgundy. The service matches the high standards set by the surroundings, making it a must-visit for steak lovers.
Andiamo Steakhouse: This Italian-American steakhouse in the D Las Vegas combines traditional charm with modern sophistication. The decor is warm and inviting, with dark wood and plush leather booths. The exposed brick walls and vintage photos create a nostalgic vibe. The staff's hospitality is the icing on the cake, making every diner feel like a valued guest.
Sparrow and Wolf: Situated off the Strip in Chinatown, Sparrow and Wolf offers an innovative dining experience. The rustic chic decor combines wood, metal, and vintage accents for a cozy, welcoming vibe. The open kitchen concept allows you to watch as your steak is expertly prepared. The staff is friendly and knowledgeable, adding to the warm atmosphere.
Echo and Rig: Located in Tivoli Village, Echo and Rig is a steakhouse with a twist. The downstairs butcher shop showcases the focus on high-quality, sustainable ingredients. The decor is industrial-chic, with high ceilings and large windows that flood the space with light. The service is as refreshing as the decor, with staff who are passionate about their craft.
Just LeDoux Saloon & Steak Out: This newly opened establishment offers a lively saloon atmosphere. The Western-inspired decor features rustic wood, antler chandeliers, and cowboy memorabilia, creating a fun and casual vibe. The staff is friendly and laid-back, ensuring a relaxed dining experience.
Best steakhouses for different occasions
Whether you're winding down from a long day discovering all the free things to do in Las Vegas or celebrating in style, each of these has its own flair and charm. No matter the occasion, we've got you covered:
Romantic date night — Jean Georges Steakhouse or SW Steakhouse
Business dinner — CUT by Wolfgang Puck or Gordon Ramsay Steak
Family gatherings — Andiamo Steakhouse or Echo and Rig
Group celebrations — Sparrow and Wolf or Just LeDoux Saloon & Steak Out
Impressing foodie friends — Gordon Ramsay Steak or Jean Georges Steakhouse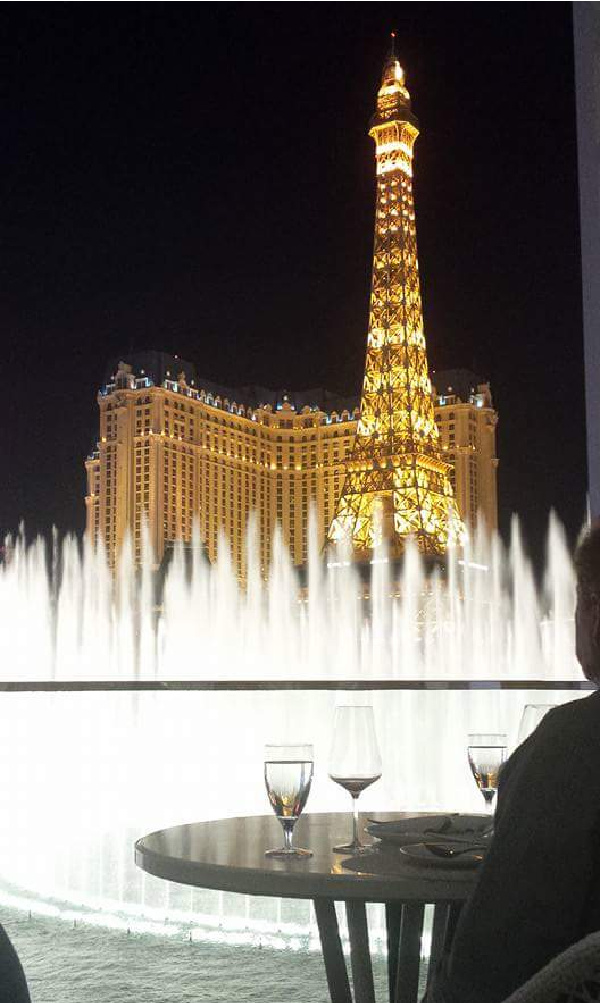 Insider tips for dining at Las Vegas steakhouses
Follow these tips to make the most of your steakhouse experience:
Reserve a table well in advance, especially at popular spots like CUT and Jean Georges Steakhouse.
Check each restaurant's website for dress code guidelines, which can range from upscale casual to formal.
Keep an eye out for special promotions or discounted menus during events like Las Vegas Restaurant Week.
Consult the sommelier for wine pairing suggestions to enhance your dining experience.
Inquire with your server about off-menu items and specials for a truly unique meal.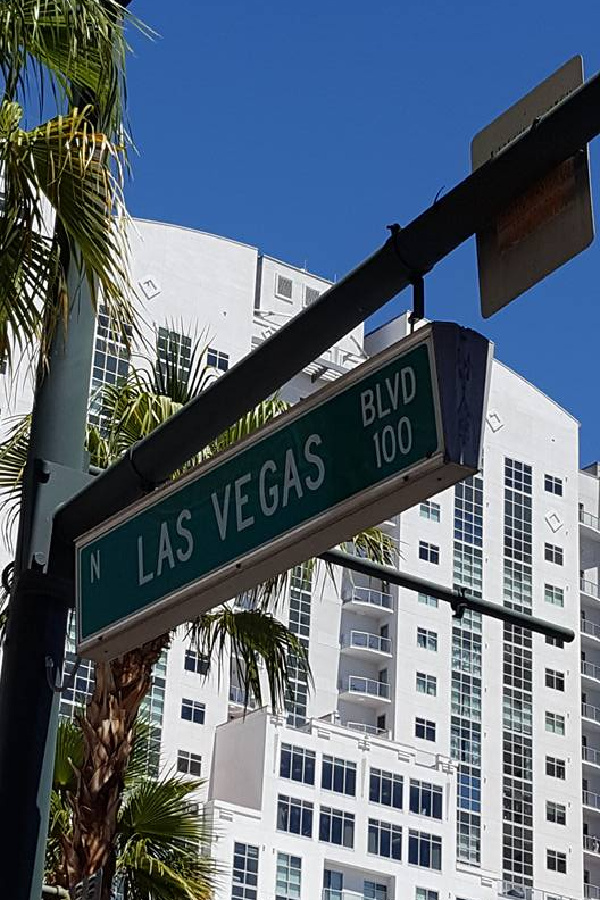 Beyond the Strip: Locally loved steakhouses
Discover off-Strip steakhouses that have captured the hearts of locals:
Sparrow and Wolf — Enjoy a relaxed neighborhood vibe and innovative menu that goes beyond traditional steakhouse fare. And it's right across the street from one of our favorite bars in Las Vegas, the Golden Tiki.
Echo and Rig — This Tivoli Village gem doubles as a butcher shop and offers a unique dining experience perfect for casual family dinners or weekend brunch. If you're in the Henderson area, they recently expanded with a second location in the District, just across from Green Valley Ranch.
Just LeDoux Saloon & Steak Out — This brand-new establishment combines saloon-style ambiance with hearty steak dishes for a one-of-a-kind off-Strip experience perfect if you're exploring the Henderson area or on a road trip to visit National Parks near Vegas for a more laid-back feeling.
To sum up, Las Vegas offers a diverse and delicious selection of steakhouses, each with its own unique charm and flavor. From elegant dining rooms with meticulously crafted menus to rustic, off-Strip gems serving up innovative dishes, there's a steakhouse to satisfy every palate and occasion. We encourage you to explore these establishments and share your favorite Las Vegas steakhouses and any tips you have for enjoying the best steaks in town.
More travel guides
Are you looking for more travel information? First, click over to Travel on the Cheap and find out easy ways to save when traveling. For guide, read 25 Things to do in Napa, My Favorite Destin, Fl Restaurants, and My Day at The Masters.
What to wear in Vegas
Lastly, here are a few dressy for night and casual day outfits for your Vegas visit. Enjoy!
Kita Roberts is a world-traveled photographer and content creator writing for GirlCarnivore.com, PasstheSushi.com, and RomanticWeekendGetaways.com.
This article first appeared on Food Drink Life.