This Elvis Presley Tour Part 3 Favorite Restaurant and Inspired Food. This post is inspired by his favorite food combinations.
Elvis Presley got all 'shook up' about his food. Just like his personality, he had a larger-than-life appetite.
For more scrumptious recipes, fun projects, and exciting news subscribe to Call Me PMc
Facebook, Instagram, Pinterest

Next, pictured below is Johnnie's Drive-In one of Elvis' favorite restaurants.
As well, Johnnie's is located only a short distance from his childhood home and the school Elvis attended.
And, his favorite food at Johnnie's was the cheeseburger.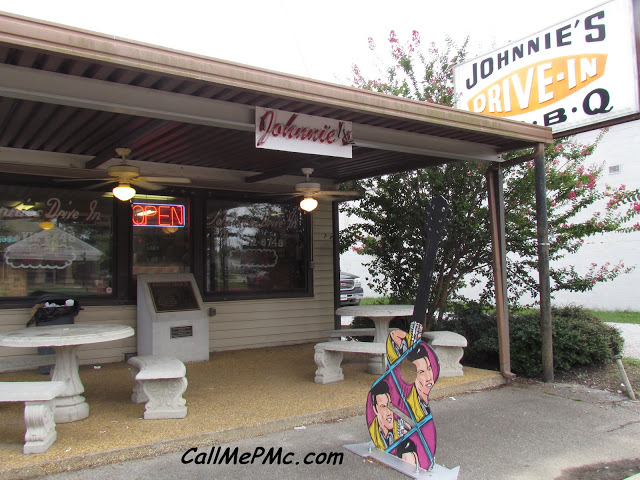 For information regarding the painted guitar pictured go here.
Elvis Presley Tour Part 3 Favorite Restaurant and Inspired Food
It seems Elvis is famous for his food cravings. Some of his favorites were cheeseburgers, pork chops, sauerkraut, and the Fool's Gold Loaf (from Colorado Mine Company in Denver, CO). Coincidentally, this sandwich is a loaf of Italian bread filled with 1 pound of bacon, 1 jar of peanut butter, and 1 jar of grape jelly! Geez!!!
As well, he enjoyed grilled peanut butter, banana, and bacon sandwich. He flew his private plane from Vegas to Memphis on occasion just to have his maid make this sandwich! Therefore, I'm sharing peanut butter and bacon recipes with you.
Find your inner Elvis and enjoy! Click the photo for the recipe!
REMEMBER TO SUBSCRIBE TO Call Me Pmc Newsletter FOR FREE AND RECEIVE FRESH RECIPE NOTIFICATIONS DELIVERED INTO YOUR INBOX! You may also want to join my Facebook Group, Call Me Pmc- Easy Recipes.
As an Amazon Associate, I earn from qualifying purchases. As well, this post contains affiliate links. Furthermore, if you click the link and make a purchase I will receive a small commission at no cost to you. Visit all my recommended products at Paula's Picks on Amazon. Finally, read my entire Privacy Policy here.