Every time we grill steak, I think of Ree Drummond, The Pioneer Woman, grilling steak with her beautiful view. Nooooo, I'm not talking about the Ranch! I sit there and contemplate if Big Daddy would look as good in chaps as Marboro Man!!
Come on, you know you've looked! Obviously herding cattle is good for the body!
Ok, where was I…….
oh, yeah…. Chaps!
er….. no
Steak!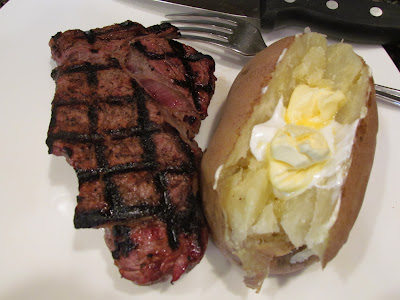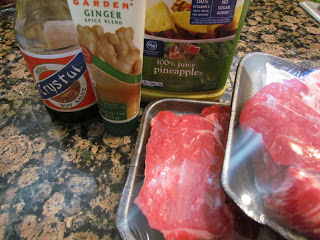 Pineapple juice, ginger, and soy sauce.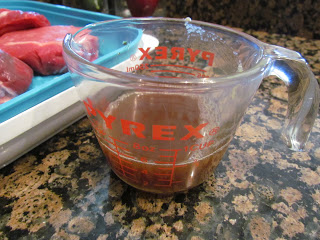 Mix marinade ingredients together.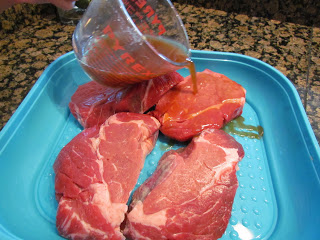 Pour marinade over steak and marinate 4 hours.
I have never said marinade so much!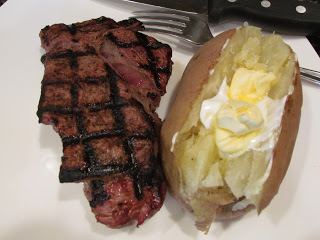 Medium rare with beautiful grill marks!
Pineapple Marinated Ribeye (with Encore Meal Black and Blue Steak Salad)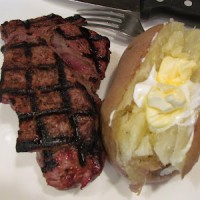 Pineapple Marinated Ribeye
Ingredients
4

ribeye steaks

1/2

c

pineapple juice

4

T

soy sauce

1 

T

fresh ginger

salt and pepper to taste
Instructions
Bring steaks to room temperature while grill is reaching temperature. Get your grill as hot as you can to sear the steaks! Remove steaks from marinade, salt and pepper steaks. Sear steaks over maximum heat one minute on each side. Reduce heat and move steaks to indirect heat and continue grilling until they reach the desired doneness. Use an instant read meat thermometer to determine doneness-

Rare 120 to 130 degrees

Medium rare 130 to 140 degrees

Medium 14 to 150 degrees