Adding Fall Color to the Front Door and porch area with economical craft and DIY projects.
It happens every year. I never think about decorating my front porch and door for Spring or Summer but come September, I start looking for mums and fall plants for my urns and pumpkins for color. I started here, Finding beauty in the Fall, looking for plants that would add Fall color and do well in my area, the Southeast, this time of year. There is also valuable information on growing fall edibles, planting bulbs for Spring, and planting trees and shrubs.
This is my front door. It's drab and sad and needs a makeover.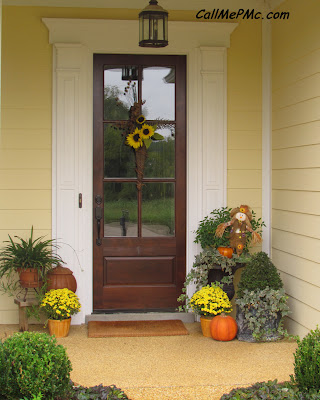 This is my inspiration. I intend to use the pots I already have but spruce them up with mums and pansies in these beautiful oranges and yellows. Then I'm adding another layer of color with pumpkins and guards that add more interest.
For all my Fall gardening, I use Miracle-Gro. It's just the product I've always used for my potting projects. I'll use the Miracle-Gro Potting Mix for the containers because it'll provide 6 months of continuous release nutrients and it allows for drainage and airflow to the roots.
I can't wait for my project to be finished. My front porch and door are going to come to life. I'll share my project with you on the Miracle-Gro Facebook page so don't forget to go check it out. You can showcase your projects with them as well. And, if you need help or have questions, they have experienced staff to help.
See Fall Tablescapes, How to paint bottles, and my recipe index.