I don't know if it's just my family, but we have been busier than ever the last few weeks. Homework and tests are killing me. (You'd think it's actually me who has to takes the tests, but it takes a drill Sargent to keep my kids on task!) It takes Lincoln an hour and a half to complete his homework and although he can do it without help from me most of the time, I still have to keep him focused. Then there's swim and scouts and fundraising for every activity they participate in. I've realized I need organization now more than ever. I had strayed from my weekly meal planning but desperately needed to reinstate it. I also am trying to develop a better system for blogging and getting you usable family friendly recipes. This is one of my "go-to" recipes. I prefer to cook it in the oven, but it's just as flavorful and much easier in the slow-cooker. Tonight I plan to serve it with Skillet Potatoes and a steamer pouch of green beans. 

Check this post out for my definition of an Encore Meal!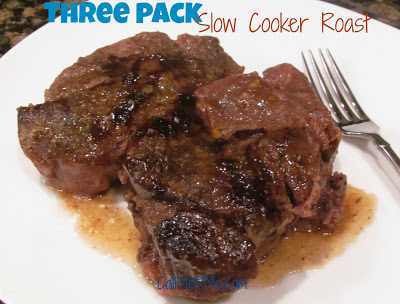 You'll jump with glee at how easy this recipe is!!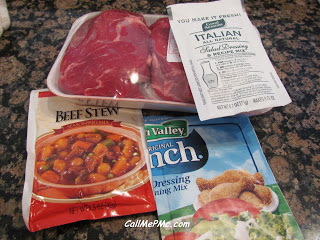 This is all you need plus 1 cup of water.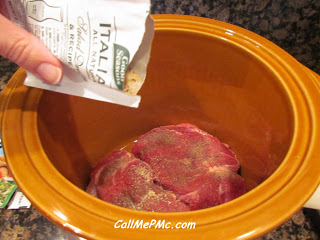 Just pour the seasoning packs over the meat in a slow cooker.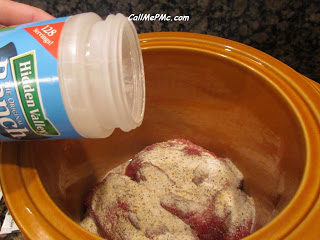 It's. Just. That. Simple.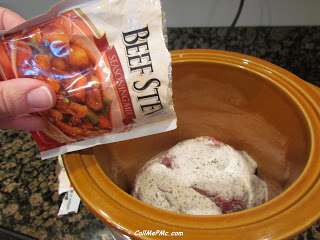 4 to 5 hours on high or 8 to 10 hours on low!
Print Recipe
Easier-Than-Takeout Three Pack Slow Cooker Roast
Slow cooker roast makes week night dinners a breeze!
Ingredients
2 to 3

pound

chuck roast*

1

packet dry Italian dressing mix

1

packet dry ranch dressing mix

1

packet beef stew seasoning**

1

c

water
Instructions
Place roast in a slow-cooker. Pour seasoning packets over meat along with one cup water. Cook on low 8 to 10 hours or on high 4 to 5 hours.
Encore meal:
Serve the roast on hamburger buns with Lemon Dill Mayonnaise and a Parmesan Potatoes or Stuffed Mushrooms.
*a 2 pound roast is large enough to feed a family of 4 easily with enough for an additional Encore Meal. If you're serving 6 to 8, you may want a 3 pound roast if you want some left over.
**Brown Gravy mix can be substituted by the beef stew mix