The ultimate Southern summertime dessert, Grandma's Old Fashioned Blackberry Cobbler, has a buttery crust over warm, bubbly, tart blackberries. This dessert recipe is best served warm with vanilla ice cream.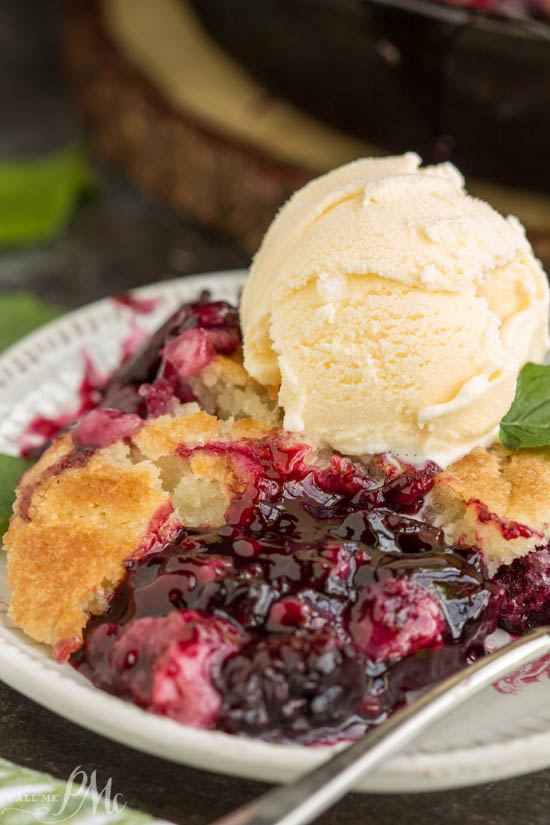 Grandma's Old Fashioned Blackberry Cobbler
One of my fondest summer memories, when I was young, was picking blackberries for Grandma's Old Fashioned Blackberry Cobbler.
Hot summer day, getting pricked by the stickers, watching for snakes…. ah, what fun!!
The worst and the best were picking wild blackberries in random places in the pasture. Wild blackberries have half inch long stickers and a bigger chance of snakes. However, wild blackberries are much better, in my opinion, than blackberries that horticulturists have 'improved'. They have smaller seeds and more intense flavor.
Making Grandma's Old Fashioned Blackberry Cobbler is a two-step process. First, you need to make the crust which is an easy dough to make. This top crust is similar to sugar cookie dough and easier than pie crust dough to make. Next, you'll boil the berries with sugar to sweeten and thicken them. Finally, you put the two components together for the most amazing dessert.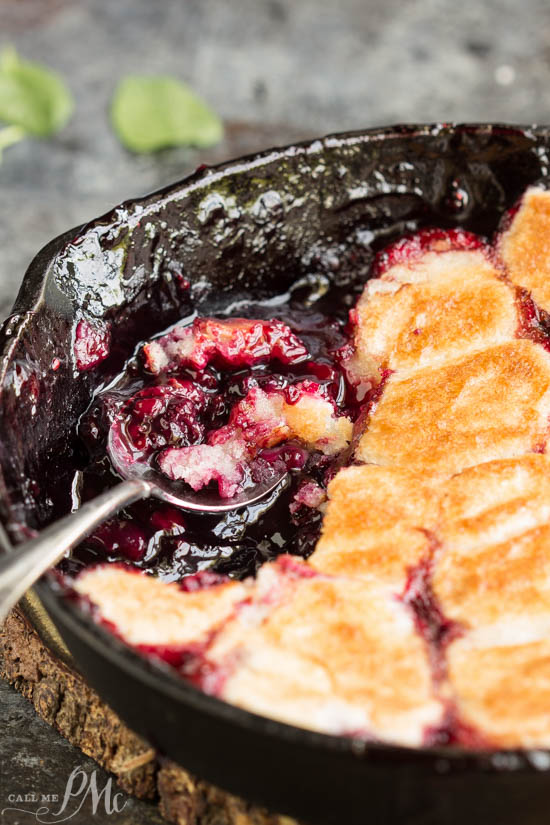 Grandma's Old Fashioned Blackberry Cobbler
You can use fresh or frozen blackberries for Grandma's Old Fashioned Blackberry Cobbler. I had to use frozen since our farmers' market isn't open yet and the fresh ones in the grocery didn't look very good. Grab a 16-ounce bag of frozen blackberries and you'll be good to go with this recipe.
You can also use half blackberries and half sliced fresh or frozen peaches in this recipe. As mentioned, I used 16-ounces of frozen berries or approximately 4 cups. Use 2 cups blackberries and 2 cups peaches or any other fruit that you wish.
Other Cobblers I've made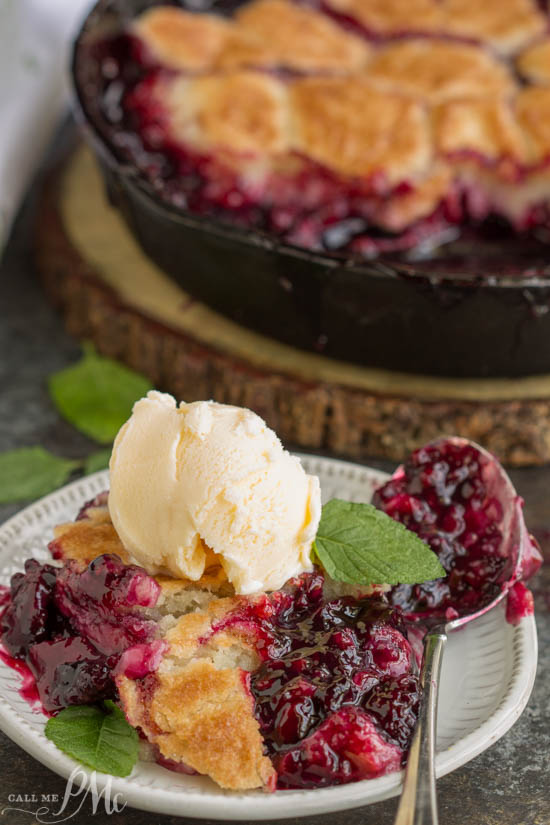 You may like Cherry Berry Cobbler, Fresh Fruit Cobbler, Pumpkin Cobbler.
You can also find great recipes here or at Meal Plan Monday or Weekend Potluck.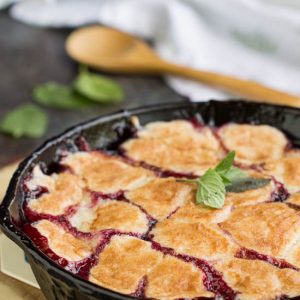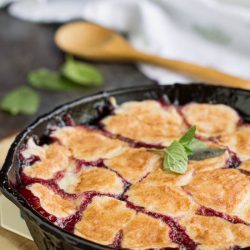 Grandma's Old Fashioned Blackberry Cobbler
Juicy, sweet fruit is topped with a sugar cookie-type crust in Grandma's Old Fashioned Blackberry Cobbler recipe. It's best warm with ice cream.
Ingredients
For the crust

1

cup

all-purpose flour

1/2

cup

sugar

1

teaspoon

baking powder

1/2

teaspoon

salt

6

tablespoon

cold butter

1/4

cup

boiling waterFor the berries

2

tablespoon

cornstarch

1/4

cup

cold water

1

tablespoon

lemon juice

4

cups

16 oz fresh or frozen blackberries, rinsed and drained (frozen berries do not have to be thawed)

1

cup

granulated sugar
Instructions
Preheat oven to 400 degrees F

Line a baking sheet with aluminum foil.

Grease a 12-inch skillet with non-stick spray or vegetable oil.

In a large bowl, mix the flour, 1/2 cup sugar, baking powder, and salt. 

Cut in butter until the mixture resembles coarse crumbs.

Stir in 1/4 cup boiling water just until mixture is evenly moist.

In a separate bowl, dissolve the cornstarch in cold water. 

Mix in remaining 1 cup sugar, lemon juice, and blackberries.

Transfer to a cast iron skillet and bring to a boil. Stir frequently.

Drop dough into the skillet by spoonfuls.

Place skillet on the foil lined baking sheet.

Bake 25 to 30 minutes at 400 degrees until top is golden brown.

Serve warm with vanilla ice cream
Recipe Notes
As a busy mom, Paula saw the need to simplify cooking and meal prep without sacrificing flavor. She provides simple recipes and time-saving strategies for delicious and nutritious meals for your family. Please share CallMePMc.com with your friends.
Recipe from Paula @CallMePMc.com All images and content are copyright protected. Please do not use my images without prior permission that includes copying the ingredient list or entire recipe and posting in the comments on Pinterest for Facebook. If you want to share this recipe, please simply link back to this post for the recipe.
Thank you, Paula
This post contains an affiliate link. If you click the link and make a purchase I will receive a small commission at no cost to you.