This post brought to you by Campbell Soup Company. The content and opinions expressed below are that of Call Me PMc.
Green Chile Bacon Cornbread is flavorful and moist making it the perfect accompaniment for any soup.
It's full of bacon, cheese, and green chiles giving it a blast of flavor! Each bite will have you reaching back for another nibble.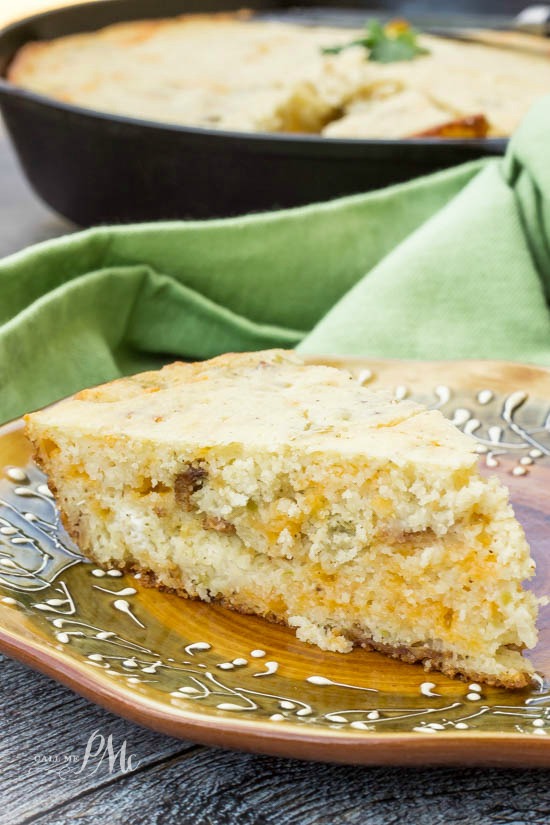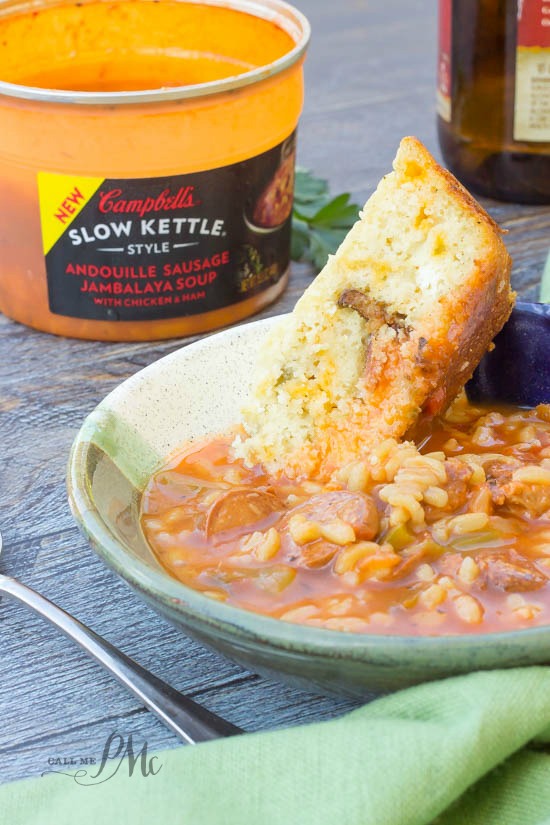 I know what you think. You think because I'm a food blogger and recipe developer that I eat great food all the time. I do and I don't. The truth is I get tired of cooking and I never cook just for myself. I eat a granola bar or cereal if I don't have leftovers. That doesn't mean I don't want good food, I just don't want to make it for just me.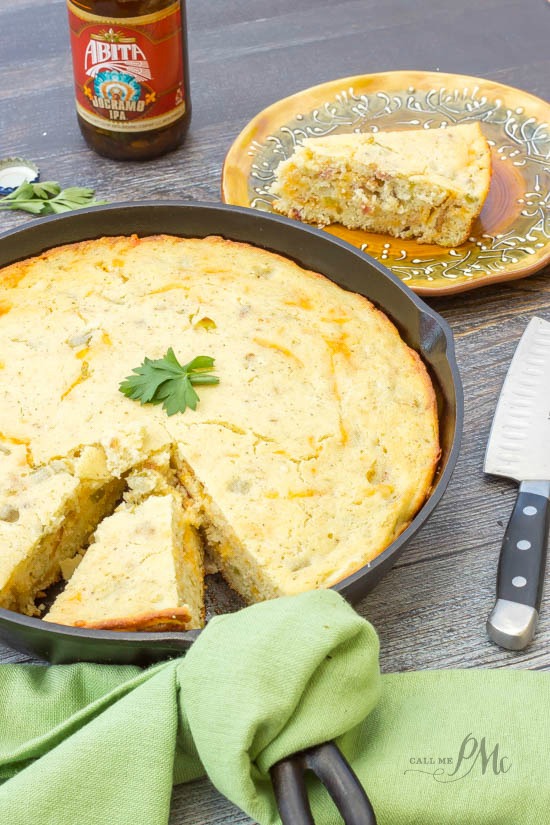 That's why Campbell's® Slow Kettle® soup varieties are perfect for me. They are chef crafted with real ingredients. They are made with patience, not preservatives. Plus, they are easily heated in the microwave if you're short on time. I picked up Andouille Sausage Jambalaya Soup at the grocery store. I was really surprised at the depth of flavor and richness. It was also chock-full of andouille sausage, very filling.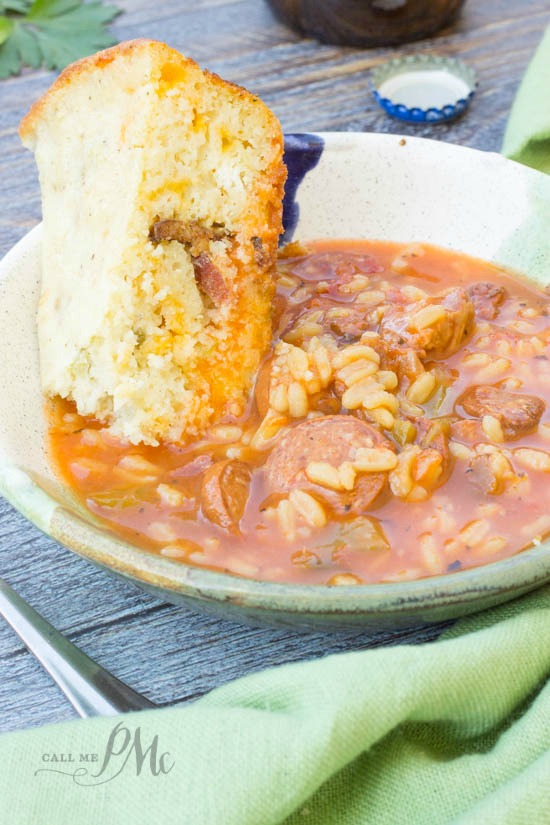 You may remember recently I posted another recipe with a Campbell's® Soup Company product, Swanson's chicken broth. I used the broth in my Healthy Slow Cooker Tex Mex Chicken Soup. I love the broth as well as all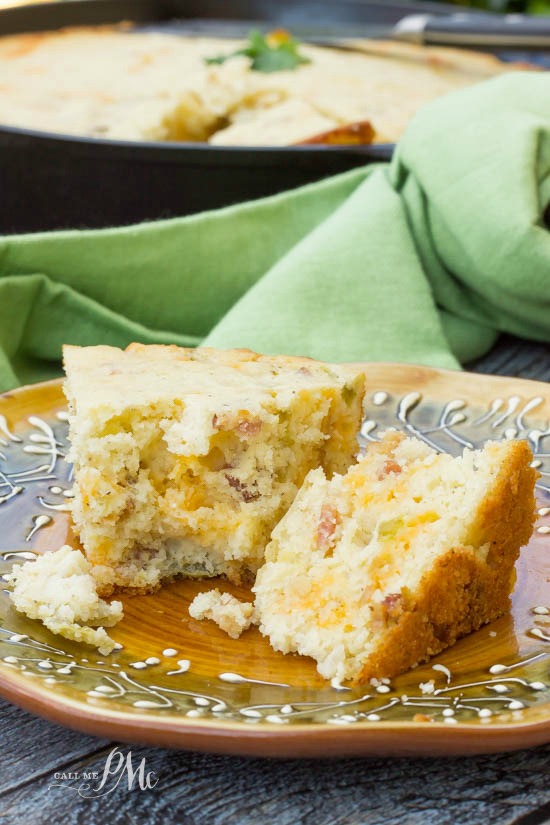 I made this Green Chile Bacon Cornbread to go with my Campbell's® Slow Kettle Andouille Sausage Jambalaya soup. The combination made a filling meal.
The recipe makes a big skillet of cornbread. It's hearty, spicy, and satisfying. It pairs perfectly with my quick soup.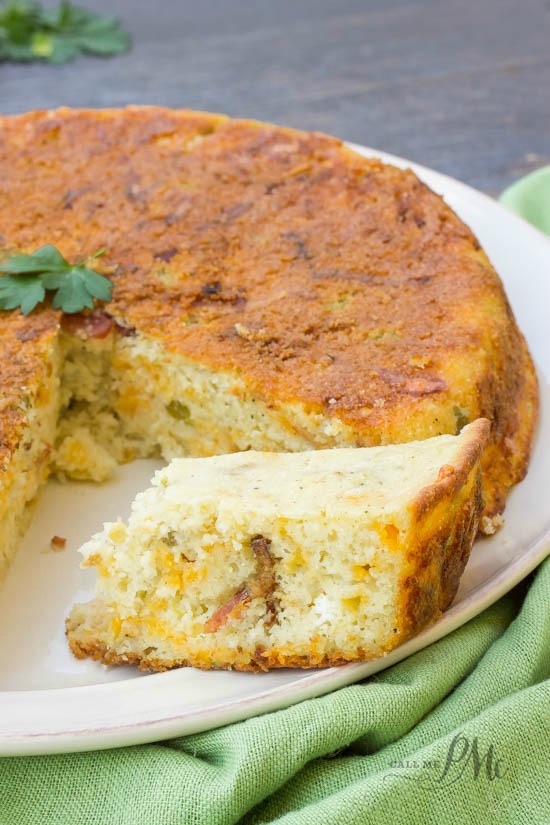 Green Chile Bacon Cornbread
Like I said, this makes a lot, you may want to half the recipe and cook it in a 6-inch skillet instead.
You can make your Green Chile Bacon Cornbread from scratch like I have listed below or you can use a cornbread mix and simply add the onion, cheese, bacon and green chiles into the mix.
I like to add 1/2 cup all-purpose flour to my cornbread. It lightens the texture just a little.
You can use yellow or white cornmeal, whichever you prefer.
I can't fathom cooking cornbread in anything except a cast-iron skillet. It's the Southerner in me. If you don't have a cast-iron skillet, cook your cornbread in a casserole dish or cake pan. You may need to adjust the cook time slightly, just watch the bread closely.
I like to preheat the skillet. When the skillet it hot, I then add the oil. Place the skillet back in the oven for a minute for the fat to get hot. When the fat is hot, add your cornbread batter. This helps to brown the crust and cooks the cornbread more quickly.
Get delicious Campbell recipes here. Follow @Campbells on Instagram and Twitter.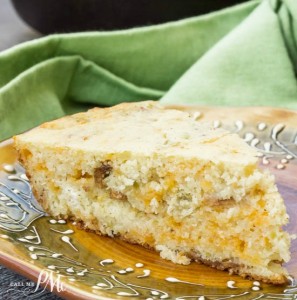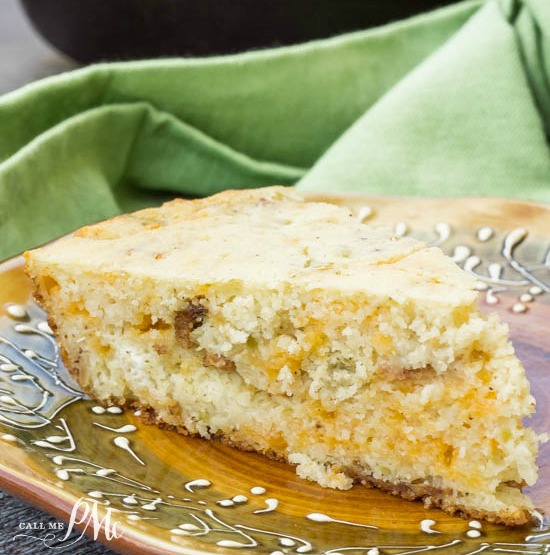 Print
Green Chile Bacon Cornbread
Yield 10
Ingredients
3 strips bacon, cooked and chopped
1 and 1/2 cup cheddar cheese, shredded
1/2 cup onion, diced and sauteed
1/2 teaspoon black pepper
1 teaspoon garlic, minced
1 and 1/2 cup cornmeal
1/2 cup all-purpose flour
1 teaspoon baking powder
1/2 teaspoon salt
2 cups buttermilk
2 eggs, beaten
4 tablespoon vegetable oil
4 ounce can chopped green chiles, drain
Instructions
Preheat oven to 435 degrees F.
Add 2 tablespoon oil to 12 inch cast iron skillet and saute onion. Remove from pan with slotted spoon. Then place skillet in oven to preheat.
In a bowl, mix cornmeal, flour, baking powder, and salt.
In another bowl, combine buttermilk, eggs, 2 tablespoons oil, onion, garlic, cheese and green chile.
Add wet ingredients to dry ingredients and stir to combine.
Pour into hot skillet.
Bake at 425 degrees F 25 to 30 minutes or until cooked through and browned on top.
Serve hot.